Is Trey Wingo ready to move off ESPN Radio's morning show, Golic & Wingo? The Big Lead's Bobby Burack and Ryan Glasspiegel report that the radio and TV host is eyeing just such a move prior to the 2020 football season, citing multiple sources.
Both ESPN and Wingo's representation declined to comment to TBL, which is to be expected. If Wingo indeed wants to leave the morning show, that move would coincide with the end of his current ESPN contract. Naturally, that leads to speculation over whether or not Wingo would remain at ESPN.
This could very well be the beginning of negotiations through the press. Do Wingo and ESPN want to deal with such questions for the next year? Or is this something that could be resolved relatively soon now that these reports have become public?
And how about Mike Golic? Does he want to endure another drawn-out process of on-air changes after slogging through the end of Mike and Mike and his on-air partnership with Mike Greenberg? The advance announcement of Greenberg leaving the ESPN Radio show for the network's new TV morning show, Get Up, fueled rumblings of behind-the-scenes tensions between the two and the show ending sooner than intended.
If Wingo does end up leaving Golic & Wingo, it would be the latest among many changes in the morning sports TV (and radio simulcast, in some cases) landscape. Wingo and Golic have been involved in some of those changes themselves, with their show having replaced Mike and Mike in 2017. But the early-morning hours from 6 a.m. to 10 a.m. ET have seen quite a bit of upheaval and turnover in recent years.
Get Up
The morning show that Mike Greenberg left Mike and Mike to launch has endured choppy waters since its debut in April 2018. Co-host Michelle Beadle left the program within six months and a variety of other ESPN personalities such, as Booger McFarland, Stephen A. Smith, Dan Orlovsky, Paul Finebaum, Maria Taylor, Desmond Howard, Ryan Clark, and Marcus Spears, have been incorporated into the show. Laura Rutledge became a contributor following Beadle's departure, which evolved into a permanent role with her new contract.
First Things First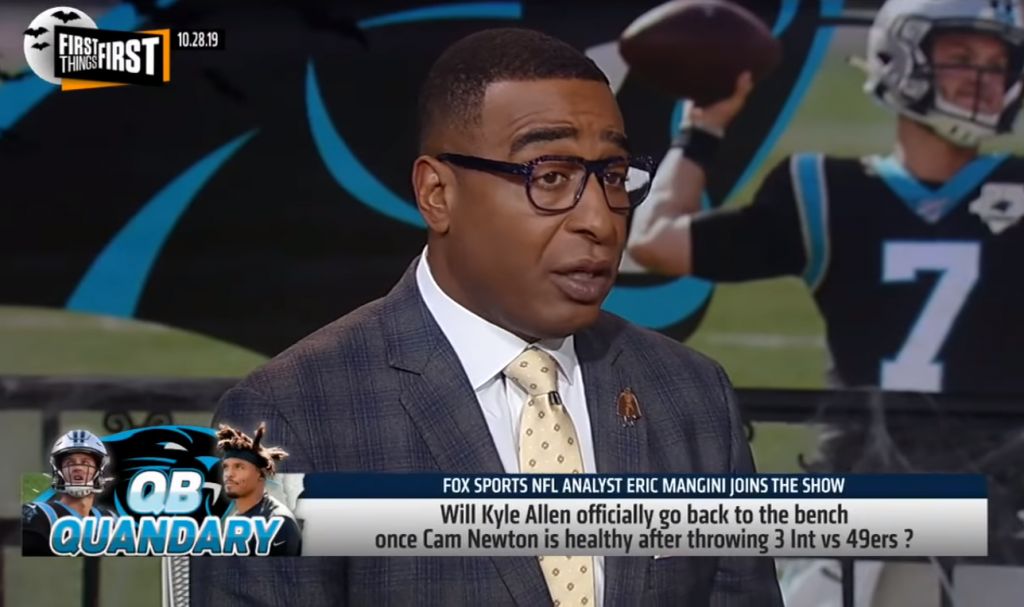 FS1's morning show is the most recent example of on-air changes, this one occurring rather suddenly.
Less than two weeks ago, Cris Carter was suspended from First Things First amid a network investigation into an alleged incident (or incidents) that resulted in the former NFL receiver being pulled off the air. Rumors were that Carter had a blow-up with Fox Sports executives over his role — or lack of one — in the network's NFL coverage, notably Thursday Night Football. Four days later, Carter was no longer with the network. Chris Canty has co-hosted with Nick Wright and Jenna Wolfe since Carter's suspension.
In an article speculating on the future of ESPN's High Noon, the Washington Post's Ben Strauss mentions Bomani Jones as a possible replacement for Carter if that show were to be canceled.
Boomer and Gio
WFAN Radio's morning show, simulcast on CBS Sports Network, is two years removed from being the "Boomer and Carton" show. Gregg Giannotti took over as co-host with former NFL quarterback Boomer Esiason in November 2017, two months after Craig Carton was arrested on multiple federal fraud charges. CBS Radio suspended Carton but within a week, he announced his resignation.
The program became "The Morning Show with Boomer," with Jerry Recco filling in for Carton while CBS Radio searched for a permanent replacement. The network soon promoted Giannotti, who had worked as a producer and on-air host at WFAN, to the co-host spot.
League Networks Show Stability
The TV sports morning shows that haven't dealt with turnover among their on-air personalities are on league-run cable networks. NFL Network's Good Morning Football has had the same lineup of Kay Adams, Kyle Brandt, Nate Burleson, and Peter Schrager since its 2016 debut. That stability has helped the show become the best sports morning show on TV. (Though it should be pointed out that GMF developed after the failures of NFL AM and NFL HQ.)
And though it's a seasonal program which runs during baseball's offseason, MLB Network's Hot Stove has been reliably hosted by Matt Vasgersian and Harold Reynolds since its restructure in 2012. During the regular season, MLB Central covers the mornings on the network with its regular lineup of Robert Flores, Mark DeRosa, and Lauren Shehadi. (Flores did replace Matt Vasgersian in 2018, however.)