Despite a significant drop in television ratings for the College Football Playoff national semifinal games on New Year's Eve, the company line was establishing a new tradition was the goal of the College Football Playoff committee. So much for tradition, as the CFB Playoff announced today future games scheduled to be played on either Saturdays or holidays.
The big point here is the College Football Playoff will no longer hold semifinal games on New Year's Eve if that day happens to fall during a typical weekday.
CFP Executive Director Bill Hancock talked about the decision, which seemed necessary and obvious.
"We had healthy discussions with a lot of people who love college football and we concluded that making these changes would be the right thing to do for our fans." said Hancock.

"We tried to do something special with New Year's Eve, even when it fell on a weekday. But after studying this to see if it worked, we think we can do better.  These adjustments will allow more people to experience the games they enjoy so much.  For these four years, our previous call is reversed."
ESPN was not particularly happy about the CFB Playoff being played on December 31 last season, and the TV ratings helped prove ESPN was right to be concerned about that result. The Orange Bowl matchup between Clemson and Oklahoma kicked off at 4:10 p.m. ET and received a 9.1 rating, a drop of 38.5 percent from the same semifinal matchup in the same time slot the year before (Rose Bowl between Florida State and Oregon). The Cotton Bowl between Alabama and Michigan State, kicking off hours later, received just a 9.6 rating. This was down 44.5 percent from the similar time slot the year before (15.2 rating for Alabama vs. Ohio State in Sugar Bowl).
Did the previous year have two better matchups worth the hype of the playoff? Arguably, but the disaster of playing games on New Year's Eve was forecasted for months by experts in the field and the College Football Playoff refused to adapt accordingly until now.
Games will still be played on New Year's Eve, but only if that day falls on a Saturday. The lone exception will be in the 2021 season, when New Year's Eve falls on a Friday but will be used to observe the New Year's federal holiday. The scheduled games will now be scheduled for January 1 or the next closest Saturday.
This upcoming season, the semifinal games in the Fiesta Bowl and Peach Bowl will remain on December 31, which falls on a Saturday this season (you can see the full adjusted schedule of future playoff games through 2025-2026 below).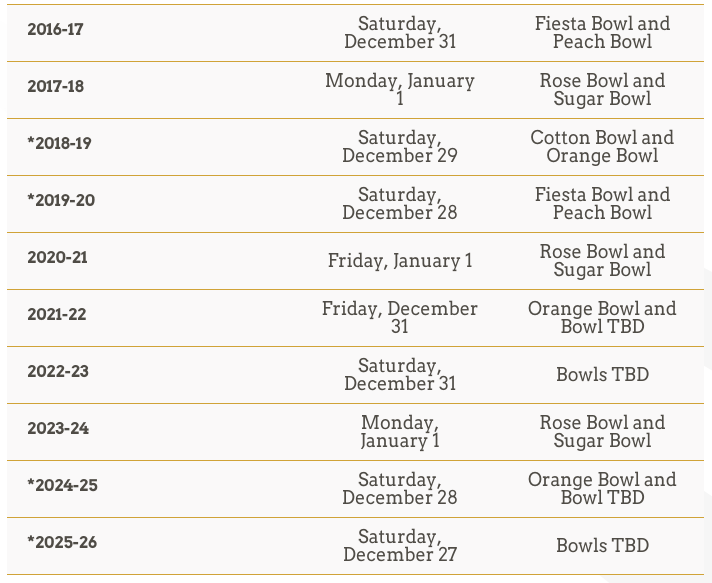 Keep a close eye on how the TV ratings fare this season. They should jump up from last year, but it still stands to reason we could easily see the full potential of the TV ratings fall shy as the games remain on a day when most of the nation is doing other things to ring in the new year. They will not be as bad as last season, but should still fall pretty short of the debut season's ratings for the playoff.
This will mark the third season of the College Football Playoff, and it is clear the organization running college football's latest method of crowning a national champion is working to tweak things to make it the best possible experience.
We'll see how it fares this season, but the lesson is clear: if your television partner (ESPN) is not happy, you will be pressured to make an adjustment. ESPN's not paying all that money for a fraction of the ratings it should expect to make for this postseason format.