With the NFL Draft upon us this week, we have asked our staff to build their own ideal sports network based on a budget. If you'd like to play along at home, you have $15 to pick five sports properties for your network and can mix and match them across any dollar category.
Before we get to our staff picks, here are the choices and the highlights of each package below.
$5 Highlights
NFL on CBS – Weekly Sunday coverage featuring all of the stars of the AFC including Patrick Mahomes, Joe Burrow, Josh Allen, and more. And you get Jim Nantz and Tony Romo.
NFL on Fox – The highly rated NFC package features some of the league's biggest markets and teams, but you also have to figure out what to do with Greg Olsen and Tom Brady.
Monday Night Football (ESPN) – On the plus side, you get to own Monday nights, and now are in the Super Bowl rotation as part of the package. On the downside, it may not be the top game every week.
Sunday Night Football (NBC) – It's the most-watched show in primetime for a number of years featuring the top game on the calendar many weeks, playoff action, and is part of the Super Bowl rotation.
Olympics (NBC) – The only top-line item that's not the NFL and the only property that can match the NFL's ratings, but it only happens for two weeks every two years.
$4 Highlights
Thursday Night Football (Amazon) – For the bargain shopper, this NFL package may present good value, but beware some matchups that are enough to make Al Michaels question his will to live.
NBA on ESPN – The association's top package featuring the NBA Finals and plenty of regular season and playoff action.
March Madness (CBS/WBD) – It may only last for a month, but you will own the sports landscape in March.
College Football (CBS) – For this year at least, you will get the best of both worlds in the SEC 3:30 PM ET window and the beginnings of your relationship with the Big Ten.
College Football (ESPN) – This package has a ton of conference relationships and inventory, but most importantly, is the College Football Playoff and almost every bowl game.
$3 Highlights
MLB on Fox – Baseball may not get the ratings it once did, but the World Series is a feather in the cap of any network.
College Football (Fox) – Ohio State-Michigan and the Big Ten Championship lead the way for Fox's CFB offerings.
World Cup (Fox) – The men's and women's World Cups are huge ratings draws, especially when the USA is playing deep in the tournament. But what will you air in those off years?
NCAA Championships (ESPN) – The crown jewel here is the NCAA Women's Basketball Tournament, but with softball, volleyball, baseball, and many others, this is a gold mine for inventory.
NBA on TNT – The Inside the NBA crew may be worth the pick on their own in addition to their assortment of games.
$2 Highlights 
NASCAR on Fox – The first half of the season with the sport's most-watched race in the Daytona 500.
EPL on NBC – Saturday mornings could be yours with the most popular soccer league on American television.
MLB on TBS – TBS makes it ahead of ESPN in our draft because of their postseason rights, although they don't have the World Series.
PGA Tour (NBC) – Two majors along with the FedEx Cup, Ryder Cup, and Players Championship makes this an attractive package.
PGA Tour (CBS) – Or if you're interested in golf… you could have The Masters.
$1 Highlights
Champions League (CBS) – Europe's club championship may be the finest soccer played in the world.
NHL on TNT – WBD televises their first Stanley Cup Final, and their coverage has been fairly well received thus far.
NASCAR on NBC – The second half of the season features coverage of the Cup playoffs.
NHL on ESPN – You may want this pick just for the theme music alone.
Formula One (ESPN) – If you're a big believer in the rising popularity of F1 stateside, this could be the ultimate opportunity.
Here's what our staff members have chosen to build their perfect sports network… what will you choose?
Brandon Contes – $5 NFL on CBS, $4 ESPN College Football, $3 NBA on TNT, $2 MLB on TBS, $1 NHL on TNT
Despite Tony Romo losing a bit of his luster in recent years, I'm still ready to consider the combo of Romo and Jim Nantz in the lead booth, paired with The NFL Today as a studio show, the best football coverage on TV. Tom Brady's looming presence gives me pause with Fox and Amazon's Thursday Night Football coverage pales in comparison to CBS. Five dollars well spent.
I only have room for one college sport, so I'm spending $4 on ESPN's college football coverage. Chris Fowler and Kirk Herbstreit are great in the booth and College GameDay remains the best pregame show, especially with the addition of Pat McAfee.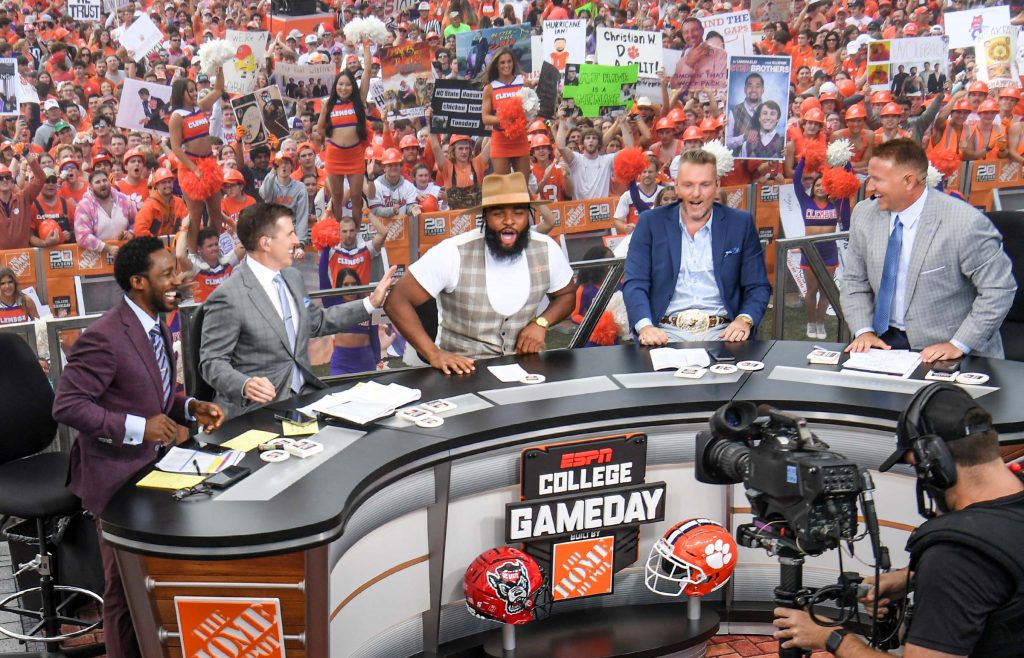 $3 for the NBA on TNT seems like a steal. Kevin Harlan isn't quite the voice of the NBA the way Mike Breen is, but he's pretty close. But Inside the NBA is why you have to go with TNT if you're taking NBA programming in this draft. Shaq, Ernie Johnson, Kenny Smith and Charles Barkley are synonymous with the NBA and the most entertaining studio show in sports.
Let's go with the MLB on TBS for $2. Somehow Twitter allowed the narrative that Bob Costas is bad at calling sports to spiral last year, and it just isn't true. Costas and Brian Anderson are still above average national play-by-play voices, and Pedro Martinez is elite in the studio.
For $1, I'll go with the NHL on TNT. I don't want to pretend like I'm a hockey connoisseur because I'm not, but I'm more than satisfied with Kenny Albert on the call. And despite Charles Barkley claiming he wants to retire from TV, he keeps adding more work to his plate, so I'm banking on convincing him to walk down the hall during the playoffs to talk his preferred sport of hockey with Liam McHugh, Anson Carter, Paul Bissonnette and Wayne Gretzky.
Michael Dixon – $5: NFL on Fox, $3: NBA on TNT, $3: Fox College Football, $2: PGA Tour (CBS), $2: MLB on TBS
The two that I really sought after were NFL on Fox and NBA on TNT. A year ago at this time, NFL on Fox would have been of little interest to me. I would have wanted CBS. But while I don't think Tony Romo regressed that poorly (and to be fair, I wasn't as crazy about him when he was more favorably received), the No. 1 crew of Kevin Burkhardt and Greg Olsen grew on me throughout the year. They don't have the same "big fight feel" that Madden and Summerall or even Aikman and Buck had. But they're still fresh and showing vast improvement. So, give me them.
NBA on TNT is more about getting Inside The NBA than any actual game coverage. If anything, I'd give the ESPN crews a slight nod when it comes to in game. But Charles Barkley, Kenny Smith, Shaq and Ernie Johnson blow the NBA on ESPN's crew out of the water. To be fair, I think they blow any pre/post-game show in any sport out of the water. That's a bargain at $3.
The rest just kind of fill out the roster. I don't have a strong college football preference. So give me the cheapest one. MLB is more about the regional broadcasts than national. The only exception is the playoffs and again, I don't see a big advantage from one national crew to the other there. So again, give me the cheapest.
Of the remaining options, golf is the sport I watch the most. I don't think the color analysts are as good as they've been in recent years (though Colt Knost is heading in the right direction). But Jim Nantz still gives them an edge.
Matt Clapp – $5 NFL on Fox, $4 March Madness, $3 NBA on TNT, $2 MLB on TBS, $1 Champions League
$1: Nothing really stands out to my personal interests here, but I'll be happy for my network to reach the massive soccer audience with the CBS rights.
$2: On the surface, it may be the least appealing from a business sense, but my baseball fandom wins me over with TBS MLB coverage.
$3: I'm going with the NBA on TNT, featuring a ton of regular season primetime games and playoff games, and the best studio show in sports. Charles Barkley sells, and he'll be the star of my network.
$4: Passing up on college football and an NFL primetime game is a questionable decision, but I can't help but pick my favorite event in sports: the NCAA Tournament/March Madness.
$5: I'll take a network that gets many NFL games each week, to go with postseason games that include a Championship Game annually, and the Super Bowl every four years. That answer could work for both CBS and Fox! I guess I'll side with Fox due to the potential Tom Brady factor (as long as I don't have to also pay him that $375 million!)- and at least will have Greg Olsen and company! However it all shakes out, the Fox NFL product will be getting a ton of attention and buzz in the coming years.
Alex Reimer – $5 SNF, $5 NFL on Fox, $3 NBA on TNT, $1 CBS Champions League, $1 ESPN F1
The NFL is absolute king, and the NBA on TNT is generally an excellent production – especially if we include Inside the NBA.
Ben Koo – $5 NFL on FOx , $4 ESPN College Football, $4 ESPN NBA, $1 ESPN NHL, $1 CBS Champions League
I spent way too long on this, but feel like I've really optimized my fictitious sports network with these picks. I have what is generally considered the best NFL package with Fox. My college football package is by far the largest of any network, and, more importantly, has the playoffs, two conference networks, and will soon be absorbing the CBS game of the week. College Gameday and a chunk of games on streaming are also nice additions. But beyond the fall, we'll also have the best NBA package, which includes the NBA Finals and also performs better with younger audiences.
My top-heavy portfolio of sports rights is rounded out by the ESPN NHL package, which is the better of the NHL packages and helps keep the network relevant after football season and also has a hefty chunk of games on streaming. UEFA Champions League is a growing property, further bolsters our streaming portfolio, and really helps the network by scattering games across the sports calendar and with a third championship for us in June.
Andrew Bucholtz – $5 NFL on Fox, $4 ESPN College Football, $4 NBA on ESPN, $1 NHL on ESPN, $1 NASCAR on NBC
My idea here for the Andrew Bucholtz Sports Network (ABSN) is trying to maximize viewership, both for peak events (so top-drawing events matter) and overall (so tonnage matters). This is also done with an eye towards where each of these properties is currently scheduled. Pure ratings optimization with no regard to scheduling might involve picking both the NFL on CBS and NFL on Fox, but that would create too much Sunday morning/afternoon content and not enough elsewhere.
The NFL had 82 of the top 100 events on U.S. TV last year, so NFL content is vital for this strategy, and the natural first pick is the NFL on Fox. It has to be CBS or Fox based on quantity (so many games each week, versus the usual one for NBC or ESPN) and quality (in the Super Bowl rotation, playoff games through the conference championships). And Fox's NFC-focused package tends to have the top-rated window most weeks, giving them an edge over CBS.
The second pick is ESPN College Football for similar reasons. The five non-NFL events in the top 50 sporting events last year were the FIFA World Cup Final, the Olympics broadcast after the Super Bowl, and the College Football Playoff semifinals and final. But the men's World Cup is once every four years for about a month, and the Olympics are every two years (counting both winter and summer) for a couple of weeks, while college football provides a full fall of Saturday content and then bowl season and the highs of the soon-to-be-expanded CFP. ESPN gets the edge over Fox in college football thanks to both the high end (the CFP, at least through 2026, and they're likely to keep that even with expansion beginning in 2024) and the tonnage (most bowls, the full ACC package, the full SEC package beginning in 2024, half the Big 12, currently half the Pac-12, and most of the Group of Five leagues and below). CFB on ESPN locks down Saturdays (and somewhat beyond) the way the NFL on Fox locks down Sundays.
The third pick is the NBA on ESPN. From a production perspective, the NBA on TNT comes with a better studio show and better game announcing and is cheaper, but the NBA on ESPN is the pick given ABSN's viewership-focused strategy. They have 100 regular-season games to TNT's 65, including a package on ABC (particularly great for our post-football weekends). And most critically, they have playoff content through the NBA Finals (which had all six of its games land in the top 50 non-NFL sports broadcasts last year). They also fill out our spring and early summer schedule nicely. The other tempting pick was MLB on Fox (slightly cheaper in this graphic) for the World Series and the playoffs, but the World Series isn't quite as strong as the NBA Finals, and there's less regular-season tonnage. So we'll pony up an extra dollar for the NBA on ESPN, as that seems to make a bigger difference than any of the $1 to $2 moves would.
That leaves us with two $1 selections. One of those should be a NHL package for fall-through-summer weeknight content and the Stanley Cup Finals. And while the preference here is for TNT's production, ESPN again wins on tonnage (103 exclusive regular-season games this season versus 62, and that's before their ESPN+ out-of-market package). Then the best remaining option looks to be NASCAR on NBC. This isn't ideal given the NFL Sunday conflicts in the fall, but it provides good summer weekend content after the NHL and NBA wrap up. And perhaps we can convince NASCAR to start races later in the fall, or move them to ABSN2 or ABSN+. Even if not, though, there still looks to be better value here than another NHL package (scheduling overkill, especially when we have NHL and NBA), Formula 1 (less favorable timeslots, generally not at NASCAR viewership levels yet), or the Champions League (mostly weekday afternoons).