ESPN has been the self-proclaimed Worldwide Leader in Sports for decades and one of the reasons is the shows that have become institutions for sports fans. While the ESPN lineup has seen changes in focus and personality over the years, some of these shows have endured while others are memories from a different era of sports fandom. But all of them had an impact on sports fans whether they informed, entertained, or provided a new way to talk about sports.
This week we asked our staff to rank their top ESPN shows of all time for the totally official, never-to-be-questioned or debated list. A few ground rules – first, these are the best shows of all-time in quality so you're likely not going to see something like First Take on the list even though it's the dominant ESPN show of this era. Second, this list doesn't go into anything dealing with live sports or documentaries (hence, no 30 for 30). Third, well, that's pretty much it.
Enjoy our look at the past, present, and future of the top 10 ESPN shows of all time…
10) 2 Minute Drill
The sports game show has been something of a white whale on television. With the popularity of sports and the popularity of game shows, one would think that you could build a successful series around sports trivia. Alas, ESPN has tried a few times over the years but nothing has had a long-lasting run. However, we still remember some of the efforts fondly and one of the best was ESPN's 2 Minute Drill. The show only lasted a few seasons in the early 2000s, but it combined the wit of host Kenny Mayne, celebrity guests, and a wicked-fast and pressure-packed format. How could that not be a winning formula?
9) Around the Horn
Although it's often been the Robin to PTI's Batman, Around the Horn deserves credit for making up the first half of ESPN's 5 PM ET hour-long block for an incredible 21 years. While the show began with Max Kellerman, it's now been hosted for much of its run by the lovable Tony Reali. The former "StatBoy" has taken a concept as absurd as scoring sports arguments with points and turned it into one of ESPN's most endearing shows. As a bonus, ATH has given a platform to a number of new, diverse voices around the country in recent years that have gone on to star at ESPN and beyond.
8) The Sports Reporters
The spiritual predecessor to Around the Horn was one of ESPN's longest-running shows. The Sports Reporters aired weekly on Sunday mornings and featured sportswriters from around the country sitting on a set and talking about the biggest stories of the week. Before appearing on PTI, Tony Kornehiser and Michael Wilbon were featured guests. As were future Around the Horn panelists like Bob Ryan and writers like Mitch Albom, William C. Rhoden, Christine Brennan, John Feinstein, and Mike Lupica. The show was anchored most notably by two legendary figures – Dick Schaap and John Saunders. After Saunders' death in 2016, The Sports Reporters was brought to a close soon thereafter. In many ways, it normalized sportswriters and columnists becoming television personalities, which launched many shows on ESPN in the years after.
7) Baseball Tonight
Unfortunately, the disappearance of Baseball Tonight on ESPN matches up with the sport's slow decline in fandom and relevancy over the last 30 years. Baseball Tonight was once a staple on ESPN's daily lineup at 10 PM ET throughout the season, offering real-time highlights and analysis for the national pastime from 1990-2017. ESPN then cut back the program to a weekly offering and special event coverage, and quite frankly, the network's baseball coverage has never been the same.
6) Stump the Schwab
In the annals of sports game shows, none hit the mark quite like Stump the Schwab. Howie Schwab was an ESPN lifer and Bristol's OG statistician. Schwab would go head-to-head with three would-be adversaries as they traded sports trivia questions back and forth. But what made Stump the Schwab so iconic was just how much it mattered to Schwab to not be beaten! It always felt like an achievement for a contestant to actually succeed in stumping the Schwab, which didn't happen too often. The show had a four-season run consisting of 80 episodes in the mid-2000s and we just wish there were more.
5) NFL Primetime
No ESPN show was quite as influential as NFL Primetime. It's hard to imagine now in an era where every highlight was a click away, but from 1987-2005, NFL Primetime was the definition of must-see TV for fans of professional football. Chris Berman and Tom Jackson showed the biggest highlights from all the games with an incredible amount of energy. From the iconic music to the nicknames, to the energy of the show, it's not going out on a limb to say that Primetime helped the league grow in popularity to where it is today. However, once NBC won the rights to Sunday Night Football, the program came to an end on ESPN although it has been resurrected on ESPN+.
4) College GameDay
Although College GameDay first aired in 1987, the show can really trace back its time as one of ESPN's best offerings to 1993 when it went on the road for the first time for the Game of the Century between #1 Florida State and #2 Notre Dame in South Bend. That decision birthed a phenomenon as GameDay became a traveling tailgate show, celebrating the unique culture, tradition, and fandom of college football. In the years since GameDay has consistently been the gold standard of studio shows alongside Inside the NBA on TNT.
3) Pardon the Interruption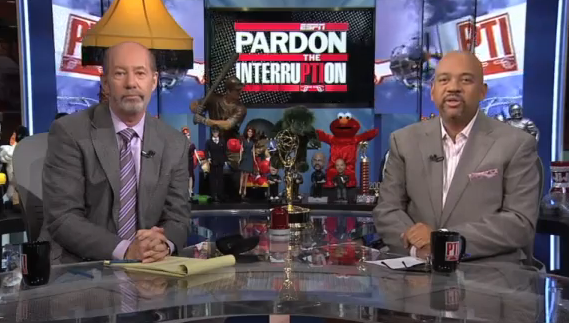 Simply put, it's a show that spawned an entire era of Embrace Debate programming at ESPN. When PTI debuted in 2001, there could not have been anybody who pictured it still running today in 2023 and being one of ESPN's most successful shows of all time. The show took two long-time Washington Post sports columnists in Tony Kornehiser and Michael Wilbon and had them debate sports topics set to a running timer. At first glance, it seems like a ridiculous idea for a television show. But it works! And although it's tried to be duplicated countless times since, nobody has ever done the format better than PTI.
2) Outside the Lines
When it comes to quality ESPN programming, Outside the Lines will always stand the test of time. The show aired in some form from 1990-2023 and ran in a number of different timeslots and formats. But what made OTL stand out was its willingness to go to places, cover stories, and discuss topics that nobody else at ESPN would address. Anchored by the likes of Bob Ley and Jeremy Schaap, OTL was the best of ESPN's serious efforts to cover all aspects of sports and society through the network's gifted storytellers. It's a shame that after years of being on the margins, ESPN finally canceled the show earlier this year.
1) SportsCenter
There could be only one choice for the best ESPN show of all time. No show has defined a network quite like SportsCenter has defined ESPN. It is quite literally the show that put ESPN on the map from its launch in 1979 until now. SportsCenter may not have the widespread cultural impact that it did at its peak in the 1980s and 1990s with Dan Patrick, Keith Olbermann, Rich Eisen, and Stuart Scott to name a few, but it's still ever-present as the sports show of record in America. To his credit, Scott Van Pelt has reinvigorated the brand with his late night version, continuing to make SportsCenter relevant for fans in a new media age.