This week's episode of WWE's Monday Night Raw was the best episode of Raw in 2016. It featured two outstanding matches involving some of the best in-ring performers in the company (AJ Styles vs. Sami Zayn and Cesaro vs. Kevin Owens), a competitive Women's Title match, the start of a new tag team tournament, the debut of two international stars that we've been waiting on for three months, and a main event that featured a tag team of two unlikely partners. Plus, the crowd in Los Angeles was lively all night long, which is always a good thing.
Considering that this is the first week where I'll be doing a weekly Raw recap here on The Comeback, I just want to say thanks to WWE for putting on an awesome show that's going to be pretty easy to write about.
To start the show, Shane McMahon entered to a big ovation while noting that he was once again in charge of Raw. This is a point that has upset a lot of fans because his stipulation going into the WrestleMania match with Undertaker was that if he won he got to control Raw and if he lost the assumption was that he wouldn't get to control Raw. Instead, his father Vince (who prior to WM said he would disown Shane) put him in charge of last week's Raw and then did it again this week. There was no sign of Vince on Raw this week, nor was there Triple H or Stephanie McMahon even though they've been running things on camera for the past three years as the heel Authority group.
While this week's Raw was great, they should have done a better job of explaining why Shane is in charge. Last week Vince noted that it was just a "temporary" thing. That's fine, but they should have had him say it this week or try to explain it in a way that made sense. Perhaps they could have had Vince in the ring saying that he's going to let Shane have control until the Payback pay-per-view on May 1 and then the next day on Raw Vince will make a decision on Shane's future. Something like that. At least then there's more of a story involved. Don't be lazy, WWE. Clean up these storyline messes.
There was a guest star on this week's show too. It was Dr. Phil. It was an odd fit, but he did okay while trying to advise Charlotte to compete without cheating. She didn't listen.
This Week's Raw Matches
Here's a rundown of this week's matches on Raw with quick notes on each.
Cesaro defeated Kevin Owens – An excellent match that went over 15 minutes with a lot of nearfalls for both guys. Cesaro got the clean win with the Neutralizer. As a reward, he gets to face The Miz for the Intercontinental Title at Payback.
The Dudley Boyz defeated The Lucha Dragons – This was a first round match in the tag team tournament to determine what team will get a title shot. The Dudleys won easy because Kalisto was injured on the floor. No word yet on if it was legit or a storyline.
Natalya defeated Charlotte by disqualification in a Women's Title match – It was a competitive match that went about 10 minutes. Natalya had Charlotte trapped in the Sharpshooter, Charlotte actually tapped out, but the referee was pulled out of the ring by Charlotte's dad Ric Flair. That led to the disqualification finish. Look for them to have a title rematch at Payback, perhaps with a stipulation on it.
The Usos defeated Curtis Axel & Heath Slater – This was another tournament match. The Usos won easily over the comedy heels. This was also where Gallows & Anderson attacked post match. More on that later.
AJ Styles defeated Sami Zayn – The stipulation here was that if Zayn won he would be added to the WWE Title match at Payback against Styles and Reigns. It was a really competitive match with Zayn looking like he could have won multiple times. Instead, Styles was able to kick out of everything and won with the Phenomenal Forearm smash. It's one of the best TV matches of the year so far.
Apollo Crews defeated Adam Rose – A quick win by Crews, who debuted on Raw last week. He has a very bright future.
Roman Reigns & Bray Wyatt defeated Alberto Del Rio & Sheamus – Reigns and Wyatt are a unique team since they have been rivals for several years. There were several moments where it looked like the team wouldn't work well together, but they were able to get through it. In the end, Wyatt pinned Del Rio.
Three Other Key Items From Raw
1. The team of Luke (Doc) Gallows and Karl Anderson made their much anticipated debuts on this week's show. The duo that were part of the Bullet Club group in New Japan attacked the unsuspecting Usos after they won a tag match on the show. The crowd reacted to Gallows and Anderson in a big way, which shows that a lot of fans are reading about wrestling on the internet because these guys were known to have signed with WWE three months ago.
Long time WWE fans will remember Gallows as a former member of CM Punk's Straight Edge Society group about six years. Prior to that, he also had a brief run as the Imposter Kane and a comedy tag team wrestler named Festus. Anderson hasn't been in WWE before.
What's interesting about Gallows and Anderson is they worked with Finn Balor in Japan when he was known as Prince Devitt. They were part of the Bullet Club name. When Balor signed with WWE a couple of years ago, AJ Styles replaced him in the group. Could these two new WWE performers team up with Balor or Styles in the future or perhaps both? It's very possible.
2. Bray Wyatt has apparently turned from being an evil genius kind of heel to becoming a fan favorite. Last week, Wyatt and his "brothers" Braun Strowman and Erick Rowan attacked the evil League of Nations group. This week they did it again, even coming to the aid of Bray's old rival Roman Reigns.
Then in the main event, Wyatt teamed with the WWE Champion Reigns as they beat Sheamus and Del Rio with Wyatt getting the clean pin. Raw ended with Wyatt staring into the eyes of Reigns while viewers were left to wonder if Wyatt's changed or if he's just playing a game.
The turn seems like the right move because Wyatt really wasn't going anywhere as a heel leader of the Wyatt Family. Fans have wanted to cheer Wyatt since he debuted on the main roster a few years ago. Now they will get that chance to do it. It could be the kind of thing that propels Wyatt to that next level as a bigger star. Maybe one day he'll be an even bigger heel too. He's definitely a guy to keep an eye on going forward.
3. Chris Jericho and Dean Ambrose started a feud on Raw. It was actually teased on last week's Smackdown when they had a brief staredown. On Raw, Jericho was in the ring bragging about how great he is when Ambrose showed up to hijack his "Highlight Reel" show and turn it into the Ambrose Asylum.
The verbal altercation was a lot of fun as Ambrose questioned Jericho's fashion sense (why does he wear a scarf anyway?) and then Ambrose dropped him with his Dirty Deeds DDT. This is likely going to lead to a match at the Payback event on May 1 with Ambrose getting the win since he really needs it after losing to Brock Lesnar at WrestleMania.
Looking Ahead To WWE Payback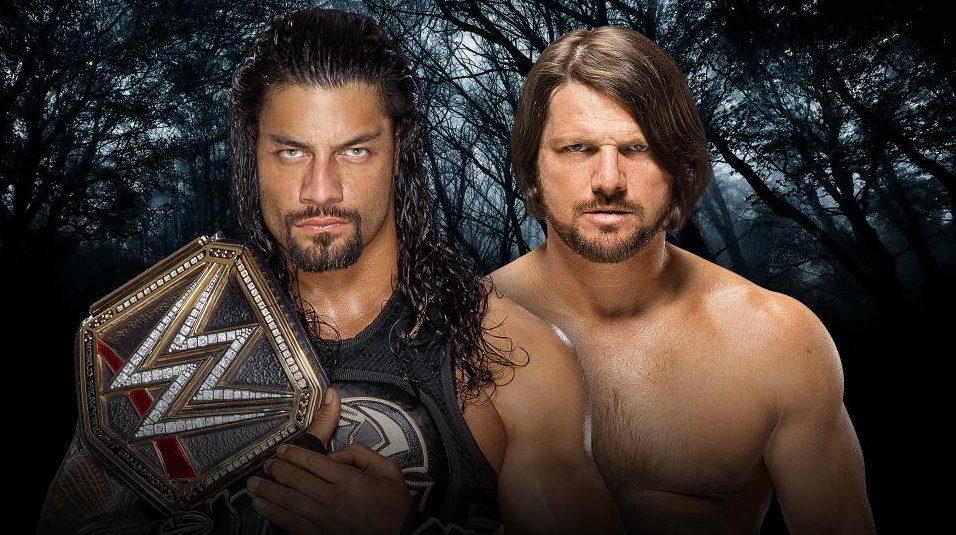 The next WWE PPV is called Payback on May 1, which is taking place in the Chicago area at the Allstate Arena. As of this writing, there are only three matches confirmed.
WWE World Heavyweight Title: Roman Reigns vs. AJ Styles – It should be an awesome match. While most fans will want Styles to win, it would be a shock to see Reigns lose the title after only one month as champion.
WWE Intercontinental Title: The Miz vs. Cesaro – Poor Zack Ryder. Won the IC Title at WrestleMania, lost it the next night and the rematch the day after. Could be Cesaro's turn to hold some singles gold.
WWE Tag Team Titles: The New Day vs. ??? – We will find out The New Day's opponent at the end of the new tag team tournament. Lots of possibilities with The Dudleys, The Vaudevillains and maybe even Anderson/Gallows could sneak into the tournament to win it.
Other matches that are likely:
Kevin Owens vs. Sami Zayn – Probably the best match on the show as well as a personal feud between former best friends.
Chris Jericho vs. Dean Ambrose – Has the potential to be a great rivalry.
Six Man Tag: Wyatt Family vs. League of Nations – Interesting mix with the Wyatt Family positioned as faces now.
Women's Title: Charlotte vs. Natalya – A rematch from this week's show.
That's seven matches. There could be a few more too because there are some rivalries that are worthy of being on the show. It's definitely looking like an above average show.
The Final Curtain
This was the best episode of Raw this year. No question about it. As WWE moves on from WrestleMania and heads towards the spring season, often times things can be considered boring. What they have in their favor right now is a lot of momentum due to the influx of new talent that are mixing in with veterans who will benefit from working with them.
Let's hope WWE keeps the momentum going next week by following the simple formula of having meaningful matches that are fresh while mixing in stipulations that make people want to tune in as well. The talent is there for Raw to be great every week. Now it's up to WWE to execute on a consistent basis.