On Monday, we covered the story of quarterback recruit Devin Brown refuting a piece from Ole Miss Spirit (a CBS/247 Sports Ole Miss site) writer Yancy Porter, saying he never spoke to Porter. Porter tried to defend that with a since-deleted tweet saying the comments he wrote up came from a third-party stringer he hired, who Brown said he also didn't speak to. On Tuesday night, this led to a flurry of activity on that site's message boards, including postings that key figures Chuck Rounsaville and Ben Garrett had been axed by 247 along with Porter. (We'll get to those later.) On Wednesday, that led to another college sports site network, On3, picking up Rounsaville, Garrett, and the Ole Miss Spirit brand, but not Porter. Here's what On3 CEO Shannon Terry (who was previously the founder of 247, and a co-founder of Rivals before that; he left 247 last August) posted on this on Twitter Wednesday:
Monster unexpected news for @On3sports … Ole Miss Spirit moves to On3. Iconic fan site has one of the most passionate communities & Chuck Rounsaville is a terrific human.

We are giving Ole Miss fans an offer that's impossible to say no to. Let's go! https://t.co/X2v9EBiHyZ

— Shannon Terry (@ShannonTerry) October 13, 2021
Before the snowball starts. Let me be clear. Yancy will not be part of Ole Miss Spirit on On3 Sports. 0%. However, Chuck and Ben are terrific humans and hard working. We are thrilled to support them and will add more staff to this fan site. https://t.co/eLXsFUUq9G

— Shannon Terry (@ShannonTerry) October 13, 2021
And here's more from that On3 post Terry linked:
On3 announced it has added the leading Ole Miss Rebels website, Ole Miss (OM) Spirit, to its rapidly growing portfolio of iconic college sports fan sites.

"The Ole Miss Spirit has been the leader in the Ole Miss market for decades," On3 founder Shannon Terry said. "Chuck Rounsaville is an icon in the Ole Miss media community and Ben Garrett does a tremendous job covering Ole Miss sports. Their community is passionate and represents the heartbeat of Ole Miss."

…"We are incredibly excited about the opportunity to join On3 Sports as the Ole Miss Rebels fan site," said Rounsaville, the site's publisher and owner. "We have absolute confidence in the network and product being built."

…"Shannon and his team have decades of experience, and we believe On3 will be their most successful company yet. He has surrounded himself with an all-star team of operations resources and media talent," Rounsaville said.

…"We are thrilled to be presented this unexpected opportunity and are committed to adding significant additional resources to fuel growth for decades," Terry said.
So, what presented them this "unexpected opportunity"? Well, as mentioned above, the discussion threads on the Ole Miss Spirit 247 site lit up Tuesday with claims that the parent company had parted ways with both Rounsaville and Garrett as well as Porter. Here's a screenshot of some of the thread titles (note that the site name is now Inside The Rebels; more on that below):
Those threads are all for VIP subscribers only, but here's a screenshot of one of them: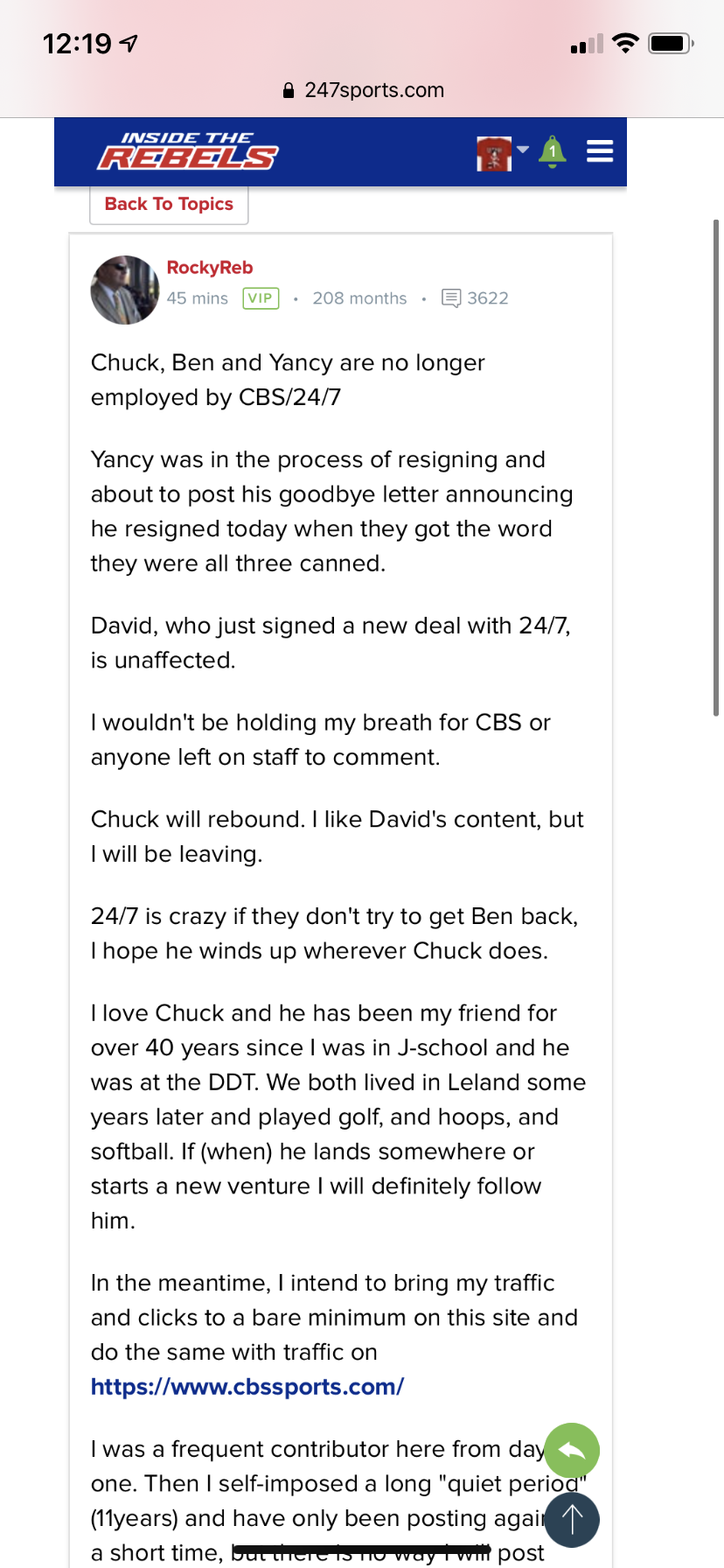 And here is what 247 Sports posted in an official "statement to the Ole Miss community" thread there (which, for some bizarre reason, was paywalled):
"247Sports has made the decision to end its relationship with Ole Miss Spirit. We will continue to provide the same great exclusive content on the rebranded site, InsideTheRebels, including from insider David Johnson, while upholding our high journalistic standards."
So Johnson was part of Ole Miss Spirit, but is continuing on there with the rebranded InsideTheRebels. Meanwhile, Rounsaville and Garrett have brought the Ole Miss Spirit name over to On3. And Porter, who all the furor here was initially about, appears to be left without a chair for the moment.
We don't have access to what went on internally in the wake of Porter's false report of comments from Brown.  And we don't currently have any information on why CBS/247 decided to move on from Rounsaville and Garrett as well as Porter, and they haven't put any of that out publicly. But without that information, their decision to nuke the site from orbit appears curious. As of Monday, it seemed possible that Porter might even survive there (albeit probably with some notable public reprimands), and it didn't seem likely that anyone else would lose a job over that. In the days after that, that situation changed dramatically, and that led to Rounsaville and Garrett taking their talents to On3. And it will be interesting to see how their new On3 site does relative to the continuation of their old site under the InsideTheRebels rebrand.