A boxing event aired globally on streaming subscription service DAZN Saturday wound up featuring some content more often seen on a different kind of pay-per-view offering. The Kingpyn Boxing "High Stakes" semi-final round at the 3Arena in Dublin, Republic of Ireland saw 10 fights overall, with four of those strict semi-finals. But one from the loser's bracket drew the most attention, with boxer and OnlyFans model Daniella Helmsley beating "Ms. Danielka" (Aleksandra Danielka) by unanimous decision.
What made that fight get so much attention? Well, it wasn't the fight, but the celebration. Helmsley celebrated by pulling up her sports bra in front of a camera, revealing her bare breasts to both the in-arena and streaming audience. Here's a (censored) image of her taking her top off right in front of the DAZN cameras, via The Daily Mail: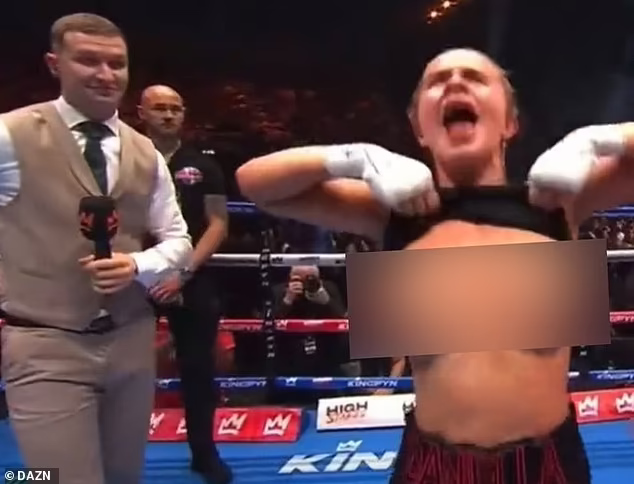 Meanwhile, in-ring interviewer Wade Plem was not thrilled, putting his head in his hands and walking away. He then tweeted "Please tell me that did not go out on the live broadcast," and was informed it did, with video of his reaction. (There is maybe a brief glimpse of Helmsley's breasts there, so the video will only play on Twitter.)
Well it did and I got ur reaction pic.twitter.com/1SBAjFOucr

— Desmond lovas (@InstictN) July 15, 2023
In a video posted on her YouTube channel Thursday, though, Helmsley said showing her bare breasts wasn't the plan. She said her intention was only to show off nipple stickers. But unbeknownst to her, those had gotten stuck to her bra during the fight:
Here's an image of the nipple stickers that Helmsley shows during that video (at 0:37):
And here's a transcription of the key part of her comments there, from Drake Riggs of MMA Fighting:
"I'm in the dressing room before my fight. I'm stickering up, guys. Like, I actually had flame nipple stickers. I'll insert them right here [shows image] that I intended to wear. Before my post-fight celebration, I was only gonna pull my top up if I won. With my flames, you know, because 'girl on fire' sorts of vibes. I won my fight, I pull my top up and the stickers got stuck in my bra so the whole world saw my tits. My tits were out to everyone. I mean, I'm sure most of you aren't complaining."
She also put that info out on Twitter (warning: the rest of her Twitter is very NSFW, but that particular linked post is not) shortly after the fight, saying "I also apologies to anyone who may have felt offended by my excitement, I did actually have tassels on but the sweat stuck them to my bra." But the rest of her Twitter page (again, very NSFW) includes her retweeting uncensored videos of the flashing incident, posing topless after the fight (her pinned tweet), and posting a (clothed) photo of her in boxing gloves with the caption of "The winning pair."
In the wake of the happenings Saturday, Helmsley initially said that she had approval from promoter Kingpyn for the stunt, but that may have been about the sticker plan. And after what did happen, Kingpyn wound up putting out an apology statement, and said that Helmsley would not appear in September's finals:
"We apologise fully to anyone upset from the broadcast. The fighter involved in the incident will not be appearing in the final event and has decided to take some time away from boxing. We will now be turning our attention to the Kingpyn finals, with all of us more determined than ever to hold the greatest night of influencer boxing and showcase the very best sport we all love."
Helmsley said in her YouTube video from above that she was not "banned," though, contrary to some media reports. She said there that she thinks she broke her thumb and possibly her elbow, and needs some time off from the sport to recover.
"Which brings me on to say, there is a lot of speculation in the media at the moment about me being banned. Article after article after article. I am not banned from Kingpyn, guys. I have simply decided to take a few weeks off from training, to recover, to recover my body, and I plan on coming back fighting again hopefully in the winter."
It should be noted that while there are potential consequences for broadcasters from showing nudity without warning (see the Federal Communications Commission fining CBS $550,000 over the Janet Jackson "wardrobe malfunction" at the halftime show of Super Bowl XXXVIII in 2004, although that fine was eventually voided), that's not usually a thing (in the U.S., at least) for streaming services. Nudity, profanity, or other "objectionable content" has the most backlash potential on broadcast TV; it sometimes draws some complaints on cable, but usually only leads to apologies there, with actual fines being limited to more serious things such as misuse of emergency alert tones. And there really hasn't been much action against streaming services to this point, at least in the U.S. But "decency" rules do vary by country, and this was a global DAZN broadcast, so action against them somewhere can't be entirely ruled out. (This is not the first in-ring flashing, though; this happens from time to time, and BKFC fighter Tai Emery did the same thing after a knockout win last September.)
At any rate, this made for quite the controversy, and in only Helmsley's second fight. (Her first one, also with Kingpyn, was a loss to Jully Poca in April, which put her in this loser's bracket.) And while she won't be in that final in September, she maintains that's her decision rather than the promotion's, and says she'll be back in the ring later in the year. But she has lots of other projects, including her OnlyFans channel and her Instagram page (a combination of boxing photos and lingerie photos). We'll see if she winds up fighting again this fall.
[The Comeback, MMA Fighting, Daniella Helmsley on YouTube]