Bill Simmons is out. Colin Cowherd is out. Keith Olbermann is out.
Three huge names—and three enormous contracts—are officially off the ESPN books this summer, replaced by…wait a second, has ESPN replaced those three with anyone?
Cowherd was the one ESPN tried to keep of those three, and despite every effort to stop their polarizing midday radio mainstay from taking his ball and going to Fox to be a centerpiece on Jamie Horowitz's debate-embracing tablescape, there is industry sentiment—both inside the walls of the Worldwide Leader and out­—that ESPN will be much better off without him.
Clearly John Skipper and the brass at ESPN thought they would be better off without Simmons, who recently signed a big-ticket deal with HBO, officially closing the long and successful chapter of his ESPN career.
ESPN could have afforded to keep Simmons—ESPN can afford anyone, let's never forget that—but they chose to not only let him go, but cut him loose early, barely even getting into the (publicly, at least) negotiation stages.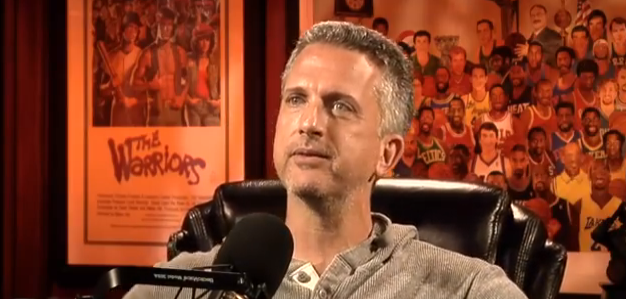 Olbermann was always a curious hire when he was brought back into the ESPN fold. Time heals and all that jazz, but Olbermann's fan base is so inherently polarized—take his political acolytes of liberal, New York elites and add in "who only like baseball the way it used to be played" and that's what ESPN was working with for an audience—that it was difficult to see the show being a huge success, especially when ESPN couldn't figure out the right channel or time slot for it since day one.
Three of the biggest names at ESPN are gone this summer. Three separate decisions for vastly different reasons that send a singular message to the rest of the industry, including those inside the walls at ESPN: We are the brand, not you.
In some respects the same philosophy can be employed (for now, if you pardon the easy pun) for Jason Whitlock, who was taken off his personal vanity project The Undefeated this summer, thereby winding the clock for his eventual ouster at ESPN. Whitlock has been highly visible this summer as a regular fill-in on PTI, but without his own personal Grantlandesque title to head, it seems Whitlock's days at ESPN are numbered as well.
The new man to lead The Undefeated? Howard Bryant, a widely-respected reporter with a far lower profile than Whitlock, but a smart sports mind and the skillset needed to run a group like ESPN has put together for this new, signature venture. The site won't be a vanity project like it would have been for Whitlock, and both the site and the audience will be better off for it.
I got outed so I'm happy to out @jemelehill @Locs_n_Laughs @michaelsmith+@bomani_jones as future @TheUndefeated contributors. Gonna be good!

— Full Dissident (@hbryant42) July 25, 2015
The "Moneyball" philosophy isn't new at ESPN. Frankly, nothing is different this summer from the days of, well, letting Olbermann go the first time, or seeing Dan Patrick leave for a huge radio and television career outside the walls of Bristol, or even lower-level moves like seeing Rich Eisen go to NFL Network a dozen years ago and watching him turn into a star.
The philosophy hasn't changed at ESPN, it just feels a little different because so much of this is happening at once.
It should be noted that ESPN has definitely kept some of its big names throughout the years. Others, like Olbermann and current carnival barker sitting in the dunk tank for two hours per day, Stephen A. Smith, have left and come back for high-profile deals. (Note: Stephen A. reportedly makes three million dollars a year, so take the rest of this entire "Moneyball-esque" article with that huge, Scrooge McDuck's vault-sized grain of salt.)
What's funny about ESPN's consistent business model when it comes to talent retention is how often people in the industry use it as a negative. Specifically when the Simmons news was announced, much of the public reaction was about how ESPN made yet another move to make things about the value of their brand, not about the value of their talent.
Isn't that smart business? Isn't that "Moneyball?"
I'm not suggesting that ESPN is somehow suddenly turning into a small-market media organization, but it's kind of hilarious to see how we constantly laud sports franchises for succeeding with smaller payrolls by making smart decisions with talent that gel into a contender, then use that exact same logic as a negative when it comes to a place like ESPN. (It's also ironic when that logic is used after someone like Simmons is let go, but derided when sitting through three hours of Chris Berman back-back-backing his way through the Home Run Derby.)
Since the start of summer, ESPN has made a series of moves that not only seem fiscally responsible, but make sense for a brand looking to keep its core in tact, focusing on finding and retaining value over making a big splash.
https://www.youtube.com/watch?v=Z06f1eaJ7ds
In May, ESPN made an enormous move pulling Scott Van Pelt off radio to give him his own daily television show, framed within the SportsCenter brand. Keeping SVP in the ESPN fold is as "Moneyball" as it gets in our industry—a guy who can do everything well, who probably won't be starting the All-Star game midseason, but seems to always sneak into the MVP race come year's end.
In early June, ESPN re-upped Bob Ley, perhaps the most respected television presenter in our industry. Ley isn't going to win the Home Run Derby for ESPN (or even host it), but he is a vital facet of a team looking to stay ahead of the competition. (There's a case to be made that Ley is ESPN's Andrea Pirlo, but since we're using a baseball metaphor and not one from the world of international football, I'm just going to leave that there in hopes it makes one of the two men smile, and move on without the need for further explanation.)
This week, ESPN announced a new deal with Jeremy Schaap, one of the company's best, if not its most dogged, reporters and television journalists.
.@jeremyschaap Congrats. Can't imagine being in the trenches without you beside me.

— Bob Ley (@BobLeyESPN) August 3, 2015
Might not be prudent to stand beside a general in the trenches, but count me in. https://t.co/E7rHyWAwFd

— Jeremy Schaap (@JeremySchaap) August 3, 2015
In July, ESPN announced new deals with Trey Wingo and Suzy Kolber, two of the most dependable football anchors in the business. Yes, Berman still exists, but in keeping Wingo and Kolber, ESPN has given football fans an almost daily dose of the perfect Berman antidote.
Wingo's new deal comes with an hour-long Sunday NFL preview show, siphoning back the first hour of Berman's NFL Countdown, which ESPN has announced is also being slightly re-tooled with a "more fast-paced, whip-around format" this fall. From ESPN:
"Suzy and Trey have helped shape our daily presentation of NFL news and information as much as anyone, so it is particularly exciting to see them expand into even bigger roles with ESPN this season and in the years ahead," added Seth Markman, senior coordinating producer, NFL studio shows. "Not only do they bring out the best in our analysts and insiders, they are highly respected in NFL circles and trusted by our viewers."
There have certainly been other recent personnel decisions at ESPN that echo this "Moneyball" mentality. Back in February, the WWL announced that Rece Davis would be taking over College Gameday for Chris Fowler, who has transitioned the last few seasons into the college football booth, ostensibly replacing Brent Musberger as ESPN's voice of college football.
That ESPN managed to keep both Davis and Fowler proved to be a bit of an industry coup, or at the very least incredibly smart planning and savvy roster management by those in charge.
ESPN also announced this week that the duo of Stan Verrett and Neil Everett—a tandem ESPN has het to find a creative way to brand together with their last names in some kind of quirky logo with a translucent E and second r, eh I'm just spitballing here—will remain the hosts of the 1 a.m. ET edition of SportsCenter out in Los Angeles. We reported that Jay Crawford and Kevin Connors are likely to stay put as well.
Not every move ESPN announced has been effective. The decision to ship Mike & Mike In The Morning to New York City to allow the show to share guests and content with ABC's Good Morning America stalled, and the news that Mike & Mike would become Mike & Mike & Molly with the addition of Molly Qerim never materialized after being announced at the Up-Fronts this season.
If nothing else, the decision not to move their tent-pole radio program to Times Square is another huge cost-saving decision. Qerim, for the time being, has been outfitted with an ESPN-embroidered canvas money belt to go with the red and white vest she wears while manning the dunk tank every morning at the First Take carnival. "Step on up and win a prize, or if you like, throw the ball right at my head to put me out of this misery."
https://www.youtube.com/watch?v=LpevIH_bkuI
Cari Champion was put out of her misery—my words, not hers—when she got promoted to SportsCenter this summer, another smart move of advancing its talent from within. Giving Champion the chance to develop her own voice is something she wanted, and ESPN was willing to give her that chance, rather than risk losing her. From Neil Best at Newsday:
"It was the middle seat, the moderator to get the questions laid out. It's a great platform. It was a wonderfully watched show, but the ceiling was really low. I had the skill set to do more."
ESPN made Simmons who he is because they recognized many years ago he had the skill set to do more.
Sure, the guy has an insane amount of talent and took his role in directions nobody thought were possible, but without the platform ESPN gave him, the Sports Guy might be some Boston-area blogger who still bartends five nights a week to make ends meet. Hell, many of us might be doing the same exact thing.
Cowherd is where he is because ESPN recognized his skill set as well. He was a small-market radio guy in the Pacific Northwest that ESPN turned into a media giant. Sure, the guy has an insane amount of… you get the point I'm trying to make.
And while Olbermann was a bigger name when he first came to ESPN than the other two, and certainly a bigger name when he came back a few years ago, the logic is no different: ESPN makes stars, then lets them go when the value of retention is no longer favorable.
Some names, like Berman or Dick Vitale, who also re-upped with ESPN this summer, in a move that had comparatively little buzz to the other decisions this off-season, get big and never leave. Others—even someone as home-spun as Simmons—have no choice but to.
It's an over-simplistic look at things, but at a base level, it's "Moneyball."
Well, at the very least, it's a modified, knock-off version of the concept. Perception being reality and all, it's admittedly different when the Kansas City Royals make the World Series with the 18th highest payroll in their sport because that's all the talent they could afford than when, say, the Yankees make it with the same roster as Kansas City had, just because they didn't feel like spending the money that year.
Teams (read: media conglomerates) that don't have the money to be competitive have no choice but to find the next crop of stars to try to win with youth and depth and scheme, while those with all the money can buy up all the talent and swing for the fences.
And yet, if the Yankees—or Red Sox or Giants or Nationals or Dodgers or Tigers or Angels or Worldwide Leaders in Sports—didn't have a payroll more than double the Houston Astros and could remain just as competitive, wouldn't they do it?
If ESPN can still put out top-quality content without having to pay Simmons a king's ransom, or can still put out radio that—for better or worse—gets half the country to stop in its tracks at 11 o'clock every morning to wait for John Wall's reaction to some incendiary comment made by a guy who swears he's a realist, not a moralist, without having to pony up the insane deal Fox is reportedly giving Cowherd, wouldn't it behoove them to do so?
Disney is already on ESPN's case for overspending, despite making money hand over fist on almost everything they do. It's not like they're suddenly going to stop buying up properties to show live sports—the industry has clearly shown that the best way to gain traction in the cable sports space is to put as much live programming on as possible—so if chopping Simmons and Cowherd and Olbermann off the bottom line of the bottom line, allows ESPN to use a fraction of that money in another area like securing EPL rights, that seems like good fiscal sense.
If letting big stars go at the same time leads to something of a retooling at ESPN this summer that keeps them cost-effectively progressive, why not make those moves?
Retaining the core they have this summer—from Van Pelt to Ley to Schaap to Kolber to Wingo to Champion to (E)ver(r)ett and yeah it needs work, I admit—may not splash across the pages of Variety like Simmons or Cowherd have, but the company, read: the brand, may be better off in the long run for it.