If you would like to ask about or request ratings for a program or event on these networks, please reach Douglas on Twitter @SonOfTheBronx.
Ratings News and Notes
The final edition of ESPN Radio's "Mike and Mike in the Morning" with hosts Mike Greenberg (departing for ESPN's new morning studio show set for a spring 2018 launch) and Mike Golic (remaining on morning radio but with new host Trey Wingo) from Nov. 17 drew 378,000 viewers on its ESPN2 TV simulcast. This marked the best viewer figure for the simulcast since the morning after the Cleveland Cavaliers had defeated the Golden State Warriors in the seven-game NBA Finals (June 20, 2016: 392,000 viewers).
A visit to Auburn, Ala. on Nov. 25 ahead of that day's Iron Bowl (Alabama at Auburn) spiked ESPN's "College GameDay" to 2.291 million viewers – a season-high in total viewers for the popular college football pre-game show. Former NBA great and longtime basketball analyst Charles Barkley – an Auburn alum – was the celebrity guest during the pick segment.
ESPN's "College Football Playoff: Top 25" from Nov. 14 at 9:30 p.m. – 10 p.m. delivered a Nielsen total live audience of 3,785,000 viewers and a 2.26 household rating, the best viewership ever in the more than 20 Tuesday episodes of the show's history and topped the previous best telecast by 25 percent (Nov. 17, 2015). The special, which unveiled the College Football Playoff selection committee's top 25, was aired live between the two games of the State Farm Champions Classic (between Duke-Michigan State and Kentucky-Kansas).
ESPN Top 25 (and Select) Programs
Week of Oct. 30-Nov. 5, 2017


Click on image grid for larger view
Week of Nov. 6-12, 2017


Click on image grid for larger view
Week of Nov. 13-19, 2017


Click on image grid for larger view
Week of Nov. 20-26, 2017


Click on image grid for larger view
Week of Nov. 27-Dec. 3, 2017


Click on image grid for larger view
ESPN's daily programs viewership averages for the week:
"First Take" (ESPN, Oct. 30-Nov. 3 10 a.m.): 481,000 (258,000 adults 18-49)
"First Take" (ESPN, Nov. 6-10 10 a.m.): 477,000 (258,000 adults 18-49)
"First Take" (ESPN, Nov. 13-17 10 a.m.): 505,000 (280,000 adults 18-49)
"First Take" (ESPN, Nov. 20-24 10 a.m.): 588,000 (306,000 adults 18-49)
"First Take" (ESPN, Nov. 27-Dec. 1 10 a.m.): 459,000 (249,000 adults 18-49)
"Outside the Lines: First Report" (ESPN, Oct. 30-Nov. 3): 335,000 (177,000 adults 18-49)
"Outside the Lines: First Report" (ESPN, Nov. 6-10): 375,000 (204,000 adults 18-49)
"Outside the Lines: First Report" (ESPN, Nov. 13-17): 367,000 (206,000 adults 18-49)
"Outside the Lines: First Report" (ESPN, Nov. 20-22): 341,000 (165,000 adults 18-49)
"Outside the Lines: First Report" (ESPN, Nov. 27-Dec. 1): 345,000 (184,000 adults 18-49)
"NFL Live" (ESPN, Oct. 30-Nov. 3): 382,000 (202,000 adults 18-49)
"NFL Live" (ESPN, Nov. 6-10): 400,000 (210,000 adults 18-49)
"NFL Live" (ESPN, Nov. 13-17): 396,000 (200,000 adults 18-49)
"NFL Live" (ESPN, Nov. 20 & 22): 418,000 (212,000 adults 18-49)
"NFL Live" (ESPN, Nov. 27-Dec. 1): 357,000 (174,000 adults 18-49)
"NBA: The Jump" (ESPN, Oct. 31-Nov. 3): 352,000 (193,000 adults 18-49)
"NBA: The Jump" (ESPN, Nov. 7-10): 381,000 (212,000 adults 18-49)
"NBA: The Jump" (ESPN, Nov. 14-17): 404,000 (212,000 adults 18-49)
"NBA: The Jump" (ESPN, Nov. 22): 468,000 (244,000 adults 18-49)
"NBA: The Jump" (ESPN, Nov. 28-Dec. 1): 314,000 (171,000 adults 18-49)
"SportsNation" (ESPN, Oct. 31-Nov. 3): 389,000 (223,000 adults 18-49)
"SportsNation" (ESPN, Nov. 7-10): 400,000 (230,000 adults 18-49)
"SportsNation" (ESPN, Nov. 14-17): 429,000 (245,000 adults 18-49)
"SportsNation" (ESPN, Nov. 21-22): 435,000 (231,000 adults 18-49)
"SportsNation" (ESPN, Nov. 28-Dec. 1): 309,000 (177,000 adults 18-49)
"Highly Questionable" (ESPN, Oct. 30-Nov. 3): 450,000 (253,000 adults 18-49)
"Highly Questionable" (ESPN, Nov. 6-10): 517,000 (280,000 adults 18-49)
"Highly Questionable" (ESPN, Nov. 13-17): 525,000 (295,000 adults 18-49)
"Highly Questionable" (ESPN, Nov. 20-22): 539,000 (278,000 adults 18-49)
"Highly Questionable" (ESPN, Nov. 27-Dec. 1): 439,000 (216,000 adults 18-49)
"Around the Horn" (ESPN, Oct. 30-Nov. 3): 539,000 (260,000 adults 18-49)
"Around the Horn" (ESPN, Nov. 6-10): 565,000 (284,000 adults 18-49)
"Around the Horn" (ESPN, Nov. 13-17): 583,000 (283,000 adults 18-49)
"Around the Horn" (ESPN, Nov. 20-22): 553,000 (263,000 adults 18-49)
"Around the Horn" (ESPN, Nov. 27-Dec. 1): 535,000 (240,000 adults 18-49)
"Pardon the Interruption" (ESPN, Oct. 30-Nov. 3): 801,000 (355,000 adults 18-49)
"Pardon the Interruption" (ESPN, Nov. 6-10): 819,000 (386,000 adults 18-49)
"Pardon the Interruption" (ESPN, Nov. 13-17): 887,000 (395,000 adults 18-49)
"Pardon the Interruption" (ESPN, Nov. 20-22): 837,000 (366,000 adults 18-49)
"Pardon the Interruption" (ESPN, Nov. 27-Dec. 1): 833,000 (354,000 adults 18-49)
"Daily Fantasy Football" (ESPN, Oct. 30): 352,000 (172,000 adults 18-49)
"Daily Fantasy Football" (ESPN, Nov. 6): 293,000 (154,000 adults 18-49)
"Daily Fantasy Football" (ESPN, Nov. 13): 380,000 (192,000 adults 18-49)
"Daily Fantasy Football" (ESPN, Nov. 20): 249,000 (130,000 adults 18-49)
"Daily Fantasy Football" (ESPN, Nov. 27): 313,000 (149,000 adults 18-49)
"SportsCenter" (ESPN, Oct. 30-Nov. 3 7 a.m.): 387,000 (217,000 adults 18-49)
"SportsCenter" (ESPN, Nov. 6-10 7 a.m.): 394,000 (227,000 adults 18-49)
"SportsCenter" (ESPN, Nov. 13-17 7 a.m.): 410,000 (235,000 adults 18-49)
"SportsCenter" (ESPN, Nov. 20-24 7 a.m.): 407,000 (242,000 adults 18-49)
"SportsCenter" (ESPN, Nov. 27-Dec. 1 7 a.m.): 373,000 (209,000 adults 18-49)
"SportsCenter" (ESPN, Oct. 30-Nov. 3 8 a.m.): 379,000 (206,000 adults 18-49)
"SportsCenter" (ESPN, Nov. 6-10 8 a.m.): 400,000 (209,000 adults 18-49)
"SportsCenter" (ESPN, Nov. 13-17 8 a.m.): 376,000 (219,000 adults 18-49)
"SportsCenter" (ESPN, Nov. 20-24 8 a.m.): 482,000 (266,000 adults 18-49)
"SportsCenter" (ESPN, Nov. 27-Dec. 1 8 a.m.): 357,000 (205,000 adults 18-49)
"SportsCenter" (ESPN, Oct. 30-Nov. 3 9 a.m.): 384,000 (213,000 adults 18-49)
"SportsCenter" (ESPN, Nov. 6-10 9 a.m.): 375,000 (201,000 adults 18-49)
"SportsCenter" (ESPN, Nov. 13-17 9 a.m.): 378,000 (217,000 adults 18-49)
"SportsCenter" (ESPN, Nov. 20-24 9 a.m.): 500,000 (262,000 adults 18-49)
"SportsCenter" (ESPN, Nov. 27-Dec. 1 9 a.m.): 332,000 (186,000 adults 18-49)
"SportsCenter" (ESPN, Oct. 30-Nov. 3 noon): 364,000 (190,000 adults 18-49)
"SportsCenter" (ESPN, Nov. 6-10 noon): 393,000 (226,000 adults 18-49)
"SportsCenter" (ESPN, Nov. 13-17 noon): 399,000 (234,000 adults 18-49)
"SportsCenter" (ESPN, Nov. 20-23 noon): 426,000 (220,000 adults 18-49)
"SportsCenter" (ESPN, Nov. 27-Dec. 1 noon): 367,000 (205,000 adults 18-49)
"SportsCenter" (ESPN, Oct. 31-Nov. 3 6 p.m.): 576,000 (322,000 adults 18-49)
"SportsCenter" (ESPN, Nov. 7-9 6 p.m.): 540,000 (303,000 adults 18-49)
"SportsCenter" (ESPN, Nov. 15-17 6 p.m.): 548,000 (298,000 adults 18-49)
"SportsCenter" (ESPN, Nov. 21-23 6 p.m.): 578,000 (305,000 adults 18-49)
"SportsCenter" (ESPN, Nov. 28-Dec. 1 6 p.m.): 541,000 (291,000 adults 18-49)
"SportsCenter" (ESPN, Oct. 31, Nov. 2 & 5 11 p.m.): 328,000 (172,000 adults 18-49)
"SportsCenter" (ESPN, Nov. 7, 9 & 12 11 p.m.): 510,000 (307,000 adults 18-49)
"SportsCenter" (ESPN, Nov. 16 & 19 11 p.m.): 286,000 (141,000 adults 18-49)
"SportsCenter" (ESPN, Nov. 20 & 23-25 11 p.m.): 1,647,000 (812,000 adults 18-49)
"SportsCenter" (ESPN, Nov. 27, 29 & Dec. 2-3 11 p.m.): 1,123,000 (584,000 adults 18-49)
"SportsCenter" (ESPN, Oct. 30-31, Nov. 3 & 5 midnight): 1,440,000 (782,000 adults 18-49)
"SportsCenter" (ESPN, Nov. 6-9 & 12 midnight): 1,220,000 (684,000 adults 18-49)
"SportsCenter" (ESPN, Nov. 13-14, 16 & 19 midnight): 1,220,000 (687,000 adults 18-49)
"SportsCenter" (ESPN, Nov. 25 midnight): 1,013,000 (537,000 adults 18-49)
"SportsCenter" (ESPN, Nov. 28 & Dec. 1-3 midnight): 901,000 (458,000 adults 18-49)
"SportsCenter at Night" (ESPN, Oct. 30-Nov. 3 & 5 1 a.m.): 555,000 (329,000 adults 18-49)
"SportsCenter at Night" (ESPN, Nov. 7, 9 & 11-12 1 a.m.): 600,000 (343,000 adults 18-49)
"SportsCenter at Night" (ESPN, Nov. 14-17 & 19 1 a.m.): 690,000 (400,000 adults 18-49)
"SportsCenter at Night" (ESPN, Nov. 21-22 & 25-26 1 a.m.): 745,000 (424,000 adults 18-49)
"SportsCenter" (ESPN, Nov. 29-Dec. 3 1 a.m.): 603,000 (345,000 adults 18-49)
ESPN2 Top 25 (and Select) Programs
Week of Oct. 30-Nov. 5, 2017


Click on image grid for larger view
Week of Nov. 6-12, 2017


Click on image grid for larger view
Week of Nov. 13-19, 2017


Click on image grid for larger view
Week of Nov. 20-26, 2017


Click on image grid for larger view
Week of Nov. 27-Dec. 3, 2017


Click on image grid for larger view
ESPN2's daily show viewership averages for the week:
"Mike & Mike in the Morning" (ESPN2, Oct. 30-Nov. 3): 241,000 (101,000 adults 18-49)
"Mike & Mike in the Morning" (ESPN2, Nov. 6-10): 208,000 (79,000 adults 18-49)
"Mike & Mike in the Morning" (ESPN2, Nov. 13-17): 256,000 (109,000 adults 18-49)
"ESPN Radio" (ESPN2, Nov. 20-24): 101,000 (49,000 adults 18-49)
"Golic & Wingo" (ESPN2, Nov. 27-Dec. 1): 181,000 (76,000 adults 18-49)
"College Football Live" (ESPN2, Oct. 31-Nov. 1): 135,000 (55,000 adults 18-49)
"College Football Live" (ESPN2, Nov. 6-10): 135,000 (55,000 adults 18-49)
"College Football Live" (ESPN2, Nov. 13-15): 135,000 (55,000 adults 18-49)
"College Football Live" (ESPN2, Nov. 28 & Dec. 1): 135,000 (59,000 adults 18-49)
"MLB Network's Intentional Talk" (ESPN2, Oct. 30): 118,000 (61,000 adults 18-49)
"MLB Network's Intentional Talk" (ESPN2, Nov. 6-8 & 10): 112,000 (57,000 adults 18-49)
"MLB Network's Intentional Talk" (ESPN2, Nov. 13 & 15): 104,000 (47,000 adults 18-49)
"MLB Network's Intentional Talk" (ESPN2, Nov. 27-Dec. 1): 79,000 (41,000 adults 18-49)
"The Paul Finebaum Show" (ESPN2, Oct. 30-Nov. 3): 118,000 (60,000 adults 18-49)
"The Paul Finebaum Show" (ESPN2, Nov. 6-10): 110,000 (52,000 adults 18-49)
"The Paul Finebaum Show" (ESPN2, Nov. 13-16): 127,000 (67,000 adults 18-49)
"The Paul Finebaum Show" (ESPN2, Nov. 27-Dec. 1): 127,000 (67,000 adults 18-49)
"Daily Fantasy Football" (ESPN2, Oct. 30-Nov. 3): 128,000 (66,000 adults 18-49)
"Daily Fantasy Football" (ESPN2, Nov. 6-10): 86,000 (48,000 adults 18-49)
"Daily Fantasy Football" (ESPN2, Nov. 13-15): 80,000 (36,000 adults 18-49)
"Daily Fantasy Football" (ESPN2, Nov. 20-21 & 24-25 late night): 109,000 (65,000 adults 18-49)
"Daily Fantasy Football" (ESPN2, Nov. 27-Dec. 1): 69,000 (38,000 adults 18-49)
"Baseball Tonight" (ESPN2, Oct. 31-Nov. 1): 135,000 (57,000 adults 18-49)
"Jalen & Jacoby" (ESPN2, Oct. 30-Nov. 3 late night): 80,000 (43,000 adults 18-49)
"Jalen & Jacoby" (ESPN2, Nov. 6-10 late night): 88,000 (47,000 adults 18-49)
"Jalen & Jacoby" (ESPN2, Nov. 13-17 late night): 89,000 (43,000 adults 18-49)
"Jalen & Jacoby" (ESPN2, Nov. 20-21 late night): 122,000 (68,000 adults 18-49)
"Jalen & Jacoby" (ESPN2, Nov. 27-Dec. 1 late night): 87,000 (51,000 adults 18-49)
"Best of Mike & Mike" (ESPN2, late Oct. 30): 68,000 (23,000 adults 18-49)
"Nacion ESPN" (ESPN2, late Nov. 2): 38,000 (9,000 adults 18-49)
"Nacion ESPN" (ESPN2, late Nov. 9): 85,000 (40,000 adults 18-49)
"Nacion ESPN" (ESPN2, late Nov. 16): 61,000 (33,000 adults 18-49)
"Nacion ESPN" (ESPN2, late Nov. 30): 120,000 (43,000 adults 18-49)
"NBA: The Jump" (ESPN2, Nov. 6): 160,000 (75,000 adults 18-49)
"NBA: The Jump" (ESPN2, Nov. 13): 179,000 (109,000 adults 18-49)
"NBA: The Jump" (ESPN2, Nov. 21): 174,000 (98,000 adults 18-49)
"NBA: The Jump" (ESPN2, Nov. 27): 164,000 (108,000 adults 18-49)
"NFL Live" (ESPN2, Nov. 21): 212,000 (76,000 adults 18-49)
"SportsNation" (ESPN2, Oct. 30): 205,000 (112,000 adults 18-49)
"SportsNation" (ESPN2, Nov. 6): 205,000 (124,000 adults 18-49)
"SportsNation" (ESPN2, Nov. 13): 181,000 (100,000 adults 18-49)
"SportsNation" (ESPN2, Nov. 20): 133,000 (75,000 adults 18-49)
"SportsNation" (ESPN2, Nov. 27): 162,000 (95,000 adults 18-49)
"SportsCenter" (ESPN2, Oct. 30-Nov. 3 10 a.m.): 147,000 (63,000 adults 18-49)
"SportsCenter" (ESPN2, Nov. 6-10 10 a.m.): 129,000 (48,000 adults 18-49)
"SportsCenter" (ESPN2, Nov. 13-17 10 a.m.): 142,000 (72,000 adults 18-49)
"SportsCenter" (ESPN2, Nov. 20-24 10 a.m.): 160,000 (77,000 adults 18-49)
"SportsCenter" (ESPN2, Nov. 27-Dec. 1 10 a.m.): 130,000 (58,000 adults 18-49)
"SportsCenter" (ESPN2, Oct. 30-Nov. 3 11 a.m.): 137,000 (62,000 adults 18-49)
"SportsCenter" (ESPN2, Nov. 6-10 11 a.m.): 122,000 (55,000 adults 18-49)
"SportsCenter" (ESPN2, Nov. 13-17 11 a.m.): 150,000 (69,000 adults 18-49)
"SportsCenter" (ESPN2, Nov. 20-22 & 24 11 a.m.): 169,000 (81,000 adults 18-49)
"SportsCenter" (ESPN2, Nov. 27-Dec. 1 11 a.m.): 119,000 (55,000 adults 18-49)
ESPNU Top 25 (and Select) Programs
Week of Oct. 30-Nov. 5, 2017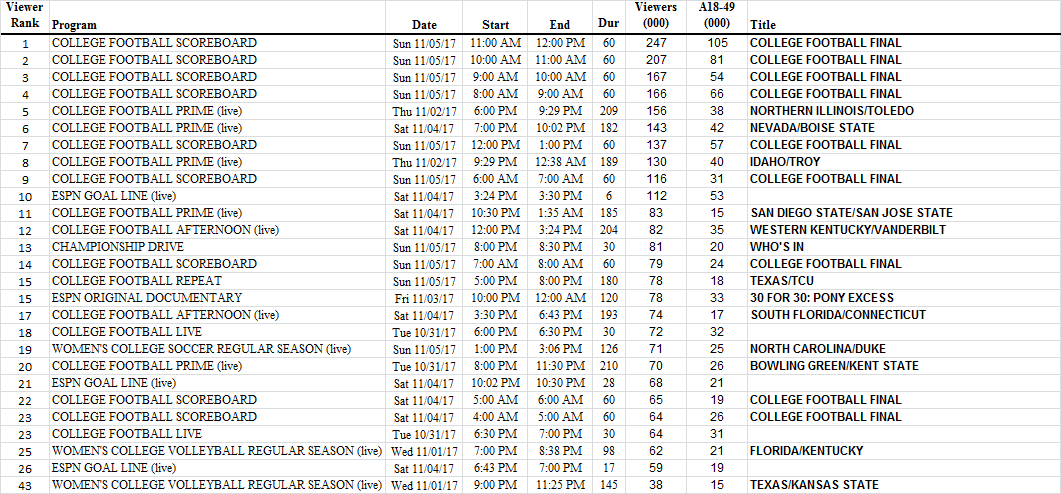 Click on image grid for larger view
Week of Nov. 6-12, 2017


Click on image grid for larger view
Week of Nov. 13-19, 2017


Click on image grid for larger view
Week of Nov. 20-26, 2017


Click on image grid for larger view
Week of Nov. 27-Dec. 3, 2017


Click on image grid for larger view
ESPNU's daily show viewership averages for the week:
"The Dan Le Batard Show" (ESPNU, Oct. 30-Nov. 3): 27,000 (19,000 adults 18-49)
"The Dan Le Batard Show" (ESPNU, Nov. 6-10): 29,000 (20,000 adults 18-49)
"The Dan Le Batard Show" (ESPNU, Nov. 13-16): 27,000 (18,000 adults 18-49)
"The Dan Le Batard Show" (ESPNU, Nov. 20-22): 29,000 (19,000 adults 18-49)
"The Dan Le Batard Show" (ESPNU, Nov. 27-Dec. 1): 26,000 (18,000 adults 18-49)
Source: Live+Same Day data, Nielsen Media Research