While the debate rages on about soccer's place among the sporting zeitgeist in the United States, it's indisputable that here lives a deeply passionate fan base that keeps up fervently with the major European competitions. That passion is something that Paramount has found a way to tap into upon acquiring the broadcast rights to the UEFA (Men's) Champions League in 2020. The parent company of CBS Sports shocked the soccer world by not only picking up the US rights – initially for 2021 through 2024, but now extended through 2030 – but taking over a year earlier than planned when Turner Sports bowed out of the final year of its deal at the onset of the COVID-19 pandemic.
However, fans aren't loyal to TV networks but to the sports they broadcast. Certain broadcasters are known as the home for specific leagues and sports, yet the soccer television market in the US is incredibly fractured. Every major company has at least one rights deal with the top European leagues, but the sheer amount of soccer content can be overwhelming for even the biggest fan of the game. This is where studio shows play a significant role in branding a crucial part of the viewing experience, and there may not be a better one for the stateside fan than Champions League Today.
CBS Sports produces Champions League Today at an IMG Studio in London with occasional on-site visits not only at the stadiums, but even last October when the show came to the NYC borough of Brooklyn. The cross-Atlantic venture is helmed by veteran coordinating producer Pete Radovich, who's still based out of the NYC region but frequently travels to London to work on the show.
If you have wondered if Champions League Today has a very familiar feel to it, you're on the money. When Radovich was developing the show, he found inspiration in Turner Sports' still highly regarded Inside the NBA. Plenty of broadcasters have tried replicate the Inside approach, but Champions League Today was arguably aided by good timing. Well, good being relative because it launched in 2020.
When CBS picked up Champions League rights from Turner, live sports were only beginning to return from COVID-related shutdowns. As Radovich told World Soccer Talk last year, it was an in-person production meeting with the original studio team of host Kate Abdo, former players Jamie Carragher and Micah Richards and former manager Roberto Martinez that had set the tone for what would become of the show.
Champions League Today hit its stride immediately thanks to the camaraderie of the foursome, and retaining the banter has been key, even after the iconic striker Thierry Henry was hired to replace Martinez, who left the show to give his full attention to managing Belgium at the World Cup. "I think the challenge is dialing it back as far as getting people to be themselves and have fun," Radovich said. "That happens very organically because they genuinely all like each other and that is the secret to the success of building any team. And it seems like a very simple idea – put a bunch of people together that like each other and that have personality – but sometimes that's very difficult. The bigger issue for me at times is dialing it back and getting serious."
It helps to have Abdo as the program's traffic cop, a role that Ernie Johnson has mastered at Inside seemingly forever. Having hosted numerous soccer and boxing events throughout her career, Abdo is certainly one of the most well-regarded hosts (or presenters, to borrow British parlance) in the world, and her presence lends a lot of credence to the importance of Champions League Today. In the last few months, Abdo had worked both Champions League for CBS and the men's World Cup in Qatar for FOX Sports.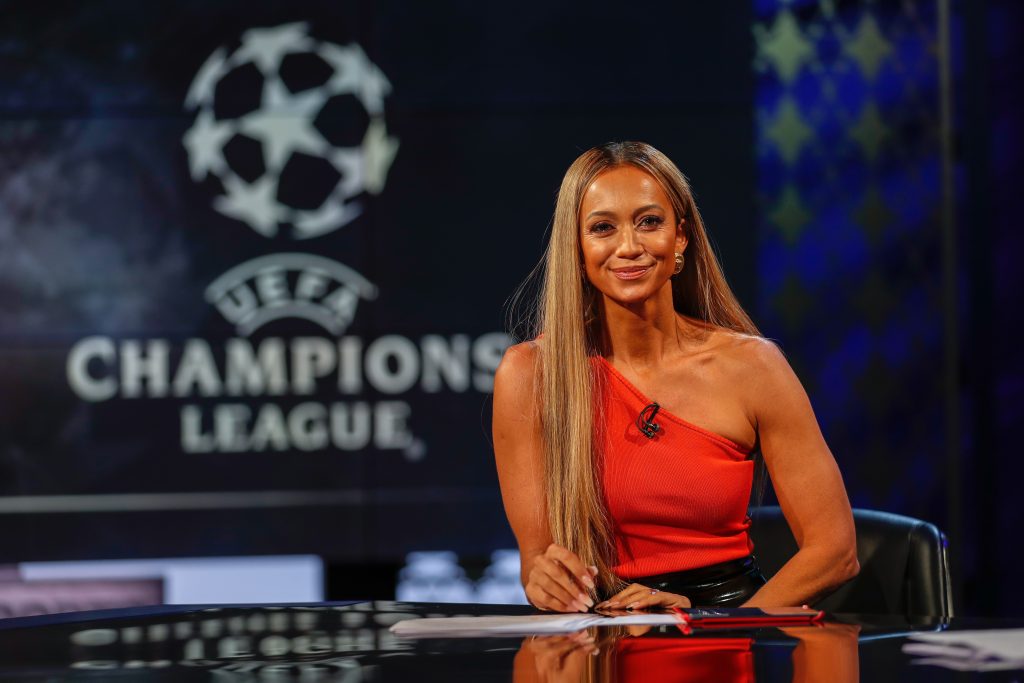 Floating between both competitions provided some unique insight on how both networks approached their coverage. "They're just two broadcasters that have different styles and different identities," Abdo observed. "CBS has really embraced that Inside the NBA style where the personalities of the people on set are a feature more so than some of the hosting I had done with FOX. I did a World Cup Tonight show with FOX for this last World Cup, which was definitely more personality-based. In some ways, I think CBS is responsible for that shift just in terms of other networks looking at that as a model now for successful soccer TV."
Every studio show, at its core, must predict and explain what we're watching. Though Inside feels more like guys cracking jokes instead of trying to leave the bar on a Thursday night, Charles Barkley, Kenny Smith and Shaquille O'Neal still have to provide some level of analysis to give the show its purpose. The quality of their basketball discussions can leave much to be desired at times, but there's no disputing the quality of the analysis on Champions League Today. Henry lends more than his name, but a keen sense of details and strategy from his experience both as a superstar player with Arsenal and Barcelona most prominently and manager. Richards and Carragher were Premier League defensive stalwarts for years at Manchester City and Liverpool respectively and both hold their own in terms of blending soccer insights with jocular humor.
Carragher, in particular, lives in that middle lane for this show. With a decade of sports broadcasting under his belt through Sky Sports, the former Liverpool defender with 737 appearances to his name is known for breaking down tactics as one of the network's top analysts. With Paramount/CBS, he's the bridge between Henry's analysis and Richards' personality-driven conversations, a la Smith. But the bridge may not always be a smooth ride for whomever he's speaking of as evidenced recently by his Telegraph column about his old club.
"I don't think that's ever been spoken to us – 'this is your role' – I think it's just that our personalities come out," quipped Carragher. "I'm probably the most opinionated. So when I feel like something needs saying, I'll always feel as if I am gonna be the one who says this, whether it's (Lionel) Messi, whether it's (Erling) Haaland, some of the biggest stars. I mean, I said something about Messi about PSG and it made a lot of the press and he tried to message me. Let's just say he wasn't too happy. (Laughs.)"
A standout moment of Champions League Today wasn't exactly a standout for the tournament itself, but it brilliantly illustrates how well the studio team can be both brutally honest and simultaneously funny in the process. The show began as Tottenham and AC Milan were entering stoppage time during their March 8th matchup. Henry, Carragher and Richards didn't hesitate in expressing displeasure at the quality of play between the teams. Yet instead of jumping over each other to lob their most venomous takes, they deftly moved on from the lighthearted jokes to spend more time probing what exactly went wrong with both teams.
For Radovich, that was a perfect example of how the show has evolved in its nearly three years of existence to strike the right balance of witty banter with sober analysis. "At the end of group stage in December, it was a big topic of conversation between Thierry and myself," Radovich recalled. "We had a very open conversation about how at times (there's) not enough analysis, and I agreed with him, and I explained to him that we're finding ourselves. Coming back from that, after the World Cup break, we've never been happier, he's never been happier. We thought we feel that after two years, right now in this moment, we have found that sweet spot. Now, what's that sweet spot? What's the math? I couldn't tell you. We don't do the equation: alright, one fun segment for two serious segments. We just do the show."
To that point of having to balance the levity of their banter with the analysis, Abdo relishes every opportunity to let the guys cook. "There are times when I'll just sit back and listen to the analysis and as a fan, I can kind of geek out on that," she said. "One of the downfalls for me in American television is time constraints. We've got five commercials breaks in a half-hour pre-game, right? And the content that you provide can become very sound bite-ish. So this analyst gets 30 seconds and then we go down the line. 30 seconds, 30 seconds, 30 seconds and then we're done and we're moving on. I love the way that CBS has really given space through conversation and debate, and so I can kind of geek out on those technical breakdowns, which I think really elevate the level of the show."
The British have traditionally been known for a stoic, almost lecturing approach to 'the beautiful game,' but Abdo didn't exactly seek out the style while coming up in the TV business. "I always thought that there was room for (this style) to succeed because I always looked to American television as the model for success," reflected the Manchester native. "The emphasis is to connect to the audience whereas there always seemed to be a dryness to the European model, and it didn't pull you in the same way."
There's a bit of an irony in the success of Champions League Today in that it's a show that's produced in London but for an American audience. "It's definitely strange to be involved in a show which makes waves in the UK but isn't visible to anybody in the UK," said Abdo. "In the UK particularly, we're extremely snobby about soccer and especially about Americans in soccer. There's almost been a sense of ridicule that people like Bob Bradley, who've gone over to the UK, worked in the Premier League, really had to face and it's been brutal. So, I think to have the UK audience saying 'hey, what those Americans are doing is way better than what we have' is a huge credit to the show."
Abdo and Radovich both credit social media for the buzz in the UK despite the inability for Britons to watch live. Considering the comments on fun interviews with stars like Haaland (which has almost 2 million views on YouTube) or TikToks from fans in the country lamenting how much fun the CBS team is having, it's hard to disagree.
Like Abdo, Radovich leaned in further with the surprising crossover appeal. "There's recently an article written about how English television needs to take a page out of CBS's coverage, which to me is surreal," the New York native gleefully replied. "Because when you flip the script, that would be actually the exact equivalent of a British television company, coming to America covering the NFL and all the American networks say, 'how can we be more like the British in their coverage of the NFL?'"
Regardless of which side of the pond you live on, a massive lift for Champions League Today is that it doesn't dumb down the game for the audience. Long gone are the days where American networks had to explain the sport to a fundamental level to the viewer. When asked if he ever felt that he needed to adjust how he analyzed the game for the US audience, Carragher brushed back the notion. "America has had players all over Europe for a long time now, I think you may have done that maybe 20-30 years ago, but I don't think that's the case now. The American fans are really knowledgeable and educated on European football."
The competition itself is revelatory every year as American fans will certainly know the highest profile clubs but may also discover some new teams to fall in love with. "We can easily fall into the trap of just focusing on Bayern Munich, Barcelona, Real Madrid, Liverpool, Manchester United, Manchester City, AC Milan, Inter Milan, PSG and have a nice day," said Radovich. "But the Benficas of the world are as important to us, the Dortmunds of the world are important to us because there's going to be weeks where they're going to be on our air, and we're not going to have City."
"Do I feel an obligation to grow the sport in (the US)? I don't feel that it's my job to do that. But I feel that if I'm doing my job well, that will happen. So storytelling, identifying players, stories that aren't part of the exclusive group, is something that we're always going to do. It helps grow interest to help grow awareness, it helps grow the sport in general."
Yet all eyes will fall to those huge spending clubs with sky high expectations to win every trophy in sight. One of those clubs will forever irritate Carragher, and while didn't have a tear in his eye when he made a final prediction for who wins it all, let's just say rivalries never die.
"I think Manchester City and listen, I don't want Manchester City to win, I'll be quite open about that. They've got a tough draw, they have to get by Bayern Munich, possibly Real Madrid, so it will be tough for them. I do think they are the best team in the competition, but they have been there for a few years and it hasn't quite worked out for them really. And I can be totally honest, I hope that's the same again!"
The UEFA Champions League Today pre-match show airs on the CBS Television Network and streams live on Paramount+. The post-match show airs on CBS Sports Network and streams live on Paramount+. CBS Sports Golazo Network will also simulcast select shows live and offer re-airs upon its launch on April 11. All shows are available to stream on-demand on Paramount+. Photos courtesy CBS Sports.