The focus of this week's WWE Smackdown Live centered around the men and women involved in Money in the Bank matches on their June 18 pay-per-view event. The WWE Title picture felt like something a lot less valuable for the second straight week. You would think WWE wants fans to believe in the WWE Title as the most precious commodity in the company, yet they spend way more time talking about how important it is to win Money in the Bank. It is an effective way to sell the PPV, though.
Since there really wasn't a show-long storyline this week, I'll focus on the two matches featuring men competing in the Money in the Bank ladder match.
AJ Styles defeated Dolph Ziggler in a rematch from last week
The main event from last week saw Ziggler beat Styles clean in a great match. It was one of those finishes where it looked like they may have messed it up because some people think Styles' foot was supposed to be on the ropes for the pin. Ziggler ended up winning clean, which was a surprise.
This week's match was much shorter at only about seven minutes with Styles winning clean after a Styles Clash. What bothered me about this was that they had a commercial in the middle of the match. They only got seven minutes, so why do we need a commercial? They need to time it better by having the guys make their entrance, go to commercial, come back, start the match and show the whole thing.
Anyway, this felt like what they were doing on Raw leading to the Extreme Rules five-way match where guys traded wins every week to give them momentum. It's the 50/50 booking that WWE loves to do. Ziggler had momentum and now Styles does.
Shinsuke Nakamura defeated Kevin Owens in the main event
This was promoted as a "first time ever" match, even though they have wrestled before. It's the first time they've had a match on WWE television, so I'm not going to rip on WWE for marketing the match that way.
Owens, by the way, went into this match with a broken thumb as he noted on Twitter. He was able to wrestle the match without a problem. I'm not sure if he'll get the weekend off house shows or if they'll keep him on the road working through it. It doesn't appear to be a major issue although it's probably annoying to have to wear that brace on his hand.
Sad to report that #TheThumbOfAmerica is broken but fear not! I am in fact the toughest man alive and will not be missing any ring time. pic.twitter.com/y0BIWWN3Vj

— Kevin Owens (@FightOwensFight) June 6, 2017
The match went about 12 minutes. Like with Styles/Ziggler, I wish they got more time but it's tough to give everything a lot of time on a two-hour show. That doesn't mean I want Smackdown to be three hours. I just think they could have shaved some time off the opening promo and given more time to the matches. It's just a small gripe, though.
There wasn't a point in the match where I thought Owens was going to win, even though he's the US Champion. Nakamura is being booked strong as he should be. Owens was in control for much of the match, then Nakamura made the comeback and finished with the Kinshasa knee strike. It was a good match, but they weren't given enough time to have a classic match they are capable of providing.
It was also the third straight week where Nakamura pinned Owens clean in the middle of the ring. The previous two wins were in tag matches, so I think it's fair to say Nakamura owns Owens at this point.
To all the people complaining and crying about tonight. I just want to say HAHAHAHAHAHA#EOD

— Baron Corbin (@BaronCorbinWWE) June 7, 2017
After the match was over, Baron Corbin attacked Nakamura from behind and hit the End of Days slam. Corbin was on commentary for the main event after he attacked Sami Zayn in the backstage area. Zayn was originally going to be on commentary.  It was a smart way to put over Corbin strong, even though he didn't wrestle on the show. Having a heel like Corbin take out top faces like Nakamura and Zayn makes Corbin look like a ruthless jerk.
If it was up to me, Sami Zayn or AJ Styles would win Money in the Bank. I would even like to see Kevin Owens or Shinsuke Nakamura with the briefcase. However, I think Vince McMahon is going to want to put Baron Corbin over strong and he's going to win. Corbin is my pick for now.
This Week's Smackdown Live Matches
There were five matches on Smackdown this week. Here are the other three on Tuesday night's card.
Tamina, Natalya & Carmella defeated Charlotte Flair, Becky Lynch & Naomi
There was a promo to start the show with Shane McMahon showing the five women in the tag match (not counting Naomi) the white Money in the Bank briefcase that is up for grabs on at Money in the Bank on June 18. It dragged a bit too much. Some of the time given to this segment could have been given to matches that would have benefited from more time. Lana interrupted the promo asking to be in Money in the Bank, Shane said no and Naomi laughed at Lana saying she wasn't much of a wrestler.
The match featured the heel side working over Lynch for most of it. Naomi got the hot tag, she was cleaning house and Lana showed up while the referee was on the other side of the ring dealing with the other women. That led to Lana tripping up Naomi on the apron, which led to Naomi bumping on her back on the apron. Tamina capitalized on the situation with a superkick to Naomi and pinned. The match was given 11 minutes.
I liked that Tamina got the win, even though it was cheap. While she has been on the winning side in tag matches, she hasn't got the win for her team like Carmella and Natalya. They needed to give Tamina the victory to show that she can be a threat, even though she barely speaks compared to the others.
As for the Lana story, I'll have more thoughts on that later.
Jinder Mahal defeated Mojo Rawley in a non-title match
This was set up because Mojo Rawley went up to Shane McMahon backstage and mentioned that he hasn't had many opportunities since winning the Andre the Giant battle royal at WrestleMania two months ago. It was a valid point, so Shane said if Rawley can beat Jinder Mahal, then he can be in the Money in the Bank ladder match. There was a bit of backstory as well since Rawley mentioned he beat Mahal when Mahal was moved to Smackdown, so he thought he could do it again.
The match went about four minutes. Mojo hit Jinder with a bunch of shoulder tackles because he loves those moves. At one point, the Singh Brothers distracted Mojo, but it didn't play a part in the finish. The ending saw Mahal rake Rawley's eyes, send him into the ring post and hit the Cobra Clutch Slam for the win. It was very basic to put over Mahal.
After the match, Mahal did his usual generic promo talking about how he's going to beat Randy Orton at Money in the Bank in Orton's hometown of St. Louis. Everything about Mahal is bland to me, but he's got the physique that WWE likes and they are booking him strong at least, so that's a positive.
The New Day defeated The Colons
The New Day did a "Fashion Files" skit with the Fashion Police that was mildly funny. It didn't really accomplish much other than give Breeze and Fandango some TV time to make some jokes.
It was Xavier Woods and Big E for The New Day. It was the first televised match for The New Day since being moved to Smackdown Live. New Day won in about seven minutes after the heels worked over Woods for most of it, Big E got the hot tag and New Day hit the Midnight Hour double-team move for the win.
After the match, The Usos appeared on the stage to make jokes about The New Day. The Usos said Kofi Kignston should be a ballerina because of his hair, they wondered if Big E was a bra size or his name and wondered what was "up up, down down" (video game channel reference) with Xavier Woods' boots. I like The Usos' promos and this was good too. Some physical interaction between the teams would be nice, but for now it's just been trash talk.
Other Key Items From Smackdown
1. John Cena will return to Smackdown on July 4
For the first time since @WrestleMania, @JohnCena RETURNS to #SDLive on the #4thOfJuly! ?? pic.twitter.com/vf6VICL5MY

— WWE (@WWE) June 7, 2017
Former 16-time WWE Champion John Cena will return to Smackdown Live on July 4 in Phoenix. Cena tweeted about it last week and they made it official on the show this week.
Cena has been absent from television since WrestleMania because of movie commitments and promoting his TV show American Grit, which starts this Sunday on Fox.
I'm not sure who Cena might feud with upon his return, but it would make sense for him to go after WWE Champion Jinder Mahal right away, especially on the Fourth of July, which is America's birthday. I'd also love to see Cena vs. Nakamura set up as a big SummerSlam match as well.
2. Lana was given a Smackdown Women's Title match after Naomi asked for it
After what happened in the opening match, Naomi went up to Shane McMahon and said she wanted to face Naomi at Money in the Bank. Shane said that Naomi had no obligation to fight her. Naomi said she wants to fight her and would even put her Smackdown Women's Title on the line. Shane asked if she really wanted it, Naomi said yes, so Shane made it official.
This is the kind of thing that might make some fans angry because Lana has done nothing to earn a title match. She hasn't had a singles match on television yet. Her only televised match was a part of a WrestleMania 32 tag match last year. Since then, she has wrestled in tag matches at live events on the main roster and some singles match at NXT shows. I assume WWE has enough confidence in her to have a PPV match with Naomi, but it's a lot of pressure on Lana too.
Could Lana leave Money in the Bank as champion? It might happen. Last month, I was sitting there thinking they wouldn't put the WWE Title on Jinder Mahal and guess what? He's the champ now. I don't think Lana should win it, but you can tell she has a lot of star power that management likes. She might end up winning at Money in the Bank after all. I really don't know at this point.
3. Randy Orton did a quick promo
Orton did a simple promo saying that Jinder Mahal can trash-talk all he wants, but actions will speak louder than words and that Mahal will hear him just fine. It was only one minute and that was it for Orton on the show.
I don't have a problem with Mahal vs. Orton II at Money in the Bank. However, they really haven't done much to excite me about the match. It's so basic right now with very little interaction between them. Brock Lesnar vs. Samoa Joe feels like a huge match already after one week of hype. This is a rematch of a match we've already seen, yet it makes me want to sleep because of how passive both guys sound when they speak. Can we get a little excitement? Have a brawl or some sneak attack. Just do something to make it feel more interesting.
Looking Ahead to WWE Money in the Bank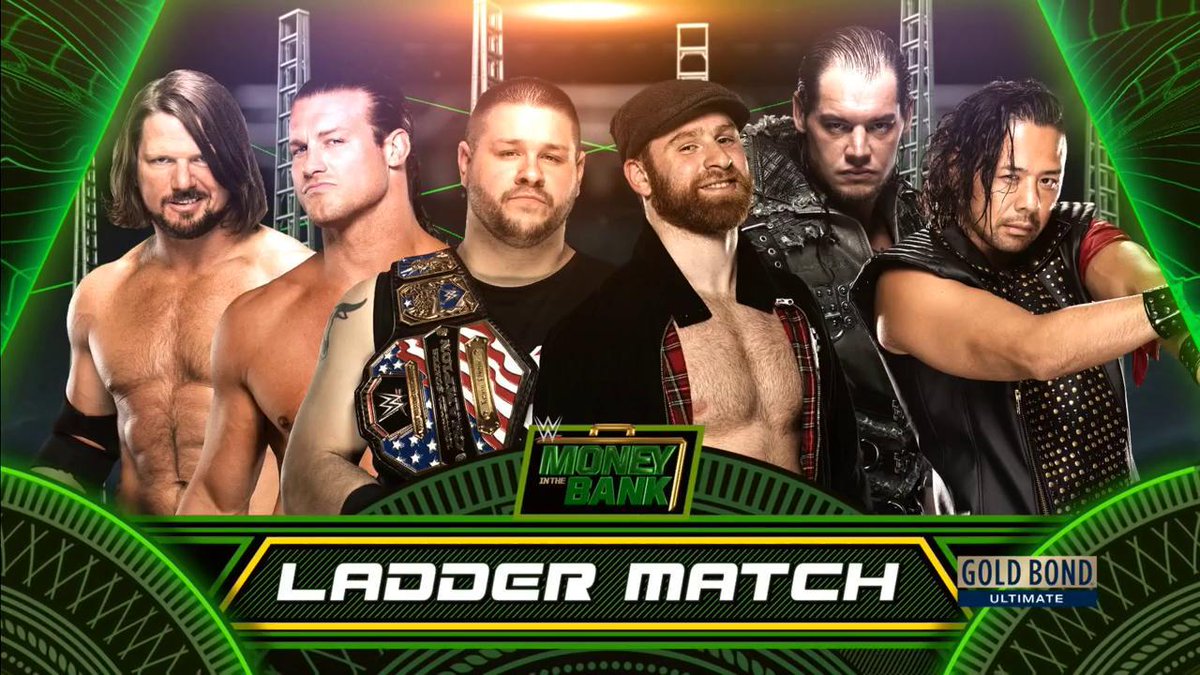 The next Smackdown pay-per-view is Money in the Bank on Sunday, June 18 in St. Louis, Missouri. Here's what we know so far.
WWE Championship: Jinder Mahal vs. Randy Orton
Money in the Bank Contract Ladder Match: AJ Styles vs. Baron Corbin vs. Shinsuke Nakamura vs. Dolph Ziggler vs. Kevin Owens vs. Sami Zayn
Smackdown Tag Team Championships: The Usos vs. The New Day
Women's Money in the Bank Contract Ladder Match: Natalya vs. Carmella vs. Tamina vs. Becky Lynch vs. Carmella
Women's Championship: Naomi vs. Lana
There should be another one or two matches added as well.
In Closing
I thought the show was pretty good without much in the way of filler although nothing really stood out as being must-see or excellent either. Smackdown usually makes the most of the time they are given. I just think the time could have been distributed better. Less time for the opening promo and more time for the two main matches would have helped.
If I were to compare it to Raw, I thought both shows were slightly above average, although I liked Raw a little bit more mainly because that Samoa Joe/Paul Heyman segment was so great.
I'll be back next week for more including Brock Lesnar's return on Raw.