The WWE Greatest Royal Rumble event takes place Friday at the King Abdullah Sports City Stadium in Jeddah, Saudi Arabia. The new event is part of an agreement WWE came up, "part of a 10-year strategic multiplatform partnership in support of Vision 2030, Saudi Arabia's social and economic reform program." In other words, this is the first major show that WWE is doing there and they are likely going to be back again.
The event will be broadcast live on WWE Network locally at 7 p.m. in Saudi Arabia, which is 12 p.m. ET and 9 a.m. PT in the United States, and 5 p.m. for fans in the United Kingdom. It's rare to have a major WWE event take place on a Friday and for it to take place in the morning or afternoon for those of us in North America. A lot of fans will miss it live due to work, school or just living their regular lives, but on WWE Network you can always watch it on demand after the show is over.
There's also a Kickoff Show on WWE Network starting one hour before the event. The scheduled run time is five hours for the main card although it could always go longer because on WWE Network, they have no limitations.
What we don't know going into the Greatest Royal Rumble is how much WWE is getting paid to put on the show in Saudi Arabia. Since WWE is a publicly traded company, we should know more in August according to Dave Meltzer of the Wrestling Observer. The twitter account @PWStreams posted this about how much money WWE may be making.
Per sources: WWE are making in the region of $100-200M for #WWEGRR just for hosting the event.

— PWStream (@PWStream) April 25, 2018
I don't know if that's true or not, but if WWE is getting $100 million plus to do the show, it's easy to see why they have promoted it so hard and are willing to do it even without any women's wrestlers on the show (more on that shortly). This could be their most profitable show of the year, even topping WrestleMania, and we can't forget that WWE is a business first and foremost.
Here's the full lineup:
** 50-Man Royal Rumble Match – Names include: Daniel Bryan, Braun Strowman, Kurt Angle, Chris Jericho, Elias, Rey Mysterio, Great Khali, Shane McMahon, Baron Corbin, Big E, Kofi Kingston, Xavier Woods, Apollo Crews, Shelton Benjamin, Sin Cara, Chad Gable, Goldust, Titus O'Neil, Mojo Rawley, Dolph Ziggler, Bobby Roode and more.
** Universal Championship Steel Cage Match: Brock Lesnar (c) vs. Roman Reigns
** WWE Championship: AJ Styles (c) vs. Shinsuke Nakamura
** John Cena vs. Triple H
** Casket Match: The Undertaker vs. Rusev
** Intercontinental Championship Ladder Match: Seth Rollins (c) vs. The Miz vs. Finn Balor vs. Samoa Joe
** United States Championship: Jeff Hardy (c) vs. Jinder Mahal
** For the Vacant Raw Tag Team Championships: Bray Wyatt & Matt Hardy vs. Sheamus & Cesaro
** Smackdown Tag Team Championships: The Bludgeon Brothers (c) vs. The Usos
** Cruiserweight Championship: Cedric Alexander (c) vs. Kalisto
That's the full lineup with nothing expected to be added. As you can see above, there are seven title matches on the show and no women's matches on the card. What do we expect to happen? Here are predictions for the show and some of the reaction to it.
10. No female talent on the show will be one of the biggest stories of the event
We all know that WWE loves to push their "women's evolution" in the last few years, but there are no WWE women performing at this event due to laws that exist in Saudi Arabia. There are also laws in place about what kinds of people can buy tickets to the show because the Saudis want families to go, rather than single males. Meanwhile, single females can't go on their own. It is awful that those laws exist and if you want to dig deeper, there are other stricter laws against Saudi Arabian women.
Triple H, an WWE executive in charge of talent and helping run creative with his father-in-law Vince McMahon, spoke about the lack of women on the show in an interview with The Independent this week:
"I understand that people are questioning it, but you have to understand that every culture is different and just because you don't agree with a certain aspect of it, it doesn't mean it's not a relevant culture.  You can't dictate to a country or a religion about how they handle things but, having said that, WWE is at the forefront of a women's evolution in the world and what you can't do is affect change anywhere by staying away from it.  While, right now, women are not competing in the event, we have had discussions about that and we believe and hope that, in the next few years they will be. That is a significant cultural shift in Saudi Arabia.  The country is in the middle of a shift in how it is dealing with that – the position is changing, and rights are changing, as are the way women are handled and treated in society. We think that's a great thing and we're excited to be at the forefront of that change."
I'm not sure if Triple H's comments are enough to quiet those who are angry about the lack of women on this show, but I think he commented on the situation as well as he could. Perhaps when WWE goes back there in future years, the Saudis will be open to having women wrestling on the show. Last December, WWE was proud of having Sasha Banks and Alexa Bliss wrestling in Abu Dhabi, which was great progress for women in that region.
My feeling is that it's awful that WWE won't have any women on the show, but they are also a business that is getting a lot of money to run this show. It's not like WWE is hurting financially these days, so they don't need to do this just for the money. However, when the money is as significant as has been reported, it's easy to see why that WWE is doing it.
I hope that they can make it up to the women, perhaps with a women's only pay-per-view style event later in the year. I also think some of the WWE women might enjoy being off for five or six days because they work such a hectic schedule, especially with a two-week tour of Europe coming in May.
9. Matt Hardy and Bray Wyatt will win the vacant Raw Tag Team Titles
My #BROKENBrilliance has returned to The Sea that is Red.. #WWEGRR #RedSea pic.twitter.com/6VCrs3hI20

— #WOKEN Matt Hardy (@MATTHARDYBRAND) April 26, 2018
The Raw Tag Team Titles were vacated on the night after WrestleMania because Braun Strowman's tag team partner was Nicholas, a 10-year-old kid with school commitments. That put the titles up for grabs with former champions Sheamus and Cesaro getting their rematch against a team that won a mini-tournament, Matt Hardy and Bray Wyatt.
It would be a surprise if Matt and Bray didn't win the titles. I like the pairing with Wyatt working as a face for the first time in his career, while Hardy's "Woken" gimmick is good for some laughs.
Sheamus and Cesaro got moved to Smackdown, so it's unlikely that they will win the titles and go back to Raw, even though they mentioned it on Smackdown this week. Hardy and Wyatt will make unique tag team champions that will hopefully have a DELIGHTFUL (a favorite phrase of Hardy) reign as champions.
8. The Bludgeon Brothers, Jeff Hardy and Cedric Alexander will retain their titles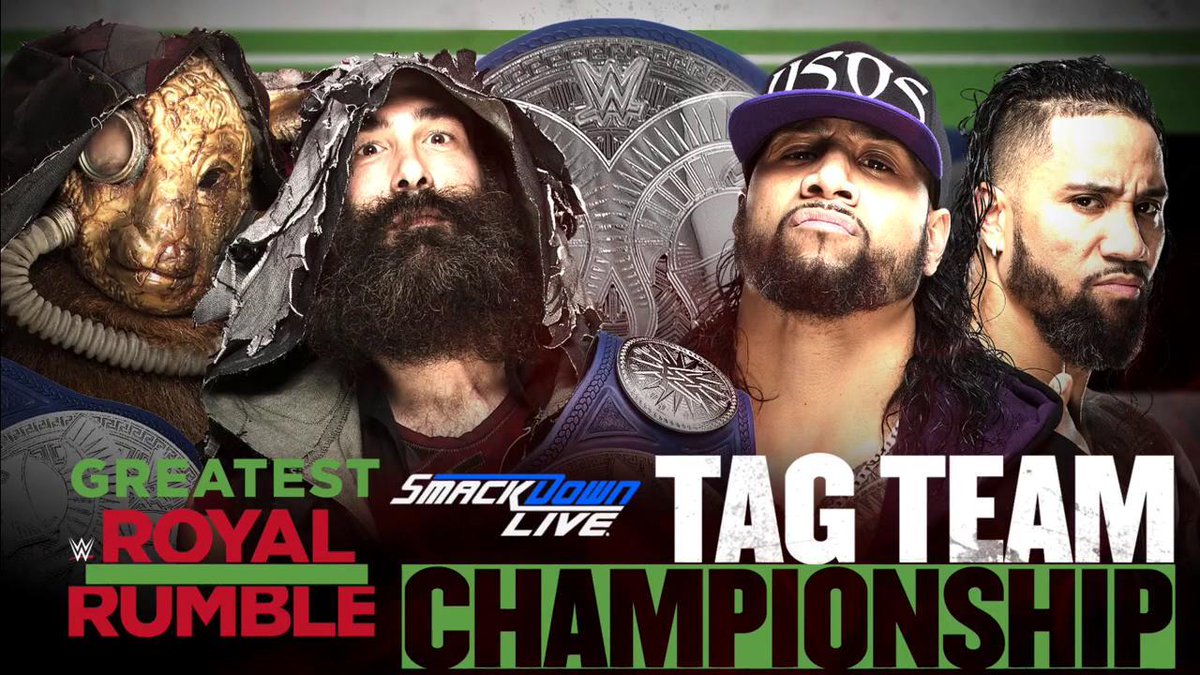 There will probably be some title changes on the card, but I think it's safe to assume that The Bludgeon Brothers are going to retain the Smackdown Tag Team Titles. They face The Usos, who they have dominated for months. The Bludgeon Brothers won the titles in a triple threat at WrestleMania and I see no reason for them to lose the championship less than three weeks after that victory.
Cedric Alexander won the Cruiserweight Championship at WrestleMania and Kalisto earned the title shot this past Tuesday on 205 Live. It's a face vs. face match with no storyline going into it, so there is some concern about the crowd caring about anything they do in the match. It should be an exciting match featuring some cool moves, but with a lack of interest in the characters it may hurt the match. Look for Alexander to retain.
Jeff Hardy defends the US Title against former champion Jinder Mahal, who Hardy beat two weeks ago on Raw. The next night, Hardy was moved to Smackdown and took the US Title with him. It's possible that Mahal might win the title back meaning the US Title would go to Raw, but I think Hardy's going to keep the gold and the US Title will remain a Smackdown commodity. Keep the Intercontinental Title on Raw, which brings us to the next match.
7. The 4-Way Ladder Match for the Intercontinental Title will be the match of the night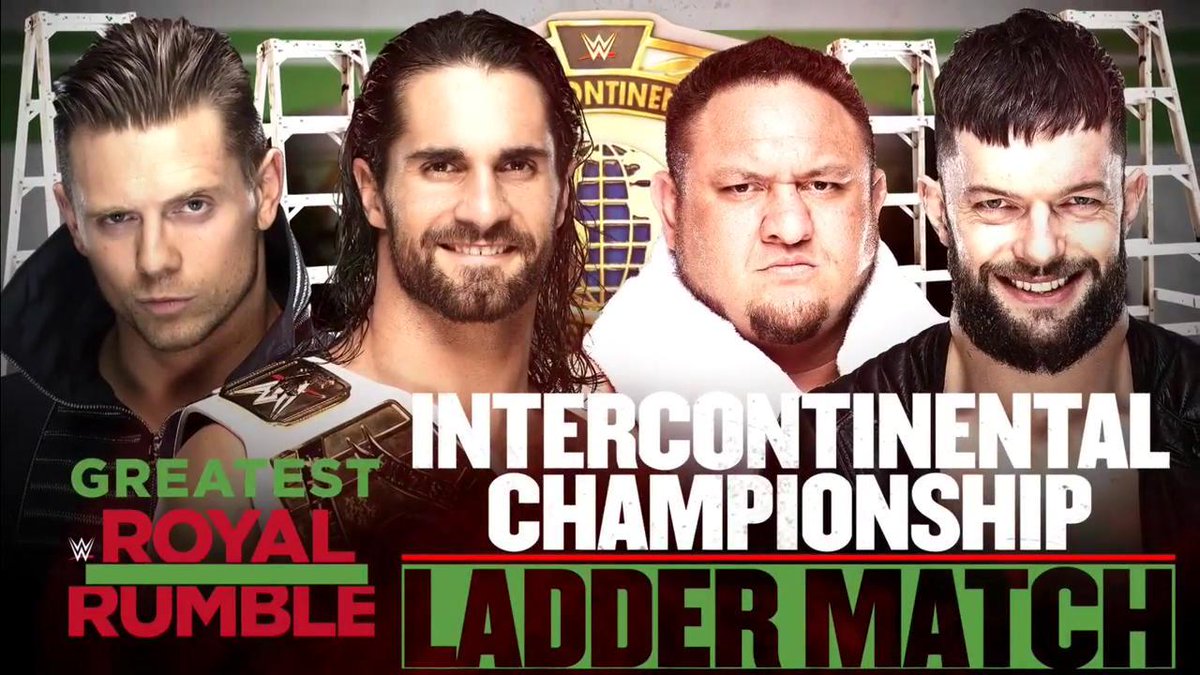 Seth Rollins, who is still on Raw, will defend the Intercontinental Championship against former champion The Miz (now on Smackdown), Finn Balor (still a Raw guy) and Samoa Joe (also a Smackdown guy) in a Ladder Match. Like a lot of matches on this card, it could have been built up better. But sometimes it's not that complicated when you can just hang a title above the ring and have guys try to retrieve it by climbing a ladder. It's an easy story to tell.
This should be an awesome match because all four wrestlers are all awesome in-ring competitors, and the ladder will lead to some unique spots. Whenever WWE has multi-person ladder matches, they are usually above average in quality. They might take it easy a bit because this is not a WrestleMania-like event in terms of its importance, but I'm sure they will think of some creative things to do.
I expect Rollins to retain. He won the title at WrestleMania earlier in the month and hasn't had a real feud for the title. Something to keep in mind is that WWE is planning to do Rollins vs. The Miz at Backlash on May 6, so even if Miz wins the title here (to tie Chris Jericho with nine IC Title reigns), Rollins could win it back next weekend. I'm not a fan of that many titles changes in such a short span, but this is WWE, so you never know what they might be thinking.
6. The Undertaker will beat Rusev in a Casket Match in under 10r minutes
Two Undertaker matches in one month? That's rare. The Undertaker's win over John Cena at WrestleMania earlier this month went about three minutes while the segment that built up to the match went way longer. It could have been booked a lot better.
The Undertaker's match with Rusev was booked a few weeks ago, changed a day later to Chris Jericho replacing Rusev and then a few days after that, Rusev was back in the match. Why the change? Apparently, it was just WWE's boss Vince McMahon changing his mind by putting a current talent in there, then a part-time legend and then going back to Rusev. Jericho is in the Royal Rumble match on the same card.
When you consider that The Undertaker is a part-timer who's 53 years old, he really shouldn't be going over in a match like this, but it's Taker and a Casket Match, so I'd be shocked if Rusev won. I expect Aiden English to interfere, Taker will fight him off and manage to win the match. They won't go long, which is why I think it will be done in under 10 minutes. If it goes seven minutes, that should be enough.
5. John Cena and Triple H will have a match that means nothing at all
Two of @WWE's most decorated Superstars of all-time will do battle TOMORROW at #WWEGRR. @JohnCena @TripleH pic.twitter.com/kS2PO3L0Um

— WWE (@WWE) April 26, 2018
I'm sorry for the vague prediction there, but it's a match where the result means absolutely nothing due to the current part-time status of both wrestlers.
I guess we could call this a Legends Match with WWE promoting it by noting Cena and Triple H haven't had a major match in about 10 years. Cena is a 16-time WWE World Champion (tied with Ric Flair for recognized World Title reigns) and Triple H is a 14-time WWE World Champion, so this match is just a treat for the fans who don't get to see these guys in action. Even if this match took place in the U.S. on a big stage, it might get treated as a big deal due to how long it has been for them.
Both wrestlers are part-timers and Triple H may not wrestle again this year because he's busy being an executive. Cena will probably be back in the ring around SummerSlam time for some match, but there's no concrete date set for when Cena might return. Who wins? I'll go with Cena as the younger guy. It doesn't really matter that much, though.
4. AJ Styles will remain the WWE Champion after a controversial finish
Heading into WrestleMania, the match I was most excited about was AJ Styles defending the WWE Championship against Shinsuke Nakamura. It ended up being a disappointing match, considering most of us expected a match of the year contender. It was still good, but not as epic as it could have been. Nakamura turned heel after the match with a low blow and since then, he has continued to cheap-shot Styles with low-blow attacks.
That means there's a better story going into this match, since Styles will want revenge for all of the cheap attacks.
I feel like the reason Nakamura turned was likely to put the title on him as a heel, but I think that WWE might save that for the Backlash pay-per-view on May 6. They can use this match to build to that one. I feel like something cheap is going to happen in this match like Nakamura hitting a low blow to get disqualified or even Styles may do it to get revenge for all the cheap shots Nakamura did against him.
This should be good, and I have high expectations for the match. It may be the best of the night too. It just seems like this is going to have a cheap ending that will hurt it, while also building to a third match between them. My official prediction is Styles leaves as champion, but there might not be a pinfall to end the match.
3. Roman Reigns will finally beat Brock Lesnar for the Universal Title… right?
I thought Roman Reigns was going to beat Brock Lesnar for the Universal Title at WrestleMania and was surprised that it didn't happen. I think the loss made Reigns looks like a loser at the biggest show of the year after building the match up for a whole year. They didn't do the title switch at WrestleMania because they likely wanted to save it for this event. It's a Steel Cage match, so Lesnar won't be able to cause damage around ringside like he usually does.
The reason WWE likely saved the title change for Jeddah is because Reigns is booed so much in the U.S. and perhaps he will be cheered way more in Saudi Arabia. It's likely that WWE feels when Reigns wins, it will look a lot better on television because those fans are probably going to cheer him while the fans at WrestleMania would have booed him.
There's really no reason for Lesnar to keep the title past this show, no matter what his contract status is. While WWE announced that Lesnar has re-signed with the company, it could be just for this match and we don't know when Lesnar might wrestle again. It's time to end his long title run that hasn't been very exciting.
What intrigues me is how WWE will book Reigns after this because they have a lot of top faces on Raw with Braun Strowman, Seth Rollins and Finn Balor as potential opponents. If Reigns continues to be booked like a face who gets booed, he's not going to have as many quality rivals. Are people going to be interested in Reigns vs. Baron Corbin? I don't see it. I hope 2018 is the year WWE pulls the trigger on Reigns as a heel, but I'm not going to bet on it happening since Vince McMahon is a stubborn man who wants to stick with his plan with Reigns as the new Cena. Listen to the fans, Vince. Move on. Try something else.
This match may be the main event, but I think the largest Royal Rumble ever should go on last.
2. The Greatest Royal Rumble will be hurt by having too many competitors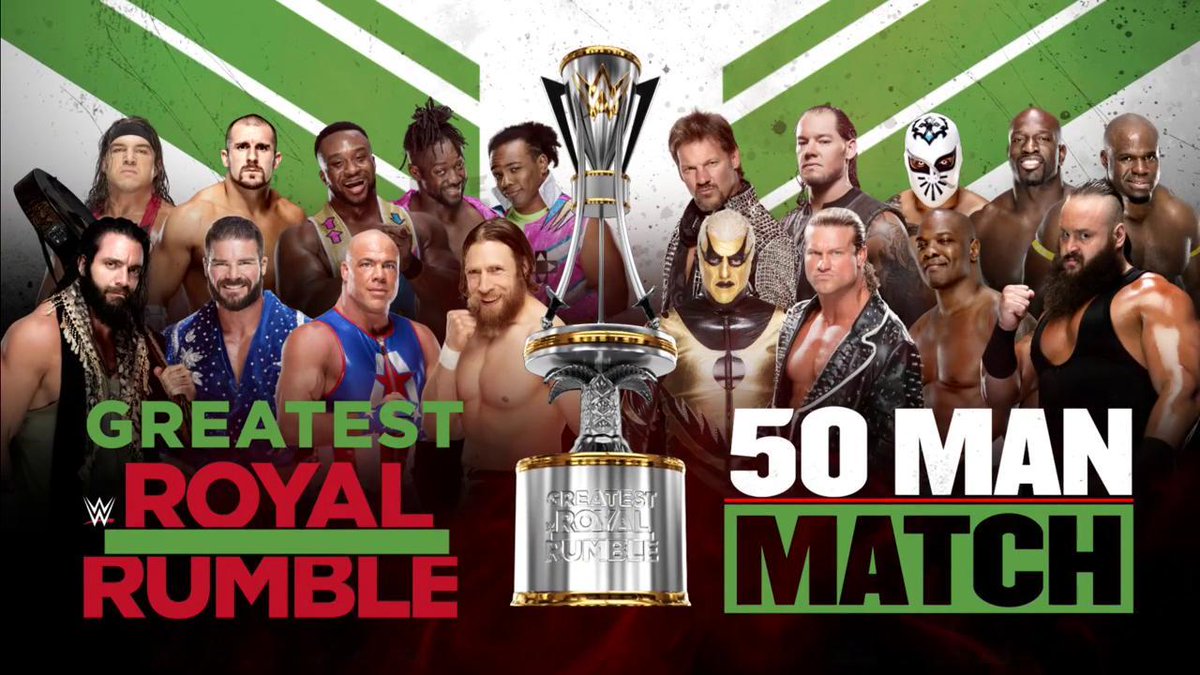 I love the Royal Rumble match. It's one of my favorite matches that WWE does every year, along with the Money in the Bank match. I thought the men's and women's Royal Rumble matches from this past January were both very good. However, I love the 30-person (man or woman) version of the Royal Rumble and I don't like the idea of adding 20 more people to it to make it a 50-man match.
In 2011, WWE did a 40-person Royal Rumble match won by Alberto Del Rio. They promoted it as the biggest Rumble match ever due to adding 10 more people to it. What they ended up doing was watering down the match by adding more midcard talent that had no chance of winning and the crowd was very tired because of it. My concern with a 50-man Rumble is that it's going to take too long, there will be far too many boring parts of the match and on a five-hour show, that's a bad thing.
A typical Royal Rumble match starts with two wrestlers and has 90-second intervals for every competitor after that. If that happens in this match, then we're looking at a match that will run at least one hour and 30 minutes, if not more. It could end up being the longest match in WWE history, which WWE will love since they are all about "making history" and shoving that phrase down our throats. They could opt to do 60-second intervals to try to get through the match quicker, which could lead to more eliminations. I'm not sure exactly what the plans are.
I'm sure WWE will try to push this as the best Royal Rumble match ever due to having more wrestlers than ever in the match. I don't think it's going to be the best one because way too many people will be involved.
1. Braun Strowman will win the "Greatest Royal Rumble" with 50 competitors
Some of the part-timers competing in the 50-man Royal Rumble match are Chris Jericho, Kurt Angle, Shane McMahon, Mark Henry (who recently retired), Rey Mysterio and Great Khali, who will do his best to waddle out there without getting hurt. It's not known if other legends on this show like John Cena, Triple H or The Undertaker will be a part of it. I can see Cena and Triple H being in it, but not Undertaker.
The rest of the match will be filled with WWE's main roster talent featuring a bunch of midcarders who nobody will believe in as a possible winner. It's funny that WWE has failed to list more than 20 people for the match. Way to put the effort into the match.
What WWE hasn't mentioned is what the winner gets. There were reports that the winner gets some trophy, but WWE has not said that on any of their television shows. What about a title shot? We have no idea if that's going to happen. Fans care about rewarding winners of big matches. It's too bad that WWE doesn't care enough to tell us what the winner gets.
The two most logical choices to win the match are the most popular guys in the match, Braun Strowman and Daniel Bryan. I don't see a reason to put a heel wrestler over. Strowman is my pick since he's the one of the biggest guys in the match, so he's a very believable winner. Plus, it would give him some positive momentum. I think Bryan is going to remain very popular whether he wins or loses this match. Plus, I can see Big Cass eliminating Bryan to get some heat on Cass going into their match at Backlash on May 6. Strowman is my pick to win.
Final Thoughts
This should be an interesting show in terms of the format with seven title matches, the legends that will be a part of it and the ridiculously large Royal Rumble match.
You can watch the WWE Greatest Royal Rumble at 12 p.m. ET/9 a.m. PT on WWE Network, with a special, one-hour Greatest Royal Rumble Kickoff starting at 11 a.m. ET/8 a.m. PT. If you miss it live, you can watch it on demand at your own convenience.