This Sunday night at Fastlane, Bill Goldberg will battle the WWE Universal Champion Kevin Owens in their first match ever. Owens has held the title since late August.
The last time Goldberg won a championship in WWE was at a show called Unforgiven in September 2003 when he beat Triple H for the World Heavyweight Championship. Who knew that 14 years later, we would be sitting here just days away from Goldberg possibly winning the Universal Championship from Kevin Owens? I never would have guessed it prior to last summer. It's a weird business, my friends.
I'll be honest with you in saying that I'm not that excited about this show. The Raw brand has been the worse of WWE's two shows right now with Smackdown Live clearly ahead when it comes to matches, promos, storylines and character development.
But the optimist in me believes in the talent being able to deliver an above average pay-per-view event. Raw's roster is very good and they do the best with what the creative team gives them. What matters more than anything is the quality of the matches. If they are given time to have memorable matches with smart finishes, then the show can exceed expectations. With WrestleMania set to take place in less than a month, this show is about setting up matches for that event as well, so there's a chance it could be a better show than most people, including myself, expect.
Here's a breakdown of the WWE Universal Championship match using five different categories.
The Build
The build has been weak. It was set up about four weeks ago when they had an in-ring promo exchange that began with Goldberg accepting Brock Lesnar's challenge for WrestleMania. Owens congratulated Goldberg, said that he (Owens) and Jericho would main event WrestleMania, so Goldberg talked trash to them. Jericho ended up accepting the Universal Title match for Owens.
Goldberg wasn't on Raw for the two weeks which followed. When he returned this past week, he had a verbal exchange with Owens where Goldberg promised a victory. Owens told him it wouldn't happen. It was a basic wrestling promo exchange.
This title match has the weakest build for a main event title match in a long time. However, Goldberg is a popular guy and Owens is hated by a lot of fans, so at least they have that going for them.
Crowd Reaction
Goldberg has the crowd solidly behind him. They chant his name as soon as the music hits, then they chant it when he gets in the ring and they likely won't stop. A big reason why WWE is putting him in this spot is because he has the support of the fans like nobody else right now. It's a lot different from the mixed reactions that Roman Reigns typically gets.
Owens is one of the best all-around performers in WWE. He's also a true heel who has cut back on the comedy lines for the last few weeks, which is smart because it makes him look like more of a badass champion.
The crowd should be loud for most of the match and will likely erupt should Goldberg leave with the Universal Title.
Match Quality
On Raw this past Monday, this is what Goldberg said: "Spear, Jackhammer, 1, 2, 3, Goldberg becomes Universal Champion."
Will it be that easy or as Survivor Series was when he beat Brock Lesnar in under two minutes? I think it's possible.
I think most likely they're going to go between five to eight minutes with Owens getting out of the ring to try to prevent Goldberg from beating him easily. Goldberg's strength is not selling or having long matches. He's there to hit his big moves, pop the crowd and move on.
This is legitimately their first match together since Goldberg doesn't work live events and they were not put in a match on television. They have probably planned it out well to accentuate Goldberg's strengths (his power moves) and hide his weaknesses (selling) because if they don't, then it could be bad. Goldberg was never known for being a good in-ring performer. He was always good at getting a response from the crowd, though. That's a very important part of pro wrestling too.
This will probably be the shortest major title match on a pay-per-view this year. If it goes over 10 minutes, I'll be very surprised.
What's Next
Both men have clear paths with WrestleMania set to take place in four weeks on April 2. Goldberg will face Lesnar and Owens will probably face his former best friend Jericho.
While a case can be made that Goldberg doesn't need the Universal Title for his match against Lesnar, it's easy to see why Vince McMahon would want to put the title on Goldberg. Vince knows that the hardcore fans are going to watch WrestleMania no matter what. By putting the title on Goldberg for a match against Lesnar, it could be exactly what WWE needs to do to bring in the casual fans too. If people who barely follow WWE find out that Goldberg is champion again, they might be more inclined to tune in. That's why WWE would do the title change.
As for Owens, his WrestleMania match would be for Jericho's United States Title. It's an easy story to tell because Jericho was the one who accepted the Goldberg match for Owens, so in KO's mind that was enough to justify his memorable attack on Jericho a few weeks ago. I think Owens could win the title that night, since Jericho is the 46-year-old that has no problem putting over younger wrestlers.
Goldberg vs. Lesnar and Jericho vs. Owens have been the two most obvious WrestleMania matches since late November. Fastlane is a speed bump on the road to those matches at WWE's signature event.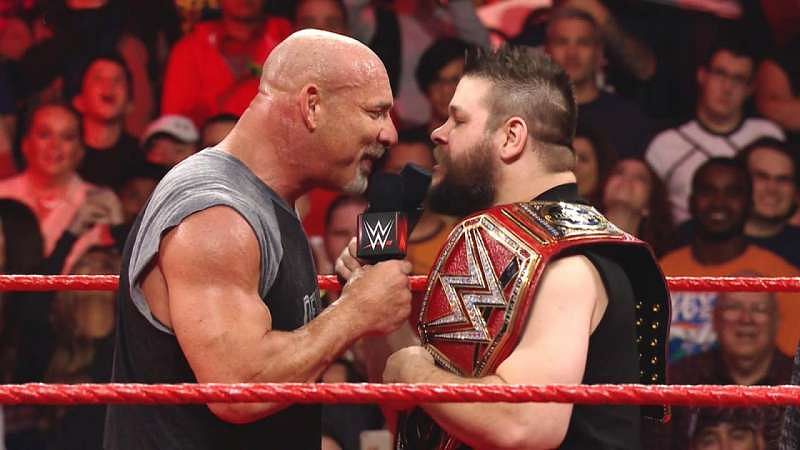 The Winner
I think Goldberg will win the match and the Universal Title. I feel confident in that prediction too.
Is there a chance that Owens retains to try to surprise people? Yeah, it's possible. Anything is possible in Vince McMahon's world where he changes his mind all the time. I just think everything is set up for a Goldberg win, so that his rematch with Lesnar is for the Universal Title.
Chris Jericho could play a role in the match somehow, since he wants revenge against Owens for assaulting him a few weeks ago. If it was up to me, I would keep Jericho off TV until Monday's Raw. The reason for that is I don't think it would be smart to have a dominant face like Goldberg need help to win a title. Perhaps Jericho could show up to try to stop Owens from cheating, but even that would be too much.
I think it's going to be a clean win for Goldberg as he leaves Fastlane the new WWE Universal Champion.
Here's the rest of the lineup for Fastlane:
Roman Reigns vs. Braun Strowman
It's a difficult match to predict and I would imagine it's tough to book from WWE's perspective as well. The belief is that Roman Reigns will be in a featured match at WrestleMania 33 against The Undertaker, while Strowman will most likely be the favorite to win the Andre the Giant Battle Royal at WrestleMania. With that in mind, the finish has to be a decisive win for Roman Reigns since he's in the bigger WrestleMania match, right? It's not that easy.
Strowman has been booked stronger than anybody — even Reigns — since the brand split last July. Nobody has been able to beat him. He went through unnamed jobbers for months, then destroyed Sami Zayn repeatedly, with Sami's only "win" coming when he survived 10 minutes with Strowman. After that happened, WWE made sure to remind people that Strowman could beat him easily and poor Zayn was worse off for having feuded with him. Strowman was used to cost Reigns the Universal Title at Royal Rumble when he attacked him as a surprise. Now Reigns is seeking revenge.
I mentioned The Undertaker earlier. It's interesting that we know he's going to be part of WrestleMania, but WWE has barely mentioned him since Reigns eliminated him from the Royal Rumble. I wonder if maybe they did that to get people to not think about him so that he could cost Reigns this match. It would be pretty random, though. Undertaker is a face wrestler and Reigns is as well, so why would he cost Reigns? It's not like Reigns bragged about eliminating him from the Royal Rumble or anything like that. The fans who hate Reigns would love to see Undertaker involved somehow, that's for sure.
I'm going with the Reigns win, but I'm not that sure about it. It wouldn't surprise me if Strowman won to keep him looking strong. If Strowman lost, it probably wouldn't hurt him that much because I expect a very physical match that could surprise us in terms of match quality. They have wrestled each other regularly at live events, so likely have a good chemistry. It could be a very entertaining brawl.
My Prediction: Roman Reigns wins
Raw Women's Championship: Bayley vs. Charlotte Flair
Here we go again with Charlotte challenging for the Raw Women's Title on pay-per-view again. This happened many times last year with Sasha Banks in Bayley's spot. It's a reminder of how uncreative Raw's "creative team" is. As soon as Bayley won the title on Raw a few weeks ago, which I thought was a mistake that should have been saved until WrestleMania, my prediction was that Charlotte would win it back at Fastlane. Why? Because Charlotte is undefeated in singles matches on pay-per-view and I don't expect that streak to end at this event.
I feel like Charlotte's victory is going to be very cheap. There might be a situation where Charlotte tries to cheat repeatedly, so Sasha Banks goes to ringside to help Bayley. However, in trying to assist Bayley, there might be a spot where Banks accidentally hurts her friend by missing an attack on Charlotte and hitting Bayley. That could lead to Charlotte getting the pin. With rumors of Banks turning heel, plus Raw's four women (Charlotte, Bayley, Banks & Jax) having a title match at WrestleMania, it makes sense to cause tension between Banks and Bayley.
Their match on Raw a few weeks ago was outstanding. It also had the benefit of Bayley being the underdog challenger who found a way to win, thanks to Banks' help. The crowd may not be into it as much since Bayley is walking into the match as champion. I think they're going to get 15 minutes or so with Charlotte finding a way to win back the Women's Title to become a five-time Women's Champion. There are definitely too many titles changes, but the matches are usually good, so at least it's forgivable.
My Prediction: Charlotte Flair wins the Raw Women's Title… again.
Raw Tag Team Championships: Luke Gallows & Karl Anderson vs. Enzo Amore & Big Cass
This match may have the worst build of anything on the show. For some reason, WWE spent two weeks having Gallows & Anderson getting beat up by Roman Reigns in handicap matches. Why waste your tag champions on something meaningless like that? Enzo & Cass became No. 1 contenders two weeks ago leading to a four-minute match on Raw last week where Cass beat Gallows. Are people supposed to get excited about this match? I'm not and I like both teams.
Every Enzo & Cass match follows the same formula. The obnoxious little man Enzo will get beat up for a few months, Cass will get the hot tag doing his 1995 Diesel offense (that's not a knock, just saying that's what he does) and they'll go to the finish. I can see this feud continuing past Fastlane with Enzo & Cass finally winning tag team gold at WrestleMania. They didn't win titles in NXT or the main roster, so save it for WrestleMania. As for this match, the champs should get the victory by cheating, which would lead to Enzo & Cass continuing the chase.
My Prediction: Luke Gallows & Karl Anderson retain or a disqualification loss
Sami Zayn vs. Samoa Joe
This would easily be the match of the night if they got 15-20 minutes. Tell a great story with the heel Joe dominating for much of it, only for Zayn to come back for the emotional victory, thanks to the tremendous heart he always shows as a babyface. The problem with that is WWE doesn't really get behind Zayn that much. He's just a midcard face who is there to get beat up by the heels.
It would be foolish to have Samoa Joe lose in his first pay-per-view match. I hope that it's a competitive match although the more likely scenario is a dominant win by Joe. There might be a comeback by Zayn, but I expect Joe to win with the Coquina Clutch submission at around 10 minutes. Booking Joe as an aggressive, angry heel who beats people up is the right way to go.
My Prediction: Samoa Joe wins by submission
Cruiserweight Championship: Neville vs. Jack Gallagher
This is the biggest lock on the show. I like Gallagher because he's different than everybody else with his gentlemanly behavior, but he's not a guy who will leave with the title at this show.
Neville's been on fire since returning as a heel late last year. It was smart to put the Cruiserweight Title on him and it would be stupid to take it off him. He needs a long reign that last six months or more to allow him to raise the status of the cruiserweight division.
My Prediction: Neville retains the Cruiserweight Championship
Sasha Banks vs. Nia Jax
When they did this match at the Royal Rumble, Jax won easily in about five minutes. I'm not sure why we need to see it again, other than simply to help fill out the card. Banks was storyline injured going into that match. Now she's healthy, so perhaps she'll fare better.
If Banks were to get the win, it would probably be a disqualification or some kind of fluke finish. I don't think WWE wants to have Jax lose a match before the rumored women's four-way match at WrestleMania.
My Prediction: Nia Jax wins
Rich Swann & Akira Tozawa vs. Brian Kendrick & Noam Dar (Kickoff Match)
It's a cruiserweight tag match to open the show. Hopefully, they get more than the standard three minutes they get on Raw, since there's time to have a longer match. I think this match will be about Tozawa trying to get his hands on Kendrick while Dar is the one that gets beat. It could be Swann who gets the fall, but it would make more sense to put Tozawa over since he's the newer guy in the division.
My Prediction: Akira Tozawa pins Noam Dar to win for his team
In Closing
I think Fastlane will be a very average show. It's definitely not at the level of the Royal Rumble or Elimination Chamber in terms of my excitement level. Some of the matches are fresh, while others are repeats of things we've seen several times before. There isn't a match on this show that I can point to and say it's going to be a classic, must-see match that every WWE fan needs to watch. However, I think the sight of Goldberg winning a major title in WWE will garner the company some media attention at least.
You can watch Raw's Fastlane show on WWE Network this Sunday at 8 p.m. ET with an expected run time of three hours. There's a Kickoff Show starting at 7 p.m. ET as well. I'll be back on Monday with a review.