This week's Smackdown was their last show leading into Sunday's Backlash pay-per-view. There was a heavy focus on the WWE Title match at Backlash featuring champion Randy Orton and challenger Jinder Mahal, just like there's been for the last month. Mahal wrestled in the opening match, while Orton appeared in the main event.
The show started with a talking segment, of course. I don't think WWE knows how to start without a promo. Anyway, Kevin Owens said he was the new host of Chris Jericho's Highlight Reel since he injured Jericho (in the storyline) and was interrupted by AJ Styles, who is his Backlash opponent. Owens called him a rude American for it. They were interrupted by Jinder Mahal, who Owens claimed was his invited guest. That set up Styles vs. Mahal for a match, even though they were already announced to have a match.
Here's my question for WWE: Why do we need a 10-minute promo segment to set up a match that was already announced before the show? It was a waste of time. And this is coming from a guy who loves Owens and Styles, but that promo really didn't add much to their story.
Jinder Mahal defeated AJ Styles
It pains me just to type those words, but yes, Jinder Mahal beat AJ Styles. It wasn't clean, of course. It also wasn't that good. It was the probably the worst 15-minute AJ Styles match I've seen — other than the times he wrestled James Ellsworth, which were more like comedy matches.
I just can't get into Mahal's matches because his offense is so boring. I understand it, though. Heels like him are supposed to be boring. It's so basic with the punches, the stomps, the flying knee attacks and there's really not much else to it. When Mahal wrestles, it feels more like the fans just don't care enough to boo him a lot. I don't think the fans are booing Mahal because he's a great heel. I think they are booing because they don't want him to be in the spot he's in.
The two long singles matches that Mahal has had in the last month were against Sami Zayn and AJ Styles. They are probably the two best in-ring workers on the show and neither match was that great. I thought the Zayn match was the better of the two, but I honestly don't remember much about it other than Mahal cheated to win just like this match with Styles.
Anyway, this match ended when Kevin Owens hit Styles in the leg with the US Title while the ref was distracted by the Singh Brothers, who are Mahal's buddies. That led to Mahal hitting his Cobra Clutch Slam (they are calling it "The Khallas") for the pinfall victory.
The loss doesn't hurt Styles too much since it was basically a 4-on-1 situation. The finish also puts over Mahal in a big way, which is something WWE has done with him for the last month. He's won every match he's been in since winning that No. 1 contender six-way match because WWE knows wins will give him credibility.
Randy Orton defeated Baron Corbin
The main event was a non-title match with Randy Orton beating Baron Corbin. They went about 13 minutes and it was a clean win for Orton. The crowd was dead for it, mostly because there wasn't much of a story going into the match. It was just a good guy vs. a bad guy and with all due respect to both men, neither one of them is setting the wrestling world on fire right now.
Orton can be pretty boring at times while Corbin's "lone wolf" gimmick is pretty basic. He needs to do something different to catch fire. That's why you didn't hear much noise for things they did.
There were two different times in the match where Corbin slid out of the ring and then jumped back in the other side for a sneak attack. When Corbin tried it a third time, Orton was waiting for him and hit a RKO out of nowhere, leading to the pinfall win. A champion won a non-title match? That's pretty rare in WWE. I thought the match was fine, but didn't come off as a special kind of main event.
Post-match, Mahal and his buddies the Singh Brothers did a sneak attack on Orton. When Orton went for a double DDT on the Singh Brothers, Mahal attacked Orton from behind and laid him out with a Cobra Clutch Slam. Mahal held the WWE Title in his hands and stood over Orton.
You can tell that WWE has really wanted to push the story of Mahal as a viable threat to Orton because he's been the one standing tall nearly every week. Last week, he pinned Orton in a tag match as well. It's going to make fans think Mahal will win the WWE Title at Backlash on Sunday. I don't think that's going to happen, but WWE's booking suggests that Mahal might win.
This Week's Smackdown Live Matches
Here are the other two matches from Tuesday night.
Breezango defeated Primo & Epico Colon
It was an easy win for Breezango (Tyler Breeze & Fandango) ahead of their Smackdown Tag Title match at Backlash on Sunday. Putting Breezango over works because WWE is trying to elevate new contenders with wins to make the fans believe they might win gold on Sunday. The heels worked on Breeze for a few minutes, Fandango got the hot tag and the victory with a Falcon Arrow slam.
Post-match, The Usos did a promo just like last week talking about their "Day One Ish" stuff. I enjoy their promos, especially the ending when they say it's not paranoia you should be afraid of, it's The Usos. The only thing I would have liked is some physicality between the two teams because they really haven't gotten involved yet. It's not a major criticism. I just want to see more.
Carmella defeated Naomi after a contract signing
The top of hour two saw Smackdown's women's division take center stage as Natalya, Carmella and Tamina were in the ring with Charlotte Flair, Becky Lynch and Naomi to sign the contract for their six-woman tag match at Backlash. The promos were okay. Carmella attacked Naomi, so Shane McMahon made a singles match with Naomi facing Carmella.
It was a non-title match that Carmella won in about 10 minutes. It felt off from the beginning. There just wasn't a lot of chemistry there. Carmella has become a good heel in her actions, but her offense looks weak. It looked like their signals were crossed a few times as well. It was predictable finish with Naomi getting distracted by the other women brawling on the floor, so Carmella did the dreaded rollup to win.
This match featured two booking things I hate: A champion losing non-title and the rollup finish. It's like WWE wasn't trying to come up with anything creative this week. Lazy booking.
Other Key Items From Smackdown
1. Dolph Ziggler showed a video package about himself while trash talking Shinsuke Nakamura
There was no Shinsuke Nakamura on the show this week, which was disappointing. Instead, we got a promo from Dolph Ziggler talking about how Nakamura hasn't done anything on WWE's main roster yet, while he has done a lot. That led to a video package showing some of Ziggler's career highlights.
I understand wanting to keep Nakamura off the show to build up to the anticipation of his main roster in-ring debut at Backlash. However, it's not a good thing to keep him off the show for the second time in three weeks. We want to see and hear from Nakamura. I hope he's featured more after Backlash is over.
2. There was another "Fashion Files" video featuring Breezango aka The Fashion Police
For the third straight week, there was a "Fashion Files" segment. I thought it was funny mainly because of the funny photos that were on the wall. It's a good way to build up the characters of Tyler Breeze and Fandango. We need more segments like this that are supposed to be silly. Comedy works when the performers are good at it. These guys can pull it off well.
My favorite part was the ending with the freeze frame high-five. They should do that before and after matches. It could catch on as something the fans want to do as well.
3. Rusev wasn't there, even though last week he said he would be
Sorry #SmackDownLIVE I had to make the @PredsNHL game. See you when I see you.

— Rusev The Ruler (@RusevBUL) May 17, 2017
Last week on Smackdown, Rusev said he was going to be on the show this week to demand answers from Shane McMahon because he wants a shot at the WWE Title. However, Rusev wasn't on the show and wasn't even on Talking Smack on WWE Network. It turns out Rusev wasn't even at the building in Manchester, New Hampshire because he was in Nashville (where he lives) watching the NHL's Predators in the Stanley Cup Playoffs.
I assume this was a case of WWE originally wanting him to be on Smackdown to further this angle he's a part of, but then they realized there was no time for it. Maybe next week.
Looking Ahead to WWE Backlash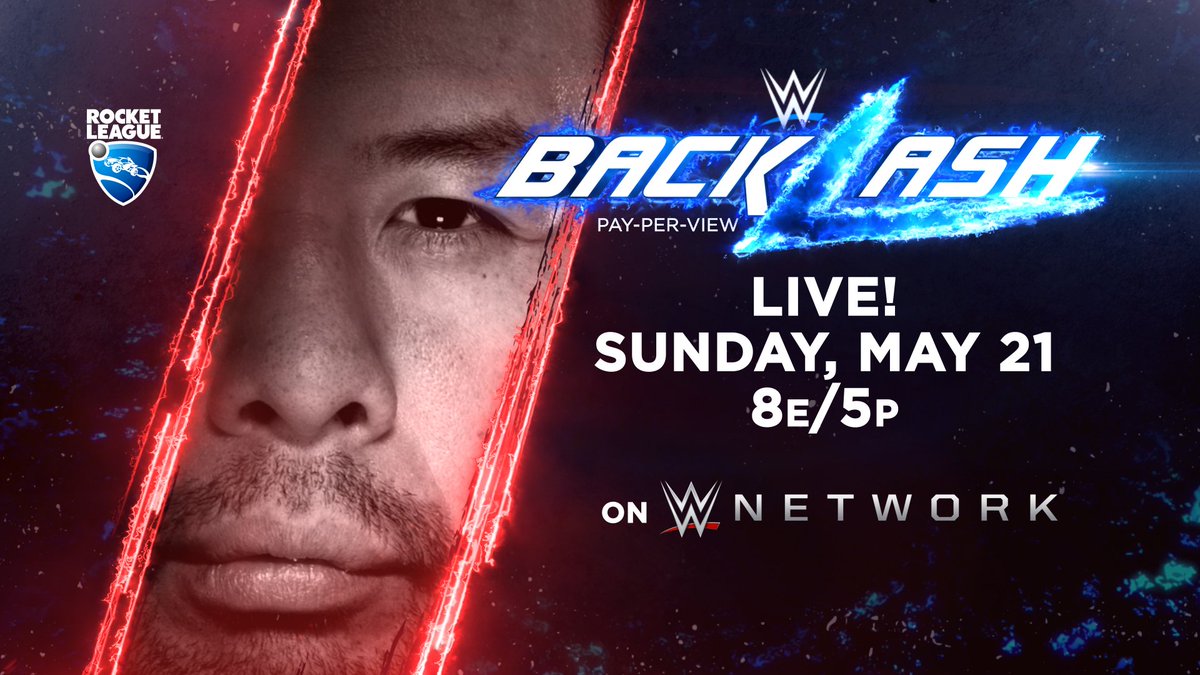 The next Smackdown pay-per-view is Backlash in Chicago this Sunday, May 21. Here's the announced lineup, which is likely final now.
WWE Championship: Randy Orton vs. Jinder Mahal
United States Championship: Kevin Owens vs. AJ Styles
Shinsuke Nakamura vs. Dolph Ziggler
Smackdown Tag Team Championships: The Usos (Jimmy & Jey Uso) vs. Breezango (Tyler Breeze & Fandango)
Charlotte Flair, Naomi & Becky Lynch vs. Natalya, Tamina & Carmella
Baron Corbin vs. Sami Zayn
Luke Harper vs. Erick Rowan – This was added on Talking Smack.
Tye Dillinger vs. Aiden English (Kickoff Show)
In Closing
It was a below average show this week. It's hard when the main matches for Backlash were already set weeks ago and there's not much more that could have been done to build them up. The Mahal match with Styles wasn't that great and the main event was boring. That doesn't mean Backlash is going to be a terrible show. Not at all. It's just that this show felt like a waste of two hours and if you missed it, you really missed nothing.
The Smackdown brand was hot heading into WrestleMania. However, since the Superstar Shake-up they have lost some steam as they try to focus on different people in key spots. I hope it works out because I miss when this show was better.
I'll be back on Friday with a WWE Backlash preview and a review of the show on Monday as well.