A championship is the most coveted prize in the world of professional wrestling. When a wrestler becomes the champion, they don't *really* win that title. I know that's not exactly breaking news. What it does mean, though, is that the powers that be in World Wrestling Entertainment (or whatever the company is) believe in that person to represent the company as the champion in their storylines.
Think about when you were a kid. I'm sure we've all got a story like mine. At WrestleMania 4 in 1987, when I was about six and a half years old, there was the tournament to crown a new WWF Champion. By that point, my favorite guy was "Macho Man" Randy Savage. I can remember having a Macho Man shirt and all of the action figures that every kid had, and I was rooting for him. When the night was over, Savage was holding the WWF Championship above his head after he beat Ted Dibiase, thanks to Hulk Hogan watching Savage's back and preventing Andre the Giant from interfering. I also remember jumping into the arms of my older cousins that were watching with me and celebrating like my favorite sports teams won championships. I did get to experience that with the Toronto Blue Jays and St. Louis (now LA) Rams years later, but at that moment, it was all about the Macho Man for me.
Fast forward to today. After watching wrestling for over 30 years and writing about it for nearly 20 years, I don't really mark out when somebody wins a title, but I know there's probably some kid out there that is reacting to something the same way that I did with Macho Man. That's why it's important that WWE creates those big moments that can last a lifetime. I still get excited about title changes too. I'm happy for some of the guys, like when Kevin Owens won the Universal Title two years ago or AJ Styles won his first WWE Title two years ago. If a favorite wrestler of mine wins a title, that's something that will remind me that's why I'm still watching this stuff.
Every title change in WWE isn't great. There are some bad decisions that make me scratch my head and wonder why, such as Jinder Mahal's long reign as WWE Champion last year. I thought it was a bad decision. Smackdown was hurt because of it, but Smackdown has been better in the last year with AJ Styles as the WWE Champion. Brock Lesnar's Universal Title reign was not well liked by most WWE fans. Lesnar held the Universal Championship for 504 days before dropping it to Roman Reigns at SummerSlam back in August. Since Lesnar defended that title less than ten times on TV/PPV over that long reign, it cheapened the title.
There have been plenty of joke champions in the history of the business, like WCW World Champion David Arquette, WCW World Champion Vince Russo (he booked himself to win it), WWE Women's Champion Hervina (Harvey Whippleman)h and WCW Tag Team Champion Judy Bagwell, to name a handful.
Titles should mean something, and they will always remain a key part of wrestling stories. They are what every wrestler should want to have, whether it's a major title or one of the others. When somebody wins a title, they should celebrate it as if it was the biggest moment of their career because for a lot of them, it is. Eddie Guerrero winning the WWE Title at No Way Out 2004 is one of the best title celebrations ever because of how far he came in his life to reach that moment.
What I'm here to do today is look at every title situation on Raw while commenting on how well WWE is booking a title, who the next challenger is (if a match has been announced), and who next champion could be.
Here's a listing of all the titles available to WWE talent on their multiple brands.
Raw (4): Universal Championship, Intercontinental Champions, Raw Tag Team Championships, Raw Women's Title.
Smackdown (4): WWE Championship, United States Championship, Smackdown Tag Team Championships, Smackdown Women's Title.
205 Live (1): Cruiserweight Championship.
NXT (4): NXT Championship, North American Championship, NXT Tag Team Championships, NXT Women's Championship.
NXT UK (3): UK Champion, NXT UK Women's Champion, NXT UK Tag Team Champions.
Should they add more titles? I'm not sure, because there are clearly a lot of championships today. I would support WWE introducing Women's Tag Team Titles, as long as champions would be allowed to appear on both brands while they have the titles. I think that's a cool way to make the titles seem unique and we could get some pretty good matches out of it. There have been Cruiserweight Tag Team Titles rumors for months, but that hasn't happened. I would be fine with that, but I don't think there's a need for more than that, though.
This is part one of my breakdown of the title scenes in WWE. I'll have a Smackdown and NXT breakdown later this week, likely on Wednesday.
Monday Night Raw
Universal Champion: Roman Reigns (champion since August 19, 2018 at SummerSlam)
Next Announced Title Defense: Roman Reigns vs. Brock Lesnar vs. Braun Strowman at Crown Jewel on November 2.
Championship Outlook: I don't expect Reigns to lose the title at Crown Jewel or at any point before the end of the year. I feel like this is going to be a very long title reign for Roman, continuing to establish him as "the guy" in WWE. We all know that's how Vince McMahon sees him since Reigns has main evented the last four WrestleManias. I can see him holding the title all the way to the next WrestleMania and even past it, perhaps even getting to the one year mark. If I had to bet, I'd say he's the champion until at least until WrestleMania as long as he's healthy.
Possible Future Champions: Braun Strowman, Dean Ambrose, Seth Rollins, Drew McIntyre, or Bobby Lashley.
I don't know when or who, but if I had to pick I'd lean towards Strowman just because he's been chasing that title for a over a year now. Ambrose has a shot if he turns heel. If McIntyre or Lashley gets hot as a heel, then either one of them could be the guy. I think Rollins has a chance if they do a Shield triple threat at WrestleMania for the Universal Title and Rollins wins it that way. That's what I would do anyway.
Raw Women's Champion: Ronda Rousey (champion since August 19, 2018 at SummerSlam)
Next Announced Title Defense: Ronda Rousey vs. Nikki Bella at Evolution this Sunday, October 28.
Championship Outlook: The phrase "long term champion" comes to mind when talking about Rousey, who is undefeated in her singles career in WWE. Her only "loss" was at Money in the Bank when she challenged Nia Jax for the Raw Women's Title, but even then, it was Alexa Bliss cashing in on Jax and I don't think it should be considered a loss for Rousey. I expect Rousey to get past Nikki Bella, though they may have a feud that continues past Evolution. I think Rousey will hold the title until WrestleMania, if not longer. This could be a one-year title reign for her.
Looking further ahead into her future, Rousey may be a part of Smackdown one year from now because of the reports that Fox wants Smackdown to be more "sports oriented" when it's on Fox in October 2019. Some people have suggested that WWE wouldn't have even got the Fox deal without Rousey under contract, so they will probably want her on there. I know Rousey has talked about wanting to have kids of her own with husband Travis Browne, but maybe she waits until 2020 or beyond for that.
Possible Future Champions: Charlotte Flair, Becky Lynch, Nia Jax, Shayna Baszler, or Natalya.
The reason I have Charlotte and Becky as the first two names is because I think one of them will win the women's Royal Rumble next year and then move to Raw to challenge Rousey for her title at WrestleMania. Nia Jax could be a contender again if WWE turns her heel. It's an easy story to tell with Jax becoming a dominant monster. Shayna Baszler has impressed in NXT, is likely due for a main roster call up, and since she's one of Ronda's best friends, she could go after Rousey. Natalya is an ally of Rousey that could turn heel at any time.
It's tough to pick a name because I expect Rousey's reign as champion to be long. I'll go with Charlotte as the pick for now.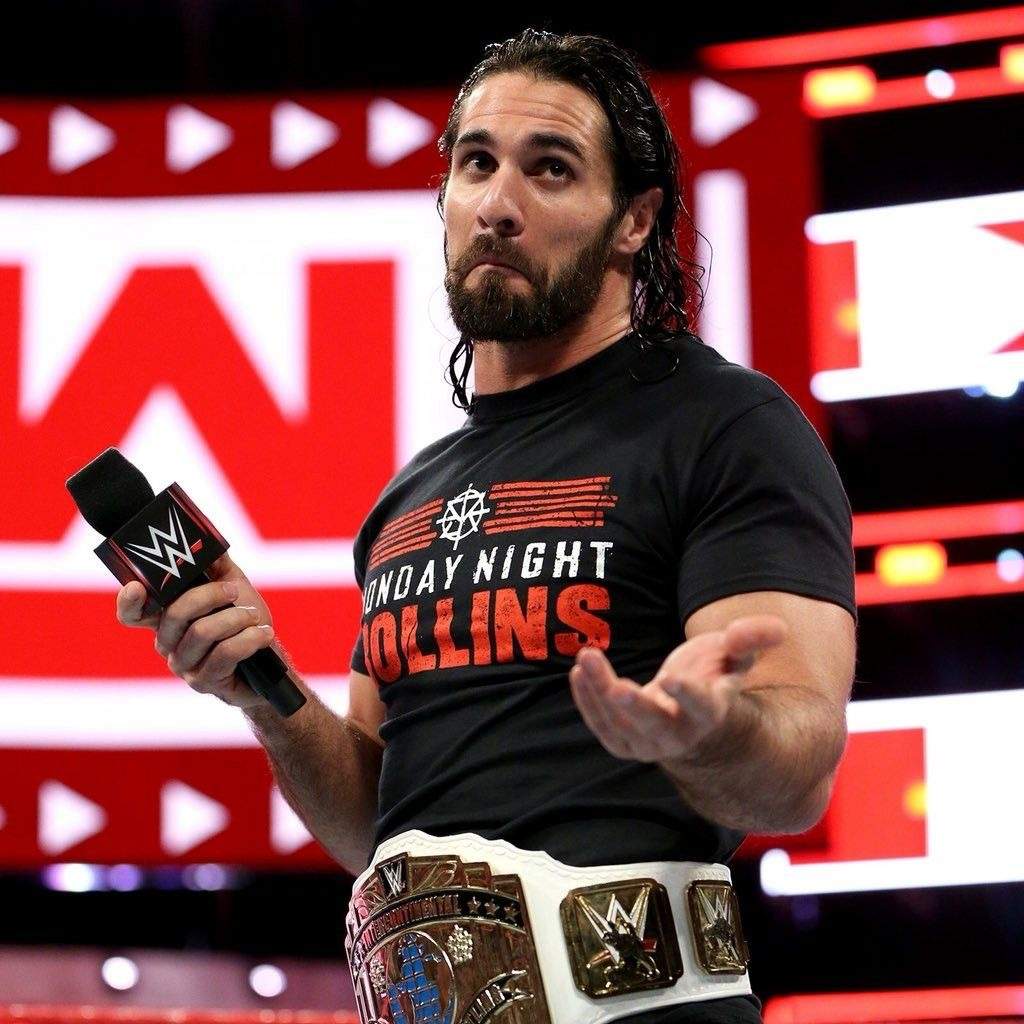 Intercontinental Champion: Seth Rollins (champion since August 19, 2018 at SummerSlam)
Next Announced Title Defense: None. Rollins is part of the World Cup at Crown Jewel, so he's not defending the title.
Championship Outlook: This is Seth's second IC Title reign this year. The first reign had a few memorable title defenses, but this title reign has seen him being booked as a forgotten champion since he was in a tag match at Hell in a Cell last month and he's in the World Cup in two weeks. I think Rollins is a guy that is above the title at this point. I'd rather see him lose it, then focus on becoming Universal Champion because he should be a main event singles guy rather than just the IC Champion. I can see him losing the title before the end of the year.
Possible Future Champions: Elias, Bobby Lashley, Finn Balor, Drew McIntyre, Baron Corbin, or Dean Ambrose.
Elias immediately comes to mind because it would give him some credibility since he hasn't won that many big matches in his WWE career. Using the title to elevate a wrestler is a smart move. I know he's lost to Rollins in the past, but they can always do it again with Elias going over the next time. Lashley is a solid choice since he's in the heel role now. I thought Finn Balor should have won the IC Title earlier in the year since it's been two years since he had a title. Let's see him as IC Champ soon. McIntyre is a possibility since he's wrestled Rollins so many times. Baron Corbin was a forgetful US Champion on Smackdown and maybe he'll be a forgetful IC Champion on Raw too. I'm bored by him. I listed Ambrose because it makes sense for him to turn heel on Rollins, but I think Rollins will drop the title before that.
If I had to pick one, Elias is the best choice to take it from Rollins in December at the TLC PPV although if it's before that, then that's even better. I'd like the title to be off Rollins before the Royal Rumble match.
Raw Tag Team Champions: Dolph Ziggler and Drew McIntyre (champions since September 3, 2018 edition of Raw)
Next Announced Title Defense: None. Ziggler is in the World Cup tournament at Crown Jewel while McIntyre is not.
Championship Outlook: The first time Raw Tag Team Champions are in control of a division that has really struggled this year. The team of Bray Wyatt and Matt Hardy ended due to Matt possibly retiring due to a hip/leg injury. The "B Team" duo of Bo Dallas and Curtis Axel were champions that won in a flukish manner, so they didn't have a lot of credibility. It seems like Ziggler and McIntyre were just thrown together to try to give some credibility to the division, even though they don't really defend the titles much at all.
Possible Future Champions: Authors of Pain (AOP), The Revival, Seth Rollins and Dean Ambrose
I think sooner or later, WWE must get the tag team titles on AOP. They are a true tag team that can dominate the division for years since they are guys in their mid-20s and work so well together as a dominant tag team. The Revival have been booked inconsistently since they made their debut on the main roster. I don't know if they are ever going to get to the title level, but they should be there. I put Rollins and Ambrose on the list because they seem to wrestle McIntyre and Ziggler every week in singles or tag matches anyway. I'd rather not see them win the gold, though. Let another team do it.
The problem with Raw's tag team division is the lack of face teams. Are Bobby Roode and Chad Gable or The B Team the most credible face teams right now? I guess they are right now, but that's not very strong.
It's not a matter of "if" the AOP wins the titles, but when. I think it will probably happen within the next month or two.
Final Thoughts
This is a column I want to do about every three months, and I'll try to remember that and hammer out another edition before the Royal Rumble next year.
I will look at the Smackdown, 205 Live, and NXT Title situations in a column likely to be posted later this week. Then on Friday, I'll be back for some predictions for the women's only Evolution pay-per-view. It should be an interesting week in the WWE Universe.