The historic WWE Evolution is finally here and it's the first time that World Wrestling Entertainment will run a pay-per-view where every match will feature women's wrestlers only. It's an event that WWE is treating with the importance it deserves, although there are probably some fans that may not be as interested in it. I'm a big supporter of women's wrestling, so I'm excited about Evolution. With that said, the card could be a little bit better, which I'll get to shortly.Evolution is taking place at the Nassau Coliseum in Long Island, New York, which is a venue WWE has been using for decades. It also means that a lot of the wrestlers have done interviews in the New York City market, which happened when WWE was in Brooklyn for SummerSlam two months ago. I think it was a smart decision to hold this event in the New York market where WWE fans are very passionate about the product.The commentary for the event will feature Michael Cole as the play-by-play guy alongside Renee Young and Beth Phoenix. That trio worked together on the Mae Young Classic earlier this year, while Renee is also a regular on Raw. Putting Cole on the show has upset some fans that think it should be women only all night, but I don't mind it because there isn't an experienced women's play-by-play announcer in WWE. I tweeted about it a few days ago and Renee Young, who I've known for about a decade, chimed in to agree with me while explaining why she thinks Cole should be there too.
Yeah, just because it's an all women's PPV doesn't mean we're banning the men. We're all celebrating the women's achievements. And there have been men that have been a big help in the achievements that all of the women have made too. It's a team effort. Equality = everyone?

— Renee Young (@ReneeYoungWWE) October 24, 2018
Earlier in the week, WWE announced the Kickoff Show panel (starting at 6 p.m. ET) will feature Raw announcer Renee Young, SmackDown General Manager Paige, and WWE Hall of Famer Beth Phoenix. Interviewers Charly Caruso and Kayla Braxton will be there along with Dasha Fuentes, Cathy Kelly, and Sarah Schreiber for some kind of red carpet show. The ring announcers will be Lilian Garcia, Jojo, and Kayla Braxton. I assume there will be a Stephanie McMahon appearance too.Here's the full lineup with seven matches:
Raw Women's Championship: Ronda Rousey (c) vs. Nikki Bella
Smackdown Women's Championship Last Woman Standing: Becky Lynch (c) vs. Charlotte Flair (I think this should be the main event, but I expect WWE to end with the Rousey match)
Trish Stratus and Lita vs. Mickie James and Alexa Bliss
Sasha Banks, Bayley and Natalya vs. Ruby Riott, Liv Morgan and Sarah Logan
NXT Women's Championship: Kairi Sane (c) vs. Shayna Baszler
Mae Young Classic Tournament Final: Io Shirai vs. Toni Storm
Battle Royal for a future championship match
The announced names for the battle royal include Nia Jax, Dana Brooke, Alicia Fox, Ember Moon, Peyton Royce, Billie Kay, Tamina, Asuka, Mandy Rose, Carmella, Lana, Sonya Deville, Naomi, Torrie Wilson, Alundra Blayze, Ivory, Michelle McCool, Molly Holly, Zelina Vega, Kelly Kelly, and Maria Kanellis. There might be more names announced, perhaps including some women from NXT, but those are the 21 competitors in the match right now.https://www.youtube.com/watch?v=E_HMfe1Rfi4&t=4sI think it's possible that WWE introduces Women's Tag Team Titles at Evolution since they handed out signs to fans at ringside at Raw and SD this week with that message. I figured it would have been announced earlier, leading to some buildup to crown the champs at Evolution. Perhaps they will have a tournament to crown champions at Survivor Series next month since that is considered a bigger event.The lineup is okay, but I'm disappointed that Smackdown only has one singles match, plus the battle royal, while Raw has three matches. Smackdown is the better show and the women on that show do a great job, so it sucks that WWE's creative team failed to create an interesting storyline for the likes of Asuka, Naomi, Peyton Royce, Billie Kay, and others that deserved more of a spotlight on this show.Normally, I do ten predictions when I do these columns. However, with only seven matches, I figured I would just cut it down a bit to seven predictions.
7. Asuka will win the battle royal to earn a Smackdown Women's Title match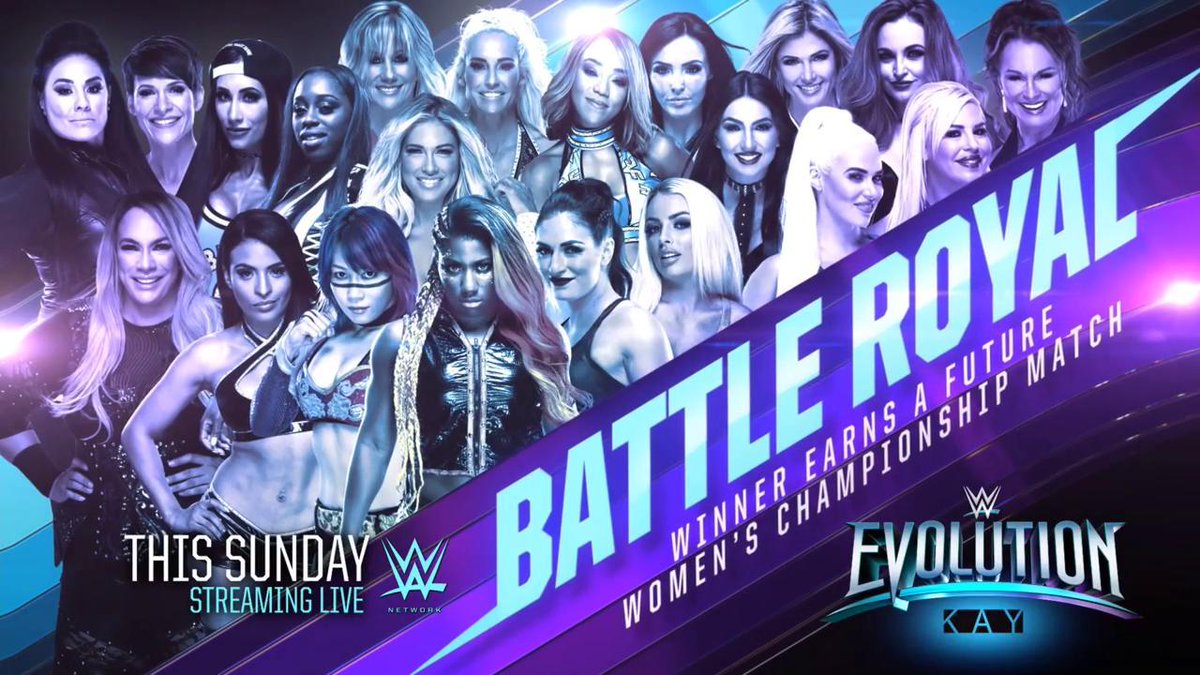 It's always tough to predict a battle royal winner because you never know where WWE might go with it. When I think of the women's WrestleMania battle royal, WWE went with Naomi as the winner and did nothing with her after that. At least in this match, the winner gets a future championship match, so they have to do something with the winner.My first thought was that Nia Jax was going to win since WWE might want to get her back in the title picture, but since she's a face and Ronda Rousey is a long-term face champion, that doesn't make sense. Plus, there's been the tease of Jax feuding with Tamina Snuka, so I can see a situation where Tamina gets eliminated and then goes back in to help eliminate Jax.The booking of Asuka since she lost at WrestleMania to Charlotte Flair (a loss that I did not predict) has been poor. I feel like this is the perfect time to give her some momentum again by having her win the battle royal. It would set her up for a feud for the Smackdown Women's Title against Becky Lynch or Charlotte Flair, no matter who the champion is. Naomi would also be a good choice to win the match.It's likely that WWE is having the women practice the match in the days leading up to it so they can plan out the elimination spots. It's a smart strategy, especially when you've got smaller women out there like Zelina Vega, who is shorter than the top rope, yet she'll have to take a bump over the top.I'm interested to see how Alundra Blayze and Ivory do in the match. They are the oldest competitors in their mid-50s and it's been a long time since they were in a match. Both women are in great shape, so they should be fine.
6. Toni Storm will beat Io Shirai to win the Mae Young Classic
This should be a great match, but a lot of the people watching this show may have no idea about these women. I know about them because I watched the Mae Young Classic where each woman beat three others on their way to the finals.What's weird about the tournament is that WWE has done a poor job of explaining what the winner gets. Toni and Io each have WWE contracts already, so all they are really competing for is a trophy, I guess. I don't think it matters who wins because they already have those WWE deals, so I'll enjoy this for the great match that it will be. Io Shirai impressed me a lot in the MYC, but Storm was even better and I think the fans responded to her better than any other woman in the tournament.When I see Toni Storm wrestle I think she's got as much potential as any woman in WWE and she's only 23 years old. I think WWE sees it in her too. She's my pick to win, and I also think that she'll be a huge star in NXT very soon. In about two years, she'll probably be in PPV matches on the main roster.5. Kairi Sane will remain NXT Women's Champion, leading to Shayna Baszler debuting on Raw next weekhttps://www.youtube.com/watch?v=pQ3CIGoQK60There's a lot of history between Sane and Baszler since they met in the finals of last year's Mae Young Classic finals with Sane getting the win. Both women moved on to NXT from there with Baszler winning the NXT Women's Title first and then Sane beat her for the title at Takeover Brooklyn this past August.While I liked that Takeover Brooklyn match a lot, it also left me wanting more, so I'm glad they are having one more match here. I think it will be entertaining, with Baszler working over a body part (likely an arm) for most of it. Sane is incredible at selling and making the comeback as the face that shows a lot of spirit. In the end, it should be a win for Sane with her incredible elbow drop off the top rope.I'm interested in what happens after the match, because I feel like this will be the NXT farewell for Baszler, who is clearly ready for the main roster. Baszler is one of Ronda Rousey's best friends as well, so I can see her being immediately put into a story with Rousey, either as a new opponent or as an ally that eventually turns on Rousey.4. The trio of Sasha Banks, Natalya, and Bayley will beat The Riott Squad with Bayley getting the win for her teamhttps://www.youtube.com/watch?v=n9ktxdPB8akThis feels like a random Raw tag team match because we see so many tag team matches between the women of Raw nearly every week. They only built up this story two weeks ago with Banks returning for an injury (which was apparently a concussion). This match is a nice way to get six talented Raw women on the card, but it hardly seems like a big match.Picking a winner is difficult because I think Ruby Riott could be a viable challenger to Ronda Rousey's Raw Women's Title soon. If Riott were to win this match for her team, it could elevate her to that title position. However, I just feel like WWE realizes they need to be doing more with Banks and Bayley especially, so giving them a win here seems like the right call.Think about the women's tag team titles too. If those are going to be introduced, which I mentioned earlier, then it makes sense to have Banks and Bayley as the first championship team. They need to be built up as a duo, so winning this tag match will certainly get them there.3. Alexa Bliss and Mickie James will defeat Trish Stratus and Lita thanks to some clever cheatinghttps://twitter.com/WWE/status/1055504376394072067This was originally going to be Alexa vs. Trish and Mickie vs. Lita, but it was changed to a tag match a few weeks ago on Raw, which was apparently the plan all along. I don't know if this would be considered an upset, but I am rolling with the team of Mickie James, my favorite woman in WWE history, and Alexa Bliss getting the big win in this tag team match.The reason it may be considered an upset is that Stratus and Lita are the WWE Hall of Famers returning for (at least) one match, so it makes sense to put them over. All the babyfaces can't win, though. Some heels need to win. Plus, Stratus and Lita were the ones that got the advantage on Raw when they beat up Mickie and her buddy Alicia Fox. There was no Bliss on Raw because of a concussion, but Mickie believes Bliss will be ready to go on Sunday. My point is that usually the ones that get the advantage on Raw ended up losing the PPV match.https://twitter.com/BustedOpenRadio/status/1055179205846228992I think that Bliss and James will cheat to win, and that could involve Alicia Fox interfering to help her buddies. I don't know how the finish will go, but I like the heel team of Bliss and James escaping with the victory. I also think it will be Bliss that gets the win because she's the one that is so great at bragging about a win.There's also a belief that Stratus and Lita will continue to work with WWE more going forward at events like Survivor Series, Royal Rumble, and perhaps even WrestleMania. That could lead to some women's tag team match at Survivor Series with Trish and Lita on the winning side at that show.2. Becky Lynch and Charlotte Flair will have the best match of the night and Lynch will retain her titlehttps://www.youtube.com/watch?v=jlQz1FlERfEThe Last Woman Standing match for the Smackdown Women's Title will be one of the best WWE matches ever. Bold statement? Maybe, but I really believe in Becky and Charlotte having an outstanding match. This has been building for two months, starting with Charlotte becoming champion at SummerSlam, Becky turning heel after the match (even though fans still cheer her), Becky winning the title at Hell in a Cell in September, and the controversial ending of two rematches. All of that has led to this Last Woman Standing stipulation to settle their differences.The only minor complaint that I have with the story is that WWE still books Becky like a heel even though the fans are cheering her. It doesn't bother me that much, but it is weird to have Lynch acting like a heel while the crowd cheers her the entire time. I think WWE wants to keep Charlotte as a face long term.What I like about the stipulation is that it will allow Becky and Charlotte to utilize weapons, fight around the ring, and differentiate their match from everything else on the card. You aren't going to see somebody slap on a chinlock for two minutes in this match, and it's going to feel like a fight between two former best friends. That intensity is going to help the match in terms of building up to exciting spots.Lynch retaining the title is the right call. She has some good opponents to feud with on Smackdown like Asuka, Naomi, and perhaps even Carmella if WWE chooses to build her up again, this time as a face. If Charlotte wins, then what? Other than Becky, they just don't have enough heel women to make things interesting. As I mentioned in my look at Smackdown's titles, I think Becky's holding that title long term into next year while Charlotte is my pick to win the Royal Rumble, leading to her challenging Ronda Rousey for the Raw Women's Title at WrestleMania.
#Iamtheman #relentlass #ilovemyself pic.twitter.com/r27w70zB3H

— The Man (@BeckyLynchWWE) October 25, 2018
As you can see above, Lynch isn't just a great performer on television. She's killing it on social media too. Keep it going, Becky.
1. Ronda Rousey will defeat Nikki Bella to retain the Raw Women's Championship
The build for this match has been okay, but not great. If you missed it, Nikki Bella and her sister Brie attacked Ronda Rousey after a tag team match victory on the October 8 edition of Raw. Rousey was shocked by it, while everybody at home could tell it was coming. Since then, Nikki and Ronda have exchanged words, with Ronda really making it personal by taking a shot at Nikki's failed relationship with John Cena, which the crowd reacted to it in a big way in support of Rousey. I thought it was one of the best promos of Rousey's career.If it was up to me, Nikki would have done more to earn the title shot. While WWE tries to talk about Nikki as some legend, I don't think fans really believe that. Nikki was the longest reigning Divas Champion, but it's not like people remember any great matches or feuds from that reign. Instead of trying to make fans believe that Nikki is some legendary figure, Nikki should have won a three-way or four-way match to earn the title shot. A mini-tournament would have helped. Instead, all she did was attack Ronda and was given this match. It's lazy booking. They should have come up with something better for what is likely the last match on the show.The best part of the rivalry may have been this Instagram post from Rousey. She has a way with words when it comes to trash talking, and she's clearly very good at it.
I expect Rousey to win the match easily. With Brie Bella expected to be at ringside, that should lead to Nikki getting some offense for a few minutes. Ultimately, though, it should be a win for Rousey. I can't see a scenario where Nikki would leave with the title, especially at the first ever women's only PPV where WWE is going to want the final shot being Rousey holding up that Raw Women's Title in the air. I'll go with Rousey winning by submission after about 12 minutes of action.
Final ThoughtsI think the show will be fun to watch. I also predict that I will get sick of WWE saying "making history" about 371 times during the show, though. I may be exaggerating with that number, but you get the point. The highlight of the show will be Lynch vs. Flair, and I think Rousey vs. Nikki will be better than most people think. The tag match with Trish and Lita against Mickie and Alexa should be fun. The NXT Title and Mae Young Classic final matches should be awesome too. Like I noted in the opening, the card could have been better if they built up some other matches. It's not that bad, though. I'm going to try to enjoy it because I know it's a big night for women in wrestling. They deserve it.You can watch WWE Evolution this Sunday, October 28th at 7 p.m ET/4 p.m. PT on WWE Network. The expected run time is going to be around three hours, or perhaps three and a half hours. If you miss it live, you can watch it on demand at your own convenience. I'll be back on Monday for a review of the event.