The biggest World Wrestling Entertainment event of the year takes place this Sunday night at the Mercedes Benz Superdome in New Orleans. It's the same venue that hosted WrestleMania four years ago when Daniel Bryan ended the night as the WWE Champion.
There's a lot of excitement for WrestleMania 34 because the card looks amazing and it's going to be an awesome show. The negative thing is that the event will be seven hours if you count the Kickoff Show, which is ridiculous to think about. But that's how long it went last year.
Here's the advertised lineup as of Friday morning with no more matches expected to be added.
** Universal Championship: Brock Lesnar (c) vs. Roman Reigns
** WWE Championship: AJ Styles (c) vs. Shinsuke Nakamura
** Triple H and Stephanie McMahon vs. Kurt Angle and Ronda Rousey
** Daniel Bryan and Shane McMahon vs. Sami Zayn and Kevin Owens (If Zayn and Owens lose they are still fired from Smackdown Live, but if they win they get their jobs back.)
** John Cena vs. The Undertaker? (There's a question mark because it's not official. I'll get into it later.)
** Intercontinental Championship: The Miz (c) vs. Finn Balor vs. Seth Rollins
** Smackdown Women's Championship: Charlotte Flair (c) vs. Asuka
** Raw Tag Team Championships: Sheamus and Cesaro (c) vs. Braun Strowman and ???
** United States Championship: Randy Orton (c) vs. Bobby Roode vs. Jinder Mahal vs. Rusev
** Raw Women's Championship: Alexa Bliss (c) vs. Nia Jax
** Smackdown Tag Team Championships: The Usos (c) vs. The Bludgeon Brothers vs. The New Day
** Andre the Giant Men's Battle Royal (Kickoff Match)
** WrestleMania Women's Battle Royal (Kickoff Match)
** Cruiserweight Championship: Cedric Alexander vs. Mustafa Ali – The championship is currently vacant (Kickoff Match)
What I'm going to do is offer up 15 predictions for the show instead of the usual 10 because I want to make a prediction for each match while also letting you know who my winners are. I'll start with the lower card matches and then work my way up to the main event.
15. The Cruiserweight Title match will be one of the best matches of the night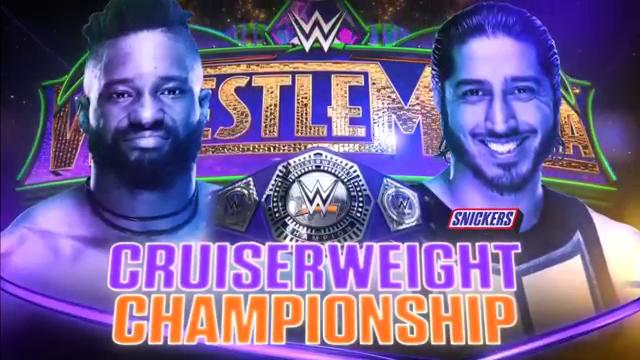 I have no doubt that Cedric Alexander and Mustafa Ali will put on an amazing match during the Kickoff Show. The problem is, fans will probably still be piling into the Superdome, which means the crowd reactions may be off and it may hurt the match. Both guys are technically sound in the ring while also utilizing a lot of cool aerial moves, but if the fans aren't paying attention, it's going to feel like they are doing it for nothing.
Most predictions seem to favor Alexander because he's been pushed well since the cruiserweight division started in late 2016, but I really think Ali has impressed a lot of people. I expect a great match and I'm going with what might be considered a mild upset by taking Ali to win. If you plan to skip the Kickoff Show that's fine — I probably will too — but I will go back to watch this match because these guys are great at what they do.
14. Women's Battle Royal should cause more problems for Sasha Banks and Bayley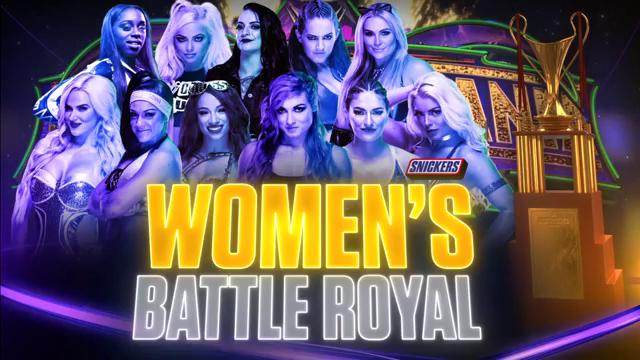 Battle royals are a nice way to get every wrestler on the show who isn't part of a WrestleMania match. There isn't much of a storyline going into it other than the ongoing issues with Sasha Banks and Bayley, so that should be the highlight of the match. There's a chance that somebody like a Becky Lynch, Naomi, Natalya or Mickie James might end up the victor just to put over a veteran wrestler, but I'm going with Bayley.
It would be a great angle to have Bayley eliminate Banks near the end of the match, whether they are in the final two or final three. After the match is over, Banks should go back in the ring and attack Bayley out of jealousy. It would turn Banks heel instantly to be jealous of Bayley's win in that moment. There's obviously going to be a big match between the two women soon, but one of them has to go heel and I think that should be Banks.
The women's Royal Rumble match in January was awesome. This will not be close to as good as that or as interesting.
13. Elias should win the Men's Battle Royal, even though a surprise winner is certainly possible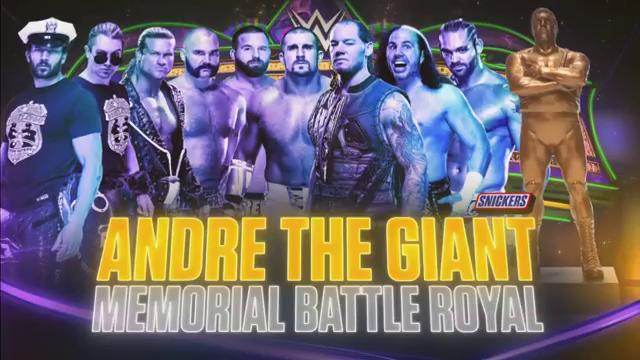 I'm not sure what the format will be for the three Kickoff Show matches. The best idea might be to put the Women's Battle Royal on first, then the Cruiserweight Title match, followed by the Men's Battle Royal leading up to the main card. If they do the two battle royals back-to-back, it would be too repetitive.
Several names could win this match as a surprise winner due to who might be healthy after dealing with injuries. The first name that comes to mind is Big Cass, who is apparently ready to return after tearing his ACL last August. Jeff Hardy is another wrestler cleared to come back who could win this. Big Show is a former winner who looks like he's in great shape, although I doubt he wins this match again. Samoa Joe could be ready to go as well, which would make him a favorite in the match if he's in it. Jason Jordan could be too, although I'm not sure if he's ready to yet. We can scratch Dean Ambrose off as a winner because he's probably not healthy yet.
Elias is my pick because he's a guy who WWE really wants to get behind as a midcard heel that can hopefully turn into something more. It would be funny if Elias did one of his pre-match "concerts" before the match, then everybody attacked him to shut him up and he ended up getting the win after that. It's a tough match to pick, but I think Elias is the best choice.
12. The Usos will find a way to retain the Smackdown Tag Team Titles
The Bludgeon Brothers duo of Harper and Rowan has been dominant and undefeated since they returned to Smackdown late last year. Most of their wins were against teams known as jobbers, guys who are there to lose to the bigger names. They are likely the team most people will pick to win this match, but not me. It's a tough match to predict, though.
There will be a lot of title changes on this show. You will see how many I pick as I get through the other matches. That's why I'm rolling with The Usos here because I think some champions need to retain their titles. If WWE wants to really establish them as the best tag team of this decade and one of the best tag teams ever, then they should retain their titles in the first match they've had on a WrestleMania main card.
This should be a very good match, and could be great if they made it a Ladder Match or a Street Fight kind of bout that allowed them to use weapons. This show currently has no matches with stipulations, which is very surprising considering the lineup.
11. Nia Jax beating Alexa Bliss will be the shortest match of the night
This one feels like an easy prediction. There's no reason for Raw Women's Champion Alexa Bliss and Nia Jax to have a 15-minute match that goes back and forth with a bunch of near-falls.
The story is that Bliss talked a lot of crap about her former best friend Jax and Bliss has run away from her in the weeks since that happened. Jax will finally get her hands on Bliss in this match, which should lead to an easy win as a conquering hero who beat up the person that said mean things about her.
If this match goes more than five minutes, that would be too long. Keep it simple with Bliss getting in a bit of offense, but Jax should be able to finish her off easily. It will be the first championship win in Jax's career after being on the main roster for nearly two years.
10. WrestleMania falling on "Rusev Day" is a good sign for Rusev in the US Title match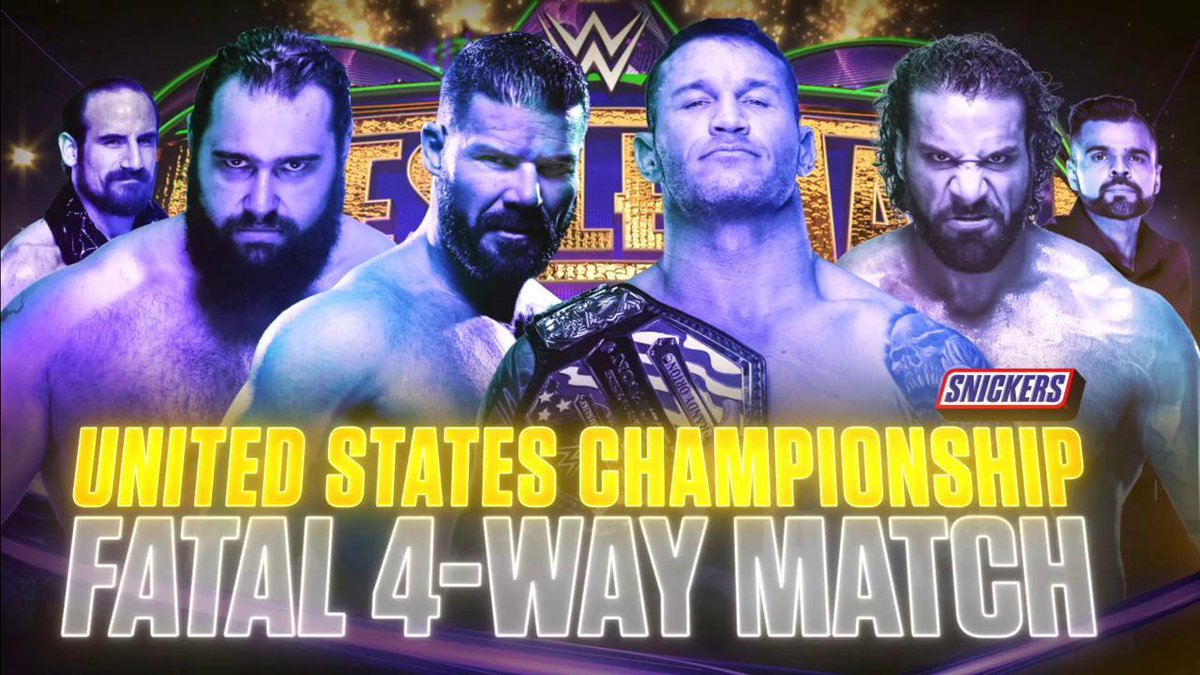 The "Rusev Day" gimmick has been a lot of fun since Rusev and his buddy Aiden English started pushing it a few months ago. If you don't watch Smackdown regularly, the story is that every day is Rusev Day, so it's just a joke to have fun with. There are probably some fans who think it's not funny, but I enjoy Rusev and think that this Rusev Day schtick is going to lead to a significant push for him as a face after spending most of his career as a heel.
Randy Orton was originally scheduled to defend the US Title against former champion Bobby Roode and Jinder Mahal. The match changed on the March 27 Smackdown when Rusev got the pinfall in a tag team match featuring the other three men in this bout. The main reason for this is because WWE realized how popular Rusev is, so they added him to make it a Fatal 4-Way.
A case could be made for any of the four men to win, but I don't think Orton really needs this title after he won it for the first time last month. Bobby Roode's the former champion who will likely fail to win it back. Jinder Mahal would have been my pick in this match if Rusev wasn't involved because I think WWE wants to get another title on Mahal. Since Rusev is in, I'll go with him and he should be used as a good guy from this point forward.
9. Braun Strowman's mystery partner will be an important name from his past
Braun Strowman should have been featured in one of the three or four biggest matches on this show as a singles wrestler. Instead, they slotted him into this spot in a match for the Raw Tag Team Titles against Sheamus and Cesaro, who I enjoy as a team due to the great matches they continue to have. This feels different, though, because of Strowman's involvement.
There are a lot of names that have been thrown out there as Strowman's partner. The guy I'm thinking about is Bray Wyatt, who led Strowman in the Wyatt Family a few years ago when he debuted in WWE. Since Wyatt lost to Matt Hardy a few weeks ago and was tossed into the "Lake of Reincarnation," that makes me think that Wyatt needs to come back with a bit of a different look while also being booked as a face. This is the perfect way to bring Wyatt back into the mix as a good guy who the fans want to cheer.
I think Strowman and his partner are going to win the titles as something that can keep Strowman busy for a few months even though he should really be wrestling in main events.
8. Charlotte Flair and Asuka will have a classic match that is one of WWE's best women's matches ever
Charlotte Flair is the Smackdown Women's Champion who has been pushed harder than any woman on the main roster in the last three years. She won the NXT Women's Title, the Divas Title when it was called that, the Raw Women's Championship, and late last year she won the Smackdown Women's Championship.
Meanwhile, Asuka hasn't lost a match since she debuted in NXT in October 2015 and started on the Raw roster last summer. Asuka won the Royal Rumble in the main event and then chose Charlotte as her opponent at WrestleMania. That's the story going into this match between two of the most popular women in WWE right now.
This should be an outstanding match. I don't think I'm being too optimistic when I say it's probably going to be the best women's match in WrestleMania history. The best one was probably Charlotte vs. Becky Lynch and Sasha Banks at WrestleMania 32 in Dallas two years ago. Singles matches tend to be better, though, and they should get 15-20 minutes to deliver a memorable match that goes back and forth.
Who wins? I'm rolling with Asuka. I think her undefeated streak is going to continue for a long time with a dominant run as Smackdown Women's Champion. After the match is over, I think Carmella will try to cash in Money in the Bank, she'll be close to winning and then Asuka will beat her. It would put over Asuka huge. I just don't see Carmella holding that title even though she would get massive heat if she did.
7. The Intercontinental Championship match will likely have a new champion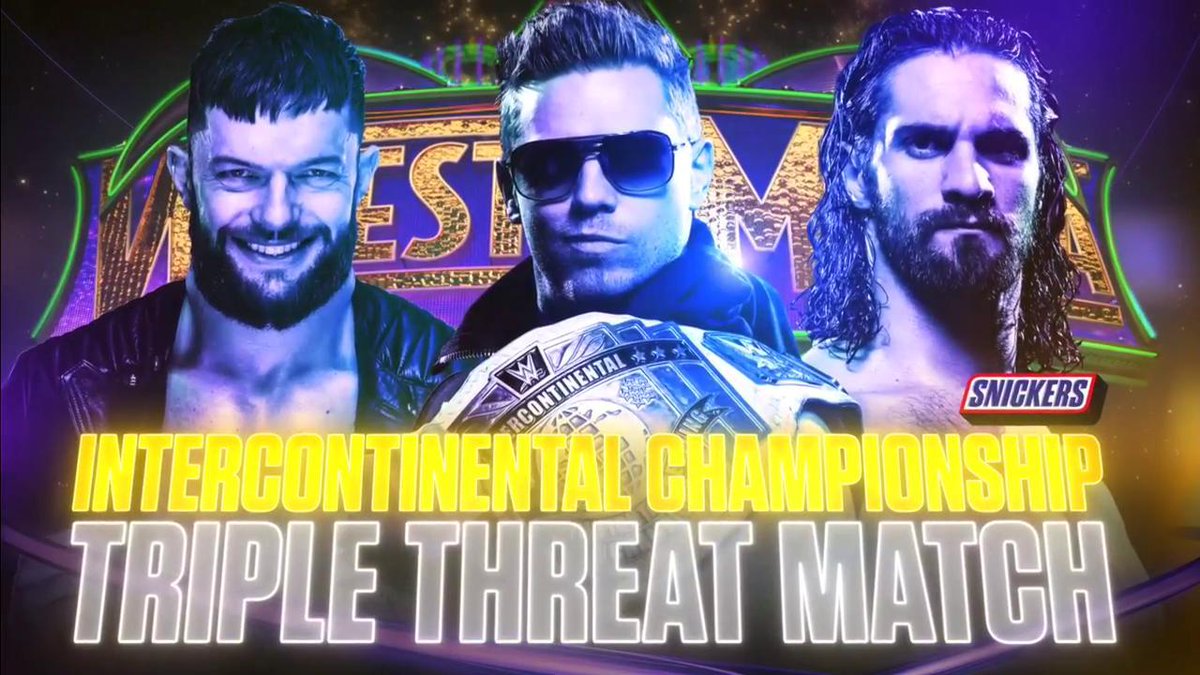 I have high expectations about The Miz defending the Intercontinental Championship against Finn Balor and Seth Rollins, due to the quality of the matches between them in the last few weeks. Triple threat matches are overdone in WWE, as we all know (there's a triple threat tag and a 4-Way on this show also), but if the guys are going to have a good match as expected, then it's something I am okay with.
Finn Balor has been my pick in this match since he got pinned by Seth Rollins on last week's Raw. That's just the way WWE typically books these kinds of things; somebody loses a match on Raw and ends up on the winning end at the pay-per-view. It's possible The Miz could win because his IC Title reign has been long and continuing it would put him over huge.
I think Balor needs to hold a singles title in WWE for the first time since he had to give up the Universal Title after SummerSlam 2016. That was nearly two years ago. What's interesting is that WWE hasn't mentioned the "Demon Balor" look that Balor used in the past, so maybe that has stopped. It would be cool to see that entrance at a WrestleMania, though. Just throwing it out there, WWE — if you're reading.
6. John Cena vs. The Undertaker is full of question marks
Is John Cena really going to wrestle The Undertaker at WrestleMania? I don't have an answer for you. I wish I did.
There were rumors of this match happening several months ago. Yet in the last four weeks, we have seen Cena call out The Undertaker and there has been no response. It's possible that it may not be a match at all. They may just have some segment where Cena calls him out, Taker goes to the ring, they have a staredown leading to "this is awesome" chants and Taker drops him with a Tombstone. Perhaps it will lead to another match? I don't know for sure.
This could have been handled better. I would have announced the match weeks ago and it would have led to a lot of excitement among WWE fans. Instead, there's uncertainty over whether the match will even happen. A lot of fans have been disappointed with it, including me, because of what they could have done.
If the match happens, I'm going with The Undertaker to win the match. He's the older guy, but it would be a nice way to let him ride off into the sunset with one more big victory at WrestleMania. Cena has more years left in him, even though he's a part-timer with a good movie career ahead of him.
5. Daniel Bryan's return to the ring will be a celebration that ends badly for him
Daniel Bryan returning to the wrestling ring after three years is one of the best things about this year's WrestleMania event. Bryan has been the general manager of Smackdown since July 2016 with Shane McMahon as the commissioner. For the past eight months, Shane has had issues with Kevin Owens and Sami Zayn, who destroyed Shane on Smackdown over three weeks ago. The next week, Bryan fired Owens and Zayn, so they attacked Bryan as well. That led to this tag team match where Owens and Zayn must win to get their jobs back on Smackdown.
I like the story a lot. Obviously, we know Kevin and Sami aren't really fired, but that's the storyline they have given us. If this was a regular match, I would definitely pick Bryan to win his first match back after three years. However, the stipulation that exists for this match makes me think that Shane McMahon is going to turn heel on Bryan and that will lead to Owens and Zayn winning. Does it make storyline sense? Not really, but that's wrestling. Heel turns are often random.
I think the story they could tell is that Shane is jealous of how popular Bryan is and since he's the boss, Shane wants more attention on himself — even if that means working with Owens and Zayn.
A heel turn from Shane would set up things well for the future with Bryan as the good guy dealing with a heel Shane as the boss, along with Owens and Zayn. Some fans may be sad that Bryan would lose his return match. That's fine, though. It's about the long-term story, which would lead to Smackdown becoming a hot show again with Bryan seeking revenge for what happened. I'm excited about the possibilities.
4. Ronda Rousey will be victorious in the first match of her new WWE career
The first WWE match in Ronda Rousey's career is going to get a lot of attention at WrestleMania. The build to the match has been good with Triple H and Stephanie McMahon as the annoying bosses that they are while Rousey has support from Raw general manager Kurt Angle, who is wrestling at WrestleMania for the first time since 2006. This is also the first time Stephanie has had a match at a WrestleMania, so it's big for her too.
Rousey will get the win in this match. A loss would be a huge shock and also a stupid move. Fans need to believe in her as a credible WWE superstar by having her win her first match. I think Rousey should get the win for her team by slapping the armbar submission on Stephanie and they can even do an angle where she "breaks" Stephanie's arm.
It would be a newsworthy story for the mainstream press that will cover the event because of Rousey. Plus, WWE fans will love seeing somebody doing that to Stephanie, who rarely puts people over because she is not a wrestler.
It's weird to think of Triple H and Angle as supporting players in a WrestleMania match, but that's what they are here. This is about making Rousey looking credible.
3. Shinsuke Nakamura and AJ Styles will have a classic WWE Championship match
The WWE Championship match has been called a "Dream Match" from WWE as Styles defends the most coveted prize in WWE against the Royal Rumble winner, Shinsuke Nakamura. It's a Dream Match because it has never happened in WWE before. It did happen in Japan two years ago, though, so if you want to see these two in a match, I highly recommend their match from New Japan's Wrestle Kingdom 10 event in 2016.
This has the chance to be one of the best WrestleMania matches ever. I use star ratings when I review the matches on my website TJRWrestling.net and I've had lots of people ask me if this is going to be a five-star match, which is as high as the rating scale goes. It's hard for to me say it's going to be that good because those are incredibly special matches, but as long as they get 20-25 minutes like I expect, I don't see how they could fail to live up to those lofty expectations.
Styles had a knee injury in the last few weeks, although the expectation is that he'll be 100% or close to it because he's worked the last two weeks at live events, which likely means he is fine.
I expect Nakamura to win the WWE Championship from Styles, who goes into this match with a six-month reign in his second run as the champ. The main reason I think they'll do the title change is because WWE wants to elevate Nakamura to that next level and this is the best way to do it. Sure, his English isn't great because it's a second language, but he has that special connection with the crowd that main eventers have. It's where Nakamura should be. I also think Styles is going to be moved to Raw in the Superstar Shakeup after WrestleMania, so that's why they will move the title off him as well.
This match will probably be the match of the night and may be the WWE match of the year. High expectations? Sure, but they are good enough to live up to them. I'm very excited to see Styles vs. Nakamura on Sunday night.
2. Roman Reigns will end Brock Lesnar's one-year reign as the Universal Champion
If this match goes on last, which I expect, that would mean Reigns is in the main event of WrestleMania for the fourth year in a row. During the build to this match, Reigns has talked about how Lesnar isn't liked by others in WWE because he's a part-time champion who works a limited schedule. There's a lot of truth to what Reigns has said, although a lot of WWE fans will continue to boo him because they hate how much he is pushed by the WWE machine.
When they had the match at WrestleMania 31 three years ago, most of us thought that Reigns was going to beat Lesnar for the WWE Title. Instead, Seth Rollins cashed in the Money in the Bank briefcase and left with the title. Three years later, WWE is going to try again with Reigns by anointing him as "The Guy" as he faces off with Lesnar one more time in what could be Lesnar's last WWE match since Lesnar is likely headed back to the UFC after this.
Reigns winning this match seems like a lock. There's really no reason for him to lose. Lesnar has been protected heavily since he beat Goldberg for the Universal Title at last year's WrestleMania because nobody has kicked out of his F5 finisher in the last year. Reigns probably will kick out of it. Reigns may kick out of it a few times. Lesnar may kick out of the Spear of Reigns a few times as well.
This match could be a quick one with Reigns winning in under 10 minutes because Lesnar may not want to work a long time since he's likely done with WWE after Sunday night. Why risk your health in one more match? I can see Lesnar thinking that way. It will probably be a 13- to 17-minute match with Lesnar dominating much of it, Reigns kicking out of everything and Reigns will win. The fans will probably boo because that's what they do with Reigns, even though I like the guy as a hard worker who busts his ass every time he's in the ring.
1. WrestleMania will be a night full of title changes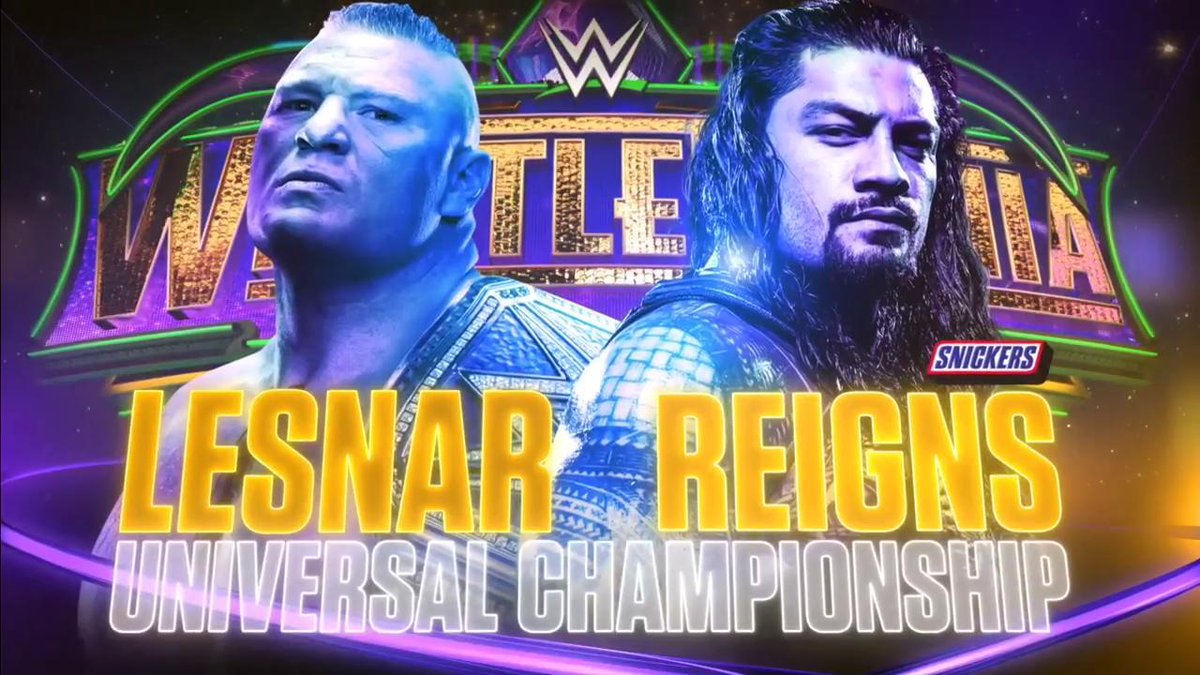 I think what stands out the most looking at this card is that there will be a lot of title changes. Based on my predictions above, there will be seven title changes in the eight title matches where a champion is defending the gold. The Cruiserweight match has no champion because the title is vacant.
The only champion I'm picking to retain is The Usos in the tag team match and even that's a match where most people would pick The Bludgeon Brothers to win because of how dominant they have been. I just think there has to be some champions who retain, right? They can't all be title changes.
Final Thoughts
Wrestlemania 34 going to be a night full of great matches and hopefully some memorable moments that I'm not able to predict. Surprises are always fun, but it's hard to know what might happen or who might show up at a WrestleMania. There are cameos once in a while too, so that's something to look forward to.
In terms of matches, I think this can be the best WrestleMania of the decade and one of the best there's ever been, as long as the better matches (Styles/Nakamura, Charlotte/Asuka, IC Title 3-Way, etc.) get the time they deserve. The roster is loaded and most of the matches have been built up well, even though some of the outcomes are predictable. I can still enjoy it if it's predictable and I hope you enjoy it too.
You can watch WrestleMania on WWE Network this Sunday, April 8. It starts at 7 p.m. ET/6 p.m. CT with the Kickoff Show beginning at 5 p.m. ET/4 p.m. CT. The expected run time for the main show is five hours and it could end up being longer than that. I'll be back on Monday with a review of the show.