The WWE Royal Rumble took place last night at Chase Field in Phoenix with a big crowd of 48,193 people in attendance. That number was provided by WWE, and they would never lie to us, right? You don't have to answer that. Whatever the number was, it was a big crowd.
The big winners of the night were Seth Rollins, who the men's Royal Rumble winner in the main event and Becky Lynch, who won the women's Royal Rumble even though she wasn't technically in the match.
Here are the results of the matches that took place:
* Bobby Roode and Chad Gable defeated Rezar and Scott Dawson (Kickoff Show)
* Shinsuke Nakamura defeated Rusev to win the United States Championship (Kickoff Show)
* Buddy Murphy defeated Akira Tozawa, Hideo Itami, and Kalisto to retain the Cruiserweight Championship (Kickoff Show)
* Asuka defeated Becky Lynch to retain the SmackDown Women's Championship
* The Miz and Shane McMahon defeated The Bar (Cesaro and Sheamus) to win the SmackDown Tag Team Championships
* Ronda Rousey defeated Sasha Banks to retain the Raw Women's Championship
* Becky Lynch won the Women's Royal Rumble Match
* Daniel Bryan defeated AJ Styles to retain the WWE Championship
* Brock Lesnar defeated Finn Bálor to retain the Universal Championship
* Seth Rollins won the Men's Royal Rumble Match (that had one woman in it)
Here are my ten takeaways from the Royal Rumble, going in order of when the matches took place. I won't include the Kickoff Show matches because I skipped them.
10. Running a show for five hours is too long and something WWE needs to stop doing
I think one of the biggest complaints people had about the Royal Rumble was the length of the show. I've been to WrestleManias with similar five hour run times for the main show along with two-hour Kickoff Shows. This event started at 5pm locally (7pm ET) for the main show, but most fans likely got there at about 2pm because you have to wait outside to get into the building with over 40,000 people showing up. The show ended at 9:53pm locally, which means from the time people were outside the building to the visual of Seth Rollins celebrating the Rumble win, they spent about eight hours on Sunday dedicating their lives to WWE. That's crazy.
When I went to WrestleMania 32 in Dallas in 2016, I can remember sitting in my seat for about seven hours straight. The chairs are comfortable enough, but it's not like sitting in a leather recliner at home. It's a lot to ask of fans to sit there for that long, be engaged in the product, and make noise the entire time. That's why there were parts of the show where fans were dead quiet because you can only have enthusiasm for so long before you run out of gas.
The WWE Network schedule for the Royal Rumble listed it at four hours. They said it would end at 9pm locally and they ran nearly an hour longer than that. I know it's their network, so they have nobody to answer to, but maybe you should be respectful of the audience that is spending money to watch the show. Those of us on the east coast were up until midnight watching the show (in my case, writing about it too!) and after a while, you just want it to end. I'm sure that some parents with kids in the eastern time zone were watching it and were mad at how late it ended considering kids have school the next morning.
Will the complaints of fans lead to WWE shortening these PPV-like shows? Probably not, but I hope WrestleMania is closer to four hours than five hours. If I had to bet, I think it will be around five hours.
9. Asuka beating Becky Lynch clean was a surprising finish that will set up a bigger match in the future
STILL THE EMPRESS of #SDLive.@WWEAsuka just made @BeckyLynchWWE TAP OUT to kick off #RoyalRumble! pic.twitter.com/uRqGaUGRIa

— WWE (@WWE) January 28, 2019
The opening match saw Asuka beat Becky Lynch clean to retain the Smackdown Women's Title. In my predictions column about the event, I noted that this was one of the harder matches to call because I figured Asuka was going to keep the title, but I didn't know. The thought of Becky tapping out clean seemed crazy, although it does make sense now that we know what happened with Becky later in the night. If she's going to get a big win later, then it's fine for her to lose in the opener. That's the way WWE likely thought of it when they booked it.
It was a competitive match with Asuka reminding us why she is arguably the best in-ring performer among the women in the company. With all due respect to Becky, Charlotte, and others, I think Asuka is the most technically sound in the ring. That doesn't mean she is more popular with the crowd or should be pushed above the others. I'm just saying Asuka is very skilled in the ring and it showed in this match.
There was a crazy spot in the match where Asuka hit this neckbreaker/suplex type move off the apron onto the floor that was a rough landing for both women, but they got through it fine. Becky seemed to be adjusting her top a lot, so that was giving her an issue while she was worried about a wardrobe malfunction. They went about 17 minutes with Asuka winning by submission with a variation of the Asuka Lock that was like what Daniel Bryan used pre-WWE in a move he called the cattle mutilation.
Since we know Becky is onto bigger things this (likely the main event of WrestleMania), this win by Asuka could be something that sets up another Becky vs. Asuka match in the future where Becky tries to get her win back. At this point, Becky has not beaten Asuka, so in hindsight, this is smart booking to set up a future match between these two talented women.
8. Shane McMahon became a Tag Team Champion for the first time along with The Miz
Take a look at your NEW #SDLive #TagTeamChampions…@mikethemiz & @shanemcmahon! #RoyalRumble pic.twitter.com/gQYbdzpogM

— WWE Universe (@WWEUniverse) January 28, 2019
I expected the title change in this match with WWE pushing the idea that Miz wanted Shane to be his partner, Shane was reluctant about it for several weeks, and then Shane warmed up to it. Is it a good thing to have the 49-year-old part-timer Shane look like he can beat-up full-time tough guys like Sheamus and Cesaro? I don't think so, but Shane is also the son of the boss Vince McMahon, so he's always going to get preferential treatment. Twenty years ago, Shane was a cheap heel that would cheat to win. Now, he's the veteran face that has toughness and finds a way to come back to win.
Most of the match saw the heel champions Cesaro and Sheamus work over Miz, which led to Shane getting the hot tag and cleaning house. There was a cool spot where Shane went for the Coast to Coast top rope dropkick, but Cesaro caught him and gave him the swing for about 20 spins. Shane basically no sold that right into a submission attempt, so that was a bit silly. In the end, Miz and Shane worked better because Miz shoved Shane out of the way of a Brogue Kick, which connected on Cesaro, Miz hit a Skull Crushing Finale on Sheamus, and Shane went up top with a Shooting Star Press to pin Cesaro after about 13 minutes. It was an impressive finishing move for Shane.
It will be interesting to see what happens next. My guess is that things fizzle out quickly for Shane and Miz as the champions, which leads to them splitting up (likely with Miz turning heel by attacking Shane), then they lose the titles and it sets up Miz vs. Shane for WrestleMania. I could be wrong on the timeline because they might be champs until WrestleMania where the split happens. I just feel like this Miz run as a face is a temporary thing and that he'll go back to his heel ways soon. That's what he is best at. Plus, we know daddy Vince wants to get Shane in a WrestleMania match like always.
7. Ronda Rousey defeated Sasha Banks in a competitive match to retain the Raw Women's Title
An incredibly hard-fought, back-and-forth match…@RondaRousey is STILL your #RAW #WomensChampion! #RoyalRumble pic.twitter.com/ccdq8VhJQZ

— WWE (@WWE) January 28, 2019
This was one of the most predictable matches of the nights with Rousey retaining the Raw Women's Title against a fiery Banks. The only surprising thing to me was that Rousey won by pinfall with her Piper's Pit slam instead of a submission win. Rousey has won all of her matches with a submission, so seeing something different was a bit of a surprise.
It was an average match to me and I didn't like it as much as Asuka vs. Becky. There were several moments in this match where it looked like Rousey was hitting Banks too hard, so much so that the referee had to check on Banks repeatedly to see that she wasn't knocked out. That's something Rousey still needs to learn as a rookie in her first year in WWE. I don't know if Banks is okay, but I wouldn't be surprised if she was banged up a little in the match.
I think the match was hurt by the fact that they are both faces, so there was less of a story. It was the classic story of the challenger wanting to prove herself, but it needed to be more than that.
Another point that needs to be made is the last time Rousey was at a show with Becky and Charlotte, she cost them the SD Women's Title when she shoved over a ladder during the match. There was no follow up to that at all, so that was disappointing because something big like that at a PPV last month should have had something at the Rumble. Instead, it was ignored. Perhaps it will be mentioned down the road.
6. It was very surprising to see no legends in the women's Royal Rumble match
The women's Royal Rumble match featured the stars of Raw and Smackdown along with several NXT wrestlers. Going into the event, I thought for sure there would be at least two or three women that are considered legends. It turns out the match had no legends from the past.
The surprise entrants in the women's Royal Rumble were as follows: Xia Li at 11 (the first Chinese woman to be in a Rumble match), Kairi Sane at 14, Candice Lerae at 17, Kacy Catanzaro at 19, Io Shirai at 23, and Rhea Ripley at 24. That's six spots for WWE's stars of the future, which is a nice way to promote the NXT and NXT UK (where Ripley is from) brands. Some of the women proved they belonged like Ripley, Sane, and Shirai, while others (especially Catanzaro) looked experienced. At least Catanzaro's "save from elimination" spot was fun. She did get tossed out right after, though.
I think it would have been better to call on the likes of Trish Stratus, Lita, the Bella Twins, or maybe other names from the past like Victoria to be in the match.
Due to the lack of legends in the match, there was less star power. I think most people watching figured only a couple of people had a chance to win anyway, so WWE's decisions makers likely thought it would be a good idea to get some NXT faces in front of the bigger crowd.
5. The way Becky Lynch was added to the Rumble match and became the winner was clever
Becky Lynch was not announced as a competitor in the Royal Rumble going into the event, but the assumption was that she would find a way to get in there. It ended up being an injury angle with Lana hurting her ankle on the pre-show (it was just a storyline) that prevented her from entering the ring at #28. Shortly after Lana collapsed on the way to the ring, Becky Lynch showed up to ask former wrestler/current producer Finlay if she could be in the match. Finlay was hesitant at first, but the fans wanted it and Finlay told her to go, so Lynch became #28 in the Rumble.
The match was boring in the first half, then it got a little better, and the final ten minutes were great. At 72 minutes in length, it was too long, but I think that's because they spent so much time setting up the final few moments.
For the stat heads out there, Natalya was the longest person in the match at #2 and she officially lasted 55:58. Charlotte Flair was also in for awhile at 50:01, and she recorded the most eliminations with 5.
The final three in the match came down to Lynch, Flair, and Nia Jax, who was the top heel in the match. Fans wanted Lynch to get revenge for Jax knocking her out with a punch in November. Lynch got that revenge when she was the one to eliminate Jax by pulling her foot when she was on the apron. Jax whipped Lynch into the steel steps leading to Lynch selling her left knee. At first, Lynch sold the right and then switched to the left, which is more common in wrestling.
It was Lynch and Flair at the end. Flair was my pick because there was no guarantee Lynch was in the match, but when I saw the way it was going with Lynch selling the leg injury, it was clear that she was going to win. Flair came close to winning a few times, but ultimately it was Lynch getting the win much to the delight of the crowd.
I'm going to Wrestlemania with an army behind me. Last year I was on the pre-show; this year I am the main event. pic.twitter.com/hqPCDQtUkl

— The Man (@BeckyLynchWWE) January 28, 2019
There are questions that could be asked about this result because there was nobody that gave Finlay the authority to put somebody else in the match. Perhaps the runner-up, Charlotte Flair, can complain about that in a promo on Smackdown because Becky wasn't officially in the match. Since the rumored WrestleMania plan is Ronda Rousey vs. Becky Lynch vs. Charlotte Flair then there will probably be some way to add Flair to the match. Maybe Flair is the one to beat Asuka for the Smackdown Women's Title and Lynch can challenge both champions in a triple threat match. I don't know the plan, but with Elimination Chamber and Fastlane set to take place before WrestleMania, there's plenty of time to figure it out.
I'm happy for Becky Lynch. She's an awesome performer and she deserves that WrestleMania main event spotlight.
4. Daniel Bryan's tainted victory over AJ Styles was the biggest disappointment of the night
#TheNew @WWEDanielBryan is STILL your @WWE Champion…and @ERICKROWAN seems pleased. #RoyalRumble pic.twitter.com/Y4CJZj8DFE

— WWE (@WWE) January 28, 2019
It pains me to say this because they are two of my favorite wrestlers, but Daniel Bryan and AJ Styles had a below average WWE Championship match that had a tough time following the hour long match before it. The problem was a combination of a few things, from the crowd being tired after cheering for Lynch so much and Bryan/Styles working a slow paced match with submission holds. Perhaps on another night in another city this could have worked as a great match, but Phoenix didn't seem to care.
In the build up to this match, I wrote repeatedly that this needed to be a No DQ match, a Street Fight, or something along those lines with weapons legal to use. Since they went with a finish where the ref was bumped and he missed Erick Rowan showing up to help Bryan, that's probably why WWE went with another regular match for these guys. I just think it was a missed opportunity to not do something different. I guarantee you if Bryan and Styles were brawling all over in the arena and into the crowd, the fans would have cared a lot more about the match.
Bryan got the win after the ref bump when Erick Rowan returned from injury to grab Styles and give him a Chokeslam. Bryan crawled over to cover Styles. Post match, Bryan celebrated with Rowan, who was a brief ally of his in the Wyatt Family about five years ago.
I think the Bryan/Rowan story will be something where Bryan has recruited him to join his "Planet's Champion" movement where Bryan talks about how important it is to eat healthy, which the crowd hates because of the way Bryan says it. By having a 6'8" 300 pounder like Rowan by his side, Bryan can get some heat as the cheap champion that cheats to win. Luke Harper should be back from injury soon, so he might join Rowan with Bryan and they can be a bearded planetary hero group or something along those lines. I'm not sure who Bryan will face at WrestleMania, which is fine because we have two months to get there.
3. Brock Lesnar beat Finn Balor in a very fast paced and enjoyable match under ten minutes
It's rare to say that a match under ten minutes is great because it's tough to have a memorable match in such a short amount of time, but I loved the way they booked the Lesnar win over Balor. It started out fast with Balor using his speed to his advantage, he got in a lot of offense and came close to winning. It was also effective in terms of getting the fans into the match after they barely reacted to the Bryan/Styles match.
A key point in the story was when Lesnar was clearing off the announce table and Balor managed to send Lesnar into the side of the table. Lesnar bumped into the side of the able two times. Lesnar was holding his ribes/side for the remainder of the match because he was selling the injury. At one point he must have said "s**t" on the broadcast because they muted it. Balor came back with three somersault dives over the top to the floor and when he hit his double foot stomp off the top, he nearly won the match.
Lesnar got the win with a Kimura Lock on the arm of Balor. It's a move that Lesnar has won with previously in his career. I like the way it was done because it was not a dominant win by Lesnar, but rather a close win where he only got the victory while he was on the mat.
After the match was over, Lesnar beat up Balor some more with some suplexes and a F5 to keep Balor down for good. That post match attack suggests there might be a rematch down the line, perhaps with Balor in "Demon" Balor gear since Balor was dressed in his regular look here.
9. The surprises in the men's Royal Rumble were a mix of legends, a woman, and future stars, while John Cena's absence was felt in a big way
The surprises in the Royal Rumble were as follows: WWE Hall of Famer Jeff Jarrett at #2, WWE Hall of Famer Kurt Angle at #4, Johnny Gargano of NXT at #6, Pete Dunne of NXT UK at #18, Aleister Black of NXT at #21, and then Nia Jax was a surprise at #30 after she beat up R-Truth.
Out of all those names, I expected Angle and Black. I thought Bray Wyatt would return in this match, but he was nowhere to be seen. Leaving EC3 out of the match was a surprise too. I enjoyed Gargano and Dunne being in the match because they should be future top guys on the main roster if they are booked the right way.
The Nia Jax surprise was unexpected because WWE has shied away from intergender wrestling for several years, yet there she was attacking R-Truth to steal his #30 spot. Jax was hitting some of her moves and then she was getting attacked by the guys. It was so rare and it generated some genuine cheers from the crowd. The spot where Ziggler hit a superkick on Jax, then Mysterio hit a 619 on Jax, and Orton hit a RKO on Jax was pretty cool. The fans loved it and then Jax was eliminated right after.
John Cena was not in the Rumble because WWE claimed he had an ankle injury, which was just a storyline to keep him out of the match. It was simply WWE not wanting to use Cena in the match because he's got movie commitments and likely didn't want to risk him getting injured. I think Cena's presence would have helped because nobody has more credibility than him, so whoever eliminated Cena would have been put over in a big way. Without Cena there, the most credibility was with guys like Randy Orton, Rey Mysterio, and Jeff Hardy, although none of them are at Cena's level.
Cena's removal from the match was made official a few hours before the Rumble with WWE announcing Braun Strowman as his replacement. That was not a surprise at all.
1. Seth Rollins was the most obvious choice, and also the right choice, to win the Royal Rumble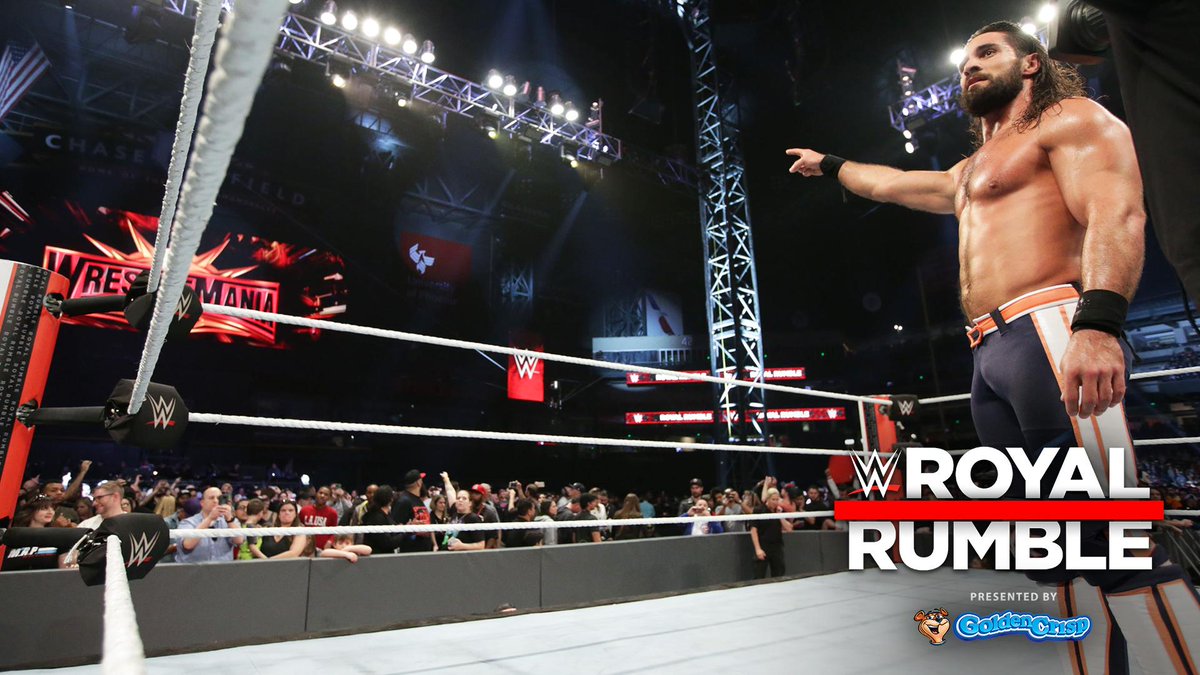 It's nice when WWE doesn't complicate things. For the second year in a row, WWE went with the most obvious pick to win the Royal Rumble: Seth Rollins. He was my pick for months, he was my pick in the predictions column, and I'm glad he was the one that got the win.
The men's Royal Rumble match overall felt average, probably because I was tired after four hours of a show and knowing there was another hour to come. There were four guys in the match that were only in there for about 13 seconds, so it made it feel like a joke when the likes of Titus O'Neil and No Way Jose were in it when everybody knows they have no chance of winning. I don't even think the comedy bits were good, although the annual Kofi Kingston save spot was creative with Xavier Woods helping him. It didn't help that Woods was eliminated in under ten seconds.
I didn't like the fact that guys like Rollins and Strowman were out of the ring for several minutes. I think Rollins was on the floor for about ten minutes after he was put through an announce table by Bobby Lashley. I'd rather see guys in the ring competing in the match instead of chilling outside the ring.
The final four came down to Andrade, Dolph Ziggler, Rollins, and Strowman. I was not surprised by three of them, but Ziggler was surprising since he claimed he's on a WWE hiatus now. It came down to Rollins and Strowman with a battle on the apron where Rollins sent Strowman into the ring post and hit The Stomp on Strowman on the apron to eliminate him. The match went about 58 minutes, so it was 14 minutes shorter than the women's match.
The rumor for Seth's WrestleMania match is Brock Lesnar, which sets up nicely now with Lesnar holding onto the Universal Championship. Rollins has talked trash about Lesnar for the last month, which shows that the plan is still likely in place. Rollins could, in theory, challenge Daniel Bryan for the WWE Title while Finn Balor can go after Lesnar again, but I think it should be Rollins beating Lesnar for his first Universal Title at WrestleMania. That's what I want to see anyway.
Final Thoughts
It was a good show, and only the Bryan/Styles match was a major disappointment. None of the other matches were bad and I'm such a fan of the Rumble match that I enjoyed them both for the most part. I think last year's women's Rumble was better than this year, but the end result this year was great with Becky Lynch getting the big win. Seth Rollins winning was also the right decision, so let's give WWE some credit for getting it right. Fans like and want to root for Rollins and Lynch. Now we know they'll be in featured matches at WrestleMania, which is a wonderful thing worth getting excited about.
The next WWE pay-per-view event available on WWE Network is the Elimination Chamber on February 17. That's only three weeks away, so WWE will have to start building to the card quickly. We already know the Women's Tag Team Titles will be on the line in an Elimination Chamber match. There will be more to come in the weeks ahead.