Editorial Note: Dr. Katie Lever is a former Division 1 athlete and current freelance sports writer whose work has appeared in Global Sport Matters, Sportico, Extra Points, Forbes, and other outlets. She is also the award-winning author of Surviving the Second Tier, a dystopian novel about the dark side of the college sports industry, available on Amazon. Follow Katie on Twitter and Instagram: @leverfever.
Before last February, the respective stories of Brittney Griner and Barry Rosen wouldn't have overlapped at all. However, after news broke of Griner's wrongful detainment last year, their experiences collided in ways that nobody in sports media saw coming. Rosen, a survivor of the Iran Hostage Crisis, who served as a press attache at the U.S. Embassy from 1979 to 1981, can acutely relate to Griner's experience of being held against your will far away from home.
"On November 4th, 1979, I and 51 other of my colleagues were held hostage by a group called Students Following the Line of the Imam," recalled Rosen, who now works as a senior advisor at United Against Nuclear Iran. He added that it was the second time he had ever been held hostage: "In early 1979, I was held for a day, and many other members of the Embassy were held for a day, and we were almost executed during that time."
For the past year, Brittney Griner has become a household name for what has to be one of the worst reasons imaginable. On February 17, 2022, Griner was wrongfully detained by the Russian government on alleged drug charges while she was traveling to compete overseas, a common off-season job for WNBA players. Griner spent nearly 10 months in a Russian prison and her sentence was originally extended to nine years. Then, after months of negotiation, Griner was released on December 8, 2022, in exchange for Russian arms dealer Viktor Bout. 
"Many, many Americans felt that that was the wrong thing to do," Rosen said of the exchange. "But you know, a human life is more important than anything else, in my opinion, and politics takes a second level of concern."
According to Rosen, the language surrounding wrongful detainment and hostage situations has evolved over time. Although when Rosen was held hostage, there weren't any differences in the vocabulary, he explained that now, a person who is considered "wrongfully detained" like Griner is being held by the state, whereas a hostage is someone who is being held by a terrorist organization. 
"The definitions have changed," Rosen said. "But the situation is pretty much the same in many ways."
The ordeal not only put Griner's career into question–many wondered if she would come home at all. According to Rosen, although there are limits surrounding what can be done to prisoners in captivity, the experience of being held hostage is still damaging. 
"It's more than things like physical pain," Rosen said of captive situations. "There's the terrible psychological pain that people go through when they lose their freedom. And that's an issue that I can well speak about, too, because knowing you're in captivity for a long time and you're possibly isolated in a cell or possibly working for those people who are holding you–you're losing yourself, your own self-image here, the knowledge of who you are and how you perceive yourself. And the psychological damage can be extreme."
For athletes, the psychological element of their work is only half the battle, which is just one of the reasons there was so much uncertainty around Griner's return. "I mean, it all goes hand in hand–the mental exhaustion and the physical exhaustion and the stress, the toll that all of it takes," said Lyndsey D'Arcangelo who writes about women's basketball for The Athletic and Just Women's Sports. "And I think that was part of the question, wondering would she even play? Would you even want to play after going through something like that?" 
But, barely five months after Griner's release in December 2022, she hasn't only played–she's dominated. In her season debut against the Los Angeles Sparks, Griner's first in-game shot attempt in nearly 600 days was poetic–of course, she sank it. Griner ended the game as the Phoenix Mercury's leading scorer with 18 points and two days later, in Phoenix's home opener against the Chicago Sky, she secured a double-double with 27 points, 10 rebounds, and four blocks, which helped her pass Sylvia Fowles for third all-time on the WNBA's blocks leaders list. The highlight of the game, however, had to be a three-pointer which Griner embellished with an emphatic "I'm back!" after it sailed through the rim. 
"To hear people say in and around the Phoenix organization that she still is working her way back is kind of mind-blowing," said D'Arcangelo.
So although the Mercury are starting 0-2 on the season, it can be argued that with Griner back, they're doing well–and the world of women's hoops is winning, too… even if there are still hurdles left to overcome both for women's basketball players and victims of wrongful detainment.
Increased Visibility for Detainees
Griner's absence, while horrific, raised awareness of important issues both in women's basketball and foreign affairs. One of the bigger talking points surrounding Griner's release has been the power of the written word and the letters that helped her hold on during her sentence.
"In my instance, too, I was able to get some letters," Rosen recalls, but noted that he didn't always get the full picture because communication with detainees is tightly regulated. "They will look at the letters and delete any information that they think is not appropriate for the detained person to read. So you may get scraps of different messages across the board."
Over the course of Griner's detainment, she received encouragement from fans and supporters from across the country. Upon her return, she wrote her supporters back, posting to Instagram that the letters she received, "helped me to not lose hope during a time where I was full of regret and vulnerable in ways I could have never imagined." Since her return, Griner has also urged fans to write to other detainees including Paul Whelan, a former U.S. Marine who has been detained in Russia since 2018 and who is reportedly feeling more optimistic about his release since Griner's return.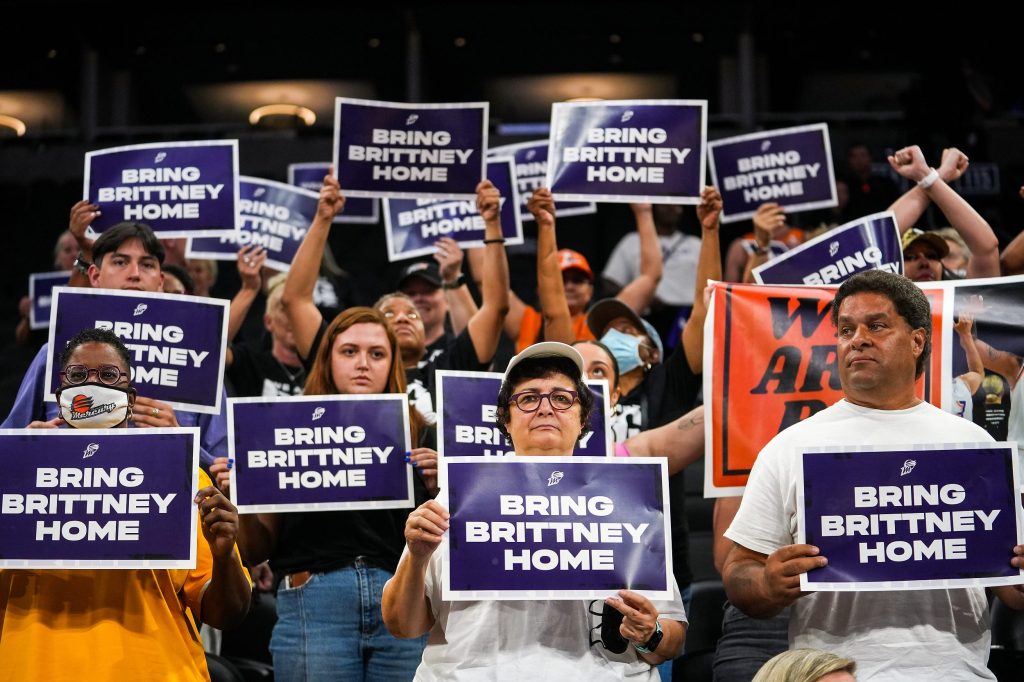 "I think it serves a very important purpose of actually almost feeling your loved ones," Rosen said. "Knowing something about them and how they feel about you has a very potent impact. So it's psychologically, very, very important." 
Supporting Women's Sports Back Home
An overarching question surrounding Griner's imprisonment has been "What was Griner doing in Russia in the first place?" But fans of women's sports know all too well that these elite athletes are plagued by limited pay and relatively few opportunities. Whereas the best NBA players in the country earn nearly $50 million per year, the WNBA's salary cap sits at $1,420,500… per team. This means that although high-profile women's players like Jackie Young, Arike Ogunbowale, and Jewell Lloyd, the WNBA's top three earners, make around or under $250,000 per year, the average WNBA salary is just north of $100,000 in 2022, with first-round rookies earning just over $70,000. Age and experience don't necessarily improve these numbers–just last year, WNBA legend Sue Bird signed a one-year contract with the Seattle Storm for $72,411, which is the league's veteran salary minimum, to close out her storied career. 
In fact, in spite of being the number-one overall draft pick in 2013, Griner has gone on record to defend her playing for the Women's Chinese Basketball Association for "twelve times more money" than her WNBA salary after her first year in the WNBA. This dynamic is far from novel–former UConn duo Sue Bird and Diana Taurasi, who were considered "two of the top athletes in the world" in the early 2000s, detailed their experiences playing in the then-budding WNBA, vs playing overseas in the ESPN 30 for 30, "The Spy Who Signed Me." 
"We chartered everywhere, we stayed at the best hotels, we had the best gear, the latest gear," said Taurasi on her experience at UConn, "and then, alright, my next stop is the pro game. It's only going to get better right?"
To which Bird replied: "I think she's trying to say, it doesn't get better."
While to casual fans, a salary ranging from $70,000-$250,000 might sound nice, it's important to remember that the careers of professional athletes are both unique and unstable. For one, the average length of a professional women's basketball career is five years, which doesn't give these athletes much time to cash in on their athleticism. A player's career can also end in an instant due to injury, so these somewhat comfortable salaries in women's basketball come with uncomfortable risks. 
Plus, for the women who play basketball at the highest level in the U.S., going abroad isn't just about the money involved. "There's also the developmental aspects," D'Arcangelo said. "I mean, if you get drafted outside of the first round, chances of making a WNBA roster with 144 spots, 12 in each team, sometimes less than that, depending on salary caps… I mean, the odds are stacked against you when you have to factor in veterans, and then All-Stars already on the team." 
Not only that, but WNBA players don't have a minor league or other developmental opportunities like other professional leagues do, which is an especially pertinent problem as 70 players have been waived since the 2023 draft with few options to up their game and come back stronger next year. "There's no G-League, there's no Developmental League," D'Arcangelo said. "You can't sit on the bench and wait your turn and learn and grow like you can in other sports."
Although the life of a professional athlete might look glamorous on the outside, the reality is that the lifestyle involves a lot of risk with limited opportunities, especially in the WNBA. "It's just the hardest pro sports league to make a roster, hands down," D'Arcangelo said.
The Importance of Griner's Presence
Griner's return to the WNBA not only tugged at the hearts of women's hoops fans–it also commanded their attention. Griner's first game back was the most-viewed regular-season game on cable in 24 years and the most-viewed opening day on ESPN networks in 11 years, drawing in 683,000 viewers. 
"When these numbers came out, I expected them to be high," D'Arcangelo said. "The excitement is there. The fan base is growing. No one should be surprised by this if you've been paying attention."
The game drew a wide array of stars from Vice President Kamala Harris to legendary South Carolina women's basketball coach Dawn Staley, who came out to support Griner. As much as her absence was felt, her presence was doubly noted.
"It was a glimpse at what makes WNBA fans different from other sports fandoms," Stephanie Holland wrote for The Root following Griner's first game back. "We all love our teams and want them to win, but we also really love women's basketball and are excited to see it celebrated." 
Brittney Griner's popularity as a player can also be attributed to her personality as she encapsulates all that makes women's sports great. Griner has an electric, yet down-to-earth personality and is a strong advocate for LGBT rights, mental health awareness, and now brings awareness to other wrongfully-detained Americans–simply by being herself. One could describe Griner using a glossary of words ranging from dominant to cheeky to endearing, and it's her persona that draws fans to her and the game, by extension. Katherine Lavelle, a Minnesota Lynx fan and professor of communication studies at Wisconsin-La Crosse says that, in addition to being open about her struggles, Griner is a fan favorite for other reasons. 
"She just has this gentleness to her," Lavelle explained, "and so the fact that this person, who is, you know, physically so powerful, but also just this very gentle person in terms of her public persona, I think people just wanted her to be safe and wanted to protect her."
D'Arcangelo also notes that Griner plays the game with a sense of lightheartedness that fans love. "There's always been a lot of joy and looseness and fun associated with Brittany Griner," she said, and sometimes that works to her detriment. Although D'Arcangelo said Griner's style of play could be considered "lackadaisical" or "unengaged,"  there's a unique hunger to her game this season. "I think what we see now is this joy in her, this gratefulness and just excitement to have the ball in her hands again, to be on the court again, to be with her team again."
Women's sports host and broadcaster Ari Chambers similarly sees the light in Griner's presence. "Brittney is full of joy," Chambers explained. "She loves doing the things that bring her joy and basketball is included in that, so her return is just stepping into herself again. It's a sense of normalcy for her."
Not only that, but Griner has a relatability about her that is rare to see in celebrities as big as her. According to Chambers: "She loves candy. She loves consuming things as sweet as she is, and she's just a normal human."
Perhaps this is why both Lavelle and D'Arcangelo described a sense of heaviness when Griner was detained–the dark coverage around Griner's absence was strongly juxtaposed against her free-spirited personality, and it showed in the league. "It was always there," D'Arcangelo said of the heaviness, "and you could see what it was doing, the stress and the emotional toll it took on the team. Just the way they played, the way they carried that stress, was visible."
Chambers agrees. "You could just tell that there was a huge missing piece. It was a really somber time last season, especially because of how tight the entire league is," she said, adding that the impact was felt by everyone from media members to fans to people on WNBA Twitter. "You felt the weight of her absence all of last season, you felt the grief that her wife [Cherelle Griner] was feeling, you wanted to do something but you just felt so helpless and hopeless." 
However, Chambers also describes a sense of pride in the way that Griner's supporters never let up on their support and worked through the pain by banding together. "I'm proud of the way the league and its players and the media members made sure she stayed on the forefront," she said. "I'm proud of the way that the general public didn't let up for her release and I'm really happy that she gets to reap the benefits of being back on her home court."
Increasing coverage and raising awareness of the victims of wrongful detainment can be complex and "delicate" according to Rosen–but Rosen believes that as detainment situations stretch on that "the media is your friend," and this coverage is of paramount importance.  "​​I'm one of these people who feels strongly that there should be as much media presence as possible," he said. "The government, sometimes, the administration may not want that, but I think it's important to focus on your loved ones as much as possible." 
Griner certainly is loved by many and has fully embraced her homecoming while doing her part to bring other detainees home and help them while they're gone. This season, Chambers wants people to see Brittney Griner, the whole person, who is more than a former detainee or a dominant athlete. "I want people to see the humanity in her and just not see the victim of the past," Chambers said. "She's a competitor, she's an athlete, she's a wife, she's a sister, she's a teammate and we love her–the human that she is."