Sunday marks the 38th and final matchday of the English Premier League schedule, and NBC is again showing every match (which are all played simultaneously on the final day) across its networks. They announced the Championship Sunday channel lineups after Manchester City's 1-0 win over Brighton and Hove Albion Monday afternoon (thanks to a stunning strike from Vincent Kompany, seen celebrating above). Those lineups can be seen below; all games will begin at 10 a.m. Eastern Sunday.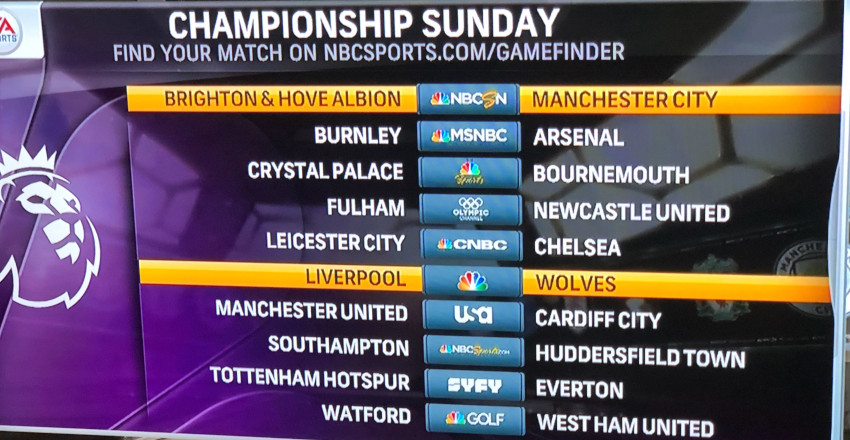 The two matches with championship implications are Brighton-Manchester City and Liverpool-Wolves; City and Liverpool are entering the final day with 95 and 94 points respectively. It's interesting that first-place City got put on NBCSN and second-place Liverpool got the broadcast NBC slot, as if both achieve the same win, loss or draw result Sunday, it will be City winning the title. But some of that may be about how execs view the potential competitiveness of those matchups (Liverpool's at home against seventh-place Wolves, while City's away against 17th-place Brighton), and some of it may be them figuring they'll get more viewers for Liverpool.
The cross-network broadcasts here perhaps aren't quite as appealing as they have been at some points in the past, as there isn't a relegation battle to consider; Cardiff, Fulham and Huddersfield are already all going down. There isn't much of a race for a Champions League spot either, as the two top teams and third-place Chelsea already have one, with fourth-place Tottenham holding one as well unless they lose, fifth-place Arsenal wins, and Arsenal makes up the goal difference gap (currently at eight) as well, and there isn't a race for a Europa League spot (sixth-place Manchester United is nine points clear of Wolves for the last spot there).
But at least the championship is still in question on Championship Sunday, something that often hasn't been the case. And both the NBC and NBCSN matches could be interesting for those who want to follow the title race. And showing every match on TV is still a nice touch; even if most of those other matches won't draw great ratings, it's a rare chance for viewers to watch whatever team they're a fan of without buying NBC's streaming Premier League Pass.
[Screencap from NBC Sports Soccer on Twitter]