The comments over the years about marquee sports programming being "DVR-proof" and key for networks' ratings in an age of recorded, streaming and on-demand options definitely had some merit in the 2016-17 TV season. Joe Flint of The Wall Street Journal has an interesting piece up analyzing viewership trends across the recently-concluded TV season, with this graphic really standing out: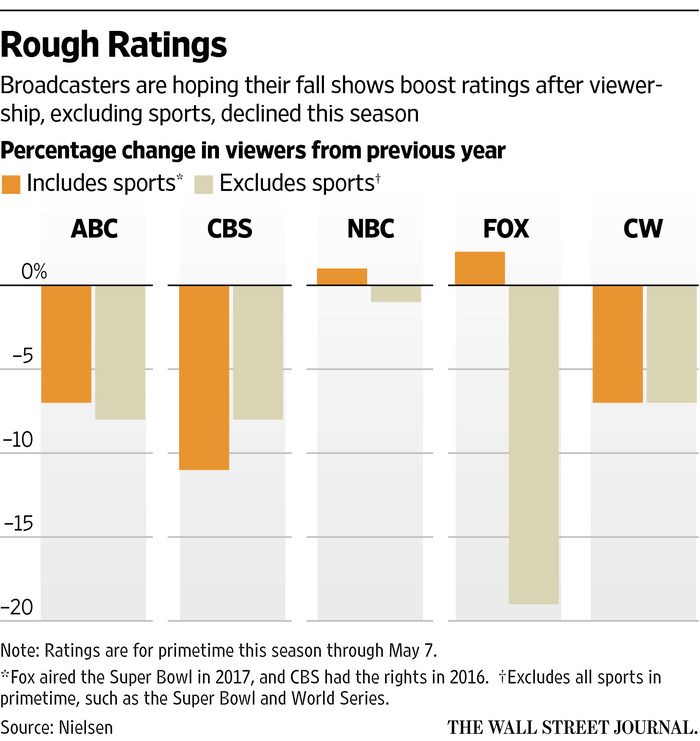 As Flint notes, this affects things most at Fox, which had an excellent year-over-year season if you count primetime sports (including the Super Bowl, which they didn't have the previous year, and the World Series), but a pretty terrible one if you don't (a 19 per cent year-over-year drop in total viewers and an 18 per cent drop in the key demographic of viewers 18-49, as compared to the up two per cent in total and flat in demo numbers if you include sports). At the other end of the spectrum, NBC's non-sports programming showed the least dropoff (one per cent total, six per cent in the demo) thanks to success with some new shows like This Is Us and The Good Place), and they also finished in the positives if you include sports (up one per cent in sports, down five per cent in the demo) and were second overall in viewers. Meanwhile, CBS saw year-over-year losses in both categories (their sports loss is bigger, as they had the Super Bowl last year), falling eight per cent overall and 16 per cent in the demo without sports, but still finished first in total viewers. And ABC (which doesn't have a ton of primetime sports, as most are aired on corporate sibling ESPN) fell eight per cent overall and 10 per cent in the demo, a little less if you include sports, but is third overall in viewers and likely to tie NBC for the demo lead. (The CW does not show sports, and is down seven per cent overall and 13 per cent in the demo.)
The larger takeaway here is that even when sports audiences decline (as they did for the NFL last year), they're still often quite crucial to broadcast networks' overall performances. They're still some of the most-watched events out there, and they're key to keeping those audiences from eroding too far, especially in an age of endless other entertainment options. Does that mean they're always worth the gargantuan rights deals handed out? Not necessarily; it depends on the sport, the deal, and the audience. But data points like these are certainly valuable for sports leagues trying to emphasize the value of their programming to networks. Without sports, the overall picture would be much bleaker, especially for Fox.