Though HBO's upcoming dramatic series on the Los Angeles Lakers teams of the 1980s "Showtime" era doesn't yet have a title (it won't be "Showtime" since that's the name of a competing premium cable network), the production has ramped up its casting efforts in recent weeks.
The most recent additions to the series' ensemble are comedian and actor Bo Burnham (Promising Young Woman) as Boston Celtics star Larry Bird and Jason Segel (Forgetting Sarah Marshall) as Lakers coach Paul Westhead. Burnham and Segel join Adrien Brody (The Pianist) and Michael Chiklis (The Shield) to a growing cast that promises to make this project intriguing and entertaining.
Several of the choices, along with Adam McKay (The Big Short) executive-producing, indicate that the Lakers series will have a comedic tone to it. That probably shouldn't be a surprise considering the material and characters involved, in addition to much of McKay's recent work — including HBO's Succession — mixing outrageous comedy with drama in its storytelling.
Yet some of the actors hired for the series appear to be curious selections, either because they don't necessarily look like the person he or she will be portraying or their past work. Others, however, seem inspired both in terms of resemblance to the real-life subjects or talent that assures good performances in these roles. So we thought it might be fun to rank the biggest casting choices thus far.
It didn't seem fair to include relative unknowns Quincy Isaiah (who will play Earvin "Magic" Johnson) and Solomon Hughes (Kareem Abdul-Jabbar). And with all due respect to Sally Field, an Academy Award-winning actor, she will surely be very good as team owner Jerry Buss's mother. Yet even if she plays a key role in the story as an influential figure in her son's life, Jessie Buss isn't enough of a public figure to be on this list either.
6. Jason Clarke as Lakers general manager Jerry West
This isn't a comment on Clarke as an actor, even if he hasn't become as big a star as Hollywood has tried to make him. He's riveting in leading and supporting roles, his intensity standing out in movies like Chappaquiddick, Mudbound, Dawn of the Planet of the Apes, and Zero Dark Thirty.
But Clarke doesn't seem quite right for Jerry West's laid-back West Virginia charm. West wasn't easy-going as a player or executive, however, so perhaps Clarke's casting will show what the NBA legend was like out of the public eye.
5. Bo Burnham as Larry Bird
News of Burnham's casting raised plenty of eyebrows on social media. Perhaps because he doesn't seem like Bird's country boy from French Lick, Indiana? Or because the comedian doesn't come across as particularly athletic.
But Burnham is 6-foot-5, so he has the physical traits to play Bird. Of course, hair and make-up can do a lot of work too. Yet this might not be a large role either, despite the Celtics being the Lakers' arch-rivals during the 1980s.
[UPDATE: Burnham dropped out of the Lakers series in August due to scheduling conflicts. Newcomer Sean Patrick Small will portray Bird instead.]
4. Jason Segel as Lakers coach Paul Westphal
We don't know how large a role Westhead will play in this story. But Segel's goofy demeanor might be good with Westhead's wacky guru vibe.
Westhead was a key figure in the Lakers' early success. After coaching the team to an NBA championship in 1980, Westhead and his more structured style of offense clashed with Magic Johnson, who asked to be traded. Buss chose Magic over Westhead, hired Pat Riley, and kickstarted a championship dynasty.
3. Michael Chiklis as Celtics president Red Auerbach
Here is some inspired casting. Chiklis achieved stardom as the ruthless Det. Vic Mackey on The Shield and gets to play with the same merciless approach in legendary Celtics coach and executive Auerbach. (We're not suggesting Auerbach is as corrupt or murderous as Mackey, however.)
Auerbach was a basketball visionary who hated to lose, represented the Lakers' biggest obstacle in achieving their ambitions, and resented the idea of Los Angeles building a championship dynasty. If there are any scenes between Chiklis as Auerbach and Clarke as West, televisions will crackle.
2. John C. Reilly as Lakers team owner Jerry Buss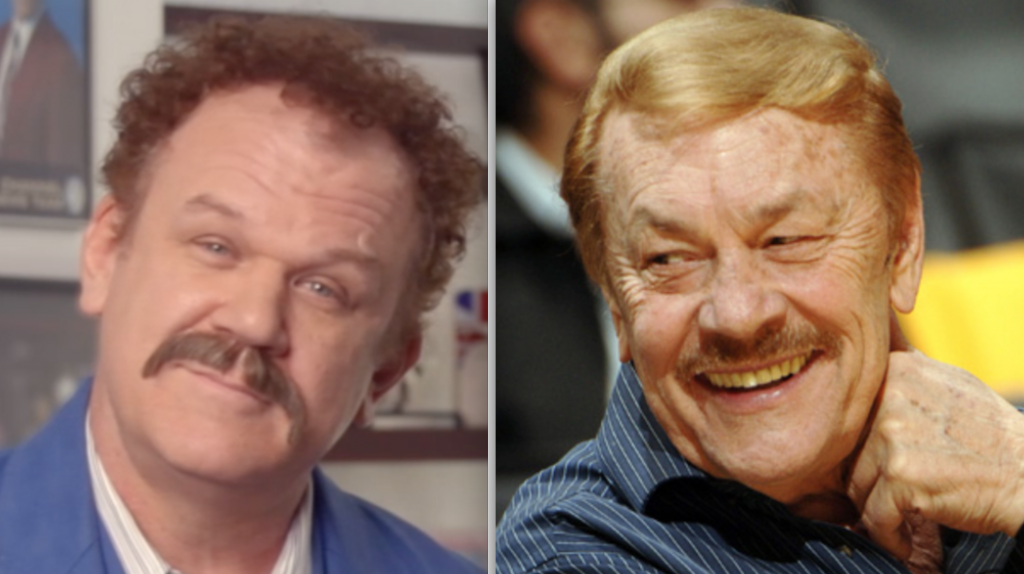 Reilly was one of the first actors cast by McKay (who worked with him on Step Brothers) and immediately set the bar for the talent we'd see in this series. As the Lakers' team owner, Buss was the driving force behind a championship dynasty. He wanted to win, but also wanted his team to dazzle while doing so.
Buss had a brilliant mind for numbers and chemistry, but was also a savvy businessman who smartly invested in the Los Angeles real estate market early on to make a fortune. Reilly appears to be just the guy who ascends from everyman to power player. He was humble enough to turn to his mother for help when needed yet aggressive enough to make bold decisions to win.
1. Adrien Brody as Lakers coach Pat Riley
Brody's casting as the Lakers' iconic coach put pop culture on notice that this HBO series deserved our attention. Only an Academy Award-winning actor could properly fill those Armani suits, right? Slick back his hair and Brody arguably embodies his role better than any other member of the series cast.
Though Riley had plenty of style, he showed plenty of substance as a coach who knew how to best utilize the talent and athleticism on the Lakers' roster, how to deal with stars like Magic and Kareem, and simmer the winning drive that led Los Angeles to four NBA championships during his tenure. To get an actor like Brody, this is probably a great role.
Plenty of other roles remain to be cast. Series writer Max Borenstein (Godzilla vs. Kong) told Collider's Jeff Sneider that he has someone in mind as Lakers superfan Jack Nicholson, but didn't share a name. What's also worth noting, however, is that Borenstein says this isn't intended to be a limited series, though he didn't specify whether the show would continue following the Lakers or move onto other sports dynasties.