The 2012 Pammies have concluded and we're here to unveil the final standings from the year. For the second straight year, an ESPN commentator ran laps around the field to go on to a dominant victory. However, this year it was Matt Millen moving from 2nd in 2011 to 1st in 2012 to take the place of Craig James at the top of the standings. Elsewhere, CBS' duo of Gary Danielson and Verne Lundquist take spots in the Top 3 (it's actually Danielson's 4th Top 3 finish all-time in the Pammies) while ESPN studio personnel take the next five spots thanks to the antics of Lee Corso, Lou Holtz, and others. Without further adieu, the final look back at the 2012 Pammies…
Final Standings
WINNER: Matt Millen 123 pts
We wondered last year who would take on the mantle of the departed Pam Ward and Craig James in the Pammies and wow, did Matt Millen ever step up to the plate and deliver. Although Millen fell short of James' total last year of 149 points, he (oddly enough) tied James' margin of victory record with a 72 point gap back to second place. It was a tour de force performance this season for Millen, even going back to the summer and the awful spot ESPN put him in during the Penn State scandal. Millen joins this list of previous winners…
2012: Matt Millen
2011: Craig James
2010: Chris Spielman
2009: Pam Ward
2008: Pam Ward
2007: Gary Danielson
And with the former Lions GM finally settling down as a college football analyst after a spell going back and forth between college and the NFL, it looks like he's here to stay. Unless he runs for Senator somewhere that is. Here's some of his best quotes from the season…
Week 7 – "The receivers have been covered well tonight except when there has been blown coverage" – Matt Millen (via volsandcubs)
Week 9 – "Both Lee and Woods are football players." – Matt Millen. Thanks Matt. (via Jonathan_Biles)
Week 10 – "He (Bill Snyder) is the same guy as Joe Paterno, I'm saying it." -Matt Millen
Week 12 – "John Simon is like the Everready Bunny" – Matt Millen (via McNealc31)
2) Gary Danielson 51 pts
T3) Verne Lundquist 39 pts
Week 6 – "This penalty might be on LSU. I don't know. There are only 2 teams out there so i might be right." – Gary Danielson (via chifan414)
Week 11 – "Logic tells you the football was in the end zone but you can't use logic here." – Gary Danielson (via Matt_Turk949)
Week 10 – "I wonder if that same moon is visible over New York tonight." – Verne Lundquist (via flybyknite)
Championship Week – "If these teams look in the mirror, they probably see themselves." – Verne Lundquist (via JohnathanKWeaver)
T3) Desmond Howard 39 pts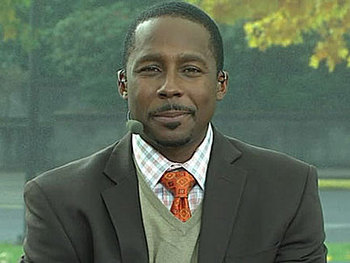 Week 5 – "I'm not big on the Beavers right now, I know David Pollack is big on the Beavers, he's sipping that Beaver juice." – Desmond Howard (video via SBNation)
Championship Week – "He runs through more players than a Kardashian." – Desmond Howard (via sctvman)
5) Lee Corso 33 pts
Week 4 – "Never bet against the Catholics." – Lee Corso (via AA)
Week 12 – " Not So Fast Midget" – Lee Corso (via jleimer)
6) Lou Holtz 29 pts
Week 10 – "The football is so important they named a game after it" – Lou Holtz (via joepa032)
7) Kirk Herbstreit 26 pts
Week 6 – "She can't put that thing in her mouth…wow, that is huge!" – Kirk Herbstreit (via RYbbc121)
Week 9 – "Ohio State is going to have to score to win this game" – Kirk Herbstreit (via BY318)
8) Mark May 25 pts
Week 1 – "Alabama is used to playing on national TV, Michigan is not." – Mark May (via WebbNHD)
Week 3 – "If you can't score, you can't win." – Mark May (via jwdoane)
9) Andre Ware 19.5 pts
"Tennessee is a pretty good defensive team" – Andre Ware (via CaptTouchback) Tennessee allows over 35 points a game and is the 108th scoring defense in the country.
T10) Beth Mowins 19 pts, Erin Andrews 19 pts, Todd Blackledge 19 pts
Others receiving votes: Mike Patrick 16 pts, Danny Kanell 16 pts, Eddie George 16 pts, Dan Hawkins 14.5, Brent Musburger 13 pts, Rece Davis 13 pts, Carter Blackburn 13 pts, Chris Martin 12 pts, Gus Johnson 12 pts, Eric Crouch 12 pts, Charles Davis 11 pts, Jesse Palmer 11 pts, Brian Griese 11 pts, Kevin Carter 10 pts, Wendi Nix 10 pts, Glen Mason 10 pts, Dave Neal 9 pts, Joel Klatt 9 pts, Tom Hart 7 pts, Robert Smith 7 pts, Derek Rackley 7 pts, Craig Bolerjack 7 pts, Tom Luginbill 7 pts, Maria Taylor 7 pts, Tom Rinaldi 6 pts, Brad Nessler 6 pts,David Pollack 4 pts, Mark Jones 4 pts, Chris Fowler 4 pts, Sean McDonough 3 pts, Dale Drypolcher 2 pts, Chris Doering 2 pts, Mike Morgan 1 pt, Tom Cole 1 pt, Ray Bentley 1 pt.
And finally…
Congrats to celeb winner Ryan Lochte 10 pts, who beat out Charles Barkley and David Feherty thanks to this legendary clip that won top spot in Week 8, which we may see once again as we count down our Top 10 Announcing Gaffes later this year…
Congrats to all our winners, see you next year for the 2013 Pammies!