Awful Classics is an offseason project designed to deliver a hefty dose of vintage sports content nostalgia. We kick off the series with ESPN's Playmakers and weigh-in on if it's an Awful Classic, or just plain awful.
Playmakers: A Eulogy
We are gathered here today to celebrate the life of Playmakers, a show that was gone too soon.
Playmakers entered the world on August 26, 2003, and received a warm reception from millions of fans. Pulled from the womb of ESPN Original Entertainment, Playmakers weighed 10 pounds 8oz in our hearts and minds, and was 11 episodes long. Although Playmakers survived only one season, it was a fan-favorite of the Mark Shapiro original content-era, beating out siblings Tilt, A Season on the Brink, and Beg, Borrow & Deal.
Playmakers focused on the Cougars, a fictional professional football team in The League, and their quest to make the playoffs. It's remembered most for its forward-looking plots involving domestic violence, drug use, and legal issues, as well as mental health concerns and sexuality, topics that weren't discussed as openly at that time. For this reason, Playmakers made an impact on the world, and its absence is felt acutely.  
Playmakers was a veritable soap opera that drew a cult following and was widely popular due to its provocative storylines, outlandish characters, and undiluted shock value. In the same way we now bond over awful reality TV shows, Playmakers brought together fans and players alike, and left us thirsty for the next installment.
We would watch this in college every week in our dorm's "theater" room haha https://t.co/y6FL2z1nJG

— TG (@Timmy_G24) January 11, 2019
@TerryFoster971 @971theticketxyt man I miss ESPN'S Playmakers! What a great show! Played college ball & we would all get together to watch

— David Thomas (@dthomas3467) April 23, 2013
In February 2004, Playmakers met a premature end. The cause of death? Suffocated by the NFL for being a "gross mischaracterization" of their brand, or, in human-speak: hitting a little too close to home.
In lieu of flowers, please instead consider starting a petition to remake Playmakers, as mentioned at the end of this post.
It's been over 15 years since these characters graced our screens, so let's review some of the most prominent:
Eric Olczyk (LB): Eric is pictured front and center. Yeah, the one who looks like Matt Hasselbeck if Hasselbeck replaced eating with doing steroids. And sleeping with doing steroids. Eric has some unresolved mental health concerns surrounding the death of his brother, and he has become increasingly disillusioned with football after causing a serious injury to another player. Despite paralyzing a human being with a dirty hit, sleeping with a teammate's wife, and sucker-punching the quarterback over a different woman, Eric is somehow the most likable person on this team. But that's because being the most likable Cougar is like being the least unscrupulous person in the Trump Administration: no one is giving you an award for that.
Demetrius "DH" Harris (RB): DH is pictured to the right of Eric. He's a hot-shot rookie who loves the game almost as much as he loves women, expensive booze, and members of the cocaine family. His major storylines center around his drug use and legal woes, and the running back competition with veteran Leon Taylor. His cavalier attitude gets him in trouble on and off the field, like on this occasion when he goes full Leon Lett:
I'm sure Twitter would've been calm about this, had it existed in 2003.#ESPN #Playmakers #AwfulClassics pic.twitter.com/7BxQJYFQFG

— Jilly (@jilldubs) March 21, 2019

It's worth noting that Omar Gooding, the actor who played rookie running back DH, was 27 years old when this show aired. Not even JT Barrett played college ball for that long.
Leon Taylor (RB): Leon, pictured to the left of Eric, just returned to action following a knee injury and couldn't be less thrilled about his replacement. The ensuing running back competition and his ongoing contract negotiations are featured prominently, but just like the real NFL, The League thinks 30+ year-old-running backs are geriatric and ought to be taken out back like Old Yeller. Leon begins using PEDs in order to win back the starting role, and he's also involved in a domestic violence plot, which leads to a ripple effect of consequences throughout the season (ironically, the only part of this show not resembling the real NFL). You may recognize actor Russell Hornsby from his other big-time roles such as "Late Night Courier (Right Bag)" in Meet the Parents.
Derek McConnell (QB): McConnell is the real-life Ken doll pictured over Eric's left shoulder. He's kind of a Lothario, and if there's an attractive woman within 50 yards, she will be sucked into his orbit. McConnell is the type of guy who uses his time on the sideline to contact the team manager to secure him a post-game date. This pisses me off on multiple levels, not the least of which is, shouldn't he be studying the god damn playbook? This team started the year 2-3! McConnell does have one redeeming quality: he's not homophobic, as we learn when the Cougars find out that an unnamed teammate is gay. What kind of monster do you have to be for "not homophobic" to be the nicest thing I can say about you?
Kelvin "The Buffalo" James (OT): The Buffalo can be seen over Eric's right shoulder. Yeah, the guy with the facial expression that reads "I eat nails and chase them with battery acid." He is friends with DH, which gets him into trouble more often than it doesn't. Like on this occasion:
Get you a friend who gives better advice than "rub it into the carpet" in situations like this. #ESPN #Playmakers #AwfulClassics pic.twitter.com/kNp5nNIKtK

— Jilly (@jilldubs) January 23, 2019

Aside from being dragged into DH's shenanigans, Buffalo's major story line comes later in the series when he is diagnosed with diabetes and we see another example of the tension between doctors and the team, when it comes to his weight.
Coach Mike George: You can find him to the left of Eric right behind Leon. Coach George lives and breathes football, to the exclusion of many other important things in life, most notably his family and his health. He also dedicates a fair amount of time to bullying medical professionals into prematurely clearing his players for action, like he's Al Davis or some shit.
It is later revealed that Coach George is concealing a health issue of his own, which starts with blood in his urine and is later diagnosed as aggressive, stage 3 prostate cancer. But don't worry, he won't let something like pesky chemo interfere with coaching the football men.
Behold: the most football coach thing ever. #ESPN #Playmakers #AwfulClassics pic.twitter.com/q3QVJDdTHU

— Jilly (@jilldubs) March 26, 2019
Coach often finds himself in conflict with meddling Cougars owner Gene Wilbanks, who's a huge bag of dicks.
Thad Guerwicz (WR):
Guerwicz was a relatively minor character until later in the season, when we learn that he is gay. Although I don't love the way this story line played out (lots of discrimination; violence against his boyfriend; boyfriend outs him in front of his teammates; ultimately ends up engaged to a woman), the fact that the show broached this topic when there were so few gay characters on TV earned them an award from the The Gay & Lesbian Alliance Against Defamation (
GLAAD
).

The Urine Transplant
Like any responsible organization, the League issues random drug tests. And if you've seen this show, you know practically everybody is doing something either football-illegal or regular-illegal. Resident coke receptacle DH has an agreement with the owner that he will receive advanced warning if he's selected for testing, but the unexpected departure of the team's kicker leaves an open spot on the drug test list and DH is the next man up. Too bad he spent the previous 24 hours reenacting half a dozen scenes from Pulp Fiction.  
But that's okay. We have a totally reasonable solution here, which is for a doctor, A MEDICAL PROFESSIONAL, to implant clean urine via a catheter into DH's bladder allowing him to pass the test.
This is certainly one way to pass a drug test, I suppose. #ESPN #Playmakers #AwfulClassics pic.twitter.com/hX5osO9iB6

— Jilly (@jilldubs) March 21, 2019
The Murder / Fake Alibi / Witness Tampering Escapade
After a while, you get used to these episodes opening in some horrifying fashion, but a dead guy in a body bag takes the cake. Over the course of two episodes we learn that DH was at a nightclub with some friends and while he was, um, enjoying some female company in the bathroom, his buddy Cal shot and killed a guy. But because pretty much everyone on this show is the scourge of the earth, DH gets Cal out of trouble by providing a fake alibi and then paying his bathroom companion $10K to also lie to the cops. He rationalizes this indiscretion because he has some kind of misguided faith in the judicial system: that the jury won't convict an innocent man. Like, "Oh, the cops arrested the wrong guy, but I'm positive a group of 12 idiots too stupid to avoid jury duty will figure this out before he's sent to the needle." This was pre-Serial, but come on. And whaddya know, the jury convicted the innocent man, and DH said nothing. Until…
Enter: Snoop Dogg
"SNOOP DOGG IS IN THIS SHOW" should've appeared on every piece of Playmakers marketing material. He single-handedly upped the cast's star power by 112%, which is amazing if you remember that he's competing against such legends as a courier from Meet the Parents. Snoop played DH's brother Big E, who's shot by Cal during Episode 10. And really, shouldn't Cal be making more of an effort to, I don't know, not murder people these days? Thankfully Big E survives the ordeal, and DH finally tells the cops about Cal's involvement in the earlier homicide.
IMO: #Playmakers was one more Snoop Dogg episode away from real greatness. #ESPN #AwfulClassics pic.twitter.com/0mnL3TLfPF

— Jilly (@jilldubs) March 26, 2019
The Test Results Fuck Up and Other Insane Injuries
It's no secret that players disregard their own health and well being for the sake of football, and Episode 5 opens with a halftime locker room scene just filled with carnage.
McConnell has a toe injury that requires so much padding that they have to cut a hole in the top of his shoe for the foot to even fit. A sunroof for his toe! How blessed! McConnell's pain management routine is basically chain-swallowing Tylenol to the point of kidney damage, but he still refuses to have surgery until the offseason.
DH keeps throwing up from a head injury and this guy nearly twisted off his finger and still wants to play the second half:
WARNING: GRAPHIC VIDEO
But don't worry, he's totally fine to play the second half. #ESPN #Playmakers #AwfulClassics pic.twitter.com/bbU5rQXCnQ

— Jilly (@jilldubs) March 26, 2019
But the biggest news is Leon's knee injury. It's his ACL again and he's looking at 1-1.5 years of rehab. This is not good news for a player who is already age 74 in running back years.
#ESPN #Playmakers #AwfulClassics pic.twitter.com/QGGeOWsLED

— Jilly (@jilldubs) March 26, 2019
So we sit in this discomfort until the end of the episode when we learn that the team doctor mixed up the test results and Leon is fine, and it's actually some other poor schmo with an ACL tear. How does this even happen? Did someone get into DH's coke supply?!
The Playoffs
It's not that this team missed the playoffs, it's how this team missed the playoffs.
After winning 5 games in a row, the Cougars need two things to happen to secure a spot in the playoffs: they need to beat Philly, and Jersey needs to beat Phoenix.
The Cougars managed to stay within striking distance of Philly and despite an injury to DH, they were only down by four points with 1:52 on the clock. With just one timeout remaining, I bet your inner coach is conjuring up a plan for how you're going to execute this two-minute drill. You're planning some passes to the sideline, right? Good, that's the correct answer.
The Cougars on the other hand call SEVEN STRAIGHT PLAYS between the hash marks to a 32-year-old running back with a surgically repaired knee. I HATE that this worked because it gives people like Stanford's David Shaw license to be awful at clock management and playcalling. I'm sure Shaw is positively salivating just picturing a game-winning drive featuring three running plays, a shovel pass, a screen pass, a pitch, and a medium-range touchdown pass ALL TO THE RUNNING BACK, and now I'm terrified of the 2019 football season.

The team waits in the locker room to learn their fate. With 3:12 to go in the 4th quarter, Jersey is up 21-10 on Phoenix, and it looks like the Cougars will advance.
Coach gives an impassioned speech, like he's the William Wallace of football: "Six weeks ago, we were written off. Done. Finished. The only people who believed in us are the people in this room. And now, you are the hottest team in the league and no one wants a piece of you."
It's almost like Phoenix sensed the arrogance because they scored with a minute to go, recovered the onside kick, and then scored again to win the game. And just like that, despite winning six in a row, the Cougars are out. Maybe they'll make it next year? Oh, that's right, Playmakers, only got one season.

Despite being the most popular (non-game) content on ESPN, Playmakers was cancelled in February 2004 due to mounting pressure from the NFL. Although the show never referred to the National Football League by name, nor based the Cougars on any specific team, the NFL didn't like the way "it" was being portrayed. Remember, this was the olden days before there were three football leagues, and the NFL couldn't just deflect like, "Nah, they're not talking about us. This is clearly an AAF problem."
The NFL's complaints initially generated a half measure solution from ESPN:
"Early on, the series prompted Paul Tagliabue, the N.F.L. commissioner, to complain to Michael D. Eisner, the chief executive of the Walt Disney Company, ESPN's parent company. Soon after Tagliabue's call to Eisner, ESPN stopped showing promotional commercials for the series during its Sunday night N.F.L. broadcasts."
But not long after, the NFL won out and ESPN cancelled the show all together, signaling the beginning of the end of a more equal relationship between the two parties:
"We proved that we could succeed in doing a dramatic series," Mark Shapiro, the executive vice president of ESPN, said. "Mission accomplished. It played to men and brought in women. We showed we don't have to be as reliant on games as we have in the past."

But, Shapiro added: "It's our opinion that we're not in the business of antagonizing our partner, even though we've done it, and continued to carry it over the N.F.L.'s objections. To bring it back would be rubbing it in our partner's face."
Let's all take a moment to digest that the NFL strong-armed ESPN into cancelling a popular show, which featured storylines on murder, domestic violence, and drug use, because in Tagliabue's words it was a "gross mischaracterization of our sport." Remember that this show aired in 2003, long after the Ray Lewis and Rae Carruth events, and there were at least 20 arrests made on NFL players for domestic violence between 2000 and when the show aired. But sure. Let's go with "gross mischaracterization."
Or, perhaps:
It only got 1 season bc the NFL forced it off air! Too realistic lol

— focusedonjrod (@focusedonjrod) January 11, 2019
Hey, remember when the NFL made ESPN cancel that show Playmakers because they said it wasn't realistic? AHHHHHHHHHHHHHHahahahahahahahaha.

— DJ Gallo (@DJGalloEtc) September 17, 2014
To say that cancelling the show was unpopular is an understatement by several orders of magnitude. Articles and tweets begging for a Playmakers return pop up with a decent amount of regularity.
@espn I really wished y'all made a "Playmakers" season 2….

— Daddy Matty (@YANKEE__MATT) March 15, 2019
One particularly passionate IMDB commenter claims this is the "best show ever to be cancelled," while another thought it was "not bad really," which feels slightly more accurate.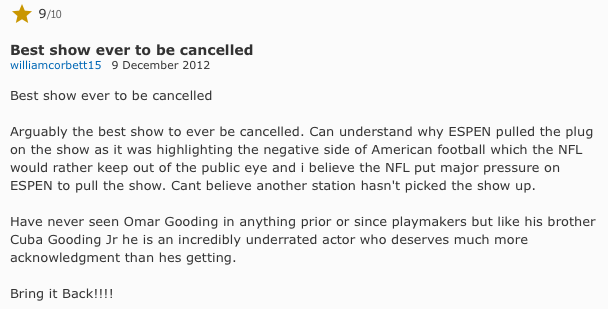 Let's start with some definitions: an Awful Classic evokes fond memories, was something you looked forward to, and was perhaps a guilty pleasure. Maybe it wasn't particularly intellectual or dignified, but it left you feeling satisfied, kind of like football in general now that I think about it. Just Plain Awful means the show was just utter dog shit.
There's no question that Playmakers is an Awful Classic. This is based on awards, fandom, and, most importantly, my own opinion.
Playmakers has an 8.5/10 on IMDB and received a TV Program of the Year award from the American Film Institute in 2003, meaning that someone deemed Playmakers at least as good as The Wire and 24 that year. I haven't seen either of those shows, but at the very, very least, I have questions about the veracity of that claim. It also beat out Nip/Tuck, Six Feet Under, and others for the 2004 GLAAD Media Award for Outstanding Drama Series. The fact that it won awards is pretty impressive, especially since it was a show about football that featured jarring camera work and no one bothering to turn on any god damn lights for 11 episodes.
It also can't be understated that y'all lost your whole damn minds when this show was cancelled. I'm talking pitch forks, torches, and probably some College GameDay-esque signs. It's been 15 years since Playmakers was axed and the fact that people still ask ESPN to bring it back means something.
But what about me? I've spent more than two months studying this show, the Mark Shapiro era, and ESPN's relationship with the NFL, like I'm the Sarah Koenig of the ESPN Original Entertainment era. And while it's easy to agree with the pitch fork-wielding masses (especially now that said masses can now yell at me on Twitter), I genuinely did develop a soft spot for Playmakers. It was addictive, ridiculous, and addressed topics so few shows were bold enough introduce, let alone flesh out.
Sure, there are some haters, as Playmakers was ranked #10 on Sports Media Watch's Decade in Review: 10 Worst Sports Shows (so were a lot of other Shapiro shows! So glad I signed up for this writing assignment!). But remember, even an Awful Classic is still a little bit awful, or "not bad really", so this tracks. In general, though, people love the show and are ravenous to see a remake in whatever form that would take in 2019, as there are no shortage of topics to discuss.
The NFL pushed ESPN to cancel Playmakers because it was too much like real life. Now, real life is somehow worse than the show.

— Robert Klemko (@RobertKlemko) September 13, 2014
Let's start a petition to get this up and running again. Just tell me Snoop Dogg will be involved.