The first NFL Draft was held in 1936 in a hotel in Philadelphia. It was not televised, as television barely existed. The first overall pick, Jay Berwanger, never ended up playing professional football, opting instead to pursue an Olympic career as a decathlete. When that didn't work out, he again turned down NFL money, this time to work at a rubber company.
The point is, the NFL Draft hasn't always been like this, a massive three-day event watched by millions, with countless hours spent predicting, projecting and prognosticating. Most of that has happened in the last couple decades, as Mel Kiper has turned into Mel Kiper and Todd McShay; which then turned into Mel Kiper, Todd McShay and Mike Mayock; which then turned into Mel Kiper, Todd McShay, Mike Mayock and everyone with an internet connection.
For any sports fan, scrolling Twitter this time of year means sifting through endless NFL Draft rumors and breathless banter about who will be, say, the No. 18 pick. Each spring, I'm struck by just how deep the analysis goes and just how many people are offering it. How can so many people claim so much expertise on so many college players?
I'm not going to criticize the mock-draft madness because hey, if there's a market for your four-round mock with 12 projected trades, you might as well write it. Instead, I'm embracing the craze. To see just how far the mock draft universe goes, I embarked on a search for the internet's most thorough mock draft.
Here's how it went:
The search for the most thorough mock draft
I began with a simple Google search: "seven-round NFL mock draft." I wasn't sure if seven-round mock drafts actually existed and was prepared for the only results to be posts such as "Full Ravens seven-round mock 3.0," which project only one team's draft haul.
How dare I underestimate mock draft mania.
I quickly realized my error when I saw a FOX Sports article called "Peter Schrager's seven-round 2017 NFL mock draft." Upon inspection, I saw that Schrager has in fact predicted all 253 picks in the draft, with names, photos and blurbs for the first rounds; only names and photos for the second- and third-rounders; and just names for everyone else. The post is so long and so full of text and graphics that my browser had trouble processing it all.
I knew that would be hard to beat.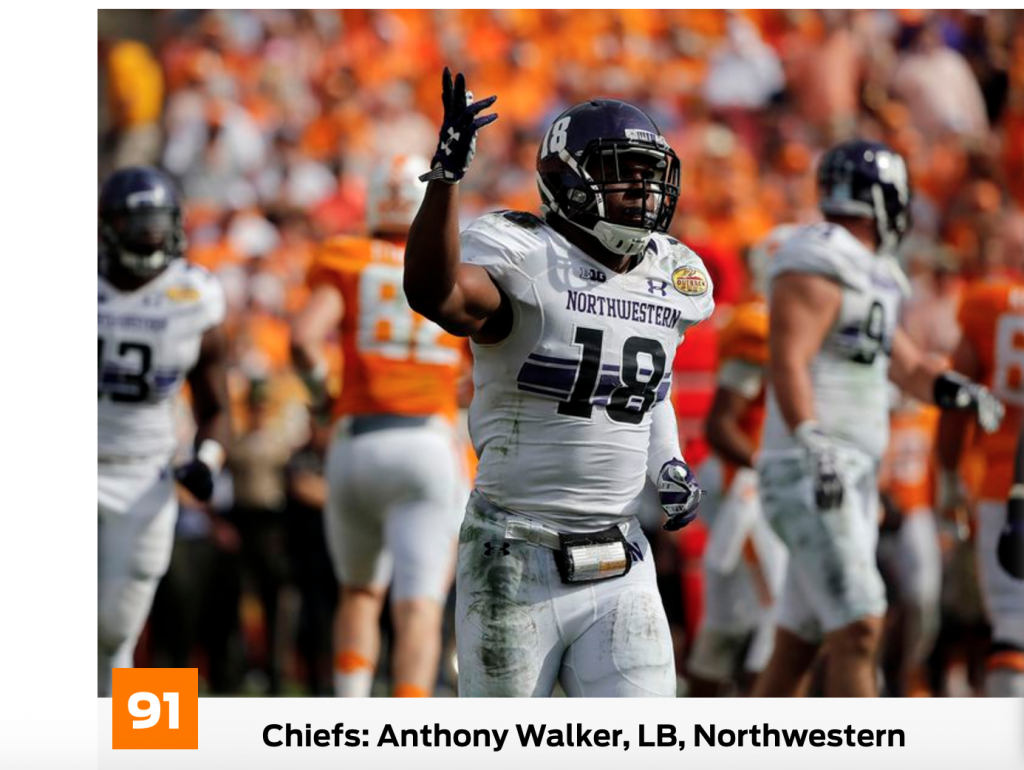 It turns out CBS Sports' R.J. White also has a seven-round mock draft, but he organizes his a little differently, listing the picks by team, not by round, with summaries with each team. This is almost certainly a better way to organize a mock draft, given that the only people who care about a team's late-round picks are fans of that team, but it somehow feels less momentous. Somehow 32 small mock drafts just isn't as impressive as one massive one.
I was about to give Schrager the edge over White when I noticed a key difference in their respective mocks: White was projecting trades.
Now, guessing at the intentions of 32 NFL teams over seven rounds of drafting is ambitious enough. You have to act like you really have an informed opinion on who the Jaguars like in the sixth round. But imagine having the balls to throw trades in there. To actually predict something as marginal and unknowable as the Cardinals moving up in the fourth round to select Brad Kaaya. Incredible.
R.J. White took the lead.
Before long, I realize I was in over my head. There were so many seven-round mock drafts. So many purported experts on the Buccaneers' options in the fifth round.
Draftwire's Luke Easterling has a seven-round mock, but he has blurbs (of just one sentence) for only first-rounders. An hour ago that would have deeply impressed me. Now, I yawn.
Bleacher Report's Brent Sobleski had a similar seven-round mock draft, with lengthy blurbs for first-rounders but nothing for anyone else. No trades either. A valiant effort, Brent.
NFL.com's Chad Reuter doesn't have any blurbs on his seven-round mock, which is organized by team, not round. The page had so few actual words on it that my browser asked if I wanted to translate from German. Are you even trying, Chad?
There are probably many more seven-round mocks, but by this point my mind was beginning to go numb from scrolling. It was time to choose a champion.
But we're not here for any of that frivolity. We're looking only for the most thorough 2017 mock draft. And we must congratulate Walter Football's namesake Walter Cherepinsky, because he has produced it.
Walter Football's seven-round mock is strong from the start, with lengthy explanations for each pick, plus "other possibilities" for added context. But what really differentiates Cherepinsky's masterpiece is its depth. You see, Walter Football provides an explanation for all 253 picks. Yes, they get shorter as they go, but they're always there.
Cherepinsky has Arizona picking Texas A&M guard Jermaine Eluemunor in the fourth round because, "The Cardinals still have some issues on the offensive line that they need to address, as they need to replace the retired Evan Mathis."
He's got Cincinnati grabbing Tulane safety Lorenzo Jerome in the sixth round because, "The Bengals really missed Reggie Nelson last year, so they could take a safety earlier than this in the 2017 NFL Draft."
In the seventh round, with the 239th overall pick, he predicts New England will grab Wyoming center Chase Roullier because, of course, "The Patriots could use some competition at center, so it shouldn't surprise anyone if they added a player at the position earlier than this."
Now, given that Cherepinsky writes only about team needs late in the draft, it's pretty clear that he doesn't actually know anything about the players he's projecting. But isn't that kind of the point? No writer—probably no human—has personally compiled detailed scouting reports of all 300-plus candidates for this year's draft. At some point you run up against the limits of human knowledge.
The reason Walter Cherepinsky walks away with the title of Most Thorough Mock Drafter is that he was able to stretch his expertise further than anyone else on the internet. Now that is an impressive feat.