It appears that a lot of the world has trouble telling Chicago Bears' head coach Matt Nagy apart from Bears' offensive coordinator Mark Helfrich. Nagy and Helfrich are 40 and 45 respectively, and they're both balding with dark beards that have plenty of gray. And this seems to have led to at least two mislabeled wire service photos that have popped up in multiple stories.
This came to light Monday when Bear Report's Zach Pearson noted that a photo seemingly of Nagy that was used in ESPN columnist Bill Barnwell's midseason awards picks was actually a photo of Helfrich. The above photo shows the Helfrich photo on the left and a photo of Nagy during that game on the right. Here's Pearson's tweet about it:
ESPN uses a picture of #Bears OC Mark Helfrich when listing Matt Nagy as their Coach of the year… oof. pic.twitter.com/MJF3rh82pJ

— Zack Pearson (@Zack_Pearson) November 5, 2018
But as the caption notes, that's an Associated Press photo. And it appears the caption error is with the AP, not with ESPN. A reverse Google Image search shows that the photo in question is from the Bears' Sept. 23 game against the Arizona Cardinals, and that it's been used in countless stories across newspapers, ESPN, and Yahoo, often with a caption like "Chicago Bears quarterback Mitchell Trubisky (10) talks with Bears head coach Matt Nagy, right, prior to an NFL football game against the Arizona Cardinals, Sunday, Sept. 23, 2018, in Glendale, Ariz. (AP Photo/Rick Scuteri)".
Oh, and there's a good case this is actually Helfrich, not Nagy, as other photos from that game show Nagy in a distinctive visor (which he tends to wear in most games) and a headset, often with a play sheet, and not wearing the full baseball cap and no headset seen here. Like this one from Joe Camporeale for USA Today Sports Images:
So there's pretty good evidence that the AP did mislabel the widely-used above photo, and as tends to happen with wire service errors, that error's spread all over the place. And amazingly, no one seems to have noticed until months later when it wound up in Barnwell's column. But the AP isn't the only outlet that has trouble differentiating between the different Bears' coaches; USA Today also has one that looks erroneous, from the Bears' Oct. 14 game against the Miami Dolphins. Here it is, with the caption of "Oct 14, 2018; Miami Gardens, FL, USA; Chicago Bears head coach Matt Nagy reacts during the fourth quarter against the Miami Dolphins at Hard Rock Stadium. Mandatory Credit: Douglas DeFelice-USA TODAY Sports."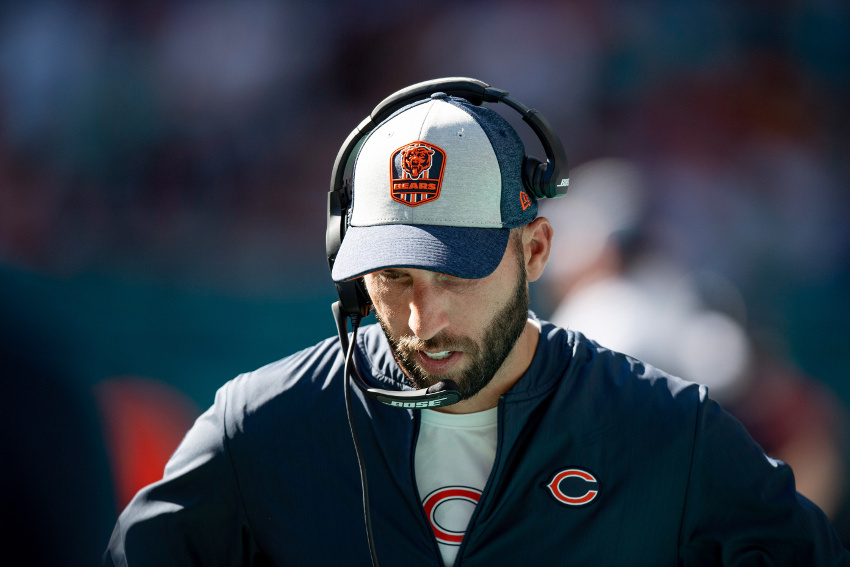 Unless Nagy has been using a whole lot of Just For Men on his beard, generally looking a lot younger, and switching from visors to hats, that's not him. Here's what he looked like during that game (in another USA Today shot from Steve Mitchell):
So that's not even close. It's unclear who the subject in that one is, but it might be backup QB Chase Daniel or maybe tight ends coach Kevin M. Gilbride; it's certainly not Nagy or Helfrich. Anyway, fortunately that one doesn't seem to have spread too far, unlike the Helfrich-Nagy mixup. But hey, at least this led to Helfrich getting some coach of the year buzz, just under a different name?
[Zach Pearson on Twitter]