With the 2023 MLB Postseason field sheared from 12 to four and the LCS beginning on Sunday, it's time for us to unveil the 2023 MLB Postseason announcer rankings.
As always in these rankings, we asked our readers to give each broadcast team a grade from A to F, which we then tallied and translated into a four-point scale. This year, there were only eight broadcast teams calling the Wild Card and Division Series rounds for ESPN, Fox, and TBS, giving us a smaller sample of teams than in many of our other rankings.
We haven't had our readers grade the MLB Postseason announcers since way back in 2018. Only one of those teams from five years ago called games in 2023.
The average grade for the eight teams was 2.50. Over the summer, when we ranked the 30 local MLB broadcast teams, the average grade was also 2.50.
If you'd like to take a look at the full vote tallies and percentages, click here.
Without any further ado, here are the rankings.

8. Michael Kay & Alex Rodriguez (ESPN) – 1.54
Most popular grade: C (30.26% of votes)
Breakdown: The readers of this site do not like Alex Rodriguez. Michael Kay is a pro and good at what he does, but even he couldn't bring Rodriguez up to an acceptable level. The guy just isn't a passable game analyst, which we've seen many times over the years. Next season, the Kay Rod Cast won't be a thing, with Rodriguez dedicating himself to Fox on a new, exclusive deal.
7. Sean McDonough, Jessica Mendoza, & Tim Kurkjian (ESPN) – 2.34
Most popular grade: B (37.52% of votes)
Breakdown: The team was saddled with a dud of a series, most notable for the jabs that Sean McDonough took at the Rays and their fans. Would a better series with more tension have raised their ranking? Maybe, especially given how much tighter the grades were in the middle of these rankings.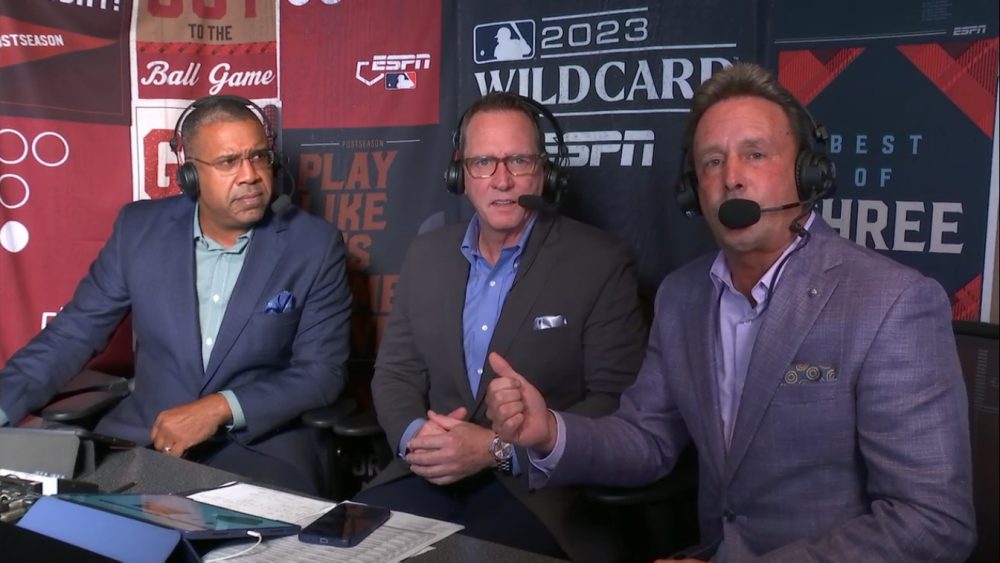 6. Karl Ravech, David Cone, & Eduardo Perez (ESPN) – 2.40
Most popular grade: B (38.46% of votes)
Breakdown: ESPN's top MLB broadcast team is fine. The trio of Karl Ravech, David Cone, and Eduardo Perez is a major step up from the A-Rod years, but it's still not in the class of Dan Shulman and company or the prime years of Jon Miller and Joe Morgan. I actually thought they did a fine job in an electric atmosphere in Philadelphia, a sharp contrast to the crowd at Tropicana Field.
5. Bob Costas & Ron Darling (TBS) – 2.45
Most popular grade: B (29.72% of votes)
Breakdown: Bob Costas catches a lot of flack on social media for his commentary, but I think a lot of that criticism is over the top. He and Ron Darling did fine together for a team that was only expected to call one series.
4. Joe Davis & John Smoltz (Fox) – 2.54
Most popular grade: B (32.97% of votes)
Breakdown: Speaking of over-the-top criticism on social media, John Smoltz! I don't think it's out of line to say that the quality of Smoltz's work has declined over the years, but Joe Davis has worked pretty well with him in their second year as Fox's top MLB broadcast team. They'll call the ALCS and the World Series.
3. Adam Amin, A.J. Pierzynski, & Adam Wainwright (Fox) – 2.74
Most popular grade: B (40.08% of votes)
Breakdown: I've said it before, and I'll say it again – if Adam Wainwright wants to be a full-time broadcaster now that his playing career is over, he'll have no shortage of suitors. There's a great base to build on there, and he should be in demand if that's the route he decides to go on. A.J. Pierzynski has been a strong analyst for several years now and works quite well with Adam Amin.
2. Jon Sciambi & Doug Glanville (ESPN) – 2.84
Most popular grade: B (47.13% of votes)
Breakdown: I've long been a fan of Jon Sciambi (which really isn't a bold position, I admit), and his pairing with Doug Glanville in Milwaukee was great. The pairing also called the Division Series matchup between the Phillies and Braves and will call the NLCS on ESPN Radio, and they're probably the cream of the crop of ESPN's MLB broadcast teams.
1.  Brian Anderson & Jeff Francoeur (TBS) – 3.12
Most popular grade: A (45.33% of votes)
Breakdown: This one was no surprise. Brian Anderson is a known quantity to our readers, always scoring highly in our NCAA Tournament announcer rankings and in our local MLB announcer rankings through his work with the Milwaukee Brewers. Jeff Francoeur's continued growth as an analyst, both at the local and national level, is astounding. I'm not surprised he's good, but I am surprised he's gotten this good this quickly. With this pair (who will call the NLCS) in the booth, Warner Bros. Discovery seems set on the MLB side for a long time.