Welcome to another edition of This Week In Hot Takes, this time breaking down all the hottest sports media takes from Jan. 5-11.
5. Skip Bayless argues Alabama didn't deserve playoff spot, Nick Saban "panicked" with QB switch: Undisputed's Skip Bayless doesn't always talk about college football, but when he does, it's likely to produce some takes. Thanks to much of the sports world being focused on the national championship game Monday, Bayless decided to tune in, and to unleash some Twitter takes:. The biggest one came after Alabama won, where Bayless insisted the Tide shouldn't have made the playoff:
I still don't believe Alabama belonged in these playoffs.

— Skip Bayless (@RealSkipBayless) January 9, 2018
And he threw in a backhanded compliment:
Congrats to Nick Saban and Alabama for finally winning a game the Tide should've won far more easily.

— Skip Bayless (@RealSkipBayless) January 9, 2018
And went in on this on Undisputed Tuesday morning:
"Alabama did not belong in these playoffs. @OhioStateFB belonged in these playoffs." Agree with @RealSkipBayless? pic.twitter.com/P3k8h4SVar

— FOX Sports (@FOXSports) January 9, 2018
"I'm going to say it one more time: Alabama did not belong in these playoffs. Ohio State belonged in these playoffs. And Nick Saban, to his credit, was able to use that backlash against Alabama as us-against-the-world motivation in the Clemson game – which they won, which was far more impressive, to me, than the win last night against a Georgia team they should've beaten soundly last night 'cause it's a meat-and-potatoes running team – which they can stop – with a freshman quarterback."
The Alabama – Ohio State debate is so old and so pointless at this point, but those descriptors could also be applied to Bayless. And the "freshman quarterback" slam at Georgia is hilarious, considering that it took Alabama switching to their own freshman quarterback for the Tide to pull out a win. Naturally, Bayless hated that move:
Very surprised Saban panicked this early and went to Tagovailoa IN THE NATIONAL CHAMPIONSHIP GAME. Tua had an viral spin TD throw when it was 45-0 vs my school, Vanderbilt, but this is THE game.

— Skip Bayless (@RealSkipBayless) January 9, 2018
Until it worked:
Saban obviously made the right move to switch quarterbacks. Bama deserves to win this game.

— Skip Bayless (@RealSkipBayless) January 9, 2018
Also, Bayless hates field goals?
I HATE FIELD-GOAL KICKING. SUCH AN ABSURD GIMMICK AND UNFAIR WAY TO DECIDE A GAME THAT HAD BEEN PLAYED SO WELL BY REAL FOOTBALL PLAYERS. I FEEL SORRY FOR EVERYONE ON THE BAMA TEAM AND FOR THAT POOR KID THRUST INTO THAT NATIONAL-CHAMPIONSHIP SPOT.

— Skip Bayless (@RealSkipBayless) January 9, 2018
The all-caps tweeting is appreciated, as that's how Bayless tends to talk. And it's a further sign of how ridiculous and irrelevant most of his thoughts are.
Rating: ???
4. Keith Olbermann's mad The Players' Tribune covered esports: The Players' Tribune ran a piece from an League of Legends esports star this week, and boy, Olbermann got upset, saying they "jumped the shark" by publishing pieces from "snotty rando kids playing children's games":
Last November, @tldoublelift discovered he was getting cut by Team SoloMid while browsing @reddit. Now he has a new team and a new mission: Take TSM down. https://t.co/482fqR1Ifz

— The Players' Tribune (@PlayersTribune) January 9, 2018
Three years in. That's awfully early to have jumped the shark by publishing pieces by snotty rando kids playing children's games, @PlayersTribune https://t.co/Dxp4cFgxjw

— Keith Olbermann (@KeithOlbermann) January 9, 2018
Look, no one's making you read it, Keith. "How dare you cover this!" commentary is always funny, especially when it comes to Twitter, where it takes far more time to complain about coverage then to just scroll by to another tweet. It makes sense for The Players' Tribune to cover esports, a growing area (see the estimated $90 million Twitch paid for Overwatch League streaming rights this week), and one where there appears to be an appetite for more details on the competitors. And there's an argument that all sports are really "children's games," even the ones Olbermann famously loves:
I also agree that they should stop writing about baseball https://t.co/xgv7KW1a17

— Brian Pickett (@BrianPickett) January 9, 2018
Rating: ???
3. Colin Cowherd insists Cam Newton has help from Panthers' "top-5 rushing offense," but doesn't give him rushing credit: Bad takes on Carolina Panthers' quarterback Cam Newton are common, but Fox's Cowherd was particularly funny this week, first blasting Newton's supposed inaccuracy and then ranting about how much help he supposedly has:
OMG Cam Newton WR's dropped passes. Uh, did you watch the Titans/Chiefs game? Or Falcons/Rams? All QB's deal with it. Cam remains a regularly inaccurate thrower. Drops or not.

— Colin Cowherd (@ColinCowherd) January 7, 2018
Stats don't lie. He misses more EZ throws than any QB in league. And this idea he has no support is BS. Top five rushing and defense. Plus good coaching

— Colin Cowherd (@ColinCowherd) January 7, 2018
As Rotoworld's Josh Norris pointed out, the "top-five rushing" argument is hilarious, considering that Newton rushed for 754 of the team's 2,102 rushing yards, more than any other player.
I have no idea how the Panthers' top 5 rushing offense can be cited as support for the QB when Cam is the leading rusher. https://t.co/w61FDjlbNY

— Josh Norris (@JoshNorris) January 7, 2018
Shockingly, Cowherd didn't back down even when the flaws in his logic were pointed out: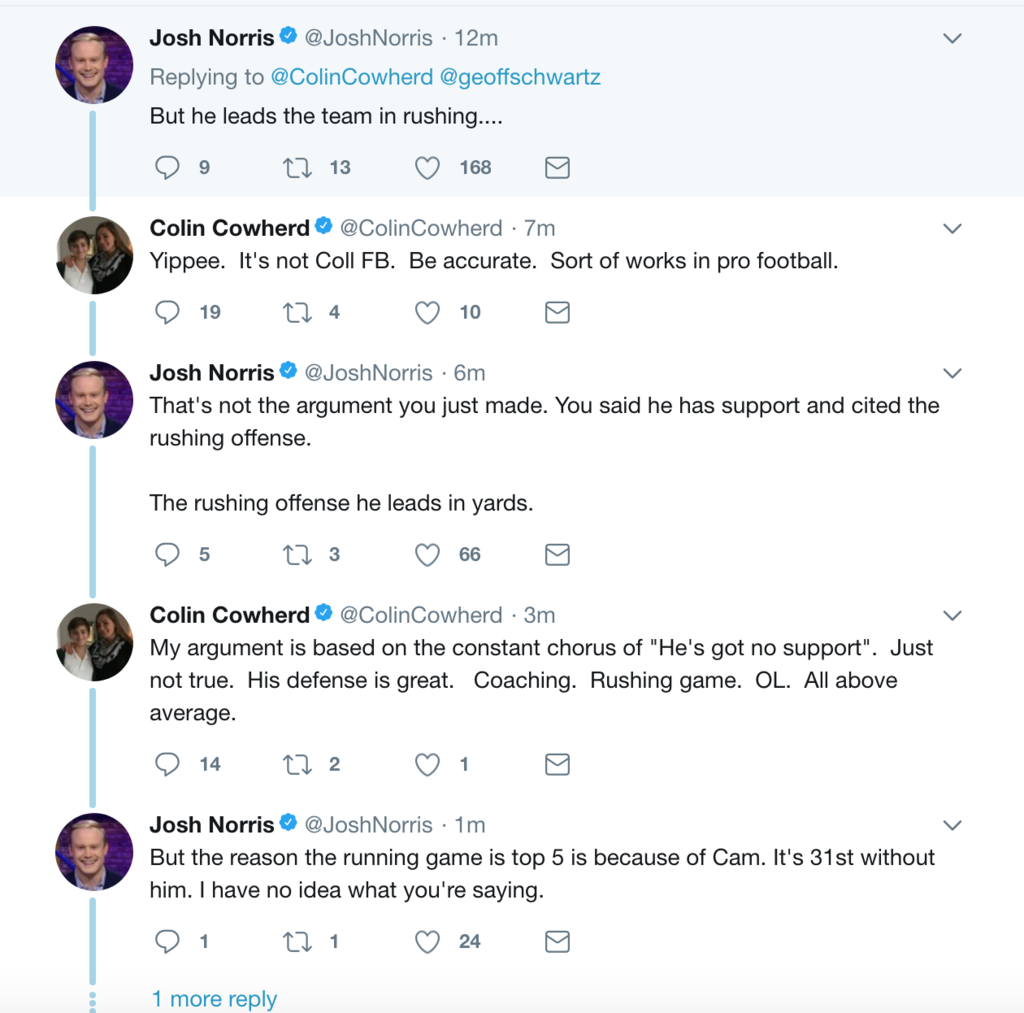 Rating: ???
2. Stephen A. Smith thinks everyone at ESPN should stick to sports, except for him:  
Smith
unleashed quite the take
in
an interview with Michael McCarthy of The Sporting News
this week, responding to a question about Jemele Hill and President Donald Trump by criticizing Trump while saying that ESPN personalities shouldn't criticize Trump:
Do I believe the President should be wasting his time commenting about stuff like that? No. Do I believe the President has been a bit juvenile in his behavior? Yes he has. Having said that, it's one thing to attack what he does, it's an entirely different matter to attack him. When you attack him, then we are stepping out of our lane. We are a sports network. We have an obligation to wake up every day with the mindset that we not only speak for ourselves but we speak on behalf of the brand. It is not a brand that we own. It is a brand that employs us. It has entrusted us to represent it just as much as we care about representing ourselves. So with that in mind, we have to be cognizant of all those things. 

Yes, the President is going to say what he has to say. Yes, he's going to venture in our lane to the point where it's apropos for us to respond. But we also need to be cognizant of the fact it's incumbent upon us to leave it there and not extend beyond that point. We're a sports network. You become successful. You sustain a level of success by giving people what they expect. By, figuratively speaking, 'playing the hits.' Not deviating too far away from what people turn on the channel and tune in for to hear. As long as we remember those kinds of things, then it's going to lend itself to us being successful as opposed to us losing our bearings because we get caught up in our emotions, and we do things that ultimately sacrifice the brand and ourselves just to react to something for 15 seconds or 15 minutes. We have to be smarter than that — even if the President doesn't appear that way sometimes.
First off, "stay in your lane" is a rather LaVar Ball-esque argument to make (and CNN guest Ball certainly doesn't follow his own advice), and Smith saying that anyone else shouldn't comment on politics is hilarious considering that he's been a Fox News guest on multiple occasions and has also appeared on CNN and MSNBC to talk politics. Oh, and on ESPN itself, Smith has consistently offered bad opinions on areas outside of the playing field, from saying women need to make sure they don't provoke domestic violence to arguing about marijuana. But sure, Stephen, you fire off those takes and tell everyone else to stick to sports. At least this is better than whining about how hard your job is.
Rating: ????
1. Kurtis Larson says men's soccer matches "aren't won via athleticism and emotion as they are on the women's side": John Herdman's move from coaching the Canadian women's soccer team to coaching the Canadian men's soccer team sparked plenty of takes this week, and one of the worst came from Kurtis Larson of The Toronto Sun:
A source close to Herdman warned he'll have one opportunity to earn the respect of a testosterone-filled dressing room that will be far less emotional and far more skeptical of his ability to transition.

Herdman won't get the benefit of the doubt, the source added. There's no Algarve or SheBelieves Cup to sort things out prior to major World Cup qualifiers that are "way more" pressure-packed than anything Herdman faced with Canada's women's team.

The source invoked San Pedro Sula, Honduras, the site of Canada's infamous 8-1 loss, as being far different from playing at BC Place in front of thousands of screaming pre-teens, donning red face paint and Christine Sinclair jerseys. Simply put: The stakes are higher on the men's side.

Herdman's going to get the chance to prove exactly how good of a manager he is.

The margin for error in the men's game is razor thin. World Cup qualification, something that has eluded the men's team for three decades, isn't automatic like it is for Canada's women. The depth of field is exponentially bigger.

Matches aren't won via athleticism and emotion as they are in the women's game. Results are secured through tactics and technical ability on the men's side.
As many critics, including players on the Canadian women's team, noted, that's some awfully dated and sexist language:
Let's all check in on how the Toronto Sun is covering Herdman's defection from #CanWNT to #CanMNT and try not to vomit at the sexism [h/t @DCU_Exile] https://t.co/Y8eAIseLMW pic.twitter.com/HXbIUbYsRu

— David Rudin (@DavidSRudin) January 10, 2018
Thanks for sharing David. I generally don't read articles about the WNT & Canada Soccer, but… wow, some fairly causal/dated sexism in this one. @TheTorontoSun, can we try to dig a little deeper for 2018? https://t.co/enQ3Q4sstk

— Diana Matheson (@dmatheson8) January 11, 2018
Seriously tho? ??‍♀️ https://t.co/Z4y6PYCeLI

— Stephanie Labbé (@stephlabbe1) January 11, 2018
I ain't got no tactical knowledge in this lady brain I reckon https://t.co/r8RNblon9i

— Allysha Chapman (@allyshachapman) January 11, 2018
Chapman's response there is the best. And Larson's take deserves all the fire emojis. But seeing as we're limited to five, we'll give him that.
Rating: ?????
Honorable mentions: Pete Prisco telling Jalen Hurts not to smile, Amin Elhassan on Stan Van Gundy and Detroit.
Notable absence: Phil Mushnick.
Hot Take Standings:
Stephen A. Smith – 167
Skip Bayless – 133
Phil Mushnick – 108
Colin Cowherd – 46
Shannon Sharpe – 35
Rob Parker – 23
Doug Gottlieb – 22
Charles Barkley – 19
JT The Brick – 17
Albert Breer – 16
Don Cherry – 15
Ray Lewis – 14
Rick Morrissey – 13
Berry Tramel – 10
Kristine Leahy – 10
Chris Broussard – 10
Keith Olbermann – 9
Dan Dakich – 9
Ryen Russillo – 9
Garth Crooks – 9
C.J. Nitkowski – 9
Bill Plaschke – 9
Michael Rapaport – 8
Tony Massarotti – 8
Jason McIntyre – 8
Bart Hubbuch – 8
Pat Forde – 7
Danny Kanell – 7
Pat Leonard – 6
Mike Francesa – 6
Michael DeCourcy – 6
Luke Kerr-Dineen – 6
Terry Bradshaw – 6
Greg A. Bedard – 6
Kurtis Larson  – 5
Rod Watson  – 5
Dan Wolken – 5
Britt McHenry – 5
Chuck Modiano – 5
Joel Klatt – 5
Steve Buffery – 5
Joe Morgan – 5
Michael Felger – 5
Howard Eskin – 5
Nancy Armour – 5
Richard Justice – 5
John Middlekauff – 5
Bill Plaschke – 5
Ameer Hasan Loggins – 5
Jesse Watters – 5
Jeremy Roenick – 5
John McGrath – 5
Ross Tucker – 5
Mike Sielski – 5
Gordon Monson – 5
Scott Fowler – 5
Bob Brookover – 5
Mike Bianchi – 5
Terry Frei – 5
David Jones – 5
Sabrina Parr – 5
Abbey Mastracco – 5
Terry Cushman – 5
Rob Rossi – 5
Rick Bozich – 5
Michael O'Doherty – 5
Simon Briggs – 5
Dan Wetzel – 5
Mike Parry – 5
Bob Ryan – 5
Robert Reed – 5
Pete Dougherty – 5
Dan Le Batard – 5
Marcus Hayes – 5
Kyle Turley – 5
Mike Ditka – 5
Erril Laborde – 5
Lowell Cohn – 5
Rosie DiManno – 5
Frank Isola – 5
Andy Benoit – 4
Bill Livingston – 4
Michael Irvin – 4
Shawn Windsor – 4
Brock Huard – 4
Byron Tau – 4
Maggie Gray – 4
Michael Powell – 4
Mark Spector – 4
Chad Forbes – 4
Gary Myers – 4
Mark Schlereth – 4
Andy Gray – 4
David Fleming – 4
The Sporting News – 4
Jeff Pearlman – 4
Tony Grossi – 4
FanSided – 4
Cris Carter – 4
Kirk Herbstreit – 4
Tony Kornheiser – 4
Mike Felger – 4
USA Today op-eds – 4
Nathan Ruiz – 4
David Bahnsen – 3
Kevin Reynolds – 3
Mike Sheahan – 3
Bob Ford – 3
Dan Shaughnessy – 3
Steve Greenberg – 3
Matt Burke – 3
Malcolm Gladwell – 3
Mike Milbury – 3
Mac Engel – 3
Nick Kypreos – 3
Jason Smith – 3
Caron Butler – 3
Don Brennan – 3
Robert Tychkowski – 3
Mike Johnston – 3
Jeff Mans – 3
Joe Browne – 3
Mike Harrington – 3
Greg Mitchell – 3
Bruce Jenkins – 2
Chris Wesseling – 2
Seth Greenberg – 2
Doug Smith – 2
Newsweek – 2
Teddy Cutler – 2
Will Cain – 2
Bill Cowher – 2
Paul Finebaum – 2
Charley Casserly – 2
Amin Elhassan – 2
Jim Henneman – 2
Mitch Lawrence – 2
Nick Wright – 2
Domonique Foxworth – 2
Gary Parrish – 2
Michael Farber – 2
Andy Furman – 2
Donovan McNabb – 2
Seth Davis – 2
Jon Heyman – 2
Jason La Canfora – 2
Booger McFarland – 2
Joe Schad – 2
Cork Gaines – 2
Thanks for reading! Tune in next week for more This Week In Hot Takes. As always, you can send submissions to me via e-mail or on Twitter.