The Twitter algorithms sometimes produce some strange suggestions, and one Wednesday night was particularly noticed by the sports audience. Browsing through the search tab on the mobile Twitter app led to a lot of people getting "Criminal Minds airing on CBS" promoted to them, but with an extremely odd reason (as seen above): "Because you follow Rachel Nichols." Nichols, host of ESPN's daily NBA show The Jump, does not appear on Criminal Minds, does not work for CBS, and does not appear to have ever tweeted about the show. But it turns out that there's another Rachel Nichols, an actress most recently seen in Taken (the NBC series) and The Librarians (the TNT series), and she was on Criminal Minds in 2010-11 before being dropped. Here's a look at the two of them, with ESPN's Nichols on the left and actress Nichols (during her Criminal Minds stint) on the right: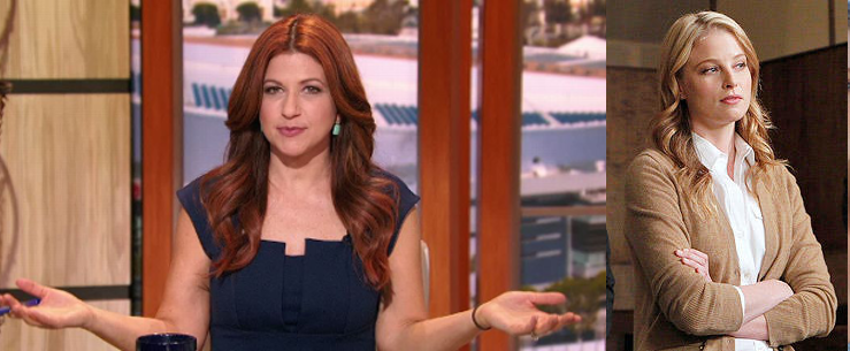 Why Twitter would try to promote Criminal Minds with an actress who hasn't been on it since 2011 is a good question in its own right, but it seems like something in their algorithm must have correlated "Rachel Nichols" to "Criminal Minds" and then picked the ESPN host (Twitter handle @Rachel__Nichols, 1.01 million followers) instead of the actress (Twitter handle @RachelNichols1, 74,200 followers). And this affected a whole lot of people, many of whom tweeted at Nichols, leading to her sending this response:
cc: @katienolan https://t.co/IuqMQ8R7Wb

— Rachel Nichols (@Rachel__Nichols) November 8, 2018
Fellow ESPN host Nolan had a pretty good response:
all Rachel Nichols content all day pic.twitter.com/YlguqKUcYR

— Katie Nolan (@katienolan) November 8, 2018
Here are some of the other tweets, showing how widespread this was:
It's like my Mom hacked into my Twitter account (she LOVES Criminal Minds).

— Garrett Aja (@GarrettCRW) November 8, 2018
Rachel we need to talk pic.twitter.com/TRFvOEE5SH

— Northside Baseball (@nsbbcom) November 8, 2018
— Max (@maxbox_360) November 8, 2018
This happened to me too, I think Twitter just thinks we're all 50

— John Pulice (@jlpulice) November 8, 2018
Must be an algorithm error? I had it too. Lol.

— Jackie Pepper ✊?☮️? (@Jackie_Pepper) November 8, 2018
I got the exact same thing.

— Andrew Wagner (@ByAndrewWagner) November 8, 2018
Anyway, ESPN's Rachel Nichols is not the actress Rachel Nichols, no matter how much Twitter tries to tell you so. (And this isn't their first shenanigans around Criminal Minds; the show has previously shown up in the search column with "Because you follow Criminal Minds," even to people who don't follow the official account, and it's shown up at the top of other Twitter areas (as seen in Nolan's photo above.) But hey, maybe they can get ESPN's Rachel Nichols to guest star at some point. If Stephen A. Smith can have a recurring role on General Hospital, anything is possible.