College football as we know it today was born Nov. 13, 1993, in South Bend, Indiana.
One tradition was born that November day when ESPN College GameDay emanated live from campus for the first time. The death of another longstanding tradition, meanwhile, may have been accelerated after Notre Dame beat Florida State, 31-24, in a pivotal moment for the creation of a college football playoff.
"It was THE first Game of the Century as I remember it," said CBS Sports commentator and analyst Aaron Taylor, an offensive lineman and captain at Notre Dame in 1993. "Of course, now we have four or five a year."
Florida State-Notre Dame in 1993 isn't technically the first "Game of the Century," assuming one applies the criteria of a top-ranked team facing No. 2. In fact, a historic broadcast of College GameDay that day opens with host Chris Fowler quipping it was "the latest game of the century."
But it was the last Game of the 20th century played in the regular season, and it's the game that shaped the 21st century.
The quarterback of the future, Charlie Ward, led the No. 1 team in the nation — coached by a bona fide legend in Bobby Bowden, pursuing his first career national championship — into the home of the No. 2-ranked team at the time helmed by its own legend, Lou Holtz.
With unparalleled media hype leading up to it, and an on-field product that surpassed the hype, the Seminoles-Fighting Irish showdown caused seismic shockwaves that the entire sport felt.
COMIN' TO YOUR CITY FOR THE FIRST TIME
"There was serious reluctance to do it," said Chris Fowler about taking College GameDay to Notre Dame.
The current voice of ESPN's marquee college football matchups each week, Fowler hosted College GameDay from 1990 through 2014. He said there was "pushing for a while" to take the show on the road before Nov. 13, 1993.
However, a cost he estimates of around a "quaint, right now" $50,000 prevented it.
"People like to take credit for the road shows," Fowler said. As he describes it, one can credit Florida State and Notre Dame, at least implicitly.
"It took a game as big as 1 vs. 2, at a place like Notre Dame with those plotlines: Very famous coaches, North vs. South, all that stuff," Fowler said. "It took a game that big to finally do it."
The big-game atmosphere allowing for GameDay to come to South Bend didn't necessarily translate to a big show, though — not the way we know ESPN's flagship pregame show now, anyway.
Episode 1 of GameDay on the road didn't air from an outdoor locale on campus with iconic buildings in the background. Hosts Fowler, Lee Corso, and Craig James welcome viewers while seated at a desk inside Sports Heritage Hall at the Joyce Center.
Some Fighting Irish fans appear off the side, cheering and hoping to get on cable TV, but Fowler described those who arrived as having been people who wandered by.
Students camping out overnight in hopes of being part of the broadcast came later. So, too, did the sea of signs.
"That part of authenticity is of all those things, including the first roadshow, spring up organically. It was not a part of a plan," Fowler said. "The signs were not a part of the plan. The headgear pick [that co-host Lee Corso makes for each week's host game] was not a part of the plan."
"They just came about organically and just like going on the road for the first time, you realize oh, this is something," he added. "This is something we need to develop, grow, and build on. And that's the best part about it." 
Everything organic grows from seeds, though, and some around Notre Dame recognized something special was being planted that week.
"The TV trucks showed up a couple days earlier than we'd ever seen," Taylor said. And when word spread there was going to be "a live college football show" on campus, the Fighting Irish captain's reaction was: "A what?"
"It was very similar to when we found out we had email," Taylor continues. "It's like, 'Wait a minute: You can send a letter from a computer lab to somebody else at a computer lab? What the hell is this?' But that was my introduction to email in 1992."
The Seminoles vs. Fighting Irish was the nation's introduction to a new institution in College GameDay. Like email, it's difficult to imagine the 21st century without the show's presence.
"A GENTLEMAN AND A SCHOLAR"
In much the same way that GameDay is a staple of 21st-century college football, so too are dynamic, dual-threat quarterbacks.
Florida State's 1993 Heisman Trophy winner Charlie Ward arguably laid the foundation as the first truly game-changing two-way playmaker.
In 1993, Ward passed for 3,032 yards — tied for 14th-most nationally by season's end — and 27 touchdowns, good for fourth-most. His completion percentage of 69.5 led the country, and would still be considered excellent by 2023 standards.
He also ran for 339 yards and four touchdowns. No quarterback producing the passing numbers Ward notched was anywhere near his rushing production, and vice versa.
"I didn't see it as a burden. I just thought it as part of the plan of what my job or my role was on the team," Ward said of his dual responsibilities in the Seminoles offense. "We all took it upon ourselves to do our jobs. And so when you're part of a system, when you're part of a team, you just have to make sure that you're doing your role and playing your role to the best of your ability."
How Ward played his role has become the benchmark for Heisman-contending quarterbacks in the 21st century. Before Cam Newton, Robert Griffin III, Johnny Manziel, and others, Ward's brand of football was unprecedented at the level he performed.
Making it all the more remarkable, Ward capped the 1992 season with 2,647 yards and 22 touchdowns in the air, while rushing for another 504 yards and six scores. He finished sixth in the Heisman balloting that December.
Then, in March, he joined Sam Cassell and Bob Sura to form a scintillating backcourt for the Florida State basketball team. In the Seminoles' Elite Eight loss to a Kentucky team featuring Jamal Mashburn and Travis Ford, Ward made four steals and dished seven assists.
"When I look back over my journey in college, you know, it's kind of out there amazing in the sense that I was able to accomplish that," Ward said. "But of course, having others to help you accomplish that — professors, academic advisors, coaches."
Ward's recollection of his incredible career decades later, still directing credit to others even today, reflects another layer of the intrigue around him in 1993.
Such stories cannot be manufactured, though: Like GameDay's success being organic, Ward's journey resonated because of its authenticity still evident in his present-day role as Florida High School basketball coach.
"That's what my experience has been about, helping others; student athletes and even parents navigate their way through or be a sounding board for them through my experiences," Ward said. "I had that as a player, a student-athlete. I had coaches and advisors to be able to help me make decisions, and so I'm grateful that I have that opportunity now."
Like Bowden with Florida State in 1993, Ward coached his own Tallahassee team to its first championship some 30 years later.
FROM THE BIG SCREEN TO THE STADIUM
Two films debuted in cinemas in the weeks before Florida State-Notre Dame. One was Rudy, released in America exactly one month before the Game of the Century, on Oct. 13.
The saccharine, not-entirely-true story of Fighting Irish walk-on Rudy Ruettiger added to the Notre Dame mystique; of Notre Dame as a place where dreams come true if you have enough pluck and grit.
Released in theaters three weeks earlier, The Program was the R-rated, fictional depiction of a college football program. Directed by David S. Ward — no relation to the Florida State quarterback of the time — and starring James Caan as a winning but detached head coach, The Program is a stew of football controversies from the 1980s and early 1990s.
That Sports Illustrated ran a cover story just two years later declaring "the University of Miami should drop football" with details and insinuations of scandals that would have seemingly fit The Program's script makes it feel as though The U could have inspiration for the film. Five years earlier in 1988, Miami played Notre Dame in another much-hyped game and a t-shirt that former Fighting Irish basketball player Joe Federick dreamed up and that classmate Pat Walsh designed, Catholics vs Convicts, gained so much infamy that ESPN 30 For 30 chronicled the game and the implications around it in 2016.
But the fictional Eastern State University — seen throughout the movie as "ESU" in a way that invokes thoughts of FSU — wears maroon-and-gold uniforms that look an awful lot like Florida State's garnet-and-gold.
It's a not-uncommon and wholly erroneous belief fans have kicked around online for years that The Program sought to depict Florida State. It's just as erroneous to suggest The Program was specifically hinting at Miami, as a 2018 ESPN oral history of the film details. Jake Trotter and Jeremy Willis' ESPN interviews actually reveal that the movie's scandals and characters are combinations from South Carolina, Penn State, and Colorado.
Rudy and The Program hitting theaters at roughly the same time provides interesting background on football's place in pop culture but only represents Notre Dame vs. Florida State insomuch as the uniforms worn in each.
There is, however, one Florida State inspiration in The Program as Davis revealed to ESPN: ESU star linebacker Alvin Mack is "based on Derrick Brooks."
THE FAST AND THE FURIOUS
"Derrick Brooks; that dude, holy smokes," Taylor said. "He was like Junior Seau, who I'd later play against and with."
Brooks earned 1st Team All-American in 1993. If the Heisman winner Ward was most indicative of Florida State's prowess on offense, Brooks was the perfect banner-carrier for the Seminoles defense.
And what a defense. The Seminoles allowed 14 total points through their first five games, including a combined seven in blowouts of 21st-ranked Clemson, 57-0; and No. 13 North Carolina, 33-7.
In the blowout of Clemson — the worst Tigers loss since 1931 — Brooks delivered a blocked punt and returned a fumble 83 yards for a touchdown.
"We were looking forward to [the 1993 season] with a lot of guys coming back and the expectation from the [1992] season and the way we finished," Ward said. The quarterback finished sixth in Heisman balloting that season, and the Seminoles rallied from a 19-16 loss to Miami to win their final straight and go 11-1. "We were cruising along playing good football, really exciting football at a high level and the scores reflected it."
In a comment indicative of just how dominant Florida State was, Ward said the Seminoles' Oct. 9 receipt of the previous year's loss to Miami, "wasn't convincing, but it was a good win."
The 28-10 Seminoles victory over the No. 3-ranked Hurricanes marked Miami's first regular-season loss in almost three full three years — the last coming, coincidentally, to Notre Dame. It was the most lopsided regular-season defeat a Hurricanes team had taken since a 32-14 loss at Notre Dame in 1980.
Miami was the third of four teams ranked at the time Florida State faced them that the Seminoles dispatched in blowouts.
The Fighting Irish were, of course, no slouches. They won in the Big House at No. 3 Michigan the second week of the season in the signature victory of an unblemished resume built ahead of Florida State's visit.
Still, Holtz saw on game film a team unlike any the Fighting Irish had seen. He relayed the message to his team in a way with a hidden purpose.
"A story that hasn't been told much, that's particularly memorable for me, is how we started the week," Taylor recalls. "You'd always get together as a team when the week would start, then meet as an offense in your position rooms."
"Well, coach Holtz walks in, he's got that [somber] look, and he says," Taylor then continued with a pitch-perfect impression of the Hall of Famer Holtz: "'I'm not gonna lie to you, this is the fastest, best team I've ever seen in this sport. They've got guys that should be in the NFL. They do this and they do that, and this Charlie Ward guy – we've got our work cut out for us. I just hope we can keep it close.'"
As Ohio State coach Ryan Day reminded the nation in 2023, Lou Holtz's doubt can be a powerful motivator.
Indeed, the coach's melancholy attitude at the beginning of Florida State Week was an intentional tactic.
Taylor said that the week's preparation was about "building our confidence" steadily, "getting us to a place where we knew we were the best team in the stadium, and we expected to win."
Three years before Mike Tyson's famous "Everybody's got a plan" quote before a fight with Evander Holyfield, the late Notre Dame offensive line coach Joe Moore delivered a pre-game speech that, if Iron Mike had heard before stepping into the ring, might have helped him retain his title.
"Joe Moore…goes, 'You know, the little guy with glasses [Holtz] has a point: This is the fastest defense we've maybe ever seen here,'" Taylor said. "'But let's see what happens when we punch them in the fuckin' mouth. Hit the lights!'"
"And we put the lights off and went right into the film; that was Coach Moore's way to communicate to us that we were going to try to run right at them."
THE HOTTEST TICKET IN TOWN
Tim Prister covered Notre Dame for about a decade before the 1993 season but had recently taken on a new responsibility with Blue & Gold Illustrated.
The print publication was dedicated exclusively to Notre Dame sports, a unique concept at the time and the forerunner to the program-focused websites that are standard on all college athletics beats.
Relationships between outlets and the programs they cover have changed in a variety of places around the country. The openness with which Notre Dame operated for media in 1993 helped fuel excitement for its matchup with Florida State in a way that would be difficult to replicate in 2023.
That openness included Holtz inviting local media to a get-together the Thursday before game day.
"It just [was] a wild, media-filled week," Prister said. "Then here was Thursday night and I find myself driving to Lou Holtz's house, a little bit surprised that he would be so relaxed about the game that he would invite some members of the media to his house."
The surprises were just beginning.
Among the attendees at the Holtz residence was Regis Philbin, Notre Dame graduate and Fighting Irish superfan.
"I remember looking across the room and making eye contact with Regis Philbin and I'm thinking, 'Wow this is quite an event,'" Prister said. "And he looks up and we make eye contact, and he says 'Hey, Tim!'"
"Wow," Prister said. "He's a star and I'm just a member of the media…But Regis Philbin recognized me because he subscribed to this new concept of a newspaper that mailed weekly during the season."
Philbin, who died in 2020, is buried at Cedar Grove Cemetery on the Notre Dame campus.
Tickets coming at such a premium spoke to the energy permeating around South Bend; so, too, did the lack of hotel rooms. Chris Fowler said he can't recall if the ESPN crew even stayed in South Bend proper as a result of the influx descending on the town.
"Just the buzz in town — I was in my 20s then," Fowler said "I took it all in. [GameDay] was much shorter, the workload was less to put it together back then, it was only an hour show. And, I don't even know where we stayed, I don't think it was even in South Bend, I don't know if we could get hotel rooms, but we got [around the Notre Dame campus]: The Varsity, the watering holes in South Bend, near the campus before the game."
A lucky 60-something thousand got to experience the game in person, but 22 million watched on NBC. Per The New York Times, the preliminary Nielsen rating was "a stunning 17.0" with "a 39 share in 29 major markets."
THRILL OF VICTORY, AGONY OF DEFEAT
The millions who tuned in saw Florida State score first, but Notre Dame quickly answered. Adrian Jarrell's touchdown run was the first of three straight Fighting Irish touchdowns and 24 unanswered Notre Dame points. But Ward threw a late-third-quarter touchdown to Dunn, and another to Kez McCorvey in the fourth quarter that pulled the game to within a score late.
In 1993, it was nearly the turning point for an unforgettable comeback as the Seminole defense — after giving up a season-high 31 points — got the offense the ball back with time for a last-ditch effort.
Overtime didn't debut for another three years, so a tie or a game decided on the conversion were the only possible outcomes, assuming Florida State scored once more.
Shawn Wooden's pass break-up, however, preserved a Notre Dame win.
Though the game aired on NBC — and Taylor said he's "on about a billion text threads" with friends and teammates who share the game's intro, as narrated by Bob Costas — ESPN's presence with GameDay gave the network an opportunity for a unique moment.
Holtz, through the mass of celebrating players and students who rushed the field, found his way to the ESPN set.
"He wasn't invited," Fowler said, jokingly. "We didn't expect him at that moment. His office was about 20 yards away from that [GameDay] set. So he kind of comes out there, takes a victory lap, people are going crazy. We didn't have a chair ready for him; someone jumps up, he's in the chair, and I think maybe they're trying to mic him. But he was quite pleased to celebrate the victory on set and say, 'I told you so.'"
The celebration included Taylor's 21st birthday. The captain said waking up the next day as the No. 1-ranked team in the country was icing on his proverbial cake.
The party didn't last long, though.
What happened the following Saturday for the Fighting Irish faithful can be summed up with one word.
"The word is probably used too frequently. But it was devastating. It was absolutely devastating," Prister said.
It is Notre Dame's 41-39 loss to Boston College a week later.
And while it's not one of those games that's garnered Game of the Century designation, it's impossible to tell the story of the Game of the 20th Century and why it's so meaningful without mentioning Boston College's win.
If you're a Notre Dame fan, the word devastating does indeed apply when said with hindsight. The two-point margin of defeat, decided on a 41-yard field goal as time expired, is as close as the Irish have come to the national championship in the last 30 years.
"We lost to BC starting on that Sunday," Taylor said. "BC was a good team, but I think we were overconfident to a certain degree and felt like all of our hard work was behind us. It baffles me."
Maybe as baffling as the weird, controversial, and still today unsettled way in which national titles are decided.
A SPORT FOREVER CHANGED
Chuck Klosterman's book "The Nineties" chronicles significant cultural, social, and political milestones of the decade; everything from the proliferation of the internet, to the rise of the DIY filmmaker ethos embodied best by Quentin Tarantino.
In the chapter "The Power of Myth," Klosterman explains the end of college football crowning its national champion through a postseason unlike any in sports. He refers to one-loss Florida State being "awarded the national title, even though a one-loss Notre Dame beat them in the regular season."
Plenty of other games in the decade or so leading up to the launch of the Bowl Championship Series can be cited in reshaping college football's national title quest, which Klosterman and countless others have: Colorado splitting the 1990 title with Georgia Tech despite winning a game in which it received a fifth down vs. Missouri, for example.
And, to that end, the Bowl Coalition was in place by 1992 as a forerunner to the Bowl Alliance — itself a predecessor to the BCS.
The BCS would not have resulted in a Florida State-Notre Dame rematch to cap the 1993 season: Undefeated Nebraska rose to No. 2 in the AP Poll following the Irish's loss to BC, and the Cornhuskers would have presumably been second in the BCS poll had it existed.
What's more, a sometimes overlooked subplot of the 1993 title mess is that West Virginia ended its regular season unbeaten. The Mountaineers as afterthoughts in the story speak to the inherent flaws that the two-team BCS title framework had.
However, the BCS led to the formation of the Playoff. In 1993, a four-team championship excluding undefeated but ineligible Auburn would have featured Florida State in a potential semifinal against West Virginia — ergo, Bobby Bowden meeting his former program with the pursuit of the coach's first national championship at stake — and Notre Dame meeting Nebraska.
"If there's any solace in that loss for us and me now as a college football analyst," Taylor said. "Is that as painful as it is, it ultimately created a better system that we have where we're now doing a much better job of determining our national championships."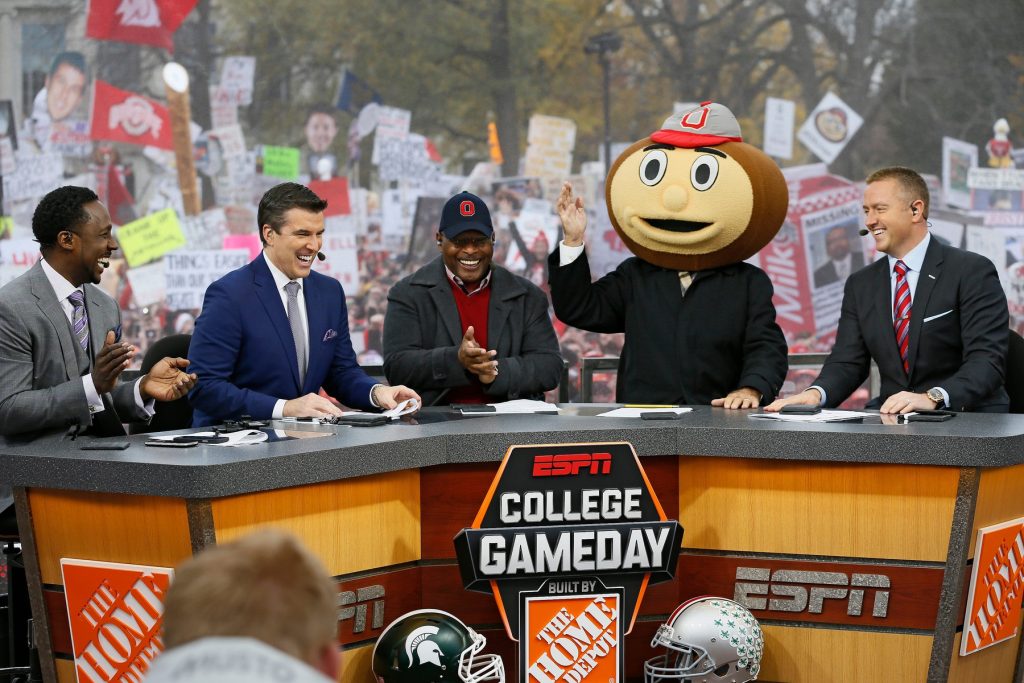 A revamped postseason took years, even decades, but the evolution accelerated from November 1993. College GameDay's evolution was much faster.
In 1994 and 1995, there were more traveling shows but it wasn't weekly: GameDay's second on-campus broadcast returned to Notre Dame for the Fighting Irish's matchup with Michigan. There were five more GameDays on the road in '94, including another involving Florida State — at Miami — and a trip to Birmingham for the Iron Bowl.
But on Nov. 13, 1993, the show's future was inevitable.
"The takeaway [from that day] was, this is too much fun, how are we going to go back to the city?" Fowler said.
College football history was made, and college football's future began that Saturday in South Bend.