When ESPN last aired the NHL in 2004, there was no Facebook, Twitter, Instagram, TikTok or Snapchat. There was no cryptocurrency, no iPhones or iPads, but there we did have iTunes with the iPods to go with it. Of course, there was no ESPN+, Disney+, Discovery+, Paramount+ or any streaming service that had a plus in its name.
Involved in ESPN's NHL package were Gary Thorne and Bill Clement as the main team, Steve Levy as one of the play-by-play callers, and John Buccigross as host of NHL 2Night along with analysts Barry Melrose and Ray Ferraro. While ESPN was heavily criticized for largely ignoring the NHL from 2004 through March 2021, hockey mavens Buccigross, Linda Cohn, Levy, and Melrose held the torch for the sport.
And with the NHL hoping ESPN's reach will bring casual fans into the fold, it had an opening night doubleheader on Tuesday to showcase the sport that had been sorely missing from its platforms. Between the time it had signed its new contract with the NHL in March and Tuesday's doubleheader, ESPN assembled a diverse team to call its games.
A dynamic, diverse & accomplished team will present ESPN's @NHL coverage beginning this fall@ABCNetwork | @ESPNPlus | @hulu | @ESPNDeportes

Details: https://t.co/UW1vMVjEho pic.twitter.com/ZkjhtdSa00

— ESPN PR (@ESPNPR) June 29, 2021
Hoping to differentiate itself from NBC which held the main NHL contract dating back to 2005, ESPN assigned Sean McDonough to be its main play caller. Ray Ferraro of TSN in Canada was brought in to be his partner.
Their partnership on Tuesday for the Pittsburgh Penguins-Tampa Bay Lightning season opener showed potential. Ferraro offered the analysis that made him one of the NHL's top color men over the last ten years. McDonough showed some rust in the beginning. His "goal" call instead of the more familiar "Score!" was lacking, and as Tampa Bay fell behind Pittsburgh early, the crowd at Amalie Arena grew silent. Perhaps that affected McDonough as his energy level was low.
McDonough is a very good nuts and bolts announcer, and he can rise to the occasion as evidenced by his college football calls, but on this night, there were times when he was behind the action and was trying to catch up, but as he went further into the game, he was able to get into a rhythm and pace.
Emily Kaplan was the rinkside reporter inside the glass and she did offer some good tidbits, like this on Corey Perry:
Emily Kaplan: "Corey Perry came off the ice and he was pretty pissed off"#NHLonESPN pic.twitter.com/Qmn24PTjXp

— Mr Matthew F1 (@TheMrMatthewF1) October 13, 2021
Unlike Pierre McGuire who tended to combine player factoids with silly lines ("Ryan McDonagh played his high school hockey in St. Paul. Those harsh Minnesota winters toughened him up so he could play in these hot Tampa temperatures, Edzo!"), Kaplan offered background on players and stuck to the facts. It was refreshing to hear.
We did hear complaints of some audio problems with the crowd noise drowning out the announcers in both Tampa and in Las Vegas for the nightcap between the Golden Knights and the Seattle Kraken, but those complaints depended on which provider was airing the game. I did not hear any problems on YouTube TV or Fubo. After a brief Twitter investigation, it appeared the audio mix problems were limited to DirecTV and Xfinity customers.
As for the presentation of the game, let's look at the scorebug. ESPN's scorebug was in the upper-left of the screen, and fairly minimalist compared to what NBC had presented in its last Stanley Cup Final.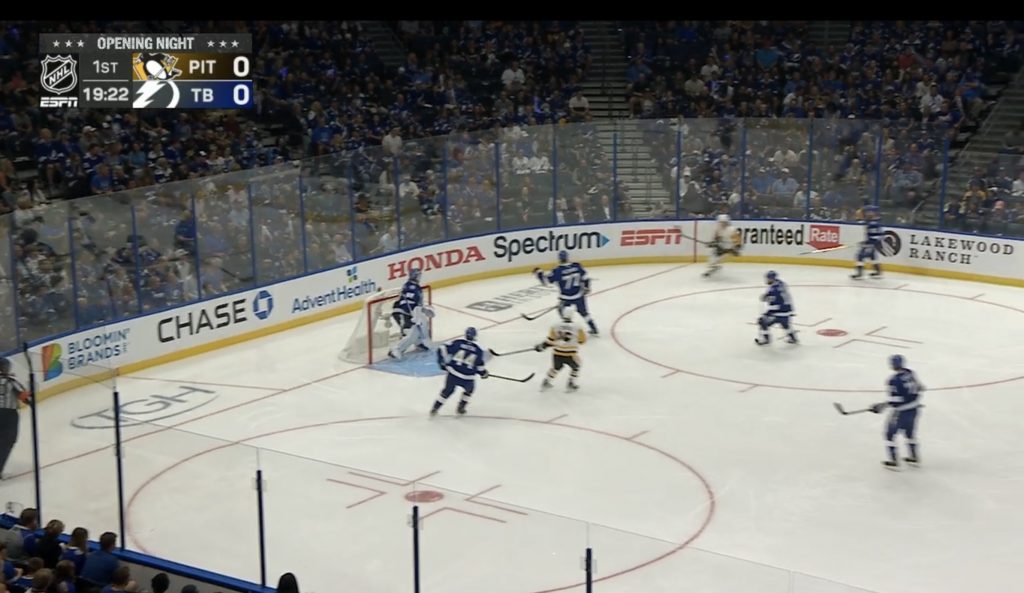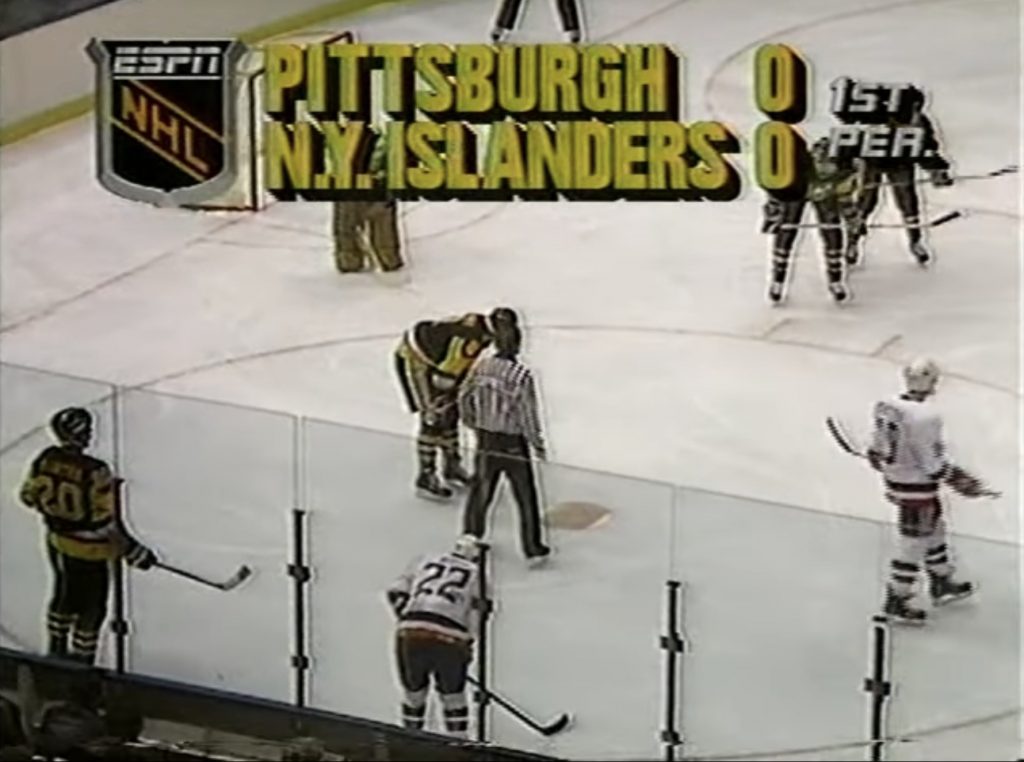 ESPN did try to illustrate the speed of the game with its "RUSH" feature, showing on-ice camera angles with no announcers, but there were a lot of quick cuts going from low center ice to goal cams and all it did was to give this viewer a headache until it stopped.
In the second game, John Buccigross joined former NHL on NBC analysts Brian Boucher and A.J. Mleczko. As Boucher and Mleczko are fresh from working for the Peacock, they had a good chemistry working off one another. Buccigross's energy level was high throughout the game. His play-by-play has improved through the years as he has called the World Cup of Hockey in 2016 as well as the NCAA Frozen Four. Buccigross is not on the level of Doc Emrick or ESPN's previous main hockey play-by-play man Gary Thorne, but he doesn't have to be. He was on top of the action and had a good game to call as Seattle came back from a 3-0 deficit to tie before falling 4-3 to Vegas.
Prior to the Pens-Lightning game, ESPN paid tribute to the composer who wrote its iconic NHL theme. Justin Bieber narrated this feature that opened ESPN's NHL coverage on Tuesday.
It's the soundtrack to some of hockey's most iconic moments ?

As the ESPN @NHL theme song we all love returns tonight for the first time in 17 years, @justinbieber takes a look at how it all came to be. pic.twitter.com/Peq6n1GQoG

— ESPN (@espn) October 12, 2021
With the music back where it belongs, ESPN is officially back in the hockey business. Tuesday showed us what the network can do. There will be 26 more games to be aired on ESPN/ABC with another 75 to be streamed on ESPN+/Hulu. While ESPN virtually ignored the NHL for the last 17 years, fans are able to watch the NHL on the Worldwide Leader's platforms again for the next seven years. There are still wounds to heal and bridges to repair with fans hurt by the network's refusal to air regular highlights on SportsCenter.
But last night was step one on the road to recovery. ESPN gave us a glimpse of what can be good NHL coverage. There's a lot of potential for good production and elements. There is plenty more to come.