A day after The Boston Globe reported that SportsCenter anchor John Buccigross had sexually harassed former ESPN fellow Adrienne Lawrence, the paper has published texts between the two that depict the alleged offenses.
Texts published by The Globe show that Buccigross sent Lawrence two shirtless photos, prompting Lawrence to request he "put some clothes on." Given the timestamps on the texts, it's unclear whether Lawrence's admonishment came before or after the second photo. Regardless, Lawrence appeared to dial back their friendship after receiving the photos, leading Buccigross to eventually say he was "bummed I did/said something to turn you off." Throughout the exchange, Buccigross referred to Lawrence by names such as "dollface," "doll" and "#dreamgirl" and commented on her "pretty face."
The texts published by The Globe seems to somewhat contradict ESPN's implication that the shirtless photos were simply an element of Lawrence's friendship with Buccigross.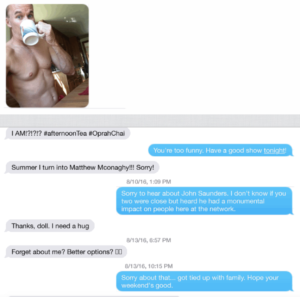 The Globe reported Lawrence's claims (which include the allegation that Buccigross spread rumors about Lawrence) as part of a larger story about sexual harassment at the network. In addition to Lawrence's accusations, The Globe reported Jenn Sterger's allegation that Matthew Berry had brought to a strip club, taken an inappropriate photo with her breasts and later made a sexual comment to her, as well as claims by several former ESPN anchors that they were afraid to reveal their pregnancies or take maternity leave for fear of company retaliation.
After The Globe's initial report on Thursday, ESPN published excerpts of text conversations between Buccigross and Lawrence meant to establish that the two maintained a genial mentor/mentee relationship. The network immediately took some criticism for publishing the texts while omitting key sections. In a statement, ESPN said it "released portions of a text exchange to provide important context about their friendship. While we didn't include every message submitted in the legal proceeding, we felt the released portions capture the nature of the friendship over a period of months. We purposefully excluded the pictures each party shared in the course of the text conversation."
In comparing ESPN's version of the texts to The Globe's more complete version, it seems ESPN deleted some texts even within the excerpts they published. Here is ESPN's version of Lawrence and Buccigross' initial texts:
And here, in part, is The Globe's version of their first communication:
In a statement released Thursday, ESPN said it had conducted an investigation into Buccigross' conduct and would "vigorously defend" the position that the anchor had done nothing wrong.
You can read the full texts, as published by The Globe here.