Besides getting to enjoy an exciting, beautifully executed goal as a sheer feat of athleticism and craft, one of the great joys of watching soccer is a loud, enthusiastic, maybe borderline insane goal call. Thanks to a thrilling last-minute goal from Iceland's Arnor Ingvi Traustason in a 2-1 victory over Austria in Euro 2016, we have some outstanding audio worth celebrating. Give this a listen (and watch!):
Sono seriamente preoccupato per il telecronista islandese 😂😂😂 pic.twitter.com/H5UFxstjdh

— Daniele Mari (@danmari83) June 22, 2016
If you're at work, hopefully you didn't have your speakers turned up too high, lest anyone think you were doing something terrible to an animal at your desk. Or maybe you want to turn those speakers up and give the office a late-afternoon jolt.
Though extremely joyful, that was some intense shrieking. But how could you not get caught up in the excitement of a 3-on-2 streak down the field, anticipating a go-ahead goal for your home country? The announcer was at a high screaming pitch before Elmar Bjarnason's cross pass even reached Traustason to tap into the goal. It's just glorious stuff, and affirmation for how fun watching sports and a victory for your country on the biggest stage can be.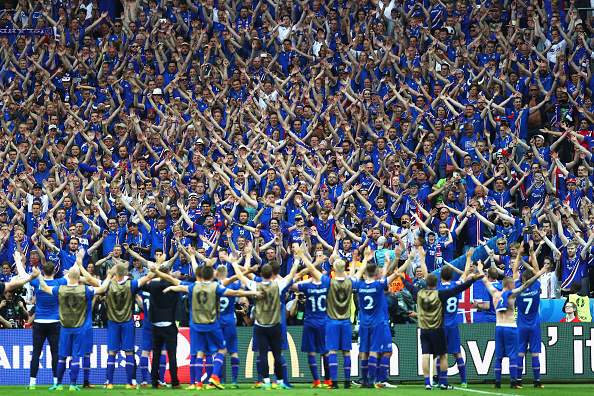 Ask yourself if you've ever been that excited for anything in your own life. Hopefully, a team or individual game you root for has won a big game or even won a championship. And maybe that victory touched you very, very deeply. But was that joy expressed as it was here? The man's feet probably weren't touching the ground as he was screaming.
Has the bar now been raised for celebrating a pivotal score or momentous win? I mean, you can't go that crazy for a game-winning shot in a regular season game, for instance. This has to be reserved for very, very special occasions.
For Iceland, the smallest country competing in Euro 2016 (population 330,000), the victory over Austria was exactly that. Will the announcer (dubbed "the Icelandic Gus Johnson" by AA's Ken Fang) have anything left if Iceland actually manages to beat England on Monday? Can he possibly go to a higher level than this? If so, will his vocal cords or your speakers be able to handle the joyful outburst?
[Síminn]