When Tim Tebow announced last week that he is pursuing a pro baseball career and will host a workout for all 30 MLB teams later this month, my first thought was, "You've already got a dream job you're great at: Talking about college football for a living!"
Apparently I wasn't alone:
So apparently Tim Tebow is pursuing a career in professional baseball. I will gladly take his job as football analyst for the SEC Network!

— Worley (@MWorley95) August 12, 2016
Tim tebow just needs to retire at all sports and just work for the SEC network — Marcus (@PrinceMJofDSU) August 9, 2016
Tebow trying out for baseball? He aint gon make it. Just stick to the SEC Network bruh.

— Byron (@DatBoy_B) August 9, 2016
Tebow wants to be a professional athlete so bad and I don't understand why. Probably getting paid more at the SEC Network, tbh — Megan Broadway (@Megan_Broadway) August 9, 2016
I think Tim Tebow is great on SEC Network. The idea he could play MLB is ridiculous.

— Kevin Faris (@KevinWFaris) August 9, 2016
Tebow just needs to stick to what he's good at, annoying people and being an analyst on the SEC Network. Stop playing sports. — Adam Sager (@AdamGSager) August 9, 2016
At some point I do hope Tebow lands back at the broadcast desk. I really enjoyed his work for SEC Network.

— Lindsay Patterson (@LndsPatterson) August 9, 2016
Look, if Tebow's alternative to playing pro sports was selling car insurance or running a sporting goods store back home in Jacksonville, I'd tell him to swing away at his new dream.
But it's not.
Over the past two seasons on the SEC Network, Tebow has proven himself to be a natural as a football analyst. Trust me, it's not nearly as easy as it looks to everyone on Twitter.
And as we've seen many times over the years, being a great interview as a football player and being a great football analyst are two very different things.
Just look at ESPN's "Sunday NFL Countdown," which has become a revolving door of ex-players that seemed like great hires at the time but were eventually let go by the network. ESPN canned Ray Lewis, Keyshawn Johnson, and Cris Carter this offseason alone, and Emmitt Smith's one-year stint on the show in 2007 still lives on in infamy:
When ESPN hired Tebow in December of 2013, I thought it was going to be another big-name hire destined to disappoint. I couldn't have been more wrong. Tebow is not only a natural on camera, he actually provides great insight to each telecast — something that is sorely lacking in broadcasting these days:
And what has pleasantly surprised me most about Tebow is his great sense of humor that adds another dimension to his TV presence:
Tebow's insistence that he can still be a pro athlete when everyone else sees he's meant to be a broadcaster reminds me of Happy Gilmore calling himself a hockey player when it's perfectly clear he should be a golfer.
As I write this column, I can just picture Tebow in a batting somewhere taking baseballs off his chest Happy Gilmore-style to prep for his MLB workout: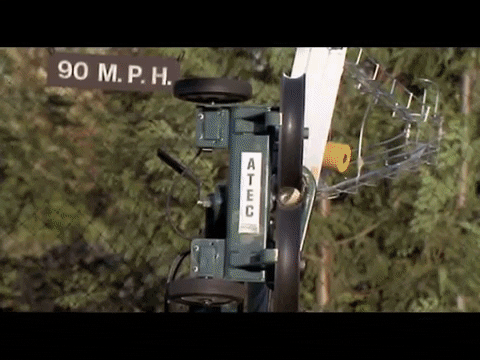 And Tebow is already this good on camera after just two seasons with the SEC Network. As a guy who just turned 29 on Sunday, his potential in the world of broadcasting is limitless.
Michael Strahan has shown just how far Tebow can go, as the Pro Football Hall of Famer is currently an analyst for "FOX NFL Sunday," contributing anchor on "Good Morning America" and host of the ABC game show, "The $100,000 Pyramid." For his work on "GMA" alone, Strahan is reportedly making up to $20 million per year.
Tebow could definitely replicate Strahan's success considering how prodigious he is in on TV, starting his broadcasting career a decade before Strahan and having tens of millions of built-in adoring fans who consider Tebow a heartthrob or the Second Coming — or both.
I understand that Tebow really misses competition and hates accepting defeat in his quest to be a successful pro athlete. But being paid to tour SEC campuses this fall and talk college football sure sounds a hell of a lot better than preparing to play minor league baseball.
And we already know how this movie of Tebow attempting to play pro baseball after a decade away from the game ends.
He'll sign with a team using Tebow for the publicity and spend one season batting at the Mendoza Line before he calls it quits or gets cut. We saw it with Michael Jordan, Tracy McGrady, Russell Wilson and Drew Henson — and at least Wilson and Henson were legitimate prospects.
I don't want to hear about Tebow's impressive high school batting average. Henson set a national record for career high school home runs (70) and batted .600 as a senior but still couldn't hit over .250 in Triple-A.
ESPN will obviously make exceptions to keep Tebow on its airwaves, but The Worldwide Leader has proven many times over that everyone is replaceable. And ESPN certainly won't enjoy being told they are someone's back-up plan for a second straight year while it purges other on-air talent to save money.
So please, Tim: Call off the MLB workout and don't take another hiatus from an amazing opportunity at the SEC Network for a wild goose chase.
Or as Chubbs (R.I.P.) would say, "Stop being a damn fool!"
Jim Weber is the founder and former CEO of the college sports website LostLettermen.com, which he sold in 2015. He previously worked at ESPN the Magazine, NBCSports.com and the CBS Sports Network. Follow him on Twitter at @JimMWeber.