10. Dallas Mavericks – 2.54
-Mark Followill (play by play)
-Derek Harper (analyst)
-Jeff Wade (analyst)
Most popular grade: A (34.84% of voters)
Analysis: Followill, Harper and Wade reap the rewards of perfecting the three-man booth juggling act. Humor is a plus with this group. Followill's call when Salah Mejri blocked Kevin Durant last weekend was representative of the crew's good, clean fun.
Reader comments: "As far as the Mavs broadcast goes, Mark Followill is the only reason it gets a moderate grade. Derek Harper is almost at a level of incoherance and stupidity as Phil Simms and then Jeff "Skin" Wade is a failed attempt to appeal to a younger demographic" -iamspeters
@awfulannouncing sucks as a Mavs fan because Follow is great but Harp and skin are super spare.

— i dont know (@Prodigal_Arky) January 20, 2016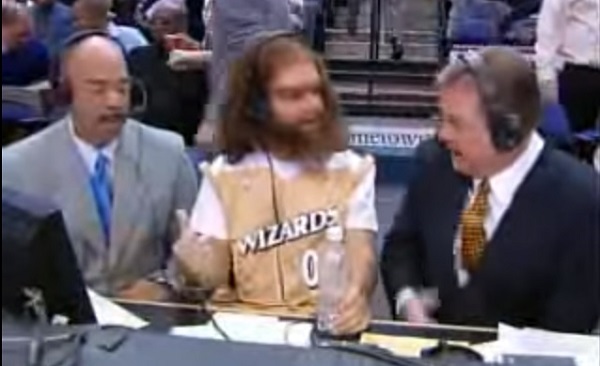 9. Washington Wizards – 2.64
-Steve Buckhantz (play by play)
-Phil Chenier (analyst)
Most popular grade: A (40.17% of voters)
Analysis: Throughout years and years of frustrating Wizards basketball, Disappointed Steve Buckhantz has been a reliable source of entertainment value. He and Chenier create one of the more unique broadcast experiences you will find on League Pass.
Reader comments: "Buck and Phil are a treat to listen to. They have excellent chemistry. They're always aware of what's going on on the court. Chenier tells topical stories during the game. As good as these two guys are, the Wizards' pre/post game team is even better." – Drunckle
8. Portland Trail Blazers – 2.70
-Mike Barrett (play by play)
-Mike Rice (analyst)

Most popular grade: A (45.93% of voters)
Analysis: A lot of As — the third-highest raw total — for this unabashed homerific crew. Barrett and Rice, to their credit, work in top notch word play and funny anecdotes whenever possible. Blazers fans, known to poo-poo how little national media attention their team gets, showed up for their guys — good for them.
Reader comments: "I have always enjoyed the banter between Mike Barrett and Mike Rice. They have great energy together. It probably helps that they have worked with each other for a while too! They will crack jokes occasionally and i don't mind when broadcasters do that because it means that they are comfortable working together." – CUbsfan
@awfulannouncing Barrett not so good. "Wild" Mike rice is a local legend

— LEL (@ModernDayLawyer) January 19, 2016
@awfulannouncing Kudos 2 @blazersmikerice So far @trailblazers fans rating u & Mike B an "A". @johncanzanobft @AaronJFentress

— Big Guy (@Ringmaster2015) January 19, 2016
7. Atlanta Hawks – 2.73
-Bob Rathbun (play by play)
-Dominique Wilkins (analyst)
Most popular grade: A (39.49% of voters)
Analysis: The Hawks crew is so unapologetically pro-Atlanta that the broadcast doubles as insult comedy. Nique, a basketball legend with enough cache to say whatever he wants, will routinely belittle opposing players when they screw up. Rathbun is his toady, but he possesses the broadcasting chops to get things back on track when they, you know, want to get back to the game.
Reader comments: "It hurts, but the Hawks' broadcast is the worst in the division. This is solely because of Wilkins. Danny Ferry tried and failed to get Nique out of the broadcast chair. That may have been his biggest disappointment as a GM, Luol Deng be damned. This sums it up perfectly. Same tired lines every game. For being one of the best dunkers in NBA history, he never catches any of the lobs that Bob throws his way. Rathbun has his homerific moments but he's a fair pbp guy." – Drunckle
@awfulannouncing wish we could grade the individuals, Rathbun is good. Wilkins is awful.

— E.J. Freeman (@ejf4) January 22, 2016
6. Toronto Raptors – 2.73
-Matt Devlin (play by play)
-Jack Armstrong (analyst)
-Leo Rautins (analyst)
-Sherman Hamilton (analyst)
Most popular grade: A (39.35% of voters)
Analysis: Devlin and Armstrong are colloquial, charming and endlessly knowledgable about the sport. Armstrong is guaranteed laughs — from soliciting his good pal Drake's critique of his outrageous Christmas sweaters, to working in trendy pop culture references. Each Raptors broadcast is a delight.
Reader comments: "Listening to Jack Armstrong of the Raptors is like sitting with your best buddy in a bar (preferably in Bklyn) watching a game. Love the guy.  He is underrated outside of Toronto.  They love him there even though he is not about hockey….now that is an endorsement no one else in NBA can muster." – dammerh2
"Jack Armstrong & Matt Devlin of the Raptors are the worst. Armstrong has a voice even a mother would hate, Devlin straight out of Bide_A_Wee Broadcast Academy, both are utterly without wit or charm but that doesn't stop them from shoveling their drivel into the ears of the dumbest fans in North America. Leo Rautins is a know-it-all drip, a failure in the NBA, a failure as the Canadian men's team coach and a failure as a color analyst. Sherman Hamilton is a dullard, a well-meaning shill who toes the company line. The broadcasts are painful and I don't know anyone worth knowing who doesn't mute Raptors games." – butterfield
"The Matt and Jack show is the best! They can make a bad game entertaining and worth watching. And they make a good game awesome! Both have been in the game a long time and know what they're talking about!" – inthesix