With the launch of Skip and Shannon Undisputed, it's fait accompli at FS1.
The addition of Skip Bayless to a daily roster of talking heads and debate-embracers such as Colin Cowherd, Clay Travis, Jason Whitlock, and Jason McIntyre makes the years-long endeavor to take ESPN's successful formula, put it on PEDs, and let it loose on FS1 audiences sealed and delivered. As far as we can tell, it's everything FS1 overlord Jamie Horowitz could have wanted (save for, perhaps, the addition of Stephen A. Smith).
Whether or not this shock and awe tactic of visual and aural agitation will work remains to be seen. Even if it does, however, will that ratings victory be a short-term gain set against the prospect of losing other talent who no longer want to be associated with the FS1 brand?
Tuesday, NFL on Fox analyst Troy Aikman told SI.com that he's "disappointed" with FS1's hiring of Bayless and that "success is achieved by acquiring and developing talented, respected and credible individuals, none of which applies to Skip Bayless." That would be a damning enough indictment coming from an ESPN or CBS employee. The fact that the call was coming from inside the house makes it uncomfortable to the point where you wonder why Aikman still works for Fox.
There was chatter that Troy Aikman considered quitting FOX after Bayless was hired. Airman's comments to @richarddeitsch don't debunk that.

— ProFootballTalk (@ProFootballTalk) September 6, 2016
Of course, that's a question that even Aikman reportedly asked himself. There are rumors the longtime commentator thought about quitting when Bayless was hired and we even heard some whispers that Aikman and his camp were trying to orchestrate a CBS move if the network had parted ways with Phil Simms, although such a move would have been a long-shot considering Aikman's contract status.
Perhaps it's not surprising that Aikman would want to distance himself like that, but he's not the only current Fox employee who seems to have taken issue with Bayless and his cohorts.
Katie Nolan, never one to hold back her opinions on issues with Fox Sports, told Sporting News "I don't know what I'm going to do" when asked in June if she would stay with Fox long-term. Though she had nothing but praise for Horowitz and her colleagues, how the look and feel of the network evolves will likely influence that decision.
Fox Sports Live anchor Dan O'Toole was already concerned about his place in the brave new world of FS1 back in February when he publicly chastised the network over budget cuts, staff layoffs, and what the future looked like for he and Jay Onrait. In a tweet which seems to now be deleted, the duo would later wonder aloud on Twitter about where their billboards are compared to those around the country promoting Speak For Yourself. Many are already openly wondering how long they will stay with the network given they were sold on competing with SportsCenter and are now crammed into the small set you see below.
Joy Taylor, who is now the moderator for Skip and Shannon Undisputed, probably didn't foresee this as a career choice when she would call out Bayless as a "straight up cartoon." Sure, she'll deal with it for a paycheck now but the question is whether or not she'll want to re-up next time around. Moderators only lasted so long on Bayless's last show.
And those are just the people whose opinions and feelings about the network we're aware of. If the reaction from many ESPN colleagues is any indication, there will be bad blood simmering below the surface as well.
Shaaaaaaaaaaade from @notthefakeSVP pic.twitter.com/xK4m4CDKU5

— Timothy Burke (@bubbaprog) June 20, 2016
The problem right now for the Fox employees who don't like the hot-takers they now share a medical plan with is that Jamie Horowitz loves the animosity. As Deadspin points out, FS1 brass was probably thrilled to hear Aikman's comments as Undisputed debuted. Horowitz is banking on the kind of in-house button-pushing that having people like Bayless and Travis on staff will do, ultimately paying off in some kind of televised shoutfest that will echo through social media.
All of which is to say that, in the short-term, the current situation could be a ratings boon for FS1. Bayless, Cowherd, Travis, and Whitlock are sure to attract eyeballs if for no other reason than some people want to hear what they'll say next. And given where FS1's ratings are coming from, things are clearly going to keep getting better for a while.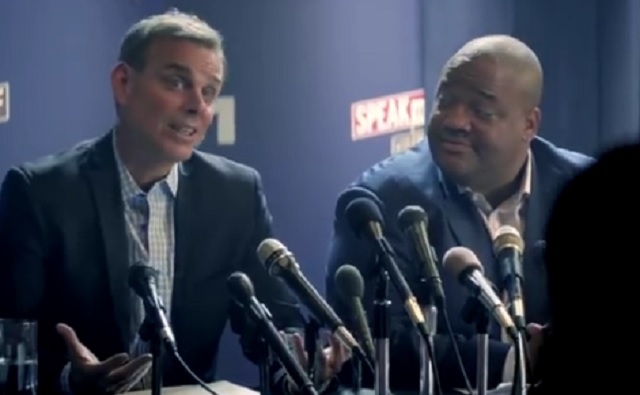 A year or two from now, however, is the big unknown. Let's say Aikman eventually leaves for a "classier" spot with CBS, Nolan gets a Bill Simmons-esque deal from Showtime, and some of the old reliable NFL talent that Fox Sports has come to be recognized by takes their show elsewhere, then FS1 is left to lean it's entire operation on Skip Bayless & Co.
You have to wonder if Fox will be able to catch ESPN on takes alone. The full-on assault strategy of hot takes and argument for argument's sake works when everyone is on board to back it. There's only so many times other Fox talent grumbles before they just take their ball elsewhere.
It might be loud but it doesn't sound like a good long-term strategy. Though we're sure Skip, Clay, Jason, Jason, and Colin would argue with that.