It may be hard to remember now, but there was once a time when ESPN's original programming did not consist entirely of sports writers yelling at each other.
"Stump the Schwab," "2 Minute Drill" and the legendary "Playmakers" are just some of the shows from this prehistoric era before The Worldwide Leader decided to "Embrace Debate" with countless "Pardon the Interruption" clones.
And then there was "Dream Job," a show that capitalized on the TV talent show explosion set off by the cultural phenomenon known as "American Idol." Debuting in 2004, the premise for "Dream Job" wasn't very inspired: "American Idol" for wanna-be sportscasters who, instead of singing, read fake sports highlights in front of four judges (Tony Kornheiser, Al Jaffe, LaVar Arrington and Kit Hoover) for the right to be an ESPN sports anchor.
https://youtube.com/watch?v=NyDwICOVwrk
But something was captivating about watching people as young as Maggie Haskins, then a 21-year-old college student at Brown, and as old as Michael Quigley, a 40-year-old, self-employed auto parts salesman, try to achieve their dreams of becoming a sportscaster — especially for a college kid like me who also dreamt of a career in sports journalism.
So if you were similarly captivated by the cult show, take a look at where the 12 contestants from Season 1 of "Dream Job" are now a dozen years later, and their impressive list of accomplishments in sports media and beyond.
•     •     •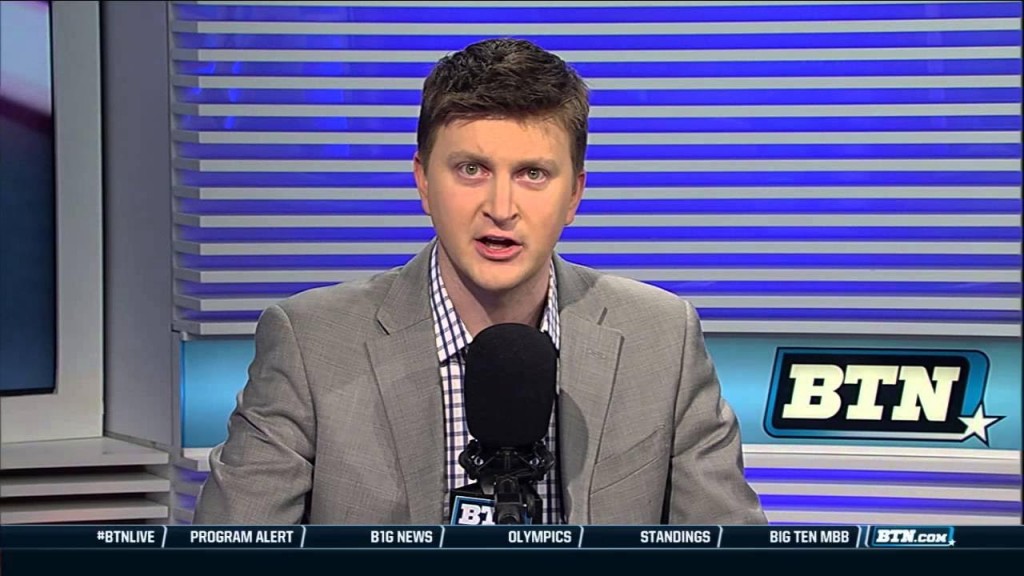 Mike Hall (@BTNMikeHall): The winner of the premiere season while still a senior at the University of Missouri, Hall spent three years at ESPN before heading to the Big Ten Network in 2007. He still works there as the most prominent face of the network alongside fellow ESPN alum Dave Revsine.
•     •     •
Aaron Levine (@AaronQ13Fox): The runner-up to Hall while at Stanford, Levine has also done quite well for himself despite not landing an ESPN contract. He is now the sports director and anchor for Q13 FOX in Seattle.
•     •     •
Maggie Haskins (@MaggieHaskins1): Haskins made the Final Four of the competition and went on to write for SI.com. She even worked for a very brief time with yours truly as a researcher at College Sports TV — now the CBS Sports Network. She's since left sports for the entertainment industry and is now a manager at the production and management company Principato-Young Entertainment in Los Angeles.
•     •     •
Zachariah Selwyn (@ZachSelwyn): The last member of the Final Four, Selwyn is also working in the entertainment industry in L.A (as he was before the show). He's now a legit Hollywood actor and singer-song writer who goes by the mononym, "Zachariah."
•     •     •
Michael Quigley: Better known as just "Quigs" to late host Stuart Scott, Quigley was the underdog fan favorite who was known for stumbling over his words while reading highlights a million miles an hour. Now well into his 50s, Quigley still lives outside Philadelphia in Lansdowne, PA, and apparently still chasing his dream of becoming a sportscaster one day.
•     •     •
Nick Stevens (@AhoyNickStevens): The "comedian from Brooklyn" parlayed cameos on several VH1 shows and SB Nation videos into being a Patriots "fanalyst" on CSN New England and playing the role of a sports Masshole called "Fitzy" on the site TownieNews.com.
•     •     •
Casey Stern (@CaseyStern): Working as an executive recruiter at the time of the show, Stern has successfully transitioned to sports media. He is currently a host on Sirius XM Radio's MLB Network Radio but is unfortunately best known for accidentally saying "Boom, motherf*ckin'…" on live TV last fall before a commercial break during TBS' postgame coverage of Game 1 of the 2015 NLCS. Whoops.
•     •     •
Lori Rubinson (@LRubinson): Like Stern, Rubinson used "Dream Job" to kick start a career switch; it's all the more impressive considering she was already 39 at the time. Rubinson is now a talk radio host on the popular New York City sports station WFAN.
•     •     •
Chet Anekwe (@chetanekwe): You probably haven't seen any movies he's been in but Anekwe is now a very successful and award-winning Nollywood (Nigerian Hollywood) actor. And if you have a really good eye, you might have noticed him in an episode of FOX's "New Girl" earlier this year.
•     •     •
Kelly Milligan: The Dallas attorney went on the show hoping to leave the law but the law apparently won. Fourteen years later, he's now the Vice President and Dallas Area Counsel for the Chicago Title Insurance Company.
•     •     •
Chris Williams: The Boston-area attorney has stayed in law and is now the chief counsel for Sunovion Pharmaceuticals in Beantown.
•     •     •
Alvin Williams: A retail manager from Montgomery, AL is virtually invisible on the Internet but appears to still be living in Alabama's state capitol.