I embraced debate and barely lived to tell about it.
Despite working in sports my entire adult life (13 years at SI.com and 2.5 years at FoxSports.com), I've never watched any of the sports television shows that air in the morning and afternoon.
I'm a dedicated Howard Stern listener in the morning, and then I tune into Mike Francesa on New York's WFAN 1 p.m., flipping back and forth between him and Chris "Mad Dog" Russo, who airs on SiriusXM from 3 p.m. to 6 p.m. each weekday.
My only experience with First Take has been seeing the clip when Richard Sherman torched the place and the video of Stephen A. Smith saying women need to make sure they don't provoke men after the Ray Rice video appeared on TMZ. Obviously, as a big Twitter user, I've seen tweets and quotes about the show, but I've never watched an episode. I haven't seen Undisputed or Speak For Yourself on FS1, either.
Part of the reason I never had interest in these debate shows is that I know how the sausage is made. Most debate shows are as authentic as a reality show.
The topics are discussed before the show. Hosts know what the other hosts are going to say. Sometimes, a host will argue a side even if they don't believe it, because you need to have a debate.
There is very little spontaneity. They're as scripted as a scripted show can be.
However, with news of First Take's ratings plummeting after Skip Bayless left ESPN for FS1 getting a lot of play on Twitter lately, I came up with the masochistic idea to spend an (almost) full day sampling many of these shows to see what they were all about.
I watched each show in real time and basically live-blogged it.
Here are the results.
UNDISPUTED: FS1, 9:30 a.m. ET
Hosts: Skip Bayless, Shannon Sharpe, Joy Taylor
First topic: "Should Geno start for the Jets?"
Sharpe calls Ryan Fitzpatrick an "average backup quarterback," and Bayless says it's time to give Bryce Petty a start. But somehow, they're still arguing even though they seem to agree Fitzpatrick is not the answer for the Jets.
Next topic: "Should pass interference be reviewable?"
Bayless says, "Absolutely it should." This causes Sharpe to take a dramatic deep breath (even though, I'd bet money he knew Skip was pro-review).
"I'm totally and absolutely against that because the games are long enough as it is," says Sharpe.
Bayless says he'd be for replay on pass interference being used in the final two minutes of a game, which seems like a reasonable plan.
Sharpe comes back with, "I'm against anything you're for. If you told me, 'Shannon, if you drink the water in this cup, you'll live 200 years,' I'm pouring it out. Because I already know you're wrong."
"It shames the game." — @RealSkipBayless on PI not being reviewable pic.twitter.com/zdBhD3evxP

— UNDISPUTED (@undisputed) October 18, 2016
Um. Why on earth would anyone watch this show after hearing that? Sharpe basically just told you he's always going to disagree with Skip no matter what. He basically confirmed my thoughts on debate shows.
Next topic: "Have you lost faith in the Steelers?"
Apparently, the Steelers were Sharpe's Super Bowl pick. "When this train stops, I'm off at the first stop," says Sharpe. I have no idea what that means.
Bayless then makes a decent point, saying that he's not giving up on Pittsburgh because it's in a bad division.
Sharpe replies with, "Nope. I gotta stay on the train until the bye week." I still don't know what that means.
Next topic: "What are the Cowboys chances to win it all?"
Sharpe says, "As long as Jerry Jones is the owner, head coach general manager president of personnel, I don't even worry about the Cowboys getting to the Super Bowl, cause I know he gonna mess it up."
Bayless counters with, "I believe Dak Prescott will cancel out Jerry Jones."
Now they're arguing about the Dez Bryant non-catch that was a catch against Green Bay.
Now arguing about the Seahawks final play against the Patriots in the Super Bowl.
This is so bizarre. I don't understand what any of it has to do with the Cowboys' Super Bowl chances.
Now Bayless says, "Dak knows the biggest stage." Huh? The guy has six career games under his belt. He doesn't know any stages.
Sharpe now yelling, "Get your facts right. Timeout. Can I get a 20-second timeout."
Bayless responds with, "I don't think you deserve one." OH SNAP! It's so (fake) heated.
Sharpe is now screaming at the top of his lungs, "DO YOU SUPPORT TONY ROMO?"
Now the following exchange takes place:
Sharpe: "I'm gonna start calling you Paul Ryan, cause he turned his back on somebody, too."
Bayless: "Who?"
Sharpe: "The congressman from Wisconsin."
Bayless: "I'm not that into politics."
Skip Bayless has never heard of Paul Ryan, has no clue who he is. pic.twitter.com/sz8ZJZqQ7l

— Jimmy Traina (@JimmyTraina) October 18, 2016
Now Sharpe is on a bizarre rant about the Cowboys losing in the playoffs, saying, "I promise you, when they lose in the playoffs, I'm comin' up here, I'm not wearing anything but boxers. That's the only thing I'm gonna wear. I'm gonna be so hot, I can't wear clothes."
Bayless responds with, "We're gonna lose a lot of viewership that way."
Sharpe retorts, "No, we're gonna gain a lot of female viewers."
Well, that was a truly horrible segment and I can't watch this show anymore. Especially because the topic they teased for the next segment after the commercial is, "Did Tim Tebow's latest critic go too far?" Even though I agreed to write this piece for the fine folks at Awful Announcing, I can't sit through a discussion about Tim Tebow's non-existent baseball career, and quite frankly, one hour is enough. I'm off to now sample First Take.
FIRST TAKE: ESPN2, 10 a.m. ET
Hosts: Stephen A. Smith, Max Kellerman, Molly Qerim
I tuned in at 10:30 and the topic at hand is, "How good are the Cowboys?"
There is a guy I've never seen before on set and he is making fun of Stephen A. and Max Kellerman about the Cowboys' success.
Smith says, "I believe Minnesota is better. I believe Seattle is better. I believe Atlanta is better. I believe New England is better. Denver is a toss-up because of their QB situation. So I don't even have the Cowboys in the top five right now."
The random guy I don't know quickly mocks Stephen A. and says, "You just put them right there."
Smith takes the shot and rolls with the punches, saying, "He got me. That's fair. That's my miscount. I'm just saying, you got them in the top three. I ain't thinking about them in the top top four. Is that fair?"
Thanks to the chyron on the screen, I now know the other debater is Will Cain, who I'm unfamiliar with.
I think the three guys are still talking about the Cowboys. There is screaming, arguing, laughing, fist-pumping, lots of talking over each other and I don't know what's going on.
Stephen A. now gets serious and says, "Let me say this to you, Will Cain. You know why your argument is so weak? Because you epitomize the deplorable, disgusting, pathetic Dallas Cowboys fan base that has sullied and contaminated this nation for ages."
https://youtu.be/QrObxaz9z38
I now feel like I'm watching a Presidential debate.
Oh, shit. Now they're mentioning the Dez Bryant non-catch catch. Didn't think I'd hear about that twice today.
More of the same message as heard on Undisputed. Stephen A. says, "You have to worry about that damn Jerry Jones because that dude, Jerry Jones, is gonna sit up there when everybody and their grandmother knows what you should do, he's gonna go against it and he's gonna do something to mess it up."
Uh oh, the "debate" is really on now. Stephen A. just took his glasses off and he's screaming about Cowboys players who have been busted for smoking weed.
Poor Max Kellerman. He didn't say much during this debate.
Next topic: "How should the NFL punish Vontaze Burfict?"
Will Cain is gone now. Both hosts agree on a two-game suspension. Kellerman thinks Burfict needs a psychiatrist.
Next topic: Does Tom Brady own an explanation on his ties to Trump?
Now Will Cain is back.
He's not happy that the media has asked Tom Brady about his relationship with Donald Trump. Cain says, "I think it's embarrassing that the media thinks he should be held accountable. For some reason, the media feels like Tom Brady should be drug out, brow-beaten, forced to explain every Donald Trump opinion, statement because he had a relationship with the guy. Why do you care? Why do you care?"
Actually, there is a very, very, very simple answer to this question. The media cares because ANY comment Brady makes about Trump will generate big page views on the Web, and big buzz on TV and radio. Nobody actually cares what Brady thinks of Trump. They just want the content. You can bet if Brady ever commented on Trump, ESPN would run the quotes non-stop. Come on, Cain!
Stephen A. argues that the Access Hollywood tape "transcended" things and there is no way any athlete who is known to be a friend of Trump's wouldn't have been asked questions about him.
Should Tom Brady be under scrutiny for his friendship with Donald Trump?@willcain says no. pic.twitter.com/2QCUYp06Ta

— First Take (@FirstTake) October 18, 2016
Cain keeps saying, "You want to yell shame."
Again, no. They want the page views.
Stephen A. and Kellerman now defend Brady's response to the questions he's faced this week about Trump.
Cain says, "sports journalists desperately for some reason want to dive into politics."
Yes, because that's what everyone is talking about. Overall, though, this was actually a pretty entertaining segment.
Next topic: "Can Ezekiel Elliott rush for 2,000 yards in his rookie season?"
Shocking. They're disagreeing on this topic. I'm gonna flip back to Undisputed.
Now they're talking about Vontaze Burfict. Can't listen to that again. Going back to First Take.
Next topic: "Is Odell Beckham being over criticized?"
Now Antonio Pierce is on set. Will Cain is gone.
They must bring on these third wheels just for Stephen A. to blast.
After Pierce takes issue with Beckham's antics, Stephen A., says, "I must admit, Antonio Pierce, I find myself ashamed of you today. This is the first time I've ever felt this way about you in all the years I've known you. You know I got love for you, baby. I'm quite ashamed of you today. I can't believe what's coming out of your mouth."
https://youtu.be/aMSmXsV3mok
Stephen A. now blasts Eli Manning for calling out Beckham and says, "The brother shows up to plaaaay. I don't wanna hear from McAdoo. I don't want to hear from Manning."
He now says he's going to quote Janet Jackson and says, "What have you don't for me lately?" while ripping Eli.
I'm weakening. Not sure I can do this the whole day.
Next topic: "Should Frank Gore regret joining the Colts?"
Shocking. They're disagreeing. Gonna flip back to "Undisputed."
Um, They topic is, "Should pass interference be reviewable? They did this already. What the hell is going on? They actually repeat topics on this show? Brutal.
HIS & HERS: ESPN2, 12 p.m. ET
Hosts: Michael Smith, Maria Taylor (in for Jemele Hill)
First topic: "Does Ryan Fitzpatrick have pictures of Todd Bowles or something?"
Clearly, this isn't a real debate show because everything is calm and there isn't any screaming. And there isn't a moderator to just read out the topic.
Next topic: "The MNF game was Doin' Too Little, but at least Patrick Peterson in the T-Rex costume was Doin' Too much"
Cardinals safety Patrick Peterson lost a bet so he came out before Monday night's game in an enormous T-Rex costume that looks like a penis. Smith then comes to the set in the same costume. It's nice to finally see people on TV not taking themselves too seriously.
We have some big things in store on today's show!! Tune in at the top of the hour on ESPN2 pic.twitter.com/yK91aLOTEu

— His And Hers (@HisAndHers) October 18, 2016
Next topic: "After 222 yards and 2 TDs, shouldn't the Giants' love for Odell be unconditional?"
Taylor addresses Beckham's recent antics with the field goal net and says, "If he wants to have conjugal visits with the net, if he wants to marry himself like Dennis Rodman or the net or whoever…"
Both defend Beckham's antics. Clearly, this is not a debate show.
Next segment is called, "Hard In the Paint" and the hosts quickly run through a variety of light-hearted topics. The highlight is Smith calling out a dad for making a fake video of his young daughter crying over the non-pass interference call in the ATL-Sea game.
Thanks @RSherman_25 – you got away with pass interference and you made my daughter cry –
what say you?
❤️ you princess pic.twitter.com/YW0ukJxXPr

— Zach Klein (@ZachKleinWSB) October 16, 2016
Herm Edwards is now on set.
Next topic: "Is Ricky Jean Francois right that the Redskins rule the NFC East?"
Herm: "We're gonna debate this on NFL Live."
Smith: "We prefer 'discuss.'"
Michael Smith just became one of my favorite people in all of sports media.
Next topic: "Do the Cowboys owe it to Tony Romo to give him his starting job back and bench Dak?"
I can't listen to more Cowboys talk.
Next topic: "Is there any place in the NFL for a guy like Vontaze Burfict."
Herm is screaming talking over both hosts, but I can't understand anything he's saying.
Smith says, "You can't preach player safety and we try to protect the players and you got this one rogue dude out there trying to kill people."
Video: From coaches film (courtesy NFL), watch Vontaze Burfict (55) deliberately step on Blount's leg after TD. pic.twitter.com/wtTPqy3XHP

— Mike Reiss (@MikeReiss) October 17, 2016
Herm responds with, "I'm very skeptical about saying a player is this or that."
Wow. Herm trying to protect Vontaze Burfict of all people. Bizarre.
The show ends with the hosts singing and dancing to Crime Mob's "Knuck if you Buck."
It's now 1 p.m. and I'm going to take a break to watch High Heat on MLB Network, then listen to Francesa before I get back to the debate shows.
It's now 2:30 p.m. and I just want to say I'm glad I watched High Heat, because I got to see this rant by Chris "Mad Dog" Russo on Indians pitcher and drone owner, Trevor Bauer.
This is an absolute vintage rant by Chris "Mad Dog" Russo on Trevor Bauer. pic.twitter.com/esXVdHj98Y

— Jimmy Traina (@JimmyTraina) October 18, 2016
HIGHLY QUESTIONABLE: ESPN, 4:30 p.m. ET
Hosts: Dan Le Batard, Bomani Jones, Gonzalo "Papi" Le Batard
First topic: "Are you surprised Ryan Fitzpatrick will remain the starter?"
Jones comes out strong with a great point about the Jets. "Here's the thing about making the move to a backup QB," he says. "People have gotta feel good about it. Nobody feels good about going to their motley crew of backup quarterbacks."
Next topic: "Are you convinced the Cardinals are back on track?"
After discussing Arizona beating up on bad teams and losing to good teams, there is more talk about Patrick Peterson's T-Rex costume. ESPN must have sent a memo to their shows about that video.
Next topic: "Is Eli Manning right to still be skeptical of Odell Beckham Jr.?"
It's amazing how all these shows discuss the same exact topics.
Next topic: "Did the Big 12 just waste all of our time?"
Le Batard says, "This is your latest reminder that big business rules all and all of these partnerships are kind of sketchy in terms of big business." That's the truth.
Next topic: "Who won their beef: Frank Kaminsky or the cops?"
. @Cubs at least I haven't been dwelling for 108 years #GOAT pic.twitter.com/sPFRlbB728

— Frank Kaminsky III (@FSKPart3) October 18, 2016
This was the best thing I saw all day. The Hornets forward got into a Twitter war with the Cubs. Jones and Le Batard has genuine fun with this screaming out "THAT'S COLD" and "KAMINSKY DOUBLING DOWN" after reading each Tweet. All of these shows need more topics like this.
Next topic: "Do you question if football is more fun in China?"
There are no rules about celebrations when it comes to the Chinese American Football League.
This led to Le Batard dropping a line that probably gave ESPN executives a heart attack: "Are you gonna tell me communist China allows more shenanigans than American… that Goodell is worse than communism? Is that what you're telling me?"
Yes, Dan. That's exactly what we're telling you. And everyone knows it's true.
The shows closes with a segment called, "Are you intrigued? No o si?
The highlight, easily, is Dan's father introducing the segment and Dan saying, "I asked him the other day to whisper and he started whistling."
Speak For Yourself: FS1, 5 p.m. ET
Hosts: Jason Whitlock, Michael Lombardi (in for Colin Cowherd)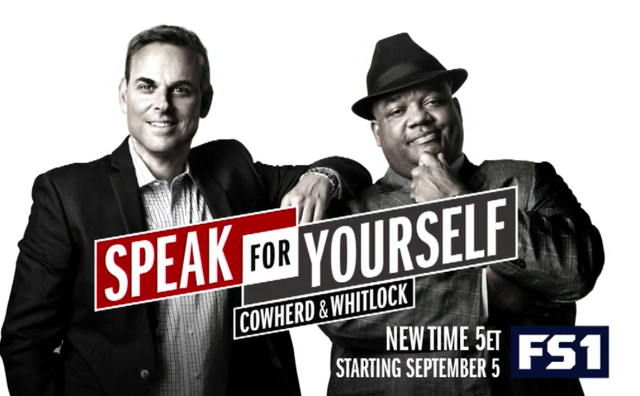 First topic: "Are Jets wrong to keep Ryan Fitzpatrick as their starter?
Lombardi argues for Petty or Hackenberg. Whitlock doesn't think Fitzpatrick is good, but disagrees with Lombardi because Todd Bowles can't give up on the season. This definitely feels like one of those topics where they actually agree, but are disagreeing for the show.
Next topic: "Are the Giants handling Odell Beckham Jr's antics the right way?"
Lombardi says the Giants should bench Beckham for a series or two. Whitlock disagrees. "I agree with you to a point," he says, but then he starts yelling and disagreeing. Again, it's show business.
Next topic: "Reaction to Tom Brady's comments about friendship with Donald Trump?"
Stop the presses. They agree that Brady is handling this situation well.
Whitlock then says, "It's a culture, I think sometimes it's easier for a white player to fit into than a black player to fit into."
Lombardi counters that the NFL is "about players who want to win."
.@WhitlockJason asks @mlombardifoxtv if the New England Patriots' culture is easier for white players to fit into than black players. pic.twitter.com/hAkMdyemSG

— Speak For Yourself (@SFY) October 18, 2016
Whitlock is now asking where the Giants front office is on Odell Beckham.
I actually don't understand any of this argument and it's a mess.
Easily the worst segment that I've seen today.
Next topic: "Is Mike Gundy right when he says cell phone usage has made football players worse?"
Shocker. They disagree in .00001 seconds.
Lombardi says Gundy is a football coach and should teach football. Whitlock says he's a teacher. Traina says this is a very stupid topic.
The Big Lead's Jason McIntyre joins the set for a segment called, "Read Between The Lines."
Topic: "Is a good offensive line more important than a good QB in the NFL?"
All three men agree that a QB is still more important.
Next topic: "Is Aaron Rodgers getting too much blame?"
Lombardi and Whitlock blames the other players, coaches and front office for the Packers struggles. Lombardi makes excellent points about Green Bay relying so much on the draft and refusing to sign players in free agency because it doesn't want to lose compensatory picks and will only sign players who are not unrestricted. This was the first time today I actually learned something about sports from these shows.
Next topic: "Should Bengals cuts ties with Vontaze Burfict?"
Whitlock: "I think you have to."
Lombardi: "I think you gotta cut ties for the long-term interest of your program."
"You got to cut ties with him." — @WhitlockJason thinks the Bengals should get rid of Vontaze Burfict pic.twitter.com/cXrYAW2Ess

— Speak For Yourself (@SFY) October 18, 2016
It seems Vontaze Burfict has worn everybody out except Herm Edwards.
Next topic: "Does Lane Kiffin deserve another chance to be a head coach?"
Lombardi says no. Whitlock thinks he needs to go to a very small school.
One side note about this show: Whitlock is screaming "NEXT" at the top of his lungs every time they go to commercial. Does he do this every show? It's kinda weird.
FS1 MLB analyst Eric Karros is now on set with Whitlock.
Whitlock says Karros is the "perfect guest because he played for the Dodgers and Cubs." Karros hasn't played since 2004, but whatever.
Karros says that he thinks Cubs pitcher Jake Arrieta will be dominant in Game 3, but then he picks the Cubs to win the game because they've never faced Rich Hill. Talk about hedging your bet. Geez.
McIntyre is now back on set for a segment called, "Check Your Mentions." The hosts are using fake tweets to set up their debates and it's really unfunny.
Topic: "Time for Geno Smith to replace Ryan Fitzpatrick as Jets starting QB."
They literally covered this topic at the start of the show. I have no idea why they're doing it again.
Next topic: "Encouraged by Colts despite OT loss to Texans?"
Whitlock and Lombardi defend Colts coach Chuck Pagano for being a glass half-full guy after his team's loss to Houston.
Next topic: "Is the Brock Osweiler-Bill O'Brien pairing doomed to fail?"
Lombardi drops a beautiful Goodfellas reference and destroys the Texans and their QB with this statement: "I think that Brock Osweiler's contract rivals the Lufthansa Heist as one of the greatest heists of all time."
Lufthansa Heist an estimated $5.875 million ($21.3 million today) was stolen. Osweiler was paid way more–way more.

— michael lombardi (@mlombardiNFL) October 17, 2016
Whitlock counters with a gem, saying, "You never saw the contract ESPN gave me and Rick Reilly. You wanna talk about heists…"
That was a great exchange.
Next topic: "Is Sam Bradford familiarity with the Eagles playbook a big deal?"
Lame topic. Players switch teams all the time. This is not anything new or original.
The show closes with Whitlock reading a prepared statement on Carmelo Anthony talking about social activism to ESPN the Magazine.
After reading several of Anthony's quotes, Whitlock says, "Carmelo Anthony just brought the house down with that truth bomb. Colin Kaepernick is a fad and a fraud. He's looking for an identity and social media fame. Carmelo Anthony, he's from the soil. From the streets of Baltimore. He's looking for solutions."
Colin Kaepernick sat during the national anthem for three games before the media picked up on it. That's not how you look for social media fame.
IN CONCLUSION
I would definitely watch Highly Questionable again. I'd tune into His & Hers again. I'd rather drink bleach than ever watch Undisputed or First Take ever again. I wouldn't choose bleach over Speak For Yourself, but it's a one-and-done for me.
I have no idea whatsoever why Undisputed and First Take have moderators. They literally just announce the topic and throw it to commercial. It's rather strange. I also don't know how they can sit there and not weigh in.
I think Undisputed and First Take would benefit from going to an hour instead of two-and-a-half and two hours, respectively. Speak For Yourself also seems 30 minutes too long.
These shows love the Cowboys. Every show discussed the Cowboys, some of them even spent two segments on Dallas.
These shows clearly love the bad boys and understand that negative sells because they all covered Vontaze Burfict and Odell Beckham.
The fact that all these shows discuss the same exact topics tells me that one of them should try discussing different topics, but what do I know?
Speak For Yourself is definitely hurt by the late start time. So many of the show's topics felt stale and old by 5 p.m. The Jets-Cardinals game seemed like it was years ago by that point.
My plan was to watch Around the Horn and Pardon the Interruption during their replays, but I just didn't have the stamina to do it.
I would never judge anyone for the TV shows they watch. I say, watch whatever you want and enjoy it. But, seriously, God bless the people who watch Undisputed and/or First Take for two hours a day every day.