It's that time to reveal our list of winners in our Third Annual People's Sports Media Awards.  We've combined your votes with those of our staff and expert panel to honor our winners for the 2014-2015 sports media awards season (if such a thing truly does exist).
This year presented a great mix of stalwarts and newcomers, with a certain suboptimal pair from a strange, faraway land continuing their barnstorming run over the past 12 months and taking home the top prize.
Here is your full list of winners…
1) Best Live Event Coverage (Ex: Sunday Night Football, SEC on CBS, etc.)
Winner: World Cup on ESPN
2nd: EPL on NBC
3rd: Sunday Night Football
Ever since ESPN reversed course with their soccer production after the 2006 World Cup, the network has produced some of the finest sports coverage on the planet for soccer's biggest event.  The 2014 edition in Brazil was no different and offered enough new voices (Jon Champion and Daniel Mann were standouts in play by play) and new wrinkles (the relaxed vibe of World Cup Tonight was a unique and fun way to analyze the event) to continue moving forward.  ESPN can look back on their 2010 and 2014 World Cup broadcasts as some of the finest in the network's history.
2) Best Sports Documentary
Winner: I Hate Christian Laettner (ESPN)
2nd: Of Miracles and Men (ESPN)
3rd: Playing for the Mob (ESPN)
In no real surprise, it's a clean sweep for 30 for 30 in our sports documentary category.  Can any other network compete with ESPN on the documentary front?  We may be in a golden age of sports docs, but 30 for 30 seems to be lapping the field.
3) Best Studio Show
Winner: The Men in Blazers Show (NBCSN)
2nd: College GameDay (ESPN)
3rd: Inside the NBA (TNT)
Who would have thought the key to unlocking great sports television was total crap?
TOTAL CRAP. The MEN IN BLAZERS SHOW tonight at Midnight ET on @NBCSports #CremeDeLaCrap pic.twitter.com/QkZE2O6u9k

— Men in Blazers (@MenInBlazers) April 20, 2015
They may have the least amount of resources, and the least amount of technological capabilities, and certainly the smallest studio… but Men in Blazers pulled off an upset the likes of Wigan beating Manchester City in the FA Cup.  The fan vote of the GFOP carried The Men in Blazers to victory over the two dominant forces in this category – College GameDay and Inside the NBA.  Hopefully this means we'll see more television shows broadcast from janitorial closets.  The future is now!
4) Best Daily Show
Winner: Outside the Lines (ESPN/ESPN2)
2nd: PTI (ESPN)
3rd: The Dan Patrick Show (NBCSN)
In one of our most competitive categories, ESPN's journalistic flagship Outside the Lines was able to beat out some very stiff competition.  OTL produced some stellar reporting once again this year, especially with regards to the domestic violence troubles facing the NFL, and you can't get much better than Bob Ley as host.  Hopefully it's a signal to ESPN that they should invest more in the program and not dropkick it to ESPN2 every year for football season.
5) Best Studio Host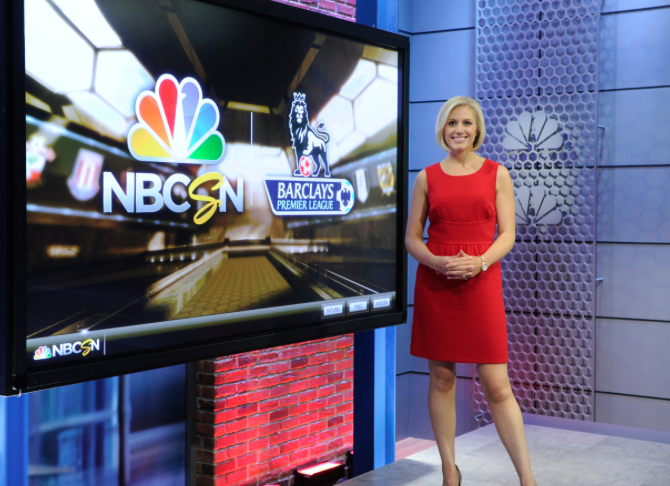 Winner: Rebecca Lowe (NBC)
2nd: Bob Ley (ESPN)
3rd: Rece Davis (ESPN)
It's hard to find a more well-liked person working in sports today than Rebecca Lowe.  The EPL on NBC host blew away the competition.  Let's hope NBC can find some more assignments for her throughout the year, especially during the EPL offseason.  We want to hear more of that American accent.
6) Best Studio Analyst
Winner: Charles Barkley (Turner)
2nd: Pedro Martinez (Turner)
3rd: Kyle Martino (NBC)
Sir Charles takes home Best Studio Analyst honors once again, although this was as close a vote as he has faced.  Barkley had some noted slip-ups during the NCAA Tournament, but his work with the NBA on TNT is what carried the day.  Turner can lay claim to the best two studio analysts as newcomer Pedro Martinez won the panel's vote and came in second overall.
7) Best Play by Play Announcer
Winner: Doc Emrick (NBC)
2nd: Ian Darke (ESPN)
3rd: Arlo White (NBC)
Just .3 percentage points separated the top two and four percentage points separated the top four (with Al Michaels finishing just off the podium).  In a World Cup year, Ian Darke got a lot of support for his work for ESPN, but it was the venerable voice of hockey that took home top play by play man honors.
8) Best Game Analyst
Winner: Bill Raftery (Fox/CBS)
2nd: Cris Collinsworth (NBC)
3rd: Jay Bilas (ESPN)
This was another very close vote, but how could Bill Raftery not win in a year in which he called the Final Four on television for the first time?  It was great to see Raftery earn the recognition from CBS and Turner and have the networks show the love that fans and media observers have had for years.
9) Best Sideline Reporter/Analyst
Winner: Rachel Nichols (Turner)
2nd: David Feherty (CBS)
3rd: Michele Tafoya (NBC)
It's fair to say that Nichols won this award based on her strong work not just on the sidelines, but holding the most powerful individuals in sports accountable.  She asked some of the toughest questions at Roger Goodell's infamous press conference and more recently, hasn't backed down in the wake of the cowardly credential scandal involving Floyd Mayweather.  Hopefully that work continues.
10) Best Newsbreaker
Winner: Adam Schefter (ESPN)
2nd: Adrian Wojnarowski (Yahoo)
3rd: Jay Glazer (Fox)
Adam Schefter still reigns supreme amongst the great newsbreakers in sports.  Although the gap between Schefty and Woj seems to be shrinking, ESPN's NFL reporter guru still stands alone at the top of the field.  All you have to do is look at Schefter's performance on the opening day of free agency to know why he's on top.
11) Best Podcast
Winner: Men in Blazers
2nd: The BS Report
3rd: The Jay & Dan Podcast
12) Best in Social Media
Winner: Men in Blazers
2nd: Katie Nolan
3rd: Jay Bilas
The clean sweep for the MiB continues.  Not only did they take home the largest margin of victory in any category for best podcast (following Barry Hearn's 10 life lessons has really paid off… at least when it comes to winning awards that have no trophy or monetary prize) but they also won the award for Best in Social Media.  How incredible is it that the same janitorial closet-slash-studio produced the top two social media honorees?  Garbage Time with Katie Nolan takes place at the MiB world headquarters where Michael Davies is executive producer of the show.  If you can get this retweeted over 500 times, you must be doing something right.
Well, that was Crap

— Men in Blazers (@MenInBlazers) May 3, 2015
13) Best Media Feud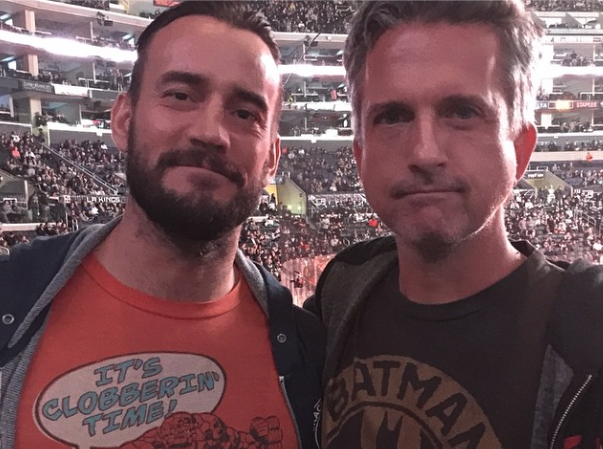 Winner: Bill Simmons vs The Authority
2nd: Dan Patrick vs Colin Cowherd
3rd: Mike Francesa vs Fox Sports 1
Bill Simmons basically telling his bosses "come at me bro" is the definitive sports media feud of the last 12 months.  It led to a massive three week suspension for The Sports Guy and increasing speculation that he just may take his talents elsewhere when his contract is up.  If that's the case, then this feud is only beginning.
14) Sports Media Entertainer of the Year – Which sports personality had the best year?
Winner: Men in Blazers
2nd: Bill Raftery
3rd: Rebecca Lowe
First it was The Beatles.  Then came David Beckham.  Then Downton Abbey.  Now the Men in Blazers are officially among Britain's great exports to America.  Cupcakes with little tiny flags in them will be eaten all over America in your honor, Rog and Davo.  Viva crap!