Over the last five years, one could successfully argue that Bill Simmons was the star of ESPN. While ESPN execs will tell you that no one person is bigger than the brand, Simmons was the guy who seemed to be the person who had become the face of the network even though he was mostly known for his work on ESPN.com, Grantland and the man who helped create the 30 for 30 series. Of course, there was his appearances on TV during the NBA season over the last few years as well, which gave him a presence on almost every Bristol platform.
But now with Simmons on the way out, who will be the face of ESPN? Back in the 1980's, it was Chris Berman and in the 1990's, Dan Patrick and Keith Olbermann. Now as ESPN goes deeper into the 21st Century, who will be that one person who can be most synonymous with the four letter network? Let's take a look at some of the candidates in alphabetical order.
SKIP BAYLESS

Some of you may be asking why Skip? Well, he has a high profile and being the face of ESPN isn't necessarily a popularity contest – it's about who you most associate with the network. Yes, he says wacky things, but in spite of all the controversies he's started, ESPN has unequivocally supported him. The less we say about Bayless, the better.
MICHELLE BEADLE
In her second tour at ESPN, Beadle has co-hosted SportsNation with Colin Cowherd and now Max Kellerman and Marcus Wiley. During her first term in office, Beadle became a network darling and rose in popularity to the point where NBC lured her away to work on the 2012 Olympics. However, a after tumultuous 2013 where her NBCSN show, The Crossover, was pre-empted for various reasons including the America's Cup, the show was taken off air.
ESPN arranged a trade for her and she's been back on SportsNation ever since. Since she returned, Beadle's been willing to speak out including backing Simmons when he was suspended last September and getting into a controversy over press credentials for Mayweather-Pacquiao.
Beadle might be a bit controversial for ESPN's taste, but there's no doubt that she can be a face of the network.
JAY BILAS
A college basketball analyst as the face of ESPN? Let's think outside the box here. Bilas has a strong presence on social media and is outspoken on the NCAA's policies. Not only that, Bilas is quite well-rounded and can speak on whole host of subjects, not just college basketball. He even moonlighted as a co-anchor for SportsCenter this spring.
He would be a good ambassador for ESPN.
JOHN BUCCIGROSS

One of SportsCenter's main anchors and a one of the torchbearers for hockey inside the Bristol offices, Buccigross has been with ESPN since 1996. His days as a local sports anchor in Providence are still discussed among Ocean State viewers.
Buccigross is a skilled anchor and host. His days as a host on NHL 2night are still beloved by hockey fans. And he's a good potential face of ESPN.
COLIN COWHERD
Whether or not you like Cowherd, there's no question that he moves the needle. He knows that in sports talk, a host has to take a stand and he has certainly done that, although many times he's stepped over the line in talking about joblessness in Ohio, New Orleans, or John Wall as just a few examples. He launched SportsNation with Michelle Beadle.
In addition, he appears on TV on various platforms including his ESPN Radio simulcast, Colin's Football Show during NFL season and You Herd Me.
Even as sports media observers scratch their heads over Cowherd's staying power in Bristol, the most important factor in his ESPN employment is that management likes him. People who work with Cowherd talk about how nice he is to them and how he's always in their corner. While we at Awful Announcing have not seen this side of him, he is a candidate to be a face of ESPN.
RECE DAVIS
When he began at the Worldwide Leader, Davis was seen on a whole slew of ESPN2 programming including SportSmash (remember that?), NBA 2Night and RPM 2Night. He later became the studio host for college football being teamed (or some say sentenced) with Mark May and Lou Holtz and on the basketball version of College GameDay.
He'll take over the football version this fall, a role that is well-deserved for Davis.
CHRIS FOWLER

Fowler has been a lifer at ESPN first hosting Scholastic Sports America, then becoming a SportsCenter anchor before hosting the football edition of College GameDay from 1990 through last year. And over the years, he's worked with plenty of partners from Beano Cook to Lee Corso to Craig James to Kirk Herstreit to John McEnroe to Dick Vitale.
Fowler has shown his versatility from being a studio host and traffic cop on College GameDay to now being the main play-by-play voice for two sports, college football and tennis.
By replacing Brent Musburger on college football and Dick Enberg on tennis, Fowler will be on both sports for many years to come.
DAN SHULMAN
A man who also calls two sports well, college basketball and MLB, Shulman is one to never call attention to himself. His partners like the aforementioned Bilas, John Kruk, Curt Schilling and Dick Vitale get more ink than he does, but that's by design. Shulman sets up his partners extremely well and is so understated that you may not be aware that he's calling the game you're watching.
Even so, Shulman would be a good lead for ESPN.
STEPHEN A. SMITH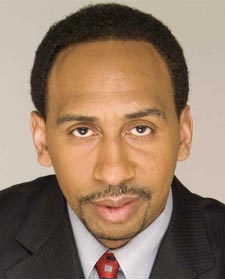 If Skip Bayless is a candidate, then we also need to put his partner-in-crime, Stephen A. here. He wouldn't be a popular choice, but he's so linked to Skippy, that you'd have to put him here too. Like Skip, the less we say about him, the better.
SCOTT VAN PELT

Armed with a new contract and an upcoming solo host spot for a late night edition of SportsCenter, SVP is the odds-on favorite to be the new face of ESPN. Coming over to Bristol from Golf Channel in 2001, Van Pelt showed that he knew not just the links, but other sports as well. He grew from a SportsCenter anchor to an ESPN Radio co-host. Van Pelt remained on golf going to Augusta to host SportsCenter from The Masters and having a heavy presence on both the U.S. Open and the Open Championship.
When he becomes the host of the midnight ET SportsCenter, he'll anchor the show all by himself which shows how much the bosses at ESPN value Van Pelt.
JASON WHITLOCK

Another controversial choice, we put him here as he gets ready to launch "The Undefeated" which ESPN hopes to provide as much gravitas as Grantland. While we've heard of some bumps in the road for the launch, perhaps things can turn around and Whitlock can become a true leader of the site. We'll see. And can he become a face of ESPN? As Kevin Garnett said, anything's possible.
Those are some of the candidates who could follow Bill Simmons as face of ESPN. Who are your choices? Let us know in the comments below.