If you've been watching any of the Fox networks, you've probably noticed the high number of promos hyping the coverage of the U.S. Open which finally takes place this week at Chambers Bay in Washington. After being on NBC from 1995 through 2014, the U.S. Golf Association begins a 12-year partnership with Fox Sports that gives the U.S. Open a long-term home well into the next decade.
Without even airing one second of the U.S. Open, Fox's approach already has one noted sports media critic worried, but unlike Dr. Doom in New York, let's all wait to see how they do for at least the first day before making a judgement.
And with the Open being played in the Pacific Northwest, it means that coverage of the tournament will spill into primetime for all four rounds in most of the country. Here's how the schedule on Fox and Fox Sports 1 shape up starting this Thursday (all times Eastern):
Thursday, June 18: First Round — 12:00–8:00 p.m, FOX Sports 1/8:00–11:00 p.m., FOX
Friday, June 19: Second Round — 12:00–8:00 p.m., FOX Sports 1/8:00 – 11:00 p.m., FOX
Saturday, June 20: Third Round — 2:00–10:00 p.m., FOX
Sunday, June 21: Final Round — 2:00–10:30 p.m., FOX
Monday, June 22*: 18-Hole Playoff — 2:30–7:30 p.m., FOX (*if necessary)
So for the first two rounds, golf fans will get 11 hours of coverage on Fox Sports 1 and Fox. Unlike when the U.S. Open was split between ESPN and NBC, you won't have split announcing crews. So instead of Chris Berman ("Let's go to eh.. ah ..  Roger 'Chocolate' Maltbie"), Mike Tirico and Scott Van Pelt transitioning to Dan Hicks and Johnny Miller, you'll see the Fox crew all day.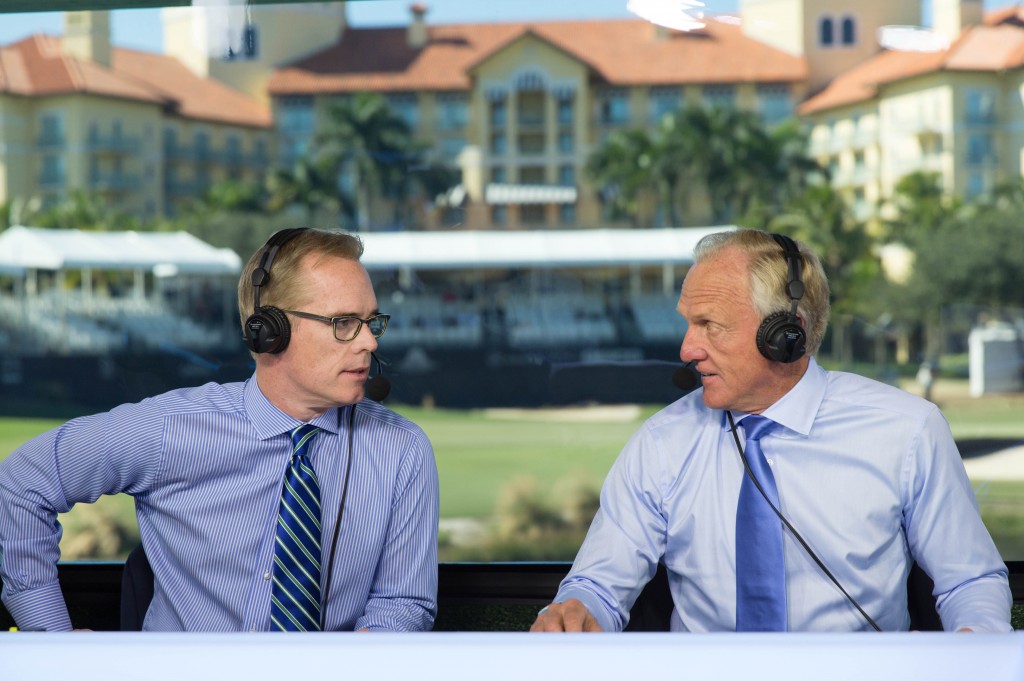 We already know that Joe Buck and Greg Norman will be your 18th tower crew. Who else will be involved for Fox and Fox Sports 1? Curt Menefee from the NFL on Fox and Shane O'Donoghue (host of Living Golf on CNN International) will be the hosts of the event. Familiar golf names Brad Faxon, Corey Pavin, Juli Inkster, Tom Weiskopf, Steve Flesch, Scott McCarron and Jay Delsing will be the analysts and personalities who will be part of the coverage. On-course will be Charles Davis and Holly Sonders who was lured away from Golf Channel last year. David Fay will be on call as the rules analyst.
Those are the people you'll hear announcing the event. What about the visuals? Well, Fox plans to provide views that haven't been seen on golf coverage. At least that's what they're telling us. Here are a couple of paragraphs from a recent press release:
"Among the technologies in play, VIRTUAL REALITY, AERIAL DRONES, 4K CAMERAS and a gyro-stabilized, 20-mph RC CAMERA CAR, FOX Sports also delivers major coverage enhancements through multiple point-of-view (POV) cameras and VIRTUAL IMMERSIVE GRAPHICS, displaying yardage, green shadows and wind. There will even be tiny 'HOLE MIC' microphones in the bottom of every hole of the 250-acre, Robert Trent Jones Jr.-designed course.

"All of the initiatives fall under the newly created banner of FOX LAB, a designed approach to exploring technical partnerships that give viewers a fresh perspective and ad sales teams more targeted sports integrations."
That all sounds nice, but the proof will be in the production. Already, Fox has provided sneak previews of their drone footage from Chambers Bay on YouTube:
Now here are some other features Fox is touting for its U.S. Open coverage:
Virtual Reality
Tower cams that can extend 8-21 feet in the air
Multiple touchscreens
A constant scorebug
Tee cams
3D graphics
And while you'll no longer hear NBC's familiar U.S. Open "Celebration of Man" theme, Fox hopes you'll like its new theme composed by Brian Tyler:
So it all begins on Thursday and provided there's not a playoff, it should end on Father's Day. Plenty of golf over four days and we'll be watching to see how Fox does on a new event.