This is Part II of a two-part College Basketball Media Roundtable with our friends over at The Student Section. You can read Part I here on scheduling, the importance of the regular season, a delayed start to the season, and much more. 
We also have two special guests on hand for these discussions: Raphielle Johnson writes for College Basketball Talk at NBC Sports. Chris Dobbertean writes for SB Nation's Blogging The Bracket site, where you're encouraged to check out his early-season holiday tournament primer. He is also SBN's chief bracketologist.
Raphielle and Chris join myself, along with Student Section associate editor Bart Doan, college basketball writer Scott King, and editor Matt Zemek.
1) ESPN is dealing with rights fees, cord cutters, and other pressures. In light of this — and in light of how much fans criticize broadcasters — why has "commentator-free" college basketball not caught on as an idea? Why wouldn't it be okay to simply show a game with its sights and sounds, sans commentators? 
MATT YODER, AWFUL ANNOUNCING: This was experimented with once a long, long time ago and there's a reason why it hasn't really ever been tried again.  I could see it as an ESPN3 option for special games (see the CFP title game) but never on a regular basis. 
BART DOAN, TSS: Because people like the story telling aspect of it, and a lot of those people who don't understand the game to the level of someone involved in it their entire lives probably need that. I've been around basketball forever, so yeah, I think it'd be pretty cool, but I don't think the percentage of people who can see a game and know exactly what the offense and defense are doing is a large one. Maybe even a neater idea is to have college students interested in that sort of career pathway enter contests to do the games (for free) from an off-site location if you still need the story telling aspect of it.
SCOTT KING, TSS: I think it would be worth a gamble. Many people play sports video games with the announcers off. Some people, namely myself, will mute games and listen to something else if it's not a game involving my team. I do think this question undersells some of the quality announcers and commentators. There are plenty of teams that offer value and insight into the games that could be hard to miss. Also, watching on tv doesn't capture everything like being there does.
RAPHIELLE JOHNSON, CBT: I think commentators are a necessary aspect of broadcasting games. There's always a need for quality analysis, with those who can thoroughly explain why something's happening being of high value. Sure we can see that a team scored a basket or committed a foul, but the "why" is incredibly important. I think you lose that without commentators calling the action.
CHRIS DOBBERTEAN, BLOGGING THE BRACKET: A commentator-free broadcast could work as an occasional stunt, but I wouldn't want to see it become a regular thing. As often as we may get annoyed with certain commentators, you lose something if you don't have someone there to provide analysis and context for game action. Thinking of all the many times I've watched games at bars or restaurants, it is a truly awful experience trying to figure out what's going on when there's a replay or questionable call, even with Twitter serving as a source for some reactions. I'd rather not go through that more often than necessary.
MATT ZEMEK, TSS: I admit that I arrive at this issue from a different place, compared to most if not all the other roundtable panelists here. I cover tennis for Bloguin, and tennis fans — possibly an outright majority of the global community of fans, certainly a very large minority — enjoy commentator-free matches. They want to hear the THWACK of the ball, but they feel commentators these days talk too much. Older tennis fans, and certainly tennis fans in Great Britain, are used to a low-key style of commentary in which the sounds of the ball carry the match, and only an occasional word is needed here and there. In America, though, there's an expectation that talking must fill airtime, and tennis — rooted in an old-school sensibility — has maintained a culture among its diehards in which that "constant talking" approach doesn't fit.
Simply offering the sights and sounds of a game doesn't seem like deprivation to me if the game is a lower-rent matchup. Do I need commentators for the Final Four or the NCAA Tournament or the conference tournaments or Duke-Carolina? No question. Do I really need them for Pepperdine-BYU? No. No I don't. We can really reduce our carbon footprint and ESPN can save money which could go to retaining talented producers and other internal staffers. Moreover: Fans so frequently gripe about announcers, anyway – are people that much in love with the idea of having announcers, even while it's very hard to provide announcers which satisfy a majority of fans in the marketplace?
2) Flowing from the above question, how different (and perhaps outrageous) is it for ESPN to save costs by having commentators call games from a Bristol studio or a Charlotte hub (where ESPNU operates)? Is there a meaningful difference between commentator-free hoops and distant-commentator hoops? 
YODER: Absolutely there's a difference in having commentators on-site versus calling a game from a Bristol broom closet.  ESPN tried this last year and it was met with disastrous feedback from fans who could clearly tell the difference in tone and quality of broadcast.  Maybe you can get away with it if it's a soccer match a continent away, but there's no excuse for not sending a crew to any arena to call a Division I basketball game.  Yes, it's a cost-cutting move, but one that does not benefit fans.
DOAN: Seeing as I watch most games on mute, I'm likely the wrong person to answer this, but the obvious answer seems like, "yes." Part of doing anything is reading the environment you're in and the emotion of the atmosphere. A commentator saying that the building is rocking and the fans are really into it from a studio several hundred miles away is a lot like reading reviews on Yelp for restaurants and then telling your family coming in from out of town what's a good joint to eat at on their drive up. I still think the answer lies in allowing college students interested in broadcast journalism a once in a lifetime opportunity to try their hand at the gig as well as "job interview" those folks. Why not prep the future workforce at lower cost? Not enough of that gets done.
KING: If you told me that CBS Sports Network was already doing this, I would not be surprised. As I said previously, it does matter some because one is able to pick up on things in person that aren't as readable watching on television. The danger of calling games off-site is that the commentators (probably not good ones) might just tell you what you are already seeing, which is the worst version of commentary.
JOHNSON: I don't think it's ridiculous at all; it's been done in other sports (most notably soccer) and it's worked pretty well. What is ridiculous is when networks try to play it off as if the announcers are there, only to have something happen like the tweeted photo of the empty announcer chairs at a Boise State game last season. While the preference is to have the talent on site calling the games, not having them there isn't a deal breaker for me. Just be honest about it.
DOBBERTEAN: This I'm more OK with, simply because ESPN and other broadcasters have done a more than acceptable job in providing studio commentary in the past for international events like soccer, Formula One (NBCSN now and Speed before its transformation into FS1 really lead the way on how to do remote commentary), and even international basketball. However, college basketball fans are used to having talent sitting courtside (or up in the crow's nest in the case of Cameron Indoor), so it's an adjustment from that perspective. ESPN being upfront about these games when they happen will go a long way to getting the viewing audience to buy in.
ZEMEK: This is where I'll cut against a new or different approach. I'm good with commentator-free broadcasts that bring viewers the audio from the arena or the game site. However, I'm not on board with people calling a game from a studio. The conversation is taking place in a different emotional context. If you are going to have announcers, they need to be at the site, connected to the passion in the building and the reactions of the principals on the floor, on the bench, on the sidelines. You need to have the announcers in a position where they're fully attuned to the participants and can see how they act during timeouts or dead-ball situations. Studio commentators are for halftime, pregame and postgame analysis. Let's keep it that way.
3) Bill Raftery finally got his Final Four TV assignment, due to another person's (Greg Anthony's) fall from grace. Billy Packer went into broadcasting in part because he didn't get the Memphis State job in 1969. Gene Bartow did, and the rest was history. What move should a major college basketball network make so that it can look smart and not benefit from an accident or an unintended lucky break?
YODER: This is a great question as right now the college basketball broadcasting landscape looks pretty good overall from the fan's perspective.  If we're talking forward-thinking though, I think it's one that's already happened – Doris Burke joining Sean McDonough for Big Monday ACC games.  Burke's a great analyst and McDonough is one of the top play-by-play announcers in the industry.  They should form a fantastic pairing and Burke should help us forget the blip on the radar that was Shane Battier's announcing career.
DOAN: This may be the homer in me talking, but I think ESPN got that lucky break with Dan Dakich, former Indiana and Bowling Green head coach. To be really good at that sort of stuff, I think you have to be able to talk about things other than basketball with a degree of industrial knowledge about living life and being able to blend it with humor. Dakich mixes his humorous and unique personality with a wealth of basketball knowledge and hard hitting opinion. There's really no defined formula in finding great talent mostly because there aren't a lot of people who have that mixture of experience, knowledge, genuine humor, and maybe most important of all, lack of fear.
KING: Actually listen to what the consumers of your product like and try to cater some to them. Of course, that's much more easier said than done because it doesn't deal with ego or money. I think college basketball would be perfect for a more analytical commentary team to break through in a huge way. We see it some with baseball and the NBA, but I think college basketball is pretty tailor made for something out of left field. It might scare off some people at first, but it could really supplement the games and start discussions that normally don't take place.
JOHNSON: If anything just do its best to remain ahead of the curve. You can't predict what will spark a career move from your talent, but you can prepare. Seek out young talent, and in the case of former players have offseason workshops for those guys who may be on the tail end of their playing careers.
DOBBERTEAN: Give more high profile assignments to the guys who typically do a fantastic job on lower-tier games. Two play-by-play announcers who jump immediately to mind are Adam Amin and Dave Flemming with ESPN. Given how ESPN's daytime programming has devolved into the tedium of "Embrace Debate," shifting the focus of game coverage to be more knowledgeable and insightful for the audience is a necessity.
ZEMEK: ESPN can give Kara Lawson a more prominent place on national broadcasts, expanding her reach beyond the SEC, where she's slated to call games with play-by-play man Mark Jones. The WorldWide Leader – as always – can set an example if it chooses to. Bringing Lawson into men's college basketball represented one demonstration of industry leadership. Giving Lawson more of a profile, to the extent that it's workable, will continue to affirm the notion that female analysts can call men's basketball. Adding more capable female voices is a direction the industry should take if the talent can handle the task. Lawson certainly can. She has continued to evolve as a broadcaster over the years, and would be ready to take on added responsibilities.
CLICK HERE TO CONTINUE READING >>>
4) What will make you watch more FS1 studio or game content?
YODER: Better games.  As FS1 and NBCSN have both found out, nobody watches your sports network for what you do in the studio.  It's all about the live sports rights.  The Big East is a start for FS1, but their low ratings last year didn't exactly set the world on fire.  Fox is at least trying though and as they can build up that live rights portfolio, hopefully more people flock to the network over time.
DOAN: I don't care what channel a game is on … if I want to watch it, I'll pop it on. That said, nothing is going to make we want to watch talking heads do hot takes. There's got to be something else on. I know a lot of folks like it, but dudes and dude-ettes talking isn't great television. If I'm running it though, making better usage of social media to enhance interactivity would be a good idea. Ask folks for their opinions and have a live Twitter feed rolling at the bottom, or have students take pictures of themselves going to games and tweet the FS1 show account. When in doubt, social media and preying on narcissism work.
KING: I watch a lot of Big East basketball so the second part of this I can't answer. As for the first, they'd have to make sure that no programming was available on any other channel and that twitter was broken.
JOHNSON: I watch a good number of their games now, and regardless of the network haven't been too big on sitting through studio segments. If anything FS1 just needs to establish some longevity in the college basketball game. It's still a very young network, so just continue to improve the quality of your on-air talent and look to branch out into getting more inventory to show.
DOBBERTEAN: It's difficult to get me to watch studio content at this point, since there are more than enough games to follow on a typical weeknight or Saturday. As for game content, this is more of a problem for fans less intense than I am. If there's a relevant, compelling matchup on FS1, I'm going to tune in no matter what. For more casual fans, decades-long broadcast habits are hard to break. This is Fox Sports's third season of being a regular home for college basketball, while ESPN's been at it for more than three decades! It hasn't helped that their main properties are either not quite as great as anticipated (the Big East) or split with ESPN and plagued by unattractive start times for many viewers (the Pac-12).
The upcoming Big Ten rights race might determine whether FS1 becomes more than an afterthought for the college basketball fan. If Fox Sports can make a big play for that conference's contract, especially if they can knock ESPN and CBS out of the picture, things could shift significantly because of the geography and audience that conference has.
ZEMEK: Get the Big Ten, FS1. Get the Big Ten. Fin.
5) Point-blank: Should Jim Nantz have to call college hoops in February, after the Super Bowl, to justify his continued presence as the voice of the Final Four?
YODER: Yes… to a reasonable extent.  Nantz is one of the busiest announcers working in the industry today, but I think CBS owes it to college basketball fans (and to their announcers) to get their top crew together at least a few times during the regular season.  If only so that Nantz, Raftery, and Hill don't have to reintroduce themselves to one another during the Big Ten Tournament.
DOAN: Nah. Even though his stuff tends to treat every moment with delusions of grandeur, he's a staple of the industry for people that worry about that stuff. Nantz is in that rare air of being the guy who gets invited to the big golf outings even though he might drink a little too much and you don't play with him otherwise simply because he's considered that good where you can't risk the alternative and expect similar results. Plus, Nantz does his homework. It's not like he's sloppy or needs to be traveling college towns to justify the work put in.
KING: No, I don't think so. He's Mr. CBS, as long as he's around, they will let him do what he pleases. He does enough homework and is professional enough that he's passable on his commentary. We don't know how much Jim Nantz does or doesn't follow college basketball, so I'm not going to say he shouldn't call the Final Four because he didn't cover the Michigan-Iowa game. By the time the Super Bowl comes and goes, he'd end up calling a game or two in February anyway.
JOHNSON: Well, it depends on what his "voice" is. If it's simply to call games with his partners (Raftery especially) steering the discussion of teams/players, then I don't see an issue. But flashing back to 2004 and 2006 as two examples, the critiques made of teams/leagues such as Saint Joseph's (2004) and the CAA/MVC (2006) with little involvement calling the games prior to March wasn't a good look. Of course he's entitled to his thoughts on the matter, but I don't think it's fair to have him in that position especially when dealing with casual viewers who may not follow the entire season at the level of a diehard fan.
DOBBERTEAN: Considering that one of the main problems college basketball has is how the regular season is ignored, it's funny that the home of the NCAA Tournament has the lead announcer parachute in for the last four weekends. Getting Nantz some regular season duty would both help perceptions and likely get him a bit more familiar with the trends and stories in play during the bigger picture of the college basketball season.
ZEMEK: "Hello, friends. Let me ask you a question: In what other sport does a person parachute in for one month and one month only, yet get to be considered the voice of that sport's signature event and its crowning end-of-season championship moment? What other sport enables a person to devote his full attention to said sport for only one month, and yet become its central play-by-play fixture on television?"
It never needed to be like this, CBS. The golf world could and would survive if Jim Nantz — after the Super Bowl or AFC Championship Game — did college basketball games in February. Is that really too much to ask? Was it EVER too much to ask? Nantz and CBS golf have each other from The Masters through the PGA Championship. The idea that Nantz can't do college basketball for one added month after his NFL duties end is and has always been preposterous. Moreover, and not as a merely peripheral note: Doesn't Nantz's absence from the scene in February reinforce — certainly from CBS's standpoint and possibly from Nantz's own vantage point — the idea that "non-March college basketball doesn't really matter?" This never should have been allowed to happen in the first place. It angers me, and it's better to correct this now than let it continue for as long as Nantz is the voice of the Final Four.
6) On one hand, the CBS-Turner partnership brings big names in basketball commentary to the NCAA Tournament and Final Four. Yet, Charles Barkley clearly doesn't study up on the college game, leading to a brutally bad performance last March. What is your sense of how college basketball fans view the CBS-Turner arrangement, and what seems to be the best way to improve it?
YODER: I know the CBS-Turner arrangement is polarizing, but at this point you have to take the good with the bad. Yes, you get Charles Barkley and the rest of the NBA guys in the studio who clearly don't have the same depth and knowledge as their NCAA counterparts.  However, you also get guys like Ernie Johnson and Marv Albert involved in the coverage, which is always a good thing.  The best way to improve it is to limit Barkley and the Inside the NBA guys so that they don't become exposed.  Get them out there for the Selection Show and the Final Four, but don't set them up to fail by asking them to break down the Dayton Flyers in detail.
DOAN: I'm in the minority on this one, but I don't think it's a big deal no matter how salty of a job he does. Studio analysis in general is overrated, because the people tuning in aren't doing so because they want to watch the talking heads. Not a single person refused to watch March Madness simply because of Charles Barkley, it was just something to complain about because that's what people tend to do. On the flip side, since he's not taking viewers away, others that really don't care if he's watched any film on High Point or who aren't huge CBB fans like him because he's noteworthy, rather humorous, and is a known name. I don't get the feeling like that crew is there to appease to the hard core CBB fan rather than the casual who just wants to chuckle.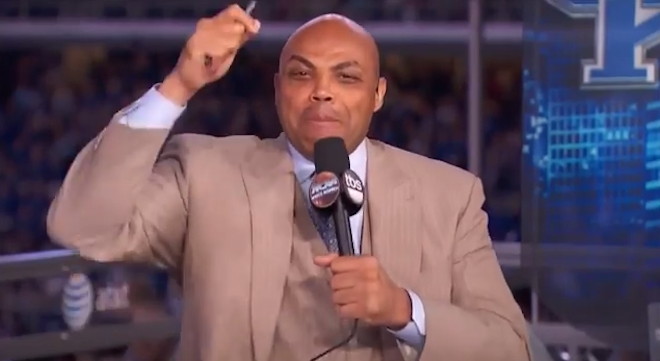 KING: That's a very tough question to answer. On the one hand, the NBA crew is hugely entertaining and when they are actually watching the games, they offer a lot of insight. Of course, they don't seem to watch many games during the season given their main job and passion of following the NBA. Forget Nantz, CBS should try to get the NBA crew more involved throughout the season. That would help pique interest and keep them up to date instead of saying the things they know about teams they've only watched a handful of times.
If we are being realistic, the only way to improve it is to create a studio show about college basketball that's as good as Inside the NBA. That way the NBA crew can stay with the NBA. But that is not going to happen and certainly wouldn't at CBS.
JOHNSON: It depends on just how big of a fan the viewer is. I think for many casual fans having guys like Charles and Kenny on air is about entertainment. That's where you have to lean on the CBB talent in studio, as well as their coaching guests, to provide the knowledge. Maybe try to sprinkle the pro guys into the college coverage at various points during the year, but even with that CBS's main CBB coverage (not counting CBS Sports Network) doesn't really pick up until mid-December because of their NFL commitments.
DOBBERTEAN: It seems that there's a divide among fans about this question, which again, ties into some of the larger themes we've discussed. More casual fans are OK with the NBA commentators broadcasting March Madness, while those of us who have been watching all season tend to be more annoyed.
CBS has done an adequate job of getting some of Turner's talent involved during the regular season—Marv Albert, Reggie Miller, Steve Kerr (when he was broadcasting)—but they need to go further. For example, they could get Charles Barkley to do a bit more NCAA work during the season. Conversely, Turner could try to broadcast a bit more before March, though that won't be easy given existing contracts. Plus, the Coaches vs. Cancer Classic, the one November event Turner aired—on TruTV of all places (a discussion for another day)—ended this year.
ZEMEK: College football fans rightly complain that their sport isn't the NFL and doesn't need to become more like the NFL on many levels. (In some ways, yes, but not centrally and not culturally.) I think most college basketball fans are similarly intent on wanting their sport to be covered passionately and intelligently by the people who know the sport best. It's true that there's a division between power conference fans and mid-major fans. The ranks of mid-major fans detest Jay Bilas, who is the ACC-based spiritual successor of Billy Packer. Bill Raftery is our most beloved TV analyst, but for most others, college hoops fans are sharply divided when asked about the best commentators.
Yet, for all their internal divisions, college basketball fans want TV analysts and talking heads to know their product instead of (to repeat a theme here) parachuting in for March. It's so clear that Kenny and Chuck don't regularly watch college hoops. That's not even their fault — of COURSE their main job is to watch the NBA. The fault lies with Turner for putting them in that position. Turner can still have Marv Albert call a regional final — that's its main contribution to this partnership. Studio analysts need to be dedicated to following college basketball. If that means a heavy CBS presence, so be it.