It's become a yearly tradition at Awful Announcing where we attempt to highlight a list of individuals who have seen their profile grow in sports media over the last year.  With more opportunities for sportscasters and sportswriters than ever before, one of the great things about following this industry is seeing young, up-and-coming talent begin to make a name for themselves across the landscape.
The following is our list of the Rising Stars of 2015 in sports media.  You can view our first renditions of the Rising Stars from 2013 and 2014 at the links.  The definition of a rising star is somewhat flexible.  It could be someone who grabbed hold of a sudden opportunity on a larger platform, someone who's been working tirelessly to improve and win respect for their work along the way, it could be a younger face who has burst onto the scene.  Ultimately, it is open to interpretation, but the persons listed below are the ones selected by our staff as those who have taken a significant step forward in quantity or quality of work and should continue to trend upward.  The names are listed in alphabetical order.
Adam Amin (ESPN)
Amin is maybe the truest definition of a rising star.  He joined ESPN at the age of 24 in 2011 and has been slowly moving his way up the ladder since calling a multitude of sports on a multitude of platforms.  But this year has seen Amin move to his biggest role to date as a member of ESPN's regular college football rotation every Saturday partnering Kelly Stouffer.  He calls an incredibly solid game and has a traditional sound and a style that belies his youth.  After moving up the ranks this year, Amin should have even bigger and better things ahead of him.
Anson Carter (NBCSN)
After 12 seasons in the NHL, Anson Carter made the transition to television, joining NBCSN in 2013.  And while Carter has been on the periphery of NBC's NHL coverage, he seems to be getting some more high-profile spots, especially during the playoffs. Carter is one of NBC's better analysts and hopefully those opportunities continue to increase, if only to reduce the chance that Jeremy Roenick and Mike Milbury actually break into fisticuffs live on air.
Cari Champion (ESPN)
Cari Champion deserved a lot more than playing the third wheel to the First Take circus of Stephen A. Smith and Skip Bayless.  The few times that ESPN actually allowed her to speak on the program were the most poignant and thoughtful moments of the show to nobody's surprise.  (Here's a message to ESPN – having a female sportscaster who's job it is to stay silent between two screaming middle aged dudes isn't the best look.)  But all credit to Champion as she endured First Take and thankfully earned a promotion to SportsCenter this year.  She deserves all the opportunities that will come her way.
Jamie Erdahl (CBS)
As far as sideline reporters go, NESN alum Jamie Erdahl made arguably the biggest leap this year.  After joining CBS Sports in 2014, Erdahl was named a sideline reporter for this year's NCAA Tournament.  Erdahl received positive reviews for her work during the tournament and was rewarded by being named to the network's #3 NFL broadcast team, joining Greg Gumbel and Trent Green.
Jessica Mendoza (ESPN)
Perhaps the biggest lock on this list was ESPN baseball analyst Jessica Mendoza.  Although the circumstances of her arrival in ESPN's top MLB broadcast booth was, well, unique, she certainly made the most of her opportunity.  Maybe it was a sign of destiny that her first Sunday Night Baseball game was calling a no-hitter.  Mendoza hasn't looked back since and was such a breath of fresh air that she earned the chance to stay on with the Sunday Night Baseball crew and called ESPN's MLB postseason broadcast this year.  ESPN created such goodwill with fans and critics alike that it would be a major shock to see her anywhere else but the Sunday Night Baseball booth next season.
C.J. Nitkowski (FS1)
You may know C.J. Nitkowski as an MLB veteran of 9 teams… or the other guy in that classic Pete Rose meme.  But aside from that, the former pitcher has been a revelation since coming to Fox Sports 1 and has been a big reason why the network has really improved its baseball studio coverage.  Nitkowski combines a sense of humor with good analysis and is an under-the-radar great Twitter follow.
When the @Reds drafted me in 1994 I remember thinking, "Someday, me and @PeteRose_14 are going to have the same Twitter avatar." #✔️

— CJ Nitkowski (@CJNitkowski) October 26, 2015
Adam Schein (CBS Sports Network)
Adam Schein has grown into the face of CBS Sports Network this year.  He hosts the acclaimed That Other Pregame Show on Sunday mornings, which is one of the better Sunday morning NFL pregame shows.  He also hosts the NFL Monday QB program.  Oh, and he was just named the new host of Inside the NFL this year.  Aaaaand you can add on to that the new show Time to Schein that replaced Jim Rome as the relevant daily talk show on CBS Sports Network.  Now if he can only add PBR and poker to his hosting resume, he'll soon be on the air 23 hours out of the day.
Sarah Spain (ESPN)
Sarah Spain made the leap from a local sports personality to a national one in 2015.  The ESPN Radio Chicago host and anchor will now be working for the mothership in Bristol moving forward after a year that saw her appear as a guest on pretty much any and every studio show imaginable on ESPN – from Olbermann to His & Hers to her own history-making weekend show on ESPN Radio, Prim & Spain.  ESPN made a significant step forward in giving women larger television roles that included opinion and analysis usually reserved for former ex-players.  Look for Spain to become more and more prominent across ESPN platforms in the months and years to come.
Julie Stewart-Binks (FS1)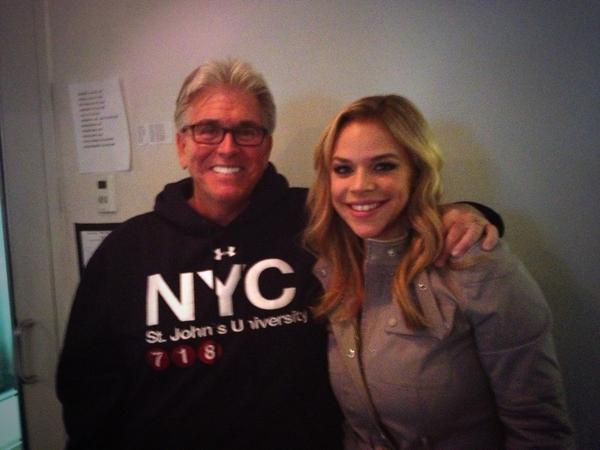 If there's an award for the hardest working person in sports media, it might just go to Julie Stewart-Binks.  What didn't she do for FS1 this year?  Her epic one person barnstorming tour around Canada during the Women's World Cup is something that few could replicate.  If that's not enough, she also hosts Fox Sports Live from time to time and continues to work as an anchor, host, sideline reporter, and pretty much everything in between.  She was even the highlight of Mike Francesa's FS1 tenure!  JSB is knowledgable, likeable, and should be one of the fresh faces FS1 continues to build around instead of searching for the next high-priced ESPN castaway.
John Strong (FS1)
Could it be that the voice of American soccer…. is finally an American?  John Strong has always had a bright future ever since he called games for the Portland Timbers, but it took until 2015 for a national network to finally make the decision that he was the man to be the lead play by play voice for the beautiful game.  Fox answered the call with their Women's World Cup coverage in 2015, proving to skeptics and doubters that they could respectfully cover a tournament of such magnitude – and they did it with almost exclusively American commentators.  Strong and JP Dellacamera both had great tournaments and in many ways it was a transformational year for soccer on American television.  After the Gus Johnson Experiment failed, Fox finally discovered that their search for their American soccer voice could actually be found within American soccer.  Strong is well on his way to being the lead voice for the 2018 World Cup in Russia.
Honorable Mention: Kevin Connors (ESPN), Cassidy Hubbarth (ESPN), Ryan Field (FS1), Stuart Holden (FS1), Prim Siripipat (ESPN), Cole Wright (NFLN)