This past weekend, Major League Baseball and Japanese TV network NHK partnered on a test of the next generation of high definition television at Yankee Stadium. It was not a logical jump to the next step of HDTV which would be 4K, but one above that, in 8K. NHK is developing 8K high definition with the hopes of having it in place for the 2020 Summer Olympics in Tokyo.
Another factor in fast tracking 8K while 4K is just beginning to take hold with consumers is that the Japanese government is making 8K the standard for all televisions in that country by 2020.
8K ultra high definition offers 16 times the picture and clarity of 2K HD. NHK says 8K broadcasts in 33 megapixels with 22.2 multichannel sound. For the test at Yankee Stadium, NHK audio engineers placed microphones around the field allowing for better sound off an 8K monitor.
NHK has produced 8K tests at the FIFA World Cup in Brazil last year and another at the FIFA Women's World Cup in July while the Japanese women's soccer team advanced into the finals. The test of the Seattle Mariners-New York Yankees weekend series was the third such public experiment since 2014. MLB and NHK invited reporters as well as TV industry insiders such as directors, producers and executives to view 8K live in action. For many, it was their first time seeing it live.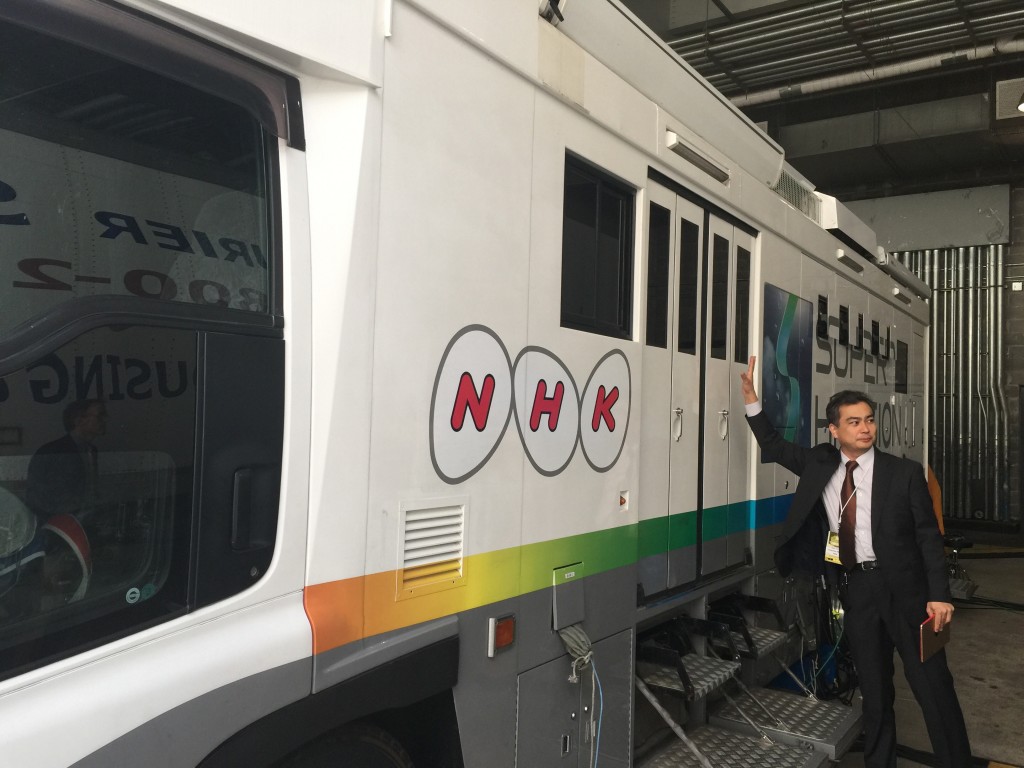 NHK brought five cameras, a production truck and an audio truck to produce a full broadcast throughout the weekend. There weren't any announcers to call the games, just the production crew including a producer, director, Chyron operators, camera operators, audio engineers and company executives to monitor each game.

Because 8K is still in the developmental stage, the production truck's monitors were only in 4K and just two of the five cameras brought to Yankee Stadium were in 8K. However, knowing this handicap, viewers watching 85″ monitors could see the difference among the 4K and 8K cameras. Detail in 8K was much sharper and the crowd in the background could be seen more clearly in 8K than in 4K.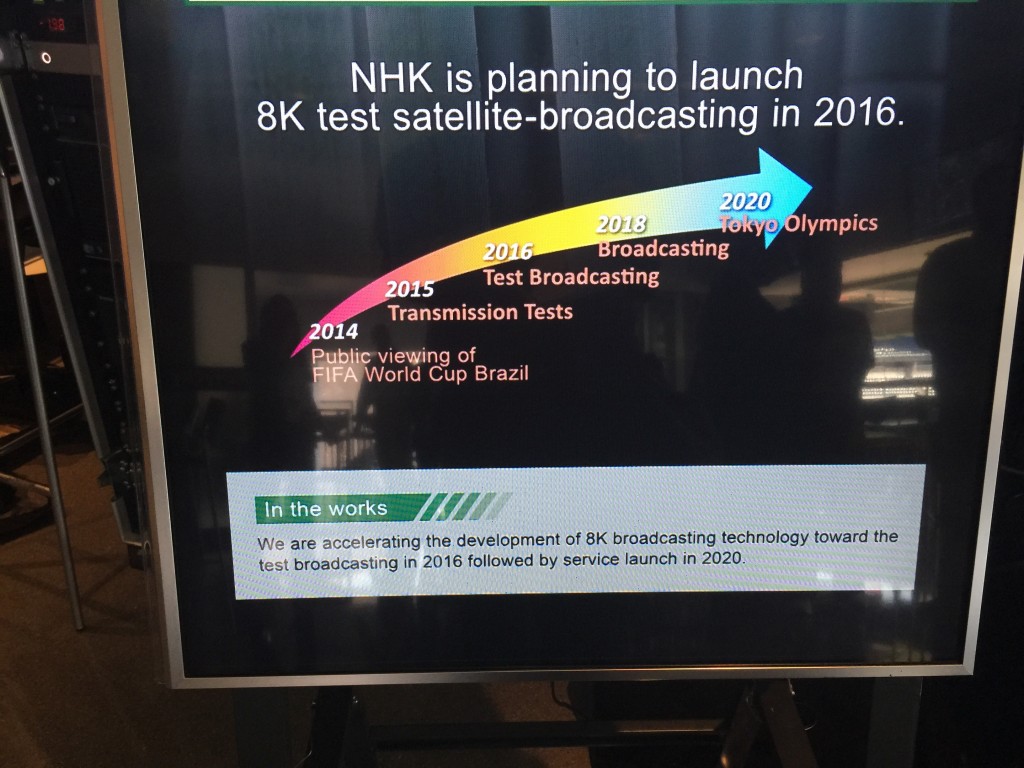 Beyond 2015, NHK will have test satellite broadcasts of 8K in 2016, then full-scale satellite broadcasts in 2018 and then producing the 2020 Olympics in 8K worldwide. How this would affect NBC's broadcast is unknown, but the Peacock was receptive to HD broadcasts of the 2002 and 2004 Olympics before going full-scale for the 2008 Olympics and beyond.
Hiroyuki Nishizawa, the Executive Chief Engineer of NHK says once his network begins airing 8K programming, it will be done in smaller increments, "We plan to start testing with one or two hours a day, eventually increasing to 24 hours. That will include special events transmitted to Tokyo and broadcast to homes."
Jim Small, the Vice President of MLB's Asia-Pacific division and based in Tokyo, explained that Major League Baseball is very interested in the next step in sports television, "If the goal is to unveil this to the (television) industry, what better place than Yankee Stadium," he said.
Small added, "We're a sport that is normally a traditional sport, but one of the beautiful things about baseball is the history of our game. It means you can compare players now to players 50, 60, 70, 80 years ago, but one of the most exciting things now for our game is that we're looking to do things differently. I think this is a perfect way to illustrate that."

NHK engineers have been working since 1995 on ultra high definition and have achieved certain milestones in the twenty years since. It includes:
Showing 8K on a 600 inch screen at an expo in Aichi, Japan in 2005.
An international live feed experiment in Amsterdam featuring the BBC and several European TV networks as well as using internet and satellite transmissions.
Public viewings of the 2012 London Olympics in 8K in the UK, Japan and the U.S.
The first successful long-distance terrestrial transmission test in 2014.
Public viewings of the 2014 FIFA World Cup in Brazil.
Public viewings of the 2015 FIFA Women's World Cup in Canada.
Small says it's hoped by 2020, 8K televisions will be mass produced and prices will be affordable for consumers. While 2020 seems far away, it's only five years from now. Technology is moving quickly. It took over 60 years to change from standard definition broadcasting to digital high definition television. But it appears that it will take a much shorter period to go from 2K HDTV to 8K Ultra HDTV.