Wimbledon is the world's most prestigious tennis tournament, and ESPN is about to provide coverage worthy of that distinction.
The WorldWide Leader announced its Wimbledon schedule on Monday,  promoting 140 hours of television coverage on ESPN, ESPN2, and ABC, plus ESPN3 live streaming of action on 15 separate courts. If American viewers want to find a match online during the fortnight, they'll have a much easier time than they did a few weeks ago in France.
It's worth noting, before anything else, the marked divergence in coverage between the two big European major tournaments in these late-spring, early-summer times. If the French Open is a disaster, Wimbledon is paradise. It's not as good as having both tournaments covered the right way, but it sure beats being 0 for 2, which used to exist when NBC had its mitts on The Championships in suburban London.
Because of the split-pie dynamic for American television at the French Open — with NBC, Tennis Channel, and ESPN all covering portions of the event in a highly confusing manner — United States viewers have had to guess as to what matches will be shown and when. The juggling of both streaming rights and availability threw online viewers a curve in Paris, an annual event these days. Every French Open is a portrait of frustration for American tennis fans, though Tennis Channel's willingness to show the second men's semifinal live (marking the first time in a long time that both men's semis were shown live to Americans in all time zones) represented an important step forward.
If American television fails to get it right at Roland Garros, however, it hits the bulls-eye at SW19 and the Big "W." When the All-England Lawn Tennis and Croquet Club ditched NBC and handed the keys to ESPN for American TV and streaming coverage in 2012, Wimbledon became accessible at a level befitting its stature and importance. In marked contrast to the French Tennis Federation, which continues to take NBC's money for noticeably substandard coverage of the French Open, the All-England Club valued a better and more dedicated TV broadcaster, and ESPN is going to remind us of this over the coming fortnight.
*
There are still things ESPN can improve upon after three years as Wimbledon's exclusive live-television carrier in the U.S. Avoiding the temptation to show the final game of a 6-2, 6-2, 6-1 blowout with Roger Federer in the first round, and instead choosing to air the final set of a match between two journeymen (or journeywomen), is something ESPN needs to do more of in the first week of a major tournament. However, that issue aside, ESPN has profoundly improved the way in which tennis majors are covered, and this is never more the case than at Wimbledon.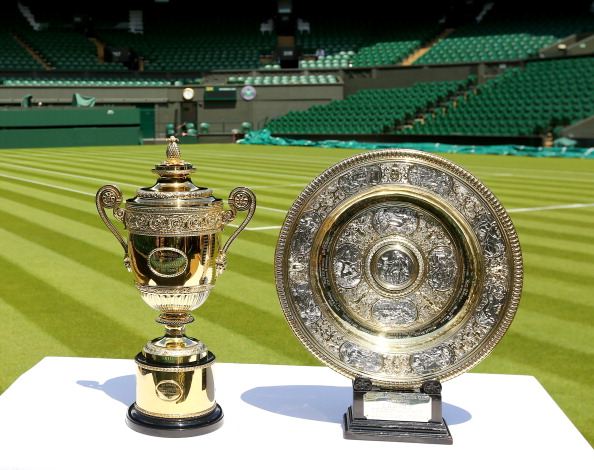 The single biggest thing you need to know about ESPN's handling of Wimbledon is what it does on the Monday, Tuesday and Wednesday of the second week of the tournament. (This year, those days are July 6-8.) The Monday of the second week of Wimbledon is called "Manic Monday," due to the fact that if scheduling disruptions do not exist, every fourth-round match in both the women's and men's draws takes place on that one day. It is the best full day of tennis on the whole calendar, every year. If the big names are still alive, you're going to see them on one day.
Serena Williams, Andy Murray, and Roger Federer might play on Centre Court, while Maria Sharapova, Rafael Nadal, and Novak Djokovic might play on Court No. 1. Petra Kvitova, Stan Wawrinka, and Venus Williams might play on Court No. 2. All on the same day.
ESPN's coverage of Wimbledon enables viewers to find most if not all of those matches, at least at important stages.
*
On Manic Monday, and then on Ladies' Day (all four women's quarterfinals) and Gentlemen's Day (all four men's quarterfinals), ESPN and ESPN2 offer the gold standard of major-tournament television coverage: the split-channel coverage that is necessary to effectively televise a major tournament.
In a perfect world, every tennis tournament would be covered the way ESPN and ESPN2 cover Monday through Wednesday of the second week of Wimbledon. One channel shows Centre Court matches, while the other channel covers all the action on other courts. This is how a viewer can follow everything that's going on and switch channels if the Centre Court featured match turns into a blowout.
From July 6 through 8, ESPN will be the Centre Court channel for Wimbledon, and ESPN2 will cover the various other TV courts, including Court No. 1. You'll be able to absorb the fullness of Manic Monday and then switch between both women's and men's quarterfinals on Tuesday and Wednesday.
In week one, you'll want to use ESPN3 for online streaming. You'll also want to use ESPN3 late in the second week if you want to follow the Bryan Brothers or other top doubles teams. However, if you're focused only on the singles tournaments at Wimbledon, realize this: Once you get through the first week, you should be able to see relevant portions of just about every remaining match on the docket.
ESPN, with its two-channel service July 6-8, will make The Championships extremely accessible to the American television viewer. This is a far cry from the French Open, the best possible news an American tennis fan could possibly hope to receive.