Former Stanley Cup champ Dustin Penner is currently without a team so he had planned to be a part of TSN's NHL trade deadline coverage today.  According to a TSN press release promoting the marathon coverage, Penner would be monitoring social media:
New this year, two-time Stanley Cup champion Dustin Penner joins TSN's own Cabral "Cabbie" Richards to provide a different take on TRADECENTRE, interacting on social media with NHL players and hockey fans. Penner and Cabbie explore the trending topics of Deadline Day, create their own original hashtags, and debut a special episode of Los Angeles Kings parody the "Dewy Show" presented by BarDown.
Since Penner's role focused on social media, it would then be the definition of irony that Penner would be removed from TradeCentre because of a very dumb thing he did on… you guessed it… social media.
Penner tried out some new stand-up material on Twitter over the weekend that included an awful, unfunny rape joke.  After taking the defensive route and calling dissenters "idiots" he managed to apologize and play the victim card all in one tweet.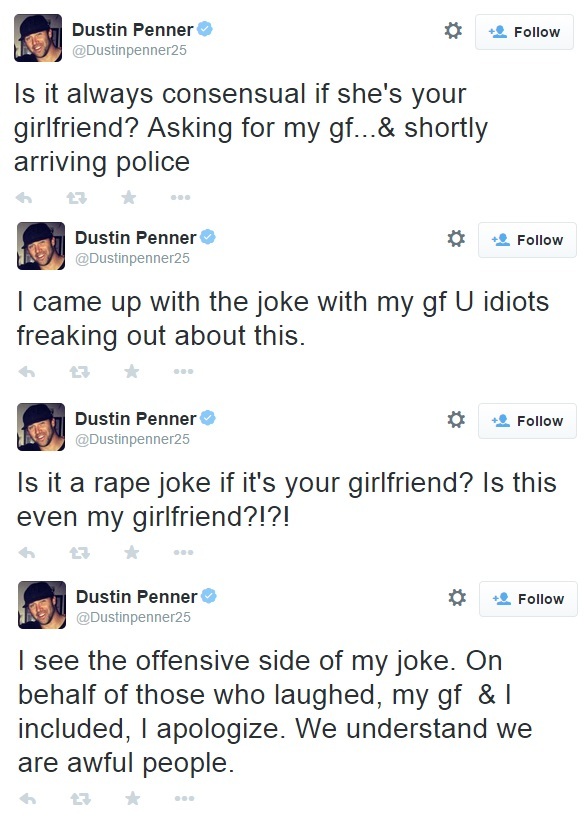 His Twitter bio says in part, "Comedy is not subjective you're just not funny."  Apparently Penner didn't find his removal from TSN to be very funny.  After a bit more sincere apology, he later went to Twitter to say that it was his decision to pull out of appearing on TSN.
To set the record straight I pulled out of the TSN gig an hour after my tweet because of the position I put them in. pic.twitter.com/N5k8wKHxsc

— Dustin Penner (@Dustinpenner25) March 2, 2015
How many times do people have to lose gigs for stupidity on Twitter before we learn?  Every time you think you've seen it all, now a former athlete loses a television job focusing on social media because of his ignorance on social media.  That's setting the bar pretty high for social media fails.
Let's take a step back and realize the madness of all this.  Penner is 32 and without a team.  He's probably thinking about transitioning into a television career and he gets a pretty nice opportunity to begin that journey on trade deadline day, which is like a national holiday in Canada.  He must be pretty decent at Twitter (107k followers) to get this opportunity.  Literally the only thing he had to do was not tweet something really, really, really stupid to screw it up.  And he did just that.
Now the next time a network considers hiring Penner, it's not going to be "Do we want to bring in a 2-time Stanley Cup champ who happens to be a pretty funny guy?"  No.  It's going to be, "Do we really want to bring in that guy who tweeted that awful rape joke?"