We saw some rare intracompany conflict this week, with Fox Sports' Katie Nolan using a segment of her Garbage Time television show to blast a FoxSports.com piece from co-worker Clay Travis' "Outkick The Coverage" vertical. The piece, entitled "How To Land A Husband At The Masters," was written by Rebecca Johnson (who some figured wasn't real, but does in fact exist). It's drawn plenty of scorn from across the internet, arguably even more than we've seen with previous controversial pieces from Travis and his site.
The more interesting issue here, though, may be what this says about Fox's overall deal with Travis, in particular their agreement to license Outkick The Coverage's content and run it on FoxSports.com with apparently little to no editorial control.
Travis said in the past that his current OKTC/FoxSports.com agreement ends June 30, 2015; we don't know when his other arrangements with Fox, in particular his TV deal, expire. Is Fox Sports likely to keep a lightning rod like Travis around and potentially even expand his role at the network (in a page out of the Skip Bayless playbook) even if there is public criticism that comes from colleagues? Is it wise for Fox to give Travis the amount of editorial freedom he says he has? And could Travis' outspoken and controversial pieces hurt the network's ability to attract and retain talent and/or future rights deals?
There are obviously some benefits for Fox in being associated with Travis. For one thing, he has a significant profile in the sports world and his OKTC posts seemingly bring substantial traffic. Last summer (the interview was done in May, the pieces ran in July), he told Nate Rau of The Tennessean that "We're probably going to do 2 million unique readers in the month of May, which will be the biggest month we've ever done. … By the time it gets to be August, September, October and football season is up and running, we could be 4 million uniques."
Those aren't numbers that can be easily written off, and controversial pieces like this Masters one only enhance that, if anything. That's why Travis tweeted Monday that the hate makes him rich:
The more hate I get, the more money I make. It's remarkable. Pardon me for a bit, I'm going swimming in my vault of gold doubloons.

— Clay Travis (@ClayTravis) April 13, 2015
Are the numbers as good as Travis told Rau, though? Their interview was about a year after he joined Fox, making those numbers not easy to verify independently as OKTC is now part of FoxSports.com's overall traffic. According to Travis himself, though, it seems the expected growth during football season didn't materialize. In January, he wrote about various sports websites' December comScore numbers, saying that Fox Sports and The Sporting News (they teamed up in July 2014) had 56.65 million unique visitors and that "Outkick typically run [sic] between 1 and 2 million uniques a month on our internal numbers." Traffic may have grown since then, but that's not 4 million, and it also doesn't make OKTC the site's central pillar.
That raises questions about how much Travis is getting from this Fox deal (he told Rau OKTC has made him a "multimillionaire," but that doesn't appear to have been independently verified, and that may be a valuation of the site for a potential acquisition rather than a description of its revenue) and whether he's worth all the criticism and controversy that comes with those pageviews. Having that traffic is certainly nice, but OKTC regularly stirs up significant controversy that hurts the image of Fox Sports. Consider the way Travis gave credibility to the Jameis Winston point-shaving rumor while at Fox, or the comments he made before joining Fox about current co-worker Erin Andrews (although they now appear to have patched things up), or his infamous boob draft.
Travis' work is far different from what you'd find on most major mainstream sports websites, like this March mailbag about dildos, blow jobs and more. Imagine that appearing under an ESPN banner. It gets hits, though, and that feeds into what Travis told Rau in response to those who see his work as lowbrow:
I enjoy low brow, would be an answer. Two girls get in a fight at Steeplechase, a cat fight, I think it's the best. It's awesome. The butt-chugging press conference at UT – almost all of our most popular stuff is not really technically sports. Our top-10 dumbest fan bases, millions of people read that stuff. It's entertainment and most people get it. I would equate it is running a site is a lot like on a tiny level being a movie studio. If you're going to do 'Shakespeare In Love,' what gives you the opportunity to do that is that 'Godzilla' is going to do $4 billion in revenue. It's not like 'Godzilla' is redefining what is possible with cinematic art, but it makes so much money it gives you the opportunity to do whatever you want. The funny papers are not exactly the same as editorial page, but they allow the opportunity for everything to exist.
It's not just Travis' own work that should be discussed here. Running pieces from OKTC contributors on FoxSports.com, such as the Johnson one on the Masters that kicked off this firestorm in the first place, also carries issues. OKTC obviously doesn't print every piece they're sent, and there's presumably editing involved (from Travis and/or Lori Kelly, OKTC's second staffer; the submit button on OKTC under "The Bullpen" sends an e-mail to her), but they approved this Masters one. That approval wasn't out of left field, either: Johnson's piece fits with some of OKTC's brand (which is likely why some wrongly assumed that Travis himself wrote it) and isn't that different from other things they've posted about the Masters. Thus, even though this was something Travis didn't write or even necessarily edit himself, it wound up on his site, and it fits in with that site's content.
Awful Announcing reached Travis via e-mail on Wednesday and he had this to say about the process of publishing the controversial Masters article:
"As the site has grown we've brought on a full time editor, Lori Kelly, who does a tremendous job for the site, and several talented writers who do great work. One of the cool things we've found is that people love all sorts of articles on Outkick, the smart and the absurd. We trust our audience to understand what is and isn't serious." 

"Sure, that article was criticized, but It was a female reader submission, a non-professional writer, who sent her experience at the Masters to the site, and a female editor published it. That happens all the time at Outkick. How many sports sites our size have female editors publishing the work of female writers every week all year long?"
It's notable that neither Fox (outside of Nolan) nor Travis has really backed off from that piece despite the controversy, suggesting it's seen as consistent with OKTC's ethos. In fact, that may be a larger issue with having OKTC's content on FoxSports.com. Generally, when networks do something that winds up drawing a firestorm, they'll apologize, retract and go on from there. So far, there haven't really been many substantial apologies from Travis or OKTC or Fox Sports about any of the controversies they've stirred up. The responses have been closer to Travis' aforementioned tweet about "haters" letting him swim in gold dubloons. Is there a line where Fox will say "This is unacceptable, and we're sorry we published it?" Or is Travis just free to put up whatever he wants? Or does all of his content fit within the parameters of what's acceptable to Fox?
Travis has publicly stated that he has "complete creative control" and "own[s] all the content" on OKTC. It seems to be an extraordinary arrangement. Traffic is nice, but does a major network really want someone on their site who they don't have editorial control over? Many would say no, but Fox's current deal with Travis (if his relaying of it to Rau was accurate) would appear to suggest otherwise. Whether that arrangement will continue past June is an open question, though.
Fox Sports refused to comment directly on Travis' claims of complete editorial freedom at FoxSports.com or on his current contract situation. They did issue this statement to Awful Announcing via a network spokesperson:
"Clay is a talented, unique voice in the chorus of sports commentators. His insight should be viewed in proper context—whether it's satire, analysis, observations on pop culture, or simply an expression of the fan's point of view. Like any commentator, his opinions are his own and don't necessarily reflect the views of Fox Sports, but we certainly appreciate the perspective Clay adds to our coverage."
It's worth pondering how one can reconcile Outkick the Coverage as "the official college football blog of FoxSports.com" if Travis' views don't reflect the views of Fox Sports.
Is dealing with the controversies Travis generates ultimately worth it for Fox? Well, there are potential benefits for the company beyond just OKTC. Travis has appeared on their various college football shows, and he's provided at least some talking points for shows that have struggled to gain buzz overall. (Of course, some might label Travis' perspective as pure, unabated trolling.) He's also done a gambling show for them, and the gambling/daily fantasy sector is an area they may look to expand on given the rising popularity of that sector and its increased legitimization (see the ESPN/DraftKings partnership). There's been talk of Fox giving Travis his own TV show if he signs a new contract, and while details there are scant and it's unclear how his brand of commentary would translate to traditional TV, they appear to view him as more than just a website content provider.
However, the various controversies Travis has been involved in aren't without consequence. They impact how media members and the public view Fox, and perception isn't insignificant. Whether it's under the veil of lowbrow humor or not, it's hard to imagine many people getting a mainstream job in the current media climate with "At a hospital, go straight for the rape victims and offer your protection, cha-ching" on their resume.
So far, it doesn't seem like Travis' actions have led anyone to leave Fox. But it's quite possible that not everyone wants him as a colleague (and a highly-promoted one if he does manage to land his own TV show). It's even more likely that at least some readers and viewers are less motivated to watch Fox or go to their site because they're turned off by Travis.
And what about potential rights partners? In particular, Big Ten media rights expire in 2016, one of the few notable deals ending any time soon, and Fox is expected to make a strong bid for them. Having one of their featured college football pundits and "the official college football blog of Fox Sports" consistently bash the conference does not help their cause. Yes, that probably doesn't mean too much compared to the dollars involved, but leagues do sometimes worry about what the coverage they'll get looks like. Employing Travis isn't going to decide whether Fox gets the Big Ten rights, but it's not hard to see Big Ten officials souring on furthering their relationship with Fox Sports and FS1 because of Travis' presence. (Fox already owns 51% of Big Ten Network.)
It's worth keeping in mind that Fox is not ESPN, NBC, or CBS. The network has a long history of going way outside the box and challenging the accepted standards and conventions, from its origins to the launch of Fox News to the launch of Fox Sports 1 itself (The 1 For Fun!). In some ways, that's been very positive; for example, Nolan's able to be much more critical of establishment figures than she likely would be at ESPN and even funny intracompany things like the Mike Francesca-Jay Onrait back-and-forth have been laughed off and not taken too seriously so far. This also means that Fox is willing to be more risqué than many of their competitors. For example, the adult-oriented content on the hilarious Jay and Dan Podcast is part of what makes it so funny, and it's appropriately disclaimered at the start.
Travis' particular brand is more troubling to many who have no issue with adult content, though, especially when it comes to his published views on some issues around women and sports (which many critics in this latest firestorm are citing). His content also certainly has the potential to impact how Fox is seen overall. Pieces like "How to Land a Husband at The Masters" or "The Ten Dumbest Fanbases in America" or "SEC Dominates Sluttiest State Rankings" do have an effect on how both readers and media members view Fox. And while OKTC may be a separate brand that's licensing its content to Fox, that's not a distinction that's going to matter to most readers. Fox allowing OKTC content of this sort to appear on its site sends a message that they at least endorse spreading these views, even if they "don't necessarily reflect the views of Fox Sports."
It's difficult to praise Fox for being one of the most progressive sports networks by giving Nolan a prominent commentary platform and free reign to go after tough targets when they're also hosting Travis' site and its articles about how women should go to Augusta to find husbands.
There are several different, but related factors that may play into Travis' future with Fox. First, there's the question of just what he wants. Keep in mind that he left the Nashville radio show he worked on last summer when they offered him a $5,000 raise that wasn't "remotely competitive." That suggests he may want a significant bump in pay, status or both to continue with Fox.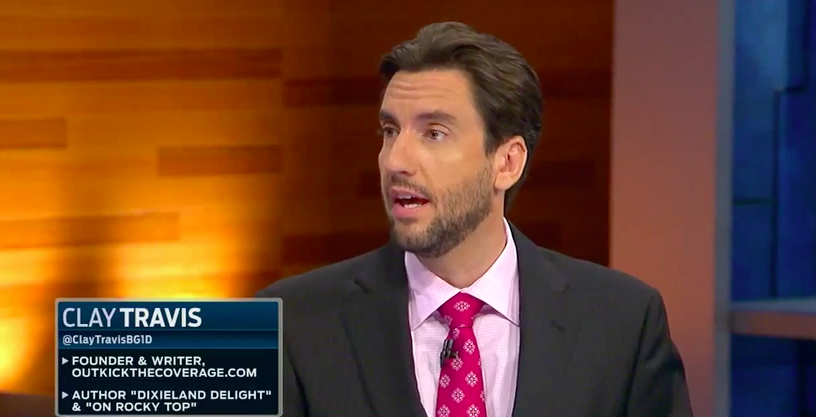 Travis may be interested in his own television show, too, but whether that idea has actual TV value is also inconclusive right now. Fox's college football shows have struggled in the ratings as the network fails to gain traction with its studio shows overall. Interestingly enough, the success or failure of Travis critic Nolan's show may play a role there. Although their voices and audience are very different, Garbage Time is currently the closest in-house thing to "give an internet personality a TV platform." If it fails to produce viewership numbers, that may turn Fox away from giving a show to Travis.
Beyond that, there's the question of Travis' willingness to go back to independence or to go somewhere else, whether that's just for his website or in total. He may be more willing to do that than, say, fellow expiring contract-holder Bill Simmons, as he's already run an independent website and taken on publishing and ad-sales responsibilities, but there could be a more limited market for Travis than Simmons. While there could be demand for him as a TV or radio personality, other mainstream networks might be deterred from making an offer for his web content at this point given the perception of OKTC. He's even had clashes at edgy sites like Deadspin in the past (he told Rau "A.J (Daulerio) and I didn't get along so I left to write "On Rocky Top" in 09″). Travis is undeniably popular, and there's an audience for him, but his OKTC content in particular carries some challenges.
The third factor, and potentially the most important, may be if Fox has any concerns about what Travis' content does for their reputation and future plans. If they don't, and if they endorse him continuing to do what he's doing, then it just comes down to finances. If they do, though, and if they want more editorial control over him, that may be a sticking point. As for his own future, Travis told Awful Announcing, "I genuinely like everyone that I work with at Fox on the digital and TV side. We've got a great group of people in charge and I'm confident moving forward."
Employing Travis and licensing OKTC certainly has benefits for Fox, given his audience. However, the current situation of often-problematic OKTC content running on FoxSports.com with little to no checks or balances from the network carries perils, especially from a perception standpoint. We'll see if Fox Sports decides that the advantages of the current setup with Travis and OKTC outweigh the disadvantages come June, or if they elect to go in a new direction.
UPDATE: Nolan shared some more thoughts on Travis, her critique, and the article in question that are worth sharing in full.
@awfulannouncing just to clarify: I have no personal issue with Clay or his site. Everyone is entitled to a different approach

— Katie Nolan (@katienolan) April 16, 2015
@awfulannouncing and Clay has always been open to having a conversation when we disagree about something.

— Katie Nolan (@katienolan) April 16, 2015
@awfulannouncing I think situations like this are where understandings are formed and progress is made. Fox deserves some credit for

— Katie Nolan (@katienolan) April 16, 2015
@awfulannouncing allowing their talent to disagree with one another. But my goal was only to show Clay why the article sucked, not tear him

— Katie Nolan (@katienolan) April 16, 2015
@awfulannouncing down personally. There's not much room for nuanced points like this in a 30 minute show, so I just wanted to be clear.

— Katie Nolan (@katienolan) April 16, 2015