As the hours tick down towards New Year's Day, it's time for one last look back at the Year of our Lord 2015 and all that it entailed.  This year, AA has decided to send us out on a positive note, with our annual tradition of looking back at our favorite clips of the last 12 months.  You can relive previous versions here:
Top 10 Announcing Clips of 2011
Top 10 Favorite Clips of 2012
Top 13 Favorite Clips of 2013
Top 14 Favorite Moments of 2014
Here now, the Top 10 clips of 2015:
10) Frank Thomas keeps it real
Frank Thomas: #Mets have nothing to hang their heads about except giving away #WorldSeries @awfulannouncing pic.twitter.com/8gOokOi8Mc

— Aaron Frey (@Aaron_Frey) November 2, 2015
Frank Thomas was one of the bright spots of Fox's MLB coverage this year.  During the World Series, he put the Mets' performance into proper perspective.  The teams and their fans had a lot to be proud of… except for being complete and total choking dogs. Now that's analysis!
9) Bill Walton being Bill Walton
This countdown could have been ENTIRELY clips of Bill Walton from the previous year – his trip to China, his thoughts about volcanoes, his calling Utah-BYU a battle for the souls of the world, etc.  Choosing just one for the list was like choosing the greatest work of Da Vinci.  But there was only one thing that left us all absolutely speechless.  When Bill Walton said on national television, "I have been milked."
8) Key & Peele's teachers version of SportsCenter
No profession is more underpaid, undervalued, and under-appreciated than our teachers. Key & Peele gave us a delightful look into a world where they were the focus of SportsCenter and I have to say, maybe this alternate reality would be a better world after all.
7) Nobody cares about anything more than Michael Irvin did about the NIT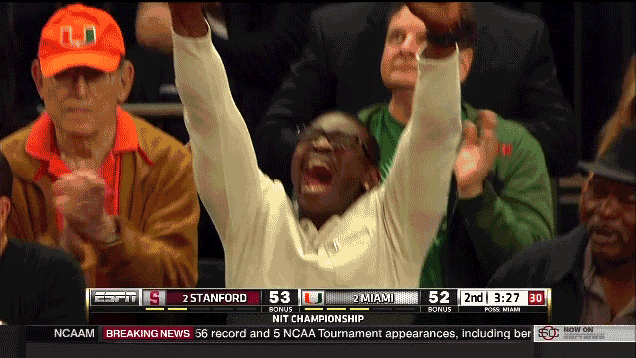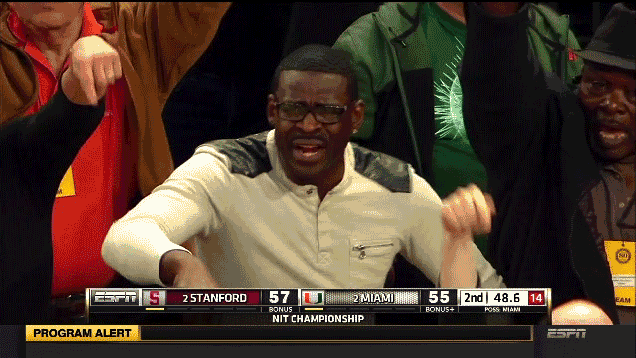 The most random thing that I will cherish from 2015 was NFL Network analyst and Pro Football Hall of Famer Michael Irvin LOSING HIS EVER LOVING MIND over THE U being in the NIT Championship Game.  This is the NIT we're talking about here!  Move over Big Nut, truly Michael Irvin is college athletics' greatest super fan.  (GIFs via Deadspin)
6) Video game announcers should announce everything
eSports is slowly becoming a trendy thing, with Turner Sports even launching a professional gaming league next year.  I hope they bring these announcers on board.
5) Dan Patrick re-appears on SportsCenter
The most surreal, pigs-flying-in-hell moment of 2015 in sports media was without doubt Dan Patrick's return to SportsCenter.  DP sat down with Scott Van Pelt on his new midnight edition of SportsCenter and it was real, unscripted, weird, and beautiful.
4) Mark May gets booed off the stage by Ohio State fans
It was a glorious year for the Ohio State Buckeyes as they won the national championship. But what was just as sweet as lifting that trophy was proving Mark
3) Gregg Popovich reunites with Craig Sager
The most heartwarming moment of 2015 was without doubt Craig Sager's long-anticipated reunion with friend and foil Gregg Popovich on the TNT sidelines earlier this month.
2) Bob Ley rips up the FIFA agenda
One of the defining stories in 2015 was the hammer coming down on FIFA and several executives finally having to answer to years and years of corruption.  During live coverage of the FIFA Presidential election, ESPN's Bob Ley had enough of the organization's shenanigans and literally ripped up the FIFA agenda live on the air.  One of many reasons why he's the best.
1) Andres Cantor's call of Carli Lloyd's halfway goal
Our top clip of the year also comes from the soccer world and is as pure as a great announcing moment can get.  It's the world-renowned Andres Cantor calling perhaps the most remarkable sporting moment of 2015 – Carli Lloyd's halfway goal in the World Cup Final.  A true work of art and our favorite moment of the year that was.