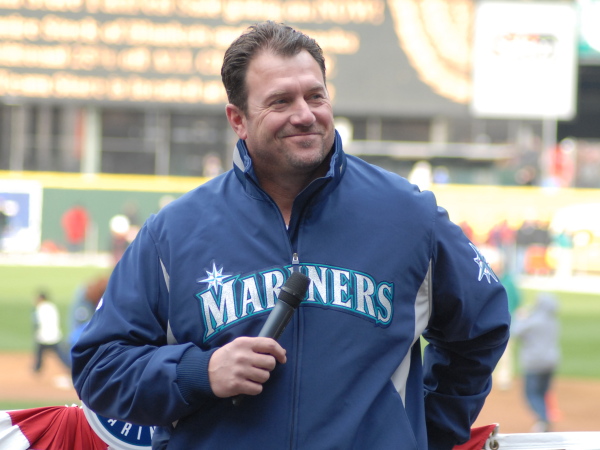 10) Seattle Mariners – 2.47
-Dave Sims (play by play)
-Mike Blowers (analyst)
-Rick Rizzs (play by play – select)
-Dan Wilson (analyst – select)
-Jay Buhner (analyst – select)

Most popular grade: B (35% of voters)
Analysis: The Mariners would have likely fallen outside the Top 15 if given more votes due to the precarious nature of their vote totals. It's not easy to replace a guy like Dave Niehaus, but Seattle's crew could continue to take steps forward over time.
Reader Comments:
"Dave Sims is phenomenal, and Blowers has improved significantly. The two have developed a chemistry over the years now. " -deejenksstj
"Sims is about a B- for Baseball…he needs to work on the nature of what baseball is, a more light atmosphere that should be more full of stories and observations than stats and analysis. " -TimLewis
@awfulannouncing Not sure on the other AL West members but the duo of Rizzs and Sims is about as solid as it can be for the #Mariners

— RipCityKyle (@kthompson2k11) April 17, 2014
https://twitter.com/LoaneeDreamTeam/status/456499401293185024
9) Los Angeles Angels – 2.53
-Victor Rojas (play by play)
-Mark Gubicza (analyst)
-Tim Salmon (analyst – select)

Most popular grade:A (31% of voters)
Analysis: Of all teams that had an A as their most popular grade, no team had fewer A grades than the Angels (but again, AL West crunch). Rojas was generally well-liked, while Gubicza got most of the negative comments about the Angels crew.
Reader Comments:
"Victor Rojas is a very good play-by-play guy. He can be a bit bombastic, but picks his moments well." -monkeywithahalo
@awfulannouncing Victor Rojas is great…Halos could stand to improve at color commentary over Gubicza, though

— Rich (@TheRichman87) April 16, 2014
@awfulannouncing Biased towards Mariners. But Victor Rojas and Angels do pretty good. Not best division for announcers. #RIPDaveNiehaus

— Darnell Calhoun (@asusportsman) April 17, 2014
8) Milwaukee Brewers – 2.59
-Brian Anderson (play by play)
-Bill Schroeder (analyst)
-Matt Lepay (play by play – select)
-Craig Coshun (play by play – select)
-Craig Counsell (analyst – select)
-Jerry Augustine (analyst – select)

Most popular grade: A (30% of voters)
Analysis: 82% of the Brewers grades were an A, B, or C. Anderson has seen his profile grow with national assignments for Turner Sports in recent years. Brewers fans know they're lucky to have him.
Reader comments:
"Brian Anderson is probably the best play by play guy in sports that nobody's really heard of. […] Schroeder is a pretty big homer, and can spend too much time complaining about calls, but he's got a ton of experience, has GREAT chemistry with PBP guys, and as a former catcher, has some great perspective on the smaller parts of the game." -kneary22
@awfulannouncing Brewers have the best in the divison.

— Quinn Heintz (@qheintz) April 22, 2014
https://twitter.com/NateHuiras/status/458431373292761088
7) Minnesota Twins – 2.63
-Dick Bremer (play by play)
-Bert Blyleven (analyst – home)
-Jack Morris (analyst – select)
-Roy Smalley (analyst -select)
-Tom Kelly (analyst – select)
-Tim Laudner (analyst – select)

Most popular grade: B (38% of voters)
Analysis: The Twins received the second-most B grades of any team, but were 13th in A grades. This rating is a little puzzling, because many of the negative comments were directed towards the regular crew of Bremer and Blyleven, and most of the praise was devoted towards part-time analyst Tom Kelly.
Reader Comments:
"Tom Kelly is not nearly on the broadcast enough for the Twins. He actually gives insight instead of circling people." -CollinKottke
"Bremer, like Hawk and Rex, is another Dinosaur of baseball broadcasting and needs to be replaced. Blyleven is incapable of intelligent thought most times it seems and his spewing of poorly formed criticisms against SABRmetrics are infuriating." -JayClarke
"Even Tom Kelly's wonderful dry delivery and wit, and overall knowledge of the game cannot save the Twins from Dick and Bert." -jvanee24
@awfulannouncing Twins guys arent bad, even hear Bert swear sometimes #Fbombs

— Tyler Mayfield (@Tyler_Mayfield) April 16, 2014
6) Oakland Athletics – 2.70
-Glen Kuiper (play by play)
-Ray Fosse (analyst)
-Roxy Bernstein (play by play – select)
-Shooty Babbitt (analyst – select)

Most popular grade: B (35% of voters)
Analysis: The A's were the highest-ranked team to have a B be their most popular grade. Kuiper is cut out of the same mold as his brother, while Fosse seems to fill his role well, but can get overbearing at times.
Reader Comments:
"Kuiper does a very good job of calling the games, but Fosse tends to tell outdated stories and quite possibly makes the most mistakes out of all the AL West announcers." -DanielOrmsby