The Final Four in Bristolology is finally upon us!  Although three number one seeds made the Elite 8, all of them were defeated in their regional finals.  Bob Ley fell to the Cinderella story that is John Buccigross.  Chris Fowler was stopped in his tracks by Jay Bilas.  And the empire maker himself, Bill Simmons, was upset by Mike Tirico.  Those three individuals join Scott Van Pelt to create our Bristolology Final Four.
Below you'll find both matchups as well as the Road to the Final Four for each of the remaining contestants.
As always your task is relatively easy – vote for your favorite ESPN personality in each matchup.  Only two more steps remain until we crown the top dog in Bristol, Connecticut.
2) Scott Van Pelt vs 15) John Buccigross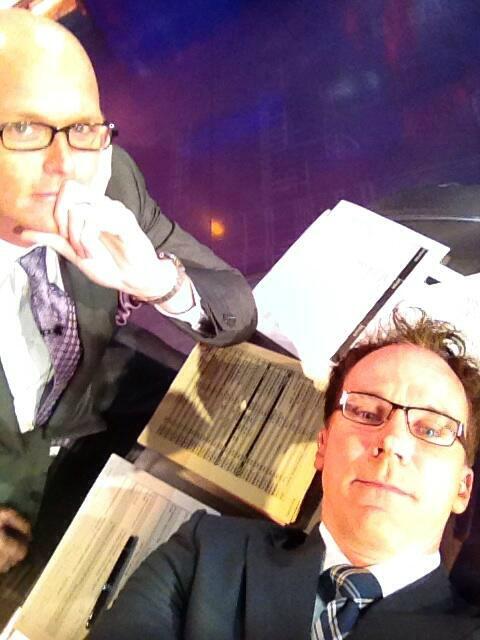 Road to the Final Four
Scott Van Pelt
R1: defeated 15) Linda Cohn
R2: defeated 10) Michelle Beadle
Sweet 16: defeated 6) Brad Nessler
Elite 8: defeated 8) Tony Kornheiser
John Buccigross
R1: defeated 2) Dan Shulman
R2: defeated 7) Chris McKendry
Sweet 16: defeated 3) Kirk Herbstreit
Elite 8: defeated 1) Bob Ley
These two Bristol buddies have made quite the tandem together, what with their mock Twitter photoshoots and bringing the "fun" back to the nightly SportsCenter.  Bucci and SVP are a SportsCenter tandem worthy of the all-time best to grace the ESPN studios.  And although their seeds entering the tournament are on the opposite ends of the spectrum, this is as even of a matchup as it gets.
2) Mike Tirico vs 3) Jay Bilas
Road to the Final Four
Mike Tirico
R1: defeated 15) Barry Melrose
R2: defeated 10) John Saunders
Sweet 16: defeated 3) Jon Gruden
Elite 8: defeated 1) Bill Simmons
Jay Bilas
R1: defeated 14) Mel Kiper Jr.
R2: defeated 11) Robert Flores
Sweet 16: defeated 2) Rece Davis
Elite 8: defeated 1) Chris Fowler
Mike Tirico and Jay Bilas are two of ESPN's most respected announcers and either would be worthy of winning Bristolology.  Both have had to get past co-workers on the road to the Final Four with Bilas getting past GameDay mate Rece Davis and Tirico outdueling Jon Gruden.  Both also beat #1 seeds to get here with Tirico upsetting Bill Simmons and Bilas dispatching of Chris Fowler.